Chatib Review, Updated 2023
The Chatib chat website offers users the chance to chat with other single women and men from across the world, or in their own country.

Our Chatib review will show you the ins and outs of Chatib as a dating service and what you can expect from it as one of the best chat room dating services.
Chatib.us is very similar to the chat rooms launched in the early '90s. They focus on giving users chatrooms where they can take part in group chats or engage in private conversation.
Those looking to use the Chatib chat site should know that most users are on here to get chatting with and meet other singles, even if non-dating-related chatrooms exist.
Table of contents [ Show Hide ]
Our Chatib review summary
Chatib has yet to fully establish itself, although it is making headways in the chat-dating market. In some respects, this is a good thing as there are plenty of users looking for a new online hangout.
The app's ease of use and the fact that it's available for Android as well as iOS make Chatib a popular site for 'meet and greet' introductions.
Our Chatib review didn't find things with Chatib much different from other chat sites or apps, although you can see at a glance how many users are online and where they're from. The site itself is easy to navigate, with everything you could need to get chatting, straight away.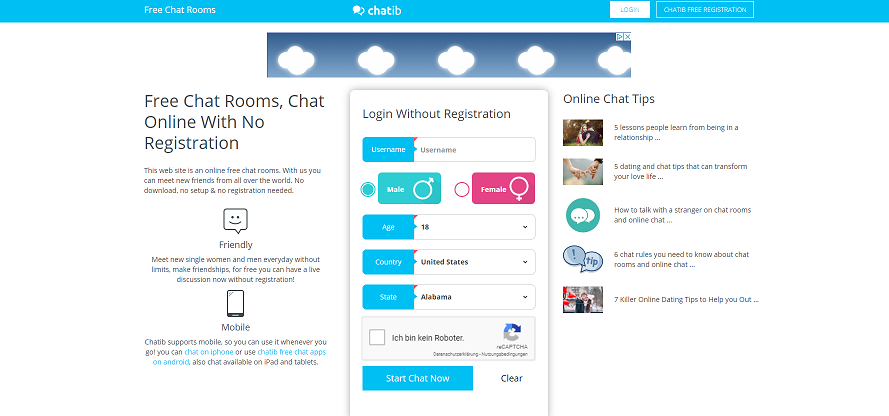 Pros and cons
While chatting with random strangers online is all well and good, if you plan on taking your messaging to the next level for dating in real life, you should really weigh your options for something like Chatib.
In the end, we can't say we think it is a great service for dating, but you can certainly have some fun on here as long as you are cautious and play it safe. Just be aware of the risks with a service where there's no real security for signing up and you should be fine.
Pros
Using the website doesn't cost anything
There are multiple chatrooms, covering a wide variety of topics
You can log in without having to register.
Cons
Our Chatib review found that there aren't any special features to distinguish it from other chat sites
The Captcha verification box does seem to appear with irritating regularity
The site automatically logs you out after any period of inactivity.
The potential use of the service for any kind of scam is higher than on most other dating sites
Chatib review of free services
Everything from registration to messaging is absolutely free. Our Chatib review found no subscription costs or credits to buy. This opens it up to people who might not ordinarily be able to afford sign up fees for chatting.
Whether you're messaging privately, engaging in general chat, or talking in a Chatib chat room, there are no extra costs to worry about.
Chatib review of membership
Our Chatib review found the chat rooms to be aimed at singles between the ages of 18 and 35. There are roughly 2,000 active users at any given time, with the most popular take-up from the 18 to 24 age bracket.
Chatib isn't exclusively for dating; you'll find members hanging out in chat rooms, discussing everything from sports and politics to religion. This Chatib review found a healthy number of gay and lesbian users.
As a free-to-use site, Chatib attracts new people on a daily basis so there's always someone new to connect with.
Registration
Our Chatib review found that signing up is easy.
Go to the website – Go to the homepage and hit 'Register'. If you'd rather use the site as a guest, you can use the 'Log-in Without Registration' button. Otherwise our Chatib review found that you can log in with a gmail.com account or any other recognized email account service.
Basic info – On the next page, you'll be asked to fill in some basic information, such as your age, gender and location. Keep in mind that the chat service is targeted at younger people who find it a popular age to be chatting online. This can be from 18 to 25 years of age.
Login details – On the third page, you'll need to provide a username and a password. Chatib will offer a password suggestion, which you can save to your desktop so that you don't have to remember it each time you log-in.
Confirmation – You'll also need to provide an email address, so that the site can notify you as to who has been looking at your profile or whether there are any messages for you while you are logged out.
Enjoy – You're now free to chat at your leisure.
The Chatib chat rooms are free to use, which means you can use them as a guest at any time. However, there's still the option to register, which our Chatib review recommends. While it doesn't cost anything, registration doesn't offer any extras either. Still, it is useful to have a screen name and account.
Chatib review of the app and user-friendliness
One of the aspects we really wanted to include in our Chatib review was its ease of use. Fortunately, we can report that the website offers a superbly simple online experience.
At the top of the screen, you'll find a blue navigation bar, which houses drop-down lists to help you get around the site. There are options to read the Chatib blog, get chatting or visit one of the 15 different chat rooms.
In addition, you can manage your profile and change your preferences, add a photograph or change your password. Oddly, there are still options to purchase credits, although none are required to use the service.
The Chatib app, available via the app store, is similarly easy to use and offers all the features of the desktop site, including the newly-introduced selection of games. You'll also find tips on how to get chatting and on how to engage with other users.
The app is simple, straightforward to use, and with good privacy settings for peace of mind. If this is your first time using online chatting, you will be pleased by the user-friendly nature of the site.
Contacting other Chatib users
Chatib has been created to give users a friendly and secure arena in which to enjoy chatting with other, like-minded people. You can even enjoy free chat services via their mobile app or through the online dating website.
As with the rest of the site, chatting with other users is easy. On your page, you'll see a list of online users. To chat with them, click on their profile and you'll be given the option to send them a message.
In the chat rooms, you can either engage in open chat or select the 'Private chat' option so that you are just sending the person private messages which won't be shared with moderators or other users.
You also have the ability to favorite users and, in the interests of online safety, to block any users you might feel you need to. If you feel like a private message is offensive, you can contact moderators to have them review and potentially ban the chatib account.
Chatib review FAQ
Here are answers to the most frequently asked questions about Chatib.
How can I use Chatib?
You can use Chatib to enjoy chats with other users, from across the world, whether you're looking for romance or want to exchange thoughts and ideas in group chat rooms.
Sending a message to an online user: How is it done?
To send a message, click on the user's profile and select the 'Private chat' option
How safe is Chatib?
Chatib uses third-party security providers to keep its online users secure. Industry-standard authentication and security measures are employed to keep hackers and malware away from the site.
If I have a problem, how can I contact their back-office support?
The website has a 'Contact Us' facility, which you can use at any time. Chatib will send any email communications to the address you supply when registering.
What kind of individuals are here in Chatib?
Chatib's users are mainly singles, between the ages of 18 and 30.
Does joining Chatib require registration?
No, you can use the service as a guest, without any limits.
What are the things that are prohibited on Chatib?
The sending of nude photographs is expressly prohibited.
ℹ️ Company information
Chatib is owned by Landocs Capital.
Website: https://www.chatib.us/
Head office:
Landocs Capital
PO Box 2428,
Kiryat Ono Israel 55122