eHarmony.com is one of the most popular matchmaking websites in the world. It boasts a grand total of 10 million users from all backgrounds and ethnicities who are looking to find love with other potential matches.
Set up by a psychologist in 2000, eHarmony has built many successful relationships. In the US this online dating site is responsible for 2% of all marriages, that's 542 compatible couples tying the knot daily.
eHarmony was the first algorithm-based site. Over the years they reduced their 450-strong personality survey to 150 easy to answer questions via their compatibility quiz.
These questions are based on 29 key dimensions, which eHarmony say are crucial to lasting relationships, are we in front of one of the best dating sites?
This matchmaking questionnaire sets eHarmony apart from its competition and can be seen in the success rate of its matchmaking. In the modern age of dating apps and quick swipes, eHarmony shows that there is still a place for psychology tests and perfect matches.
Touted as a place for singles looking for commitment, marriage, and serious relationships in real life rather than casual dating, we review eHarmony and get to grips with its members, personality test and prices.
Our Summary
If you are serious about long-term love then be prepared to pay for it as the free version offers nothing but enticement.

eHarmony is an easy dating site to use but it comes with a hefty price tag and a serious sensibility when compared to similar dating sites. This is very much a site for singles who are looking for a committed relationship.

If you're only interested in hook-ups, look into a service like Tinder.

eHarmony has faced backlash for making huge claims about how scientifically accurate its compatibility algorithm is. However, it has had more than its fair share of matches resulting in successful long-term relationships.

eHarmony is for those focused on marriage and family. If you're tired of swiping left and are looking for the real deal our review shows that this is the place to be.
🆓 Free profile Vs paid profile
eHarmony offers a free, simple way to sign up. From here it offers three paid membership options. Lurking below these options, to the bottom right is an option to skip and continue to the free experience. How do the paid and free eHarmony dating experiences measure up?
For more detailed info on eHarmony prices click here.
Free membership
Complete profile
Take the full matchmaking personality survey
See your compatible matches
The photos will be blurred out of other eHarmony members, but you can view their full profile
Send icebreaker questions to new matches
eHarmony offers a list of 100 icebreaker questions, of which you can send five of these to your match with a free account. You will be unable to send a personalized message. The number of messages you can send and receive are limited.
Paid eHarmony account membership
Complete profile
Take the full matchmaking personality survey
See your matches including profile pictures and photos
Send icebreaker questions, winks, and more
Send personalized messages
Enjoy options to video date
See who viewed your profile
See who favorited your profile
Browse member profiles outside your preferences
You can do this anonymously depending on the type of premium membership that you sign up for as one of many paid subscribers.
💰 eHarmony costs
There are three types of paid membership on the eHarmony dating site, with prices ranging from $29.90 per month to $59.95, the longer you subscribe for the cheaper it gets.
Once you have decided which kind of suits you, you can choose a payment plan, either one one-off payment, or three payments. You can pay using a credit card, PayPal or gift card.
Standard Lite six month subscription
See who's viewed your profile
Unlimited messaging
View unlimited photos
Access more matches
Premium Plus twelve month plan
Browse anonymously
Get read receipts on all messages
Be a featured match for 24 hours every month with spotlight.
Premium Extra 24 month plan
All the benefits of Premium Plus but discounted for a longer membership period.
| | | |
| --- | --- | --- |
| | Monthly price | Total |
| Standard Lite (1 months) | $59.95 | $59.95 |
| Premium Plus (3 months) | $29.95 | $89.85 |
| Premium Extra (6 months) | $29.90 | $179.5 |
💡 How to reduce costs?
Take advantage of their payment plans
eHarmony offers various upfront discounts. The average cost per month reduces the longer you sign up for
The 12-month and 24-month plans offer 50% off for the first three months reducing your overall cost
The dating site also offers payment options. It is much cheaper to make a one-off payment than it is to split the cost into three when your become a premium member. If you choose to divide the cost into three, you'll be adding an extra $1.88 a month to the overall cost.
One-time payment cost for Premium Plus is 209.46
If you choose to split the cost, you end up paying $250 for the same dating service
BEWARE: All of these payment options are set to auto-renew after your membership period is up. If you've found love in that time and forgotten all about eHarmony and its auto-renew system, you could be in for a nasty, pricy sting. Always cancel your account if you no longer wish to use it.
Discount codes and cashback
You can also look into cash back websites where you can get $66 back, on average, once you subscribe. Cash back totals can vary day-to-day but will always amount to a worthwhile saving.
A quick google of the search term 'eHarmony discount code' will turn up a plethora of discounts. Just be aware that these codes involve a lot of trial and error as not all of them work. It is also worth looking at voucher apps as eHarmony deals do occasionally appear.
📊 Membership structure
How many eHarmony users in the US?
eHarmony estimates over 4 million US users, this equates to 600,000-750,000 paid, active users.
eHarmony's demographics of love
The gender ratio of eHarmony is 50% male to 50% female.
It seems eHarmony attracts those who can afford it, with the age range generally being around 25+ and daters looking for serious love.
5% of users are aged between 18-25
48% of users are between the ages of 25-45
25% are 45-55 years old
22% are 55 years and older
✍️ Creating your eHarmony profile
The registration process is fairly straight forward but can be lengthy depending on how detailed and precise you'd like your profile to be. We recommend filling out the personality profile to improve your odds with their compatibility matching system.
Signing upeHarmony starts by asking for your name, gender and preferred gender of partner. For example, I am a woman looking for a man. This is necessary for finding you compatible partners, as it is the first thing the algorithm considers. There are also LGBTQ options.

Then it will ask for an email and password.

Basic information about youFrom there it takes basic information such as age, location, number of children, ethnicity and spirituality. There are thirteen such questions, the lengthiest of which describe your passions and what you like to do for leisure.

No need to include a phone number, but you are free to do so if you want.

Your match preferencesNext is the less detailed match preferences covering things like age and proximity. You can go into more detail once you're signed up.

Matchmaking Personality SurveyThe personality survey is quite lengthy but it can be over in a flash if you want to be haphazard about it. Remember the goal is to review your dating profile and find you the perfect match, so the functionality depends on you being honest.

The matchmaking test asks you to match your personality to various words on a scale of: not at all, somewhat, very well.

For example: adventurous, not at all. It will also ask you to pick words to describe your temperament and how your friends might choose to describe you. eHarmony's questionnaire is split into five sections:

Emotional temperament
Social style and social values
Physicality
Relationship skills
Values and beliefs

Upload Profile photos Once you have completed the questionnaire you'll be asked to upload a photo to access your matches.
Then registration is complete. You'll have to wait for your account to be authenticated but in the meantime, you can browse matches and make your profile more in-depth.
📱 User friendliness
eHarmony dating website
Registration
Registration is very straightforward. The only drawback is that it's lengthy compared to other dating sites. However, their success stories could be contribued to the amount of work that people put into creating their own perfect profile.
Once you are registered it is advisable to pick a paid membership as there isn't very much you can do as a free user.
Navigation
Across the top of the site are a series of buttons that allow you to browse matches, check your messages and view your profile.
Profile
Profiles are easy to add to and in depth. You can pick and choose which sections you want to fill in. Don't worry if you're not a fantastic writer, not all sections are about writing lengthy verses.
Sections such as books, music, and film ask to pick out genres from a drop-down list then simply add your favorites.
Matches
You can browse your suitors, view favorites, mutual favorites, hide profiles and toy with the "What If?" feature which browses people just outside your preferences. It's easy to navigate matches although they can be limited.
Once on a profile, it's very easy to flirt (click on the smiley), favorite or message a person.
eHarmony dating app
The app is available on both iOS and Android and operates in a similar manner to the site.
Registration
Same process as the website, very simple to use.
Navigation
While still easy to navigate, it isn't as fluid as the website feeling a little like an afterthought to the main site at times.
Matches
While many modern dating apps have gamified the dating process, swiping matches, or using location features, eHarmony has failed to make their app interesting. Much like the website you can browse your matches and message them. That's it.
The eHarmony app is simply the website on the go.
Adjusting profile
Profiles are easy to adjust but the design appears overwhelming and wordy.
✉️ Contacting users
eHarmony has made it very easy to contact potential partners. Firstly, you can send a smiley emoji, a flirty little gesture. Secondly, if you're absolutely stumped, you can send up to five predetermined icebreaker questions.
If you're feeling confident you can just jump right in and start a conversation.
How to contact another user
Select matches, see who you fancy and click on their profile
Once on a profile, select 'Message' at the top of the page
There are then two options, you can either 'Send a Question' or 'Write a Message'
If you select 'Send a Question' a list of approximately 100 predetermined questions will appear and you can send up to five. These questions reflect the values explored in the personality survey and span topics such as dating attitudes, life ambitions, family, and time travel.
If you select 'Send a Message' you'll be able to freely type whatever you wish.
If you are using the free version of the site you will only be able to send questions and the number of messages you can send and receive are limited.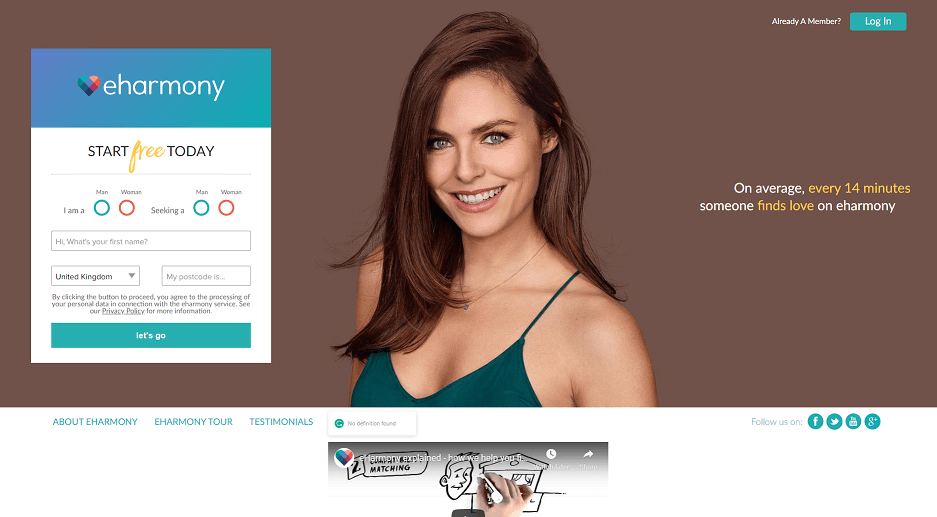 👍 Pros and cons 👎
Pros:
Detailed sign up process increases chances of matching with others and filters out those with questionable intentions.
Matches are delivered daily.
In-depth profiles are fun to fill out and explore.
The algorithm selects matches specific to you so you don't have to trudge through thousands of profiles.
The best dating site for people looking to commit to a long-term relationship.
Cons:
Lengthy sign-up process
You can't search out individual users and review them yourself
Free membership is pointless as you can't see pictures and messages are limited
It isn't set up for gay and lesbian relationships although eHarmony does offer a separate dating site for this
Subscription is expensive
Fake profiles can still be found on the site
🙋 FAQs
Where can I buy gift cards?
If you want to buy an eHarmony gift card simply google the term 'eHarmony Gift Card'. From there you will be taken to an eHarmony partner site. Once on the website:
Select value you wish to purchase
Enter friend's details
Personalise the gift
Pay and send
If you have any problems purchasing your gift cards you can contact customer support for help or a refund. 
How do I change my city on eHarmony?
Changing your location on eHarmony is straight forward, although should only be done if you actually live in that area. For example, if you are in Canada but want to date someone else in Europe, it will be difficult to make work.
1. Click on 'Hi [your name]' (located across the top of the site page)
2. Select 'Match Preferences'
3. Select 'Distance & Geography'
4. Scroll over current postcode and update
5. Next, it will ask 'What city do you live in?', this should have autocorrected based on the postcode.
What are hidden matches on eHarmony?
If you don't wish to communicate with a match on eHarmony you can 'hide' them. The 'Hidden Matches' tab will store any hidden matches away but you can still communicate with them if you so choose.
If you wish to banish someone to this section of the site select 'Hide this match' underneath their profile image. They will not know they've been hidden. You can also hide by clicking on the three dots button in their profile.
How effective is eHarmony?
eHarmony boasts some impressive statistics. They claim to be responsible for 542 weddings a day. Their compatibility algorithm is unique and claims to be scientifically accurate but sometimes it presents few matches.
eHarmony is a place for people who are serious about committed relationships, it ensures this by putting a large price-tag on its service and making you think about what you want from a relationship during its lengthy sign-up process. 
This filters out timewasters and ensures quality matches.
How often do eHarmony matches update?
eHarmony sends out matches daily. If you are experiencing a low volume of matches try altering your match preferences.
How do I block someone on eHarmony?
In your inbox, select a message from the person you wish to block. Select three dots to top right of the message. 
1. Select 'Block Match'
2. Find the profile of the person you wish to block. Select the three dots to the top right of their profile. Click 'Block Match'
3. Navigate to your matches, under each profile card there is an option to 'Hide this Match', select, then navigate to 'Hidden' section. 
4. Underneath the profile card it will now say 'Block this Match', select this option.
How do I get better results on eHarmony?
Message and talk to people more regularly
Be thorough on your profile
Be the first to send a message
Alter your preferences to include greater distances, more ethnicities, and ages
Give people a chance, you may not necessarily be attracted to your matches but the algorithm matched you for a reason, find out why.
How do I delete messages on eHarmony?
There isn't a way to delete messages on eHarmony at present. If you wish to remove unwanted messages from your inbox, block the user by clicking on their message, selecting the three dots at the top right, then selecting 'Block Match'. Their messages will disappear.
If you wish to delete a message you sent by accident, unfortunately this isn't possible. Always check your message before you send it.
How do I cancel my account?
1. Select 'Hi [your name]' across the top of the site
2. Select 'Account Settings'
3. Select 'Billing'
4. At the bottom right, select 'Close Account'
5. A warning screen will appear asking if you are sure, select 'Yes, close my account'
Contact customer support if you need assistance. 
ℹ️ How to contact eHarmony
To contact eHarmony, call 0800 028 0308. Their customer care service is open Monday to Friday between 8am and 8pm GMT.
You can also send them a message by scrolling to the bottom of their website and selecting 'Help' and searching for 'email'. A representative will respond within 24 hours.
More Reviews