The dating world is advancing as technology brings people together with the click of a button. Dating apps can be a great tool to find the perfect mate or meet people casually, as you can fully customise your search.
Some dating apps are completely free, while others are subscription-based. Users can browse profiles according to pre-set requirements or look for love in other cities or countries. Some apps cater to specific age groups or communities. Read more for details on various apps.
These are some of the leading dating apps in the match-making market. Sign-up today for free:
Being on the best apps is a sure-fire way to get great matches and dates. Understanding what makes some apps stand head and shoulders above the rest is what allows us to find the best apps for you.
While some of the top apps started out as casual dating platforms, several have effectively evolved to provide compelling features and attract an audience that's open to commitment and serious dating.
Take a look at our rankings and reviews to choose the best app for you. Once you've found your pick, sign up for free to start getting great matches on your phone.
Best dating apps reviewed
Have a look at the reviews below to see what makes these dating services worth trying out.
eharmony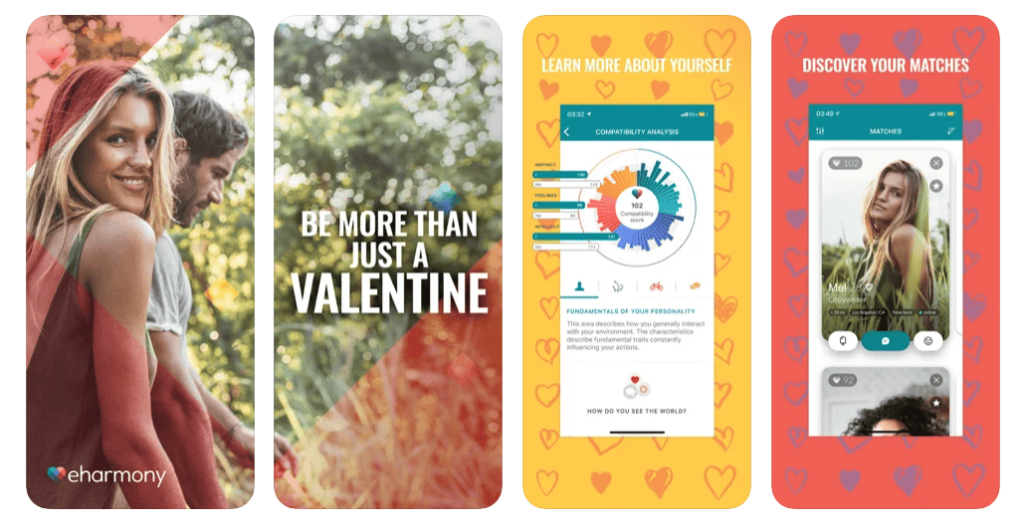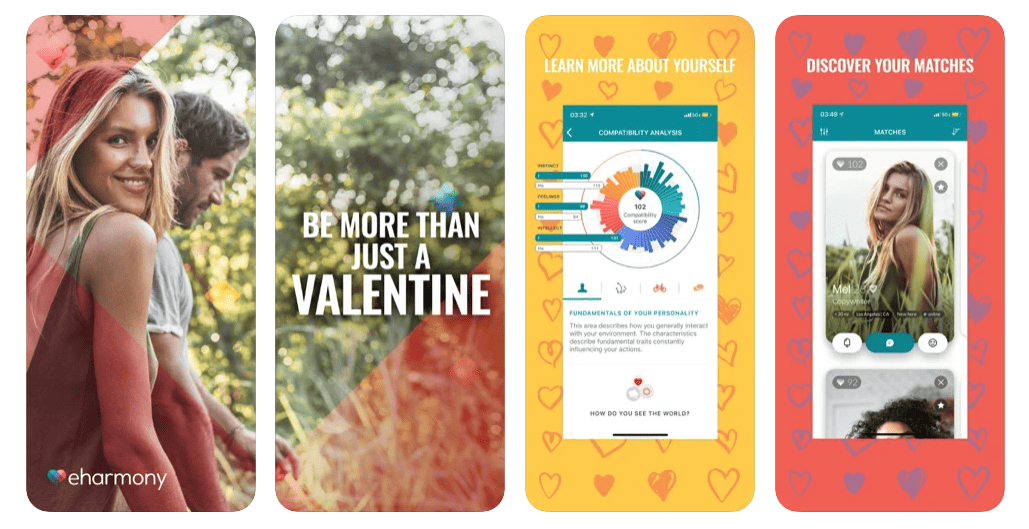 If you are looking for a reliable and safe app for dating, then you should sign up for the eHarmony app. This app has advanced search features to help you get great matches from the get-go.
Not only does eHarmony have an appealing profile design but it also gives you powerful insights, such as Compatibility Analysis, to make dating more successful. No wonder eHarmony gets glowing reviews from mobile app users.
Zoosk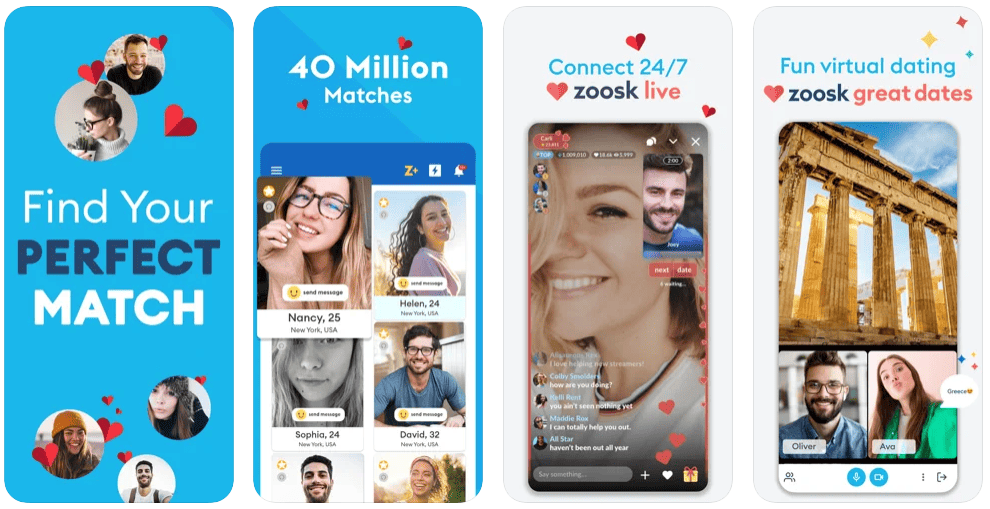 With millions of users and innovative video chat features, not only is Zoosk one of the best apps – it's super fun. Zoosk features a streamlined sign-up process as well as multiple ways to get matches with Smart Picks and Carousel features.

One of our favorite features is being able to scroll back and check a profile again – one more reason why this app is a keeper. Zoosk isn't just fun and games. Safety is another big plus here with robust safety features such as photo verification. Users agree overall giving Zoosk top ratings.
EliteSingles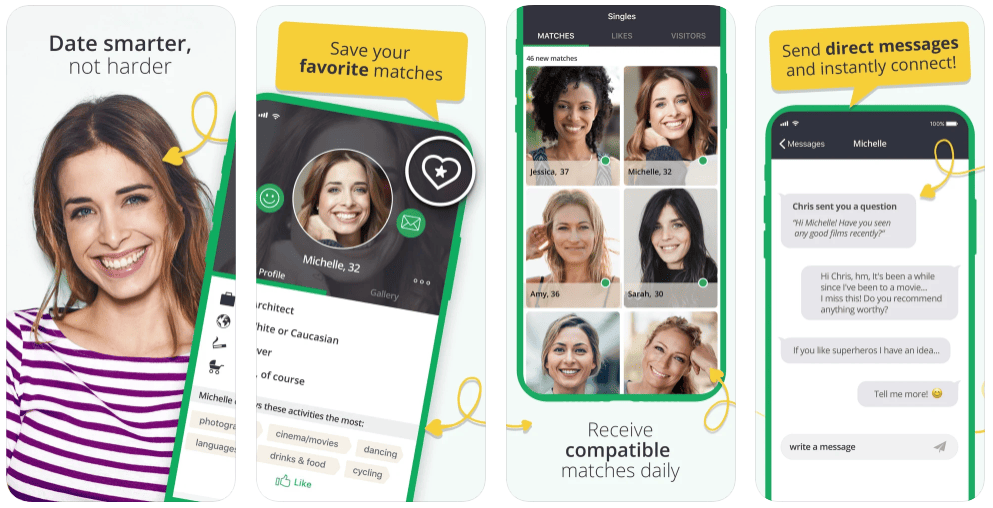 By helping its users "date smarter, not harder" through a powerful personality matching feature, EliteSingles deserves to be called one of the best apps for dating available today. Each match you see on the EliteSingles app has a compatibility score, in addition to a well-designed layout.

Additionally, EliteSingles is a great place to get expert dating tips thanks to their updated blog. If you are looking for a serious relationship, EliteSingles is definitely worthy of a closer look.
SilverSingles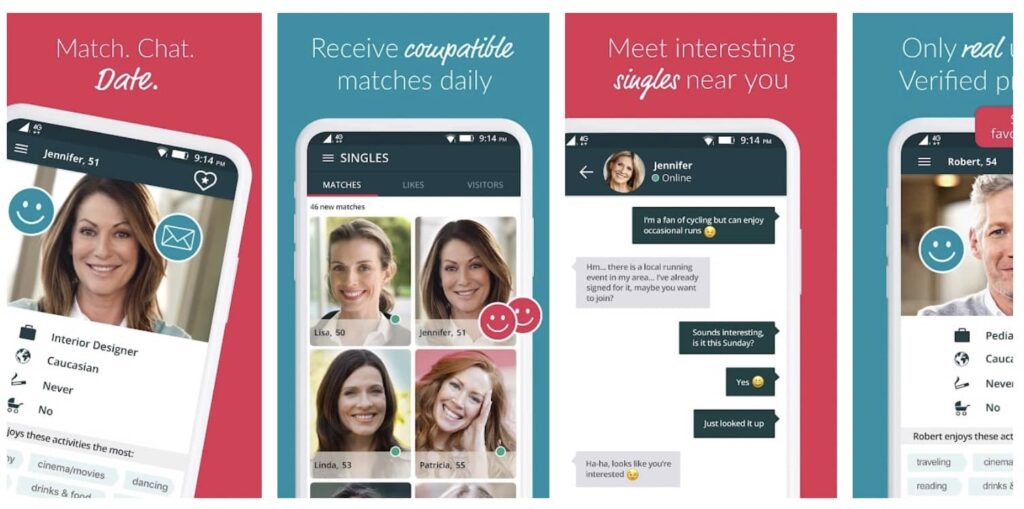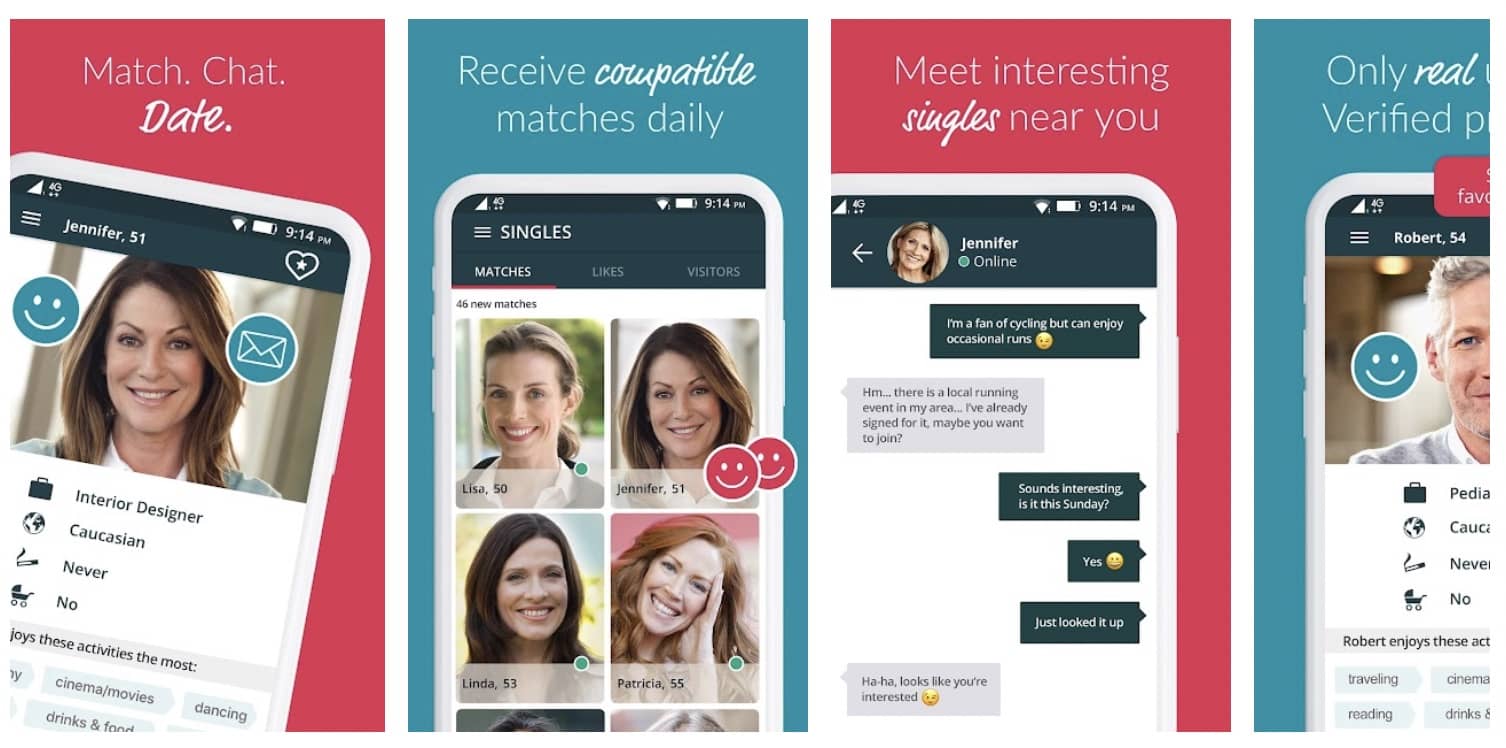 While apps let you filter matches by age, a strong contender when it comes to the best app for 50+ singles is SilverSingles. Thoughtful design, convenient features, and the possibility for great matches are all things we noticed when testing out this app.

Strong mobile app review scores back up what we saw during our full SilverSingles review. If you're looking for 50+ singles, SilverSingles is worth checking out.
Christian Mingle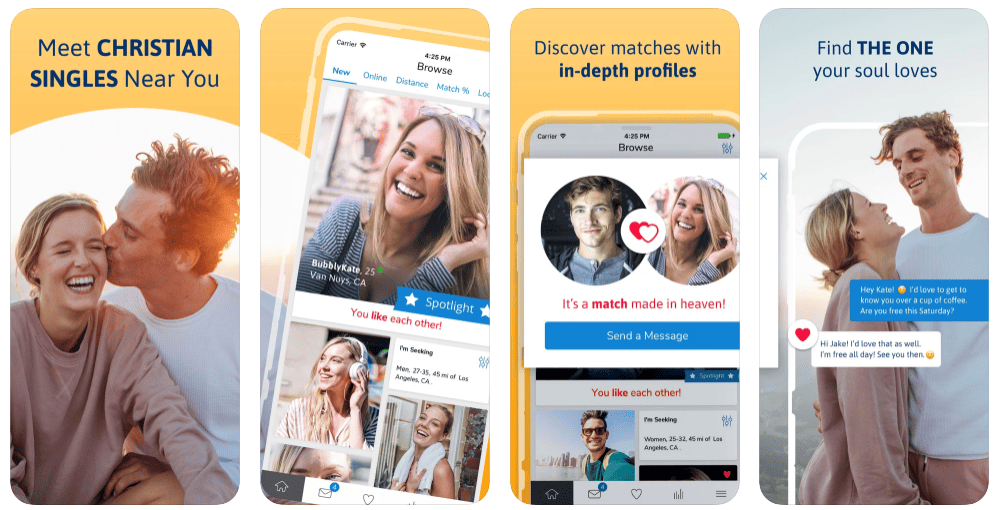 Everyone has different priorities when it comes to dating. For faithful Christian singles, most dating apps do not meet their faith-based priorities and values. Christian Mingle strives to be the best app to "Meet Christian singles near you".

The strong verification systems on this app make it one of the best for Christian singles. Believing in God does not mean you have to meet your future husband or wife the old-fashioned way. Christian Mingle balances faith, tradition, and modern features to help you find a match who shares your values.
JDate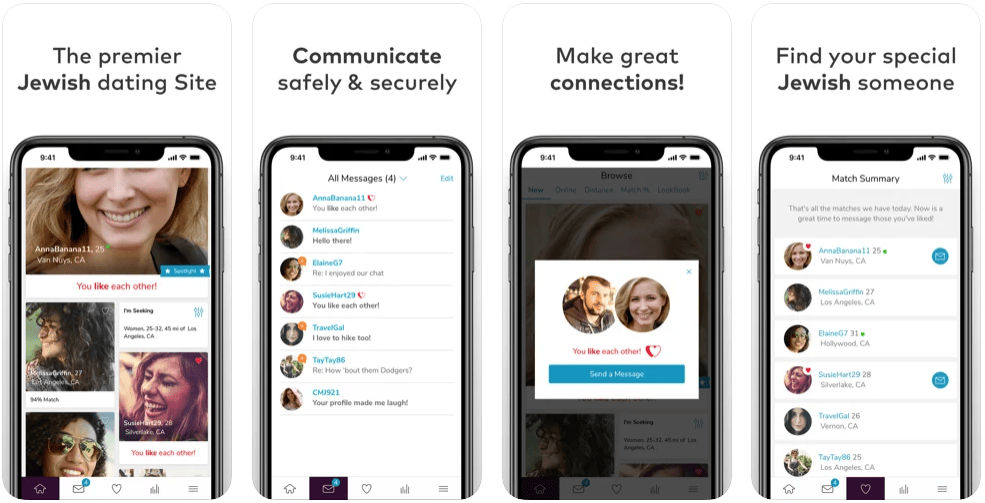 For Jewish singles, JDate brings together the convenience of all the best online dating app features with a focus on devout and appropriate matches. By signing up for JDate, you also get the possibility of attending online and offline singles events.
If your Jewish heritage is important to you then you'll be sure to appreciate the in-depth profile design. This will help you decide on the best potential matches for you, while staying true to your Jewish values.
How do we pick great apps for dating?
Our criteria for recommending the best apps for dating are the following:
Smooth sign-up process for users
Convenient dating profile creation features and flow
Practical search features that result in better matches
Balanced design which makes features easily accessible
Positive user reviews and feedback
Strong security features that tie into clear safe dating policies and resources
The apps that we review have to offer extra value on top of what online daters have come to expect from a regular free dating app. It is also not enough for companies to just offer a mobile version of their dating sites. Great apps must be purpose-built for mobile.
More great apps and sites for singles
Online dating is a diverse landscape. While the best apps we reviewed and ranked above cover a lot of ground, there are more niche apps and sites we didn't have space to talk about here. Take a look at the dating categories below for a better match in terms of dating preferences
How to choose a dating app that is right for you
There are a lot of variables to dating apps that can make choosing the right one for you difficult. A quick Google search will show how many kinds there are for Android and iOS. The trick to knowing which app to choose boils down to whether you just want sex or something more.
For casual dating, sex, hookups and one night stands, you will be better off using a mobile app like Tinder. For something serious, try POF, Hinge, Bumble, or even Match. Narrowing down your field of interest will greatly help with choosing the right service.
The best app for you will always be the one that helps your looking for matches in the kind of dating field you want. From there you should get an app that fits something more specific about you, like your sexual orientation, age, location, and so on.
Make sure that the dating app you choose also offers good privacy and security settings. This can be an important step that people often neglect.
Dating apps compared
Check out our app comparisons so you can pick the best one for you.
Pros & Cons of using mobile apps for dating
Pros
Enjoy flexibility with how you meet for casual or serious relationships
More users are on dating apps like Hinge than they are on dating sites, meaning better matching chances
Save time looking for people with an app designed to match you quickly
Cons
Some apps are not free and can end up being quite expensive
The best apps tend to lean toward younger users, although there are some that cater to seniors
Users who don't know what they want out of a relationship may need to fish around for the right app that fits them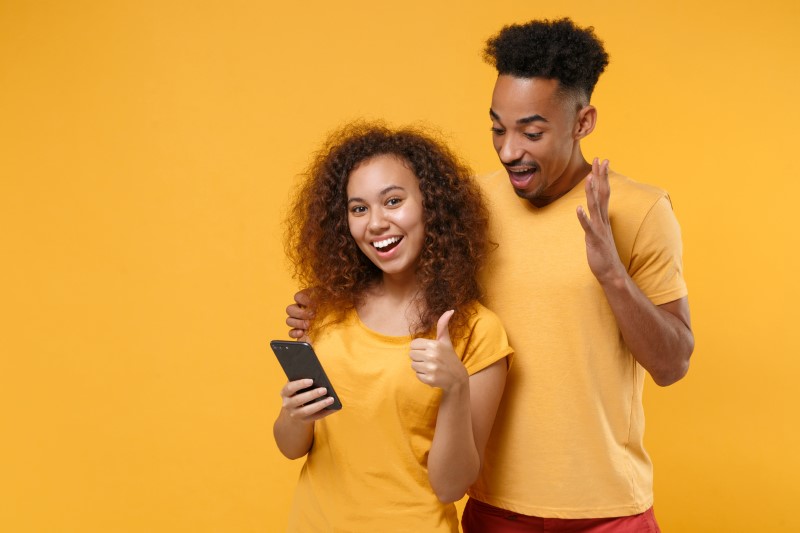 How to make your experience dating a successful one
For anyone new to using a dating app, the best thing to do for making your experience a successful one is to start looking with a free app. Tinder or POF are the best for this, but apps like Hinge or Coffee Meets Bagel are also good apps to look at.
Regardless of whether you are looking for a hookup or a lasting relationship, you will want to emphasize your profile picture. A good picture can make a world of difference in the world of online dating, and mobile app users are more likely to focus their attention there first.
Filling out your profile will help smartphone users who are interested in you beyond your picture. The more information you have the better your chances are of finding love on the internet. Besides, you will appreciate knowing a thing or two about the person you are contacting, too.
Some people may hold off on it due to being concerned about their privacy with mobile devices, but security for online dating has come a long way. Your privacy is now safer than ever before, although you will need to keep your privacy in check with a little common sense to boot.
Finally, be prepared to spend some time doing some searches and trying a few matches. You may even have to extend to alternative dating apps to be fully satisfied. It's okay if nothing connects overnight, and all things take time. Getting a feel for the apps will help you succeed.
Why is online dating via apps so successful?
When it comes to online dating apps, even the best social network sites such as Facebook have taken a notice: it wasn't a leap to adjust Facebook Messenger into something like a dating app. Even before the pandemic, dating through online apps was the most popular way to date.
This is because more and more people like to use the internet for finding things, from products they buy to building connections. The convenience of technology is too alluring to ignore, and the best use of online connections was inevitably connecting people to date in all kinds of ways.
Many dating apps like Hinge and Tinder are making big waves or have made monumental changes to how we meet people. You can make a free profile on many. The convenience of meeting someone online while on your smartphone as you travel is simply too good to pass up.
To top it off, Tinder and Hinge and other dating apps are extremely accessible and simple to use. This is a winning combination for their success, and it encourages anyone to take a step and join the world of online dating.
Best dating apps FAQ
Get answers to common questions to help you choose the best app for you.
What are the best apps for dating?
The best apps are the ones that help you achieve your dating goals. The qualities these apps have are as follows:
– Convenient features like video chat
– Practical design
– Great potential matches
– Safe and reliable to use
– Well-rated by users
What is the most popular dating app?
Out of the best available, eHarmony is the most popular dating app with the highest number of monthly app downloads.
Which app is the safest for dating?
The best apps on this page all have robust safety features such as email and profile picture verification to reduce the risk of fake profiles and catfishing, as much as possible. The safest app from our top dating picks is eHarmony since it adopts most best practices for safe online dating.
Which app is best for a serious relationship?
Based on popularity and app features, the app to choose for serious relationships is also eHarmony. Its compatibility analysis on matches is a key feature that sets it apart from other dating apps that appeal to a broader audience.
Which dating apps actually work?
Out of the best apps we reviewed and ranked, eHarmony has the strongest track record of success stories for serious relationships and marriage. This makes sense considering the glowing eHarmony reviews and high ratings from dating app users .
For casual dating, Zoosk is the best app thanks to its fun and dynamic features, such as video chat. The fact that Zoosk has a whole section on its site highlighting couples that met through the app is proof that it actually works. Reading these success stories is not only romantic but also inspiring since you get to find out more about dating app experiences.
What is the best app for real dating?
The top dating app that is most suited to real dating is eHarmony since it has a well-documented high success rate. For those users who are after more of a flirty and fun dating scene, Zoosk is a great option to meet new people quickly.
Are any dating apps worth paying for?
The best apps are worth paying for because they offer excellent design, great matches, and enhanced safety. This doesn't mean that you can't try free dating apps. The best mobile apps also have a free version available when you sign up, some also have free trials and free features.
What are the best free apps?
There are several solid options in the free category. You can give OkCupid, Plenty of Fish or even Facebook Dating a try. Both OkCupid and Plenty of Fish are well established and have good reputations. 
Facebook Dating is newer but it does leverage all the features the social media giant has to offer, such as finding mutual friends.
What is the best free gay dating app?
The top free dating service for gay singles is Grindr. It is in fact more than just a dating platform. Users report having found friends, jobs, and even housing on Grindr!
What is the best app for over 50 singles?
The best app for singles over 50 is SilverSingles. The app is specifically designed for older users and the dating pool will be perfect for anyone over 50. Not only that but it also has a fully featured desktop version which can be accessed through your preferred browser and internet device, such as an Amazon Kindle tablet.  
How old do I have to be to use a dating app?
Depending on the service and where you live, you will need to be a minimum age for the age of consent. In most places this is about 18 years of age, but it can be lower or higher in other countries. Read the terms of service when you sign up for an app.
Can my phone use the app I want?
That depends on your phone. Most smartphones are able to use dating apps, so long as they aren't more than a decade old or so. Even then it's probably still possible. If you can't use the app after downloading it, uninstall it and try a different device.
We also have reviews of all these dating pages