Dating in your 20s: Best Dating Apps for Young Adults, Updated 2023
Dating as young adults can be exciting as you navigate working, going to school, and building meaningful relationships with others. However, finding the ideal partner may be challenging, especially if you are nervous about meeting new people outside of your current age group. Read on to find out about the best dating apps for young adults.
Dating in your 20s can look different for everyone, depending on what you want and what you're looking for—whether it is meeting people out and about or finding the best dating apps for young adults to use. For many twenty-somethings, it's about establishing independence and defining the lifestyle you want.
An open mind (and heart!) are a great starting point for successful dating as you start your adult life. Let's take a look at what else can help.
Dating apps for young adults recommendations
The best way to meet someone when dating in your 20s depends on your relationship and partner preferences. This also means that some dating apps for young adults may be better suited to you compared to others.
Before you settle on one dating app, be sure to have a look at our dating app recommendations.
These are some of the leading dating apps in the match-making market. Sign-up today for free:
Who uses dating apps for young adults?
Young people of all backgrounds often use dating apps for young adults to find friends, dates, and long-term partners. University students make up a significant proportion of users, as do young professionals.
Dating sites for young adults give you the opportunity to get to know your matches at a pace that's best for you. They also provide a comforting level of anonymity. This is particularly appealing to those who may be new to the dating game.
What to expect from dating apps for young adults?
Dating apps for young adults come in all shapes and sizes; each offering different services and extras that are much more than glorified hookup sites.
Some sites may ask you to fill in a personality test, which is then fed into an algorithm to help find matches that have a similar outlook to yours. Others may require you to link to your social media accounts and use the appropriate information to help find the perfect partner. While this might be quicker than an online test, it's worth setting up a separate email account, for the purposes of safety and security.
Try to focus on your profile page and your photograph. Take some time when writing about yourself. Be sure to state your likes and dislikes, as it can save time later on.
You'll find plenty of tips on how to create the perfect profile picture, but the bottom line is to ensure that it looks like you and communicates something about your personality.
The most popular dating apps for young adults in their 20s
Let's take a closer look at the most popular dating apps for young adults. Find out the main features of each app and the type of dating they are designed for.
Tinder
This app has become synonymous with swipe-based dating on smartphones. You are shown a stack of profile cards based on proximity. To view the profiles, you have to swipe left or right (dislike or like, respectively) to move to the next one.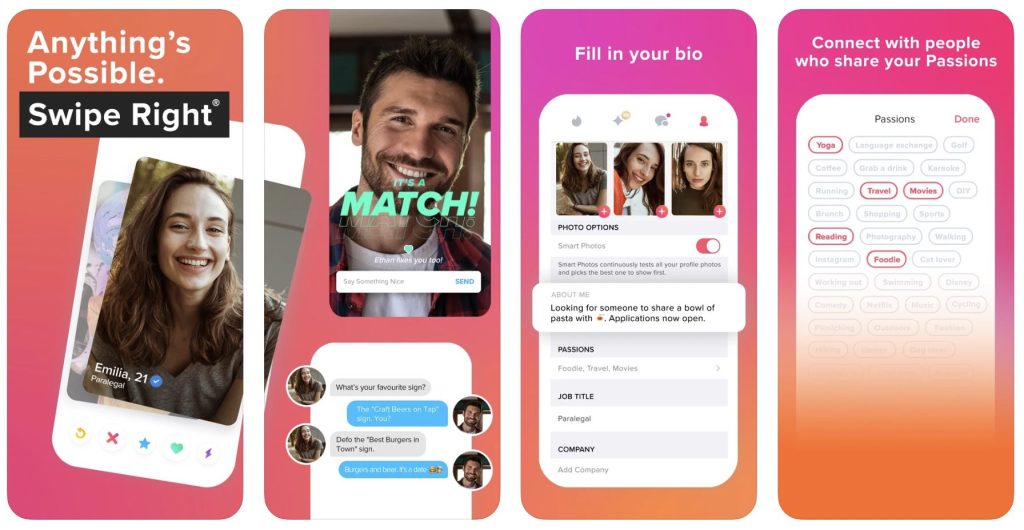 While swiping has proved popular, Tinder has been a victim of its own success and the gender ratios on the app skew heavily toward males. Aside from distance to the user, there are few filtering options unless you pay for an account upgrade. This means that for free users Tinder is little more than a game of chance.
Zoosk
This dating app combines different ways of matching with other users. You can browse profiles by using different criteria or with the carousel feature for a more Tinder-like experience.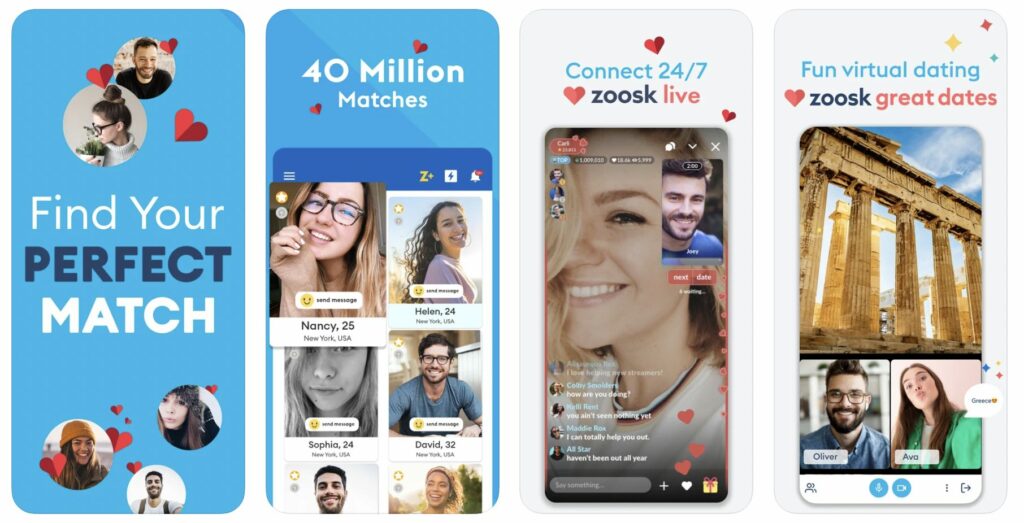 Zoosk has strong dating safety features. The main one is its photo-verification step when you sign up. This helps ensure that users are who they say they are. Zoosk features and design are both user-friendly and accessible. With 40 million users, Zoosk is bound to have great people to meet for anyone in their 20s.
Christian Mingle
Many dating apps are designed for the widest audiences possible. This means that for those with strong Christian faith the broader audience includes many people who do not share the same priorities.
Christian Mingle is unique in that it puts faith-based dating for Christian singles ahead of appealing to a wide audience. Users can easily look for members based on the criteria that truly matter to them, such as someone being part of a specific Christian church or denomination.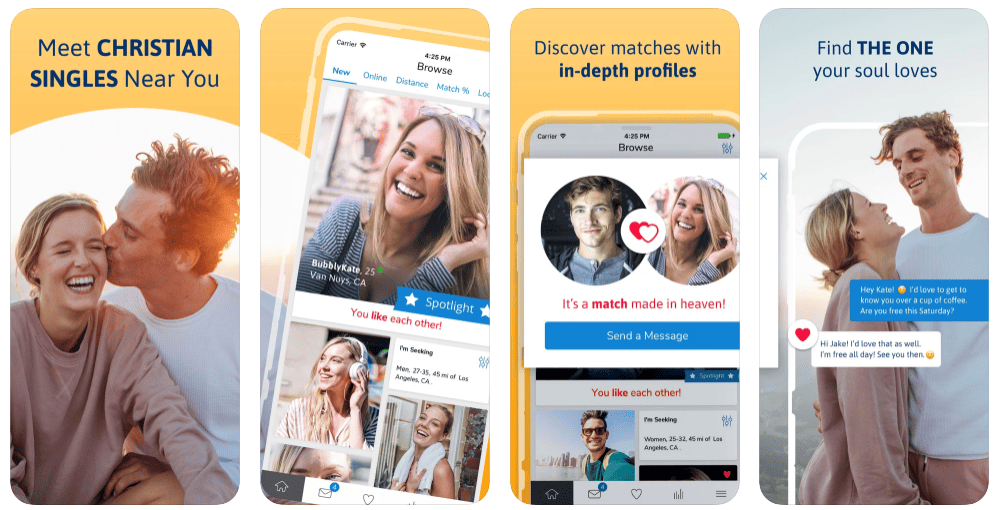 Christian Mingle avoids gimmicks and, instead, opts for features that truly matter. This way you can find that special someone who has the same religious values and faith-based principles as you. Believing in God does not mean you have shunned the convenience of technology to find a Christian partner when dating in your 20s.
Bumble
This dating app shares the swipe-based approach that Tinder popularized but with a twist. Bumble's most talked about feature is that "women make the first move". This means that when a man and a woman match, the woman has 24 hours to initiate a conversation. If that doesn't happen, the match is canceled.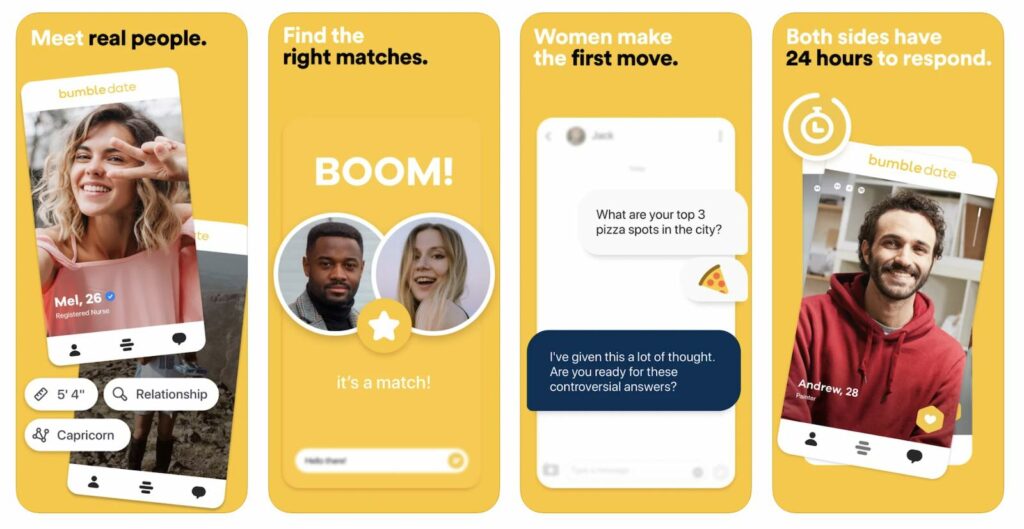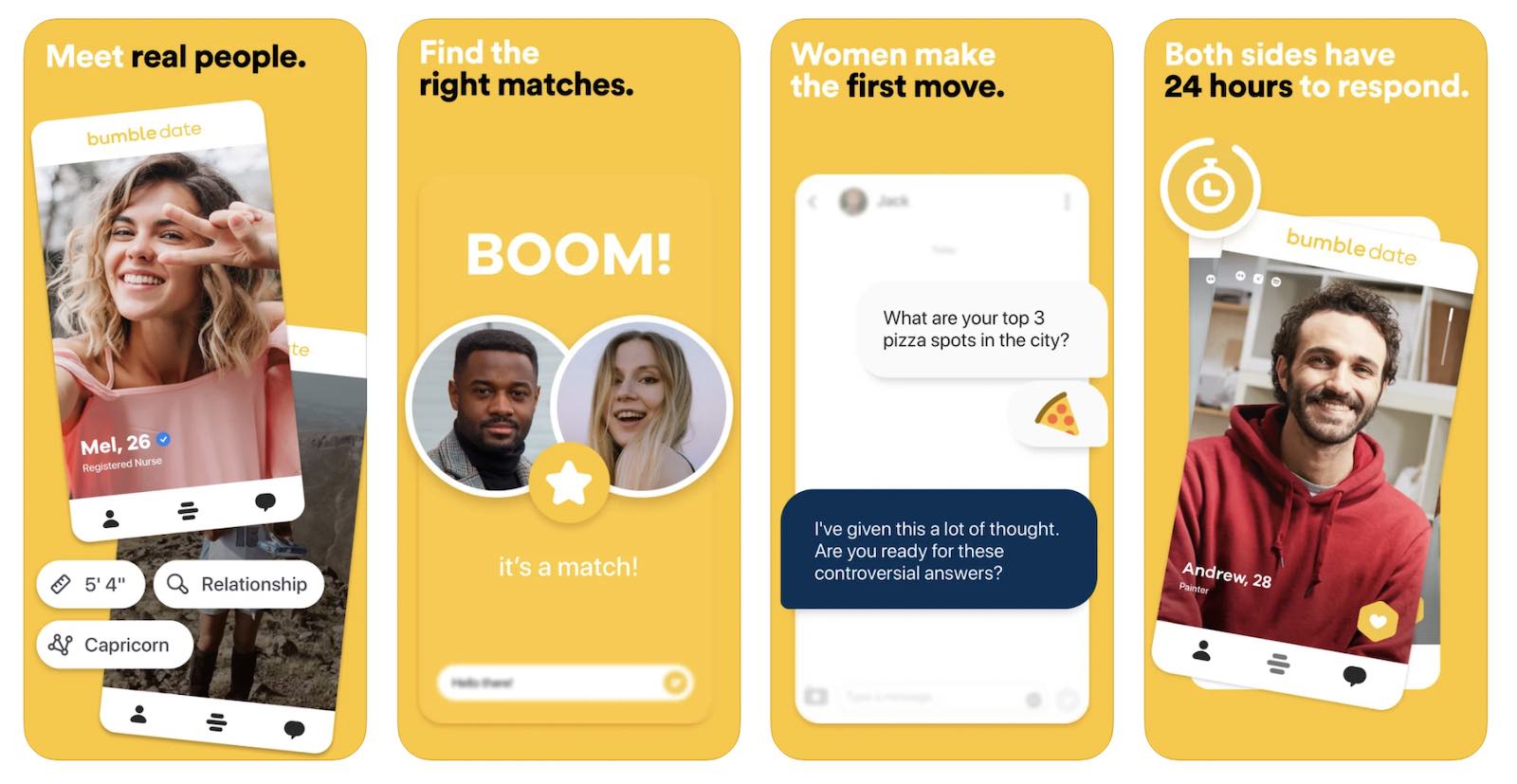 Bumble isn't just for heterosexual men and women. For same-gender matches, either person can initiate the conversation. The 24-hour match expiration is still there, so if neither person writes something the match will go away after a day.
Adult Friend Finder
Dating in your 20s is all about understanding your relationship and intimacy needs. Adult Friend Finder is one of the best apps for young adults since it helps its users find intimacy and sex. While it is possible to make meaningful connections on Adult Friend Finder, the goal is to match you up with compatible casual sexual partners.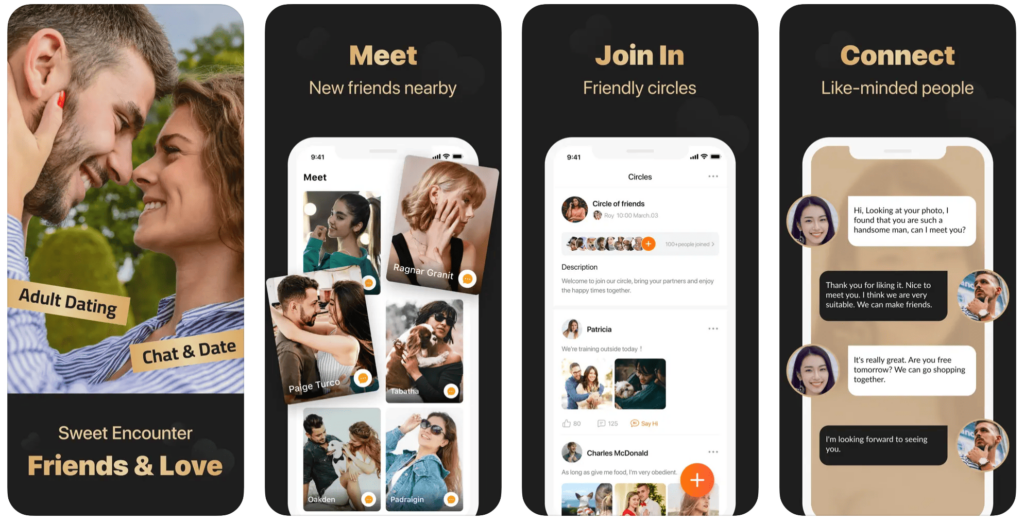 Adult Friend Finder also has community features such as blogs and forums to find out more about different sexual preferences and practices. This means that it goes beyond the features offered by other dating apps, helping you to fully explore your sexual needs.
What is dating in your 20s like?
Dating in your 20s is very diverse and full of choices—from dating apps for young adults to fun dating activities in your city. This also means that dating in your 20s can be overwhelming, which is why this article gives you tips, recommendations, and advice to help you make meaningful connections today.
Dating in your 20s for guys
Here are some tips on how men in their 20s can improve their dating experience:
Be kind to yourself and others: meeting other people can mean opening up emotionally. This is why empathy is an important part of dating.
Don't settle: just because someone shows interest in you doesn't mean they are the right person to date. Taking a little more time to get to know them can help you decide if that person is worth your while.
Know what you are looking for: dating for the sake of dating can burn you out. Taking a little time to think about what you like and what you are looking for in a person can help you pick better dates in the future.
Don't spend too much money: spending a lot of money does not guarantee a good dating experience. There are plenty of thoughtful and fun date ideas that don't involve cleaning out your bank account.
Be flexible and open to new experiences: dating in your 20s is about finding out what is important to you romantically. The best way to do that is to be willing to try out new things.
Dating in your 20s for women
Here are some tips on how women in their 20s can have better dating experiences:
Have fun: no matter what your dating goals are, it's important to have fun on your dating journey to be able to better learn from your experiences.
Prioritize yourself: when you meet new people and start dating, it's easy to lose sight of your own needs. It's worth taking the time to think about whether your dating experiences align with your romantic needs or not.
Find perspective: dating experiences are bound to be diverse and sometimes confusing. Finding perspective and being able to look beyond a single date or hookup will help you move on to more positive experiences.
Value communication: it's easy (and sometimes comfortable) to assume about other people. Don't be afraid to ask questions or speak up to avoid misunderstandings.
Don't rush: You don't have to commit to someone unless you are sure you're ready to do so.
Be safe: Before agreeing on where to meet, ensure you are comfortable with the location. Public venues are always better, especially for the first date. Don't forget to let a trusted person (friend or family) know about your plans. They can also call or message you at an agreed time to check on how the date is going and optionally give you an easy out to end the date early.
Casual vs. serious dating apps for young adults
It's normal to have different dating goals in terms of commitment and relationship length. Dating apps and sites will either cater to both or will be more tailored to one dating style over the other. Take a look at our recommendations for casual and serious dating.
Where to meet singles in your 20s
While every city and town is different, there are also common trends in terms of cool places to meet other singles. No matter where you go to meet singles, the dating apps for young adults on this page make it much easier to arrange dates since they eliminate the guesswork around someone's relationship status.
Picking a place to meet depends on your preferences. Likewise, if someone you're interested in suggests somewhere to meet, it's good to pay attention because their choice tells you something about their interests.
Best cities for dating in your 20s
Here are some of the best cities for dating in your 20s and why they are our top picks:
New York: women outnumber men in certain age brackets. This makes it easier for men to meet women.
Portland: this city gives you the best chance of getting replies to your messages whether you're a man or a woman.
Los Angeles: L.A. is the best city for casual dating according to OkCupid.
Boston: according to a recent survey, Bostonians are least likely to ghost you after a date.
Dating an older person in your 20s
If you're in your 20s, you don't have to date someone who is the same age as you. Take a look at these suggestions to find an older partner.
Best dating apps for young adults: FAQs
These are answers to common questions about dating in your 20s on dating apps for young adults.
Why is dating in your 20s hard?
Dating in your 20s is hard because this is a time when you are defining your independence. It's when you are learning life lessons through personal triumphs and failures. Trying to balance that with the work of maintaining a relationship is extremely challenging. 
When you are dating in your 20s, it's important to communicate not just your relationship goals but also your personal goals with any potential partners when using dating apps for young adults.
How to start dating in your late 20s?
To start dating in your late 20s, you need to set yourself some realistic dating goals so you can track your progress. One of your first goals could be to try out three different dating apps for young adults listed on this page. Once you match with people it's important to be clear about what you are looking for so as not to waste anyone's time and to have the best chance of success.
Is dating in your 20s pointless?
Dating in your 20s isn't pointless because the romantic experiences you have now will shape how you approach relationships later in life. You can learn a lot about yourself and other people by dating in your 20s. To dismiss that opportunity out of hand would be a mistake.
How should you dress for dating in your 20s?
The key to dressing well for dating in your 20s is to balance your own comfort and style with external expectations. When thinking about what to wear on a date, ask yourself the following questions:
– What kind of venue are you meeting in? If the place has social media, it's a chance to see what other people wear when going there.
– What activities are you going to do together? Make sure that your clothing and footwear are suitable for anything beyond a sit-down date.
Should I date someone with a kid in my 20s?
Yes, you can, if you like the person. At the same time, going on a few dates with someone who has a child doesn't make you a new stepdad or stepmom. If someone has a kid, let them set the pace when it comes to that aspect of their life. 
Take this time to think about your own feelings regarding kids and whether you see having a child in your life as a possibility in the future.
Best dating apps for young adults: our final thoughts
Dating in your 20s can be fun and exciting, but it is also okay if it feels daunting. Try to prioritize your well-being to make sure you can truly enjoy your dating experiences, whether you choose to start dating on dating apps for young adults or go out to meet people.