Do Ashley Madison Reviews Vouch for This Popular Affair Site (Updated 2023)
Want something a little more discreet? We've put together Ashley Madison reviews and done further research to help you decide whether this discreet affair dating site is the right choice for you.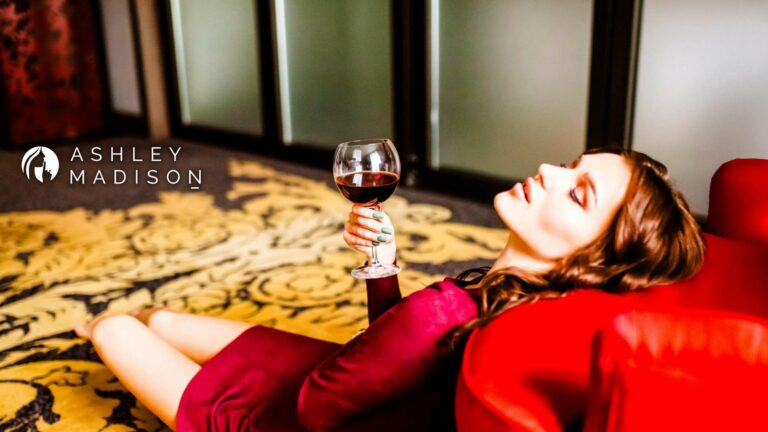 As one of the first online dating sites catering to people looking for extramarital affairs, Ashley Madison boasts 54 million users and is no stranger to controversy.
While some Ashley Madison reviews may doubt the validity of the site, it may still be your best choice for finding a discreet hookup, especially since the company doubled down on its security and privacy protocol after the well-publicized 2015 security breach. They now offer married men and women the chance to make discreet hookup arrangements while keeping their private lives private.
For our Ashley Madison review, we dive into the casual dating site to check whether it is the best option for finding an affair. Read on to find out everything you need to know about using Ashley Madison.
If you are interested in the best married dating sites in the US, be sure to check out our ranking table!
Ashley Madison reviews at-a-glance
Before you dive into our detailed review to find out whether it's the right dating site for you, take a look at our overall impression of the site, according to Ashley Madison reviews by users and our research.
| | |
| --- | --- |
| Discretion | ★★★★★ |
| Security | ★★★★☆ |
| Pricing | ★★★☆☆ |
| Member-activity | ★★★★☆ |
| Customer service | ★★★☆☆ |
| Overall rating | ★★★★☆ |
💡How does Ashley Madison work?
While some singles use Ashley Madison as any other dating site, the vast majority of users may describe themselves as "attached." The site specifically gears toward finding discreet casual affairs, which is why security plays an important factor considered in many Ashley Madison reviews, including ours.
Since discreetness is important, Ashley Madison allows you to set the search parameters however you'd like. According to Ashley Madison reviews, you can search within 20 miles of your location or widen the field and extend your search to meet real hookups up to 150 miles away from home.
🆓 Free vs. paid features
Ashley Madison works differently depending on your gender. If you're a woman, you can use many features on the site free of charge. However, during our research of Ashley Madison reviews, we've found that while men can register for free, you must purchase credits to interact with other members.
Free features
All features on Ashley Madison are free for women. If you're a man, this is what you can do for free on the site:
Sign up: enter an email address, name, and password (for optimal discreetness, do not use your usual email address)
Complete your profile: enter your age, height, weight, and the type of partner you're looking for
Specify the type of encounter you're looking for: options range from "something short term" to "undecided"
Access other profiles: you can see some photographs, but some users restrict who sees their profile picture until they've made contact, so pictures may appear blurred
Paid features
Unlike many other dating services, Ashley Madison isn't swamped with adverts, which is why they've implemented a credit system to maintain the site. Depending on the credits and plans you purchase, this is what you may be able to do on the site:
Highlight your profile on search results
Message with other profiles
Video call with potential matches
Send virtual gifts
💰Ashley Madison Pricing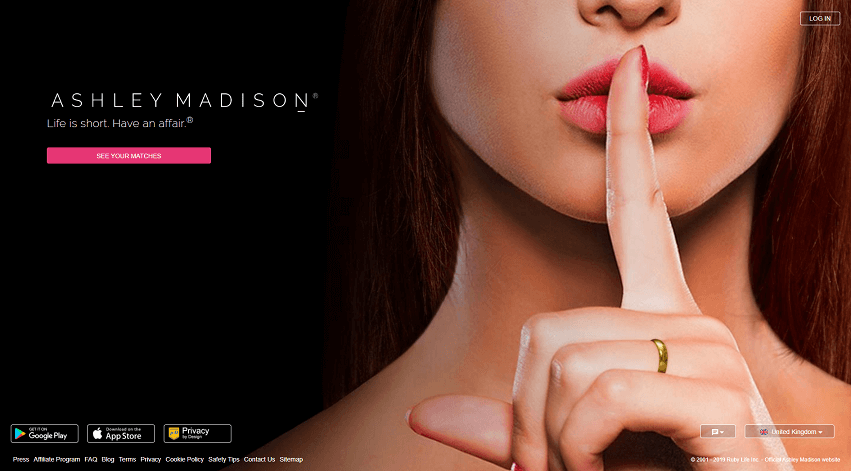 In order to send and receive messages as a man on Ashley Madison, you have to purchase credits. After you've purchased credits, you also have several options for add-ons to choose from.
How much does Ashley Madison cost?
| | | |
| --- | --- | --- |
| Package (number of credits) | $ per credit | Total price |
| Basic (100 credits) | $0.49 | $49.00 |
| Classic (500 credits) | $0.30 | $149.00 |
| Elite (1000 credits) | $0.25 | $249.00 |
*Pricing provided for illustrative purposes based on available information at the time of writing.
Keep in mind that the Ashley Madison pricing system works so that the more credits you buy in a package, the lesser the cost is per credit. Many Ashley Madison reviews agree that if you're just starting out on Ashley Madison, purchasing the "Basic" package first may be a good idea.
Ashley Madison costs per action
Different features on Ashley Madison require different amounts of credits. This is the number of credits you can expect to spend on different actions, according to Ashley Madison reviews:
| | |
| --- | --- |
| Action | Number of credits spent |
| Send priority email | 5 |
| Send your first email to a user | 5 |
| View a message for the first time | 5 |
| Chat for 30 minutes | 30 |
| Chat for 60 minutes | 60 |
| Send a virtual gift | 20, 30, or 50 |
💡Once you've established a connection with another user, there's no charge for sending them further emails.
Other premium services
After purchasing a credit package, you may access other premium services and add-ons on Ashley Madison.
Ashley Madison premium
Purchasing the Elite credit package grants you access to Ashley Madison premium, which includes
Free chat: 24 hours of free chat on the first day of use
Priority Man status: your profile will be highlighted in search results for 30 days, so you may get extra interest
Member initiated contact fee
According to our research and some Ashley Madison reviews, this is an add-on you are prompted to purchase after buying any amount of credits. It is free for the first month and then costs $29.99 per month.
The service allows you to view and respond to messages from users you've never messaged with before, without spending credits. You can always use credits, instead, but if you're an active user, this may help you save some money.
Keep in mind that this service renews automatically, so make sure you cancel before it renews if you decide it's not worth it for you.
Payment methods
On Ashley Madison, you can pay via credit or debit card by using an online form. Many Ashley Madison reviews verify that all credit cards are discreetly billed, with no mention of Ashley Madison on your credit card statements.
Alternatively, you can use PayPal or other online payment systems, including Skrill, Pay SafeCard, and Neteller.
📊 Users and demographics
When joining Ashley Madison, you are joining a community of about 54 million active Ashley Madison members worldwide, many of whom leave positive Ashley Madison reviews. These members send and receive over 5 million messages daily, giving you plenty of opportunities to meet your next hookup or affair. An additional few thousand people sign up every day, so there are always new people to meet.
While people between the ages of 18 and 55+ can all use the site, most users are in their 20s to 40s. Many Ashley Madison reviews mentioned that men tend to outnumber women on the site by about 18%, but we discovered that this is being addressed by making the site free to use for women.
While the parent company's headquarters are based in Canada (Ruby Corp), they also have offices in 53 other countries, so there are possibilities to date internationally on the site.
✍️How to get started?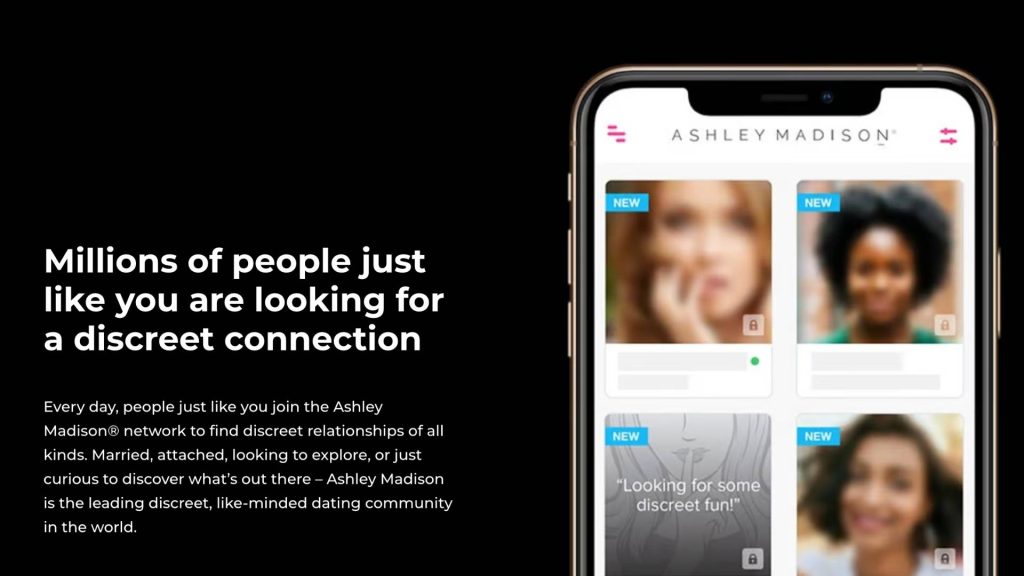 If you're ready to start looking for your next affair, we've collected all the information you need to get ahead from Ashley Madison reviews.
Registration
Time needed: 11 minutes.
Signing up for Ashley Madison is simple and free for both men and women. To register, follow these steps:
Sign-up: create your Ashley Madison account by going to ashleymadison.com and click "register"
Provide the required details: register an email address and choose a password. To make sure you stay as discreet as possible, opt for an email address that excludes your name and any personal information
Create your profile: give as much or as little information about yourself as you feel comfortable. Members are requested to avoid using their real names to ensure anonymity. However, you must disclose your relationship status
Select your preferences: specify the type of matches you want to meet by selecting options from a one-page questionnaire
Choose a profile picture: you have the option to blur your photo or mask your face to remain as anonymous as you'd like
Buy credits: to use the site to its fullest, you can purchase the credit package of your choice, or—if you're a woman—continue using the site freely
User friendliness
According to Ashley Madison reviews by users of the service, the site is easy to navigate and user-friendly. Searching for other members, building your profile, and viewing other profiles are easy to do, and information about purchasing credits is clearly explained.
Ashley Madison also offers to renew your credits automatically when you run low, but using this option is up to you.
Contacting users
Ashley Madison is primarily designed for married people to find encounters outside of their marriage. Naturally, there is a need for discretion and privacy. Many Ashley Madison reviews note that your identity can remain anonymous when you message on the site.
When you click on a user's profile, you can see more information and be prompted to send a message, wink, or a gift using credits. Here are some more actions you can take:
Favorite a user: keep track of up to 100 profiles that interest you
Use the "private showcase" function: add photos to a "holding page" where a profile of your choice can view them.
📱The Ashley Madison app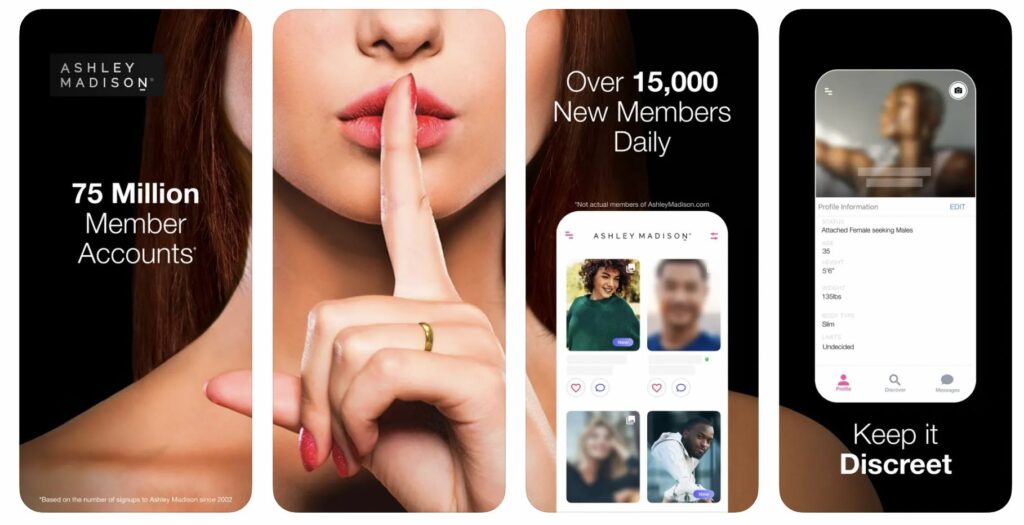 According to Ashley Madison reviews, the Ashley Maddison app is just as easy to use as the site and is available on iOS and Android phones. For added discretion, the app's logo only displays the initials "AM".
The app includes all the functions available on the site, including engaging with other Ashley Madison users, searching for matches, and even choosing your membership package.
👍 Pros and cons 👎
We've looked through some Ashley Madison reviews provided by users to get all the information about the advantages and disadvantages of the site.
Pros
Easy-to-use interface
App is compatible with both Android and iOS
Assured discretion, even on credit card statements
Registration is fast and simple
Increased security in the wake of the 2015 security breach
Most features are free for women
Cons
Messages cannot be sent for free if you're a man
Some fake profiles
You can only chat with users that have also bought credits unless you are chatting with women
🙋 FAQs
Here are the answers to some of the most commonly asked questions we came across in Ashley Madison reviews.
What is Ashley Madison?
Ashley Madison is a dating site and app for attached people looking for casual and discreet hookups or relationships.
Is Ashley Madison free?
Ashley Madison is free to use for women. For men, only registration is free, and if you want to communicate with other members, you can purchase credits.
How to message on Ashley Madison without paying?
On Ashley Madison, women can message for free. If you are a man, you might have to pay, but there are ways to lower the cost. If you purchase the Elite credit package, you can chat for free for 24 hours. You can also try member-initiated contact for free for 1 month, which lets you reply to messages without spending credits.
Is Ashley Madison safe?
After the disastrous hack in 2015, Ashley Madison improved its security procedures, offering its users greater levels of protection and anonymity. The site's password analysis tool can help you choose a secure password to keep your account safe. Payment options are also available anonymously.
While many Ashley Madison reviews note that it is secure, make sure to take personal steps to keep yourself safe.
How discreet is the site's billing method?
Payments cannot be traced back to your card or online payment account, and bills do not mention the site's name on statements. With "My Ashley Madison," you don't even have to worry about your phone number appearing anywhere.
Is Ashley Madison legit compared to other dating apps?
Ashley Madison is entirely legit. As with any other dating or social networking site, some members may create fake profiles. On Ashley Madison, some men create female accounts to message for free, so keep this in mind.
A recent report by Ernst & Young suggested that any bots that had infiltrated the site have been deleted, thanks to Ashley Madison's improved security protocols.
Are there any good quality matches on Ashley Madison?
According to Ashley Madison reviews, the site has good hookup options for those who are willing to make a good investment and are looking for an affair. Since payment is required to use the site, most members on the dating site are serious and looking for a quality hookup.
ℹ️ Our final thoughts
In our Ashley Madison review, we discovered that Ashley Madison is a safe and legitimate dating site and is a great option if you're looking to date, hook up, or have a discreet affair, especially if you're in a relationship.
Given the security measures in place to ensure anonymity, it is one of the best sites for affair dating. The site is straightforward about the type of relationships it promotes, and it encourages users to be upfront about their relationship status.
While it might not be for everyone, Ashley Madison has earned its spot in the market.
Company information
Registered office address: Safenames House Sunrise Parkway, Linford Wood, Milton Keynes, MK14 6LS
Private Limited company registered in the UK
Parent Company: Ruby Corp, Toronto, Canada
Director: Simon Marshall McManus
Alternatives to Ashley Madison
Find married men and women for discreet hookup arrangements in our recommended dating sites like Ashley Madison.