be2 is a dating service that helps singles looking for potential romantic partners and long-term relationships. Whether you enjoy online dating sites from home or on the go with dating apps, our be2 review will show you why they have you covered.
For decades now, be2 has been providing matchmaking services based on an algorithm using their personality test for a more optimal dating experience. There's a reason why be2 is one of the top dating sites for serious, long-term relationships!
Read through our be2 review to get an overview of the service, what membership can cost you and what you get for it, how you can register and use the site, and more. Find out why singles across the US love using be2 for matchmaking, and why you can too!
Table of contents [ Show Hide ]
Overview of be2 dating review
The be2 dating site is a place where most users are looking for love and serious relationships. Originally launched by S.à.r.l., a company based in Luxembourg, be2 is now recognized worldwide.
As a dating service, be2 is committed to facilitating meaningful connections for singles across the US, and working hard to ensure your safety, enjoyment, success, and user-friendliness of the site.
The first thing that stands out for our be2 review as you register for be2 is their engaging questionnaire that has been designed to improve the quality of your matches and dating experiences. This is similar to eHarmony, but a step beyond what most other dating sites require, and it is worth it.
The result of our be2 review is a legitimate dating experience where search results and matches feel more relevant. be2 is so confident in their methodology that they even go so far as to guarantee success with finding a partner, asking the question" why not try be2 yourself?"
Users will be able to enjoy chats and video features, matchmaking, notifications for messages and matches, and more from the comfort of their own home or while on the go with the be2 dating app. You can either sign up for free or become a premium member to unlock more features.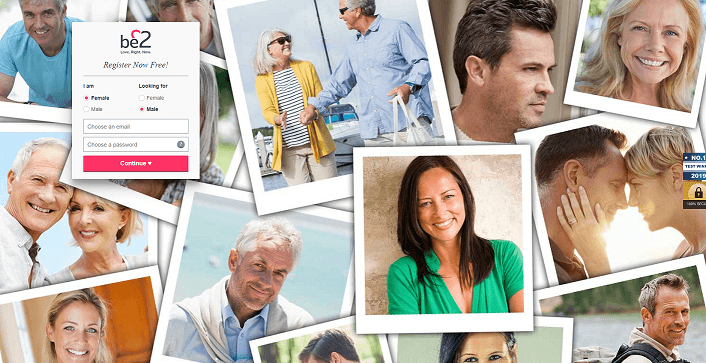 be2 review: pros and cons
From the registration process to chatting and matchmaking, be2 is a dating website that strives to streamline the online dating process for its users. Registration can be done in 5-10 minutes depending on how much you want to put in, and navigating is intuitive.
There is an almost even split of users with approximately 53% of users being men and 47% being women. There's also a good amount of LGBTQ+ users, bringing an open and inclusive diversity to be2 dating.
Profiles are almost always a good source of information on whether a member is a good match for you or not. All the information you provide when registering ensures that only people who have similar interests will be shown to you.
Pros
Matching is based on the compatibility of other users via the personality test
Great service for singles who want to find a serious relationship partner
Search filters for finding other Americans based on interests, faith, location, and more
The app is modernized, sleek, and user-friendly
Excellent and responsive customer support and moderators on the site
Easy to use for new members
There is an active LGTBQ+ community
Matching profiles are updated every day
Cons
As of this review, there are no chat features available in the be2 app
Options for gender and sexual orientation are limited at sign-up.
Only a limited number of special features available
Fake profiles can infrequently be seen, meaning there are some scammers on the site
be2 review: membership options
There are three different types of monthly plans available for singles looking to improve their dating chances on be2. These are split into three subscription lengths, and each will auto-renew until cancellation. You can cancel at least 14 days before the renewal.
The three different types of plans with be2 are the Basic, Classic, and Committed plans. They are broken down in the following way:
| | | |
| --- | --- | --- |
| Plan | Length | Cost |
| Basic | 3 months | USD$ 57.95 per month |
| Classic | 6 months | USD$ 31.95 per month |
| Committed | 12 months | USD$ 21.95 per month |
You can either register on the website or you can download the dating app for either Android or iOS/iPhone via google play and the apple app store respectively. You can pay either using a credit card or PayPal.
Free vs premium plans
You can still sign up for a free membership on be2. With a free membership, you can proceed with:
Account registration
Profile creation and personality test-taking
Upload pictures
View your daily matches
Browse member profiles
However, with a premium plan you will have the following features available:
Send and read unlimited messages
View photo galleries and see user pictures
See who visited your profile
Read all of your messages
Make video calls with matches
Add contacts to your Favorites list
Picture voting
be2 review of the registration process
Unlike other dating services or apps that just require the bare essentials, be2 asks its users to answer a series of questions to improve their matchmaking odds. This takes a little extra time, but the results are well worth it. The process for registering goes like this:
Signing up
Begin by giving some basic information about yourself: what your sex is and whether you are interested in men or women, a valid email for verification purposes, and a password to use for the site.

The be2 questionnaire
This scientific matchmaking process utilises your answers to improve your searches. These questions include how you react to falling in love, your belief in role distributions with a potential partner, dietary habits, and more.

Defining your ideal match and you
As a continuation of the questionnaire, you will be asked to describe your ideal partner, including what you hope their decisiveness, sociability, caring, and dominance traits are like, and what appeals to you. You will then be asked to rank how you see yourself and how you think others see you.

Your hard data to better help your matches for dating
be2 dating will then ask you about your physical features, location, religious beliefs, and smoking and drinking habits. You will also be given some space to write a short text that will be shown to anyone who looks at your profile.

Upload your photos
You can now browse the site for other singles, but it is highly recommended that you take the time to upload some pictures of yourself to improve your chances with members who are interested in your profile.

be2 review FAQs
Despite how user-friendly be2 is to use, you may have some questions. That's why our be2 review answers some of the most frequently asked questions to help you out.
Can I change my data input at any point?
You can change some of your data (such as hobbies, personal values, etc.), and the data about the partner you are seeking (e.g. distance, language) on your be2 member page ("My Matches/Advanced search").
However, you cannot change any of the answers you gave regarding your personality. The test can create your personality profile best when your answers are spontaneous and honest. Changing the result of the test, later on, will make your profile less accurate.
Is be2 a free dating site?
Yes, although you'll find your success with the free service lacking compared to the paid versions. You can't contact others as a free member but you can look at other profiles. Unfortunately, many members hide their profile pictures to free members, requiring premium membership to view.
What is free at be2, and what do I have to pay for?
If the site has managed to convince you, you can choose from several different Premium Membership programs which offer you an array of advantages that our be2 review covered: you can read and write messages to other users and also view their pictures.
Also, you stay anonymous for as long as you want. Your Premium Membership is renewed automatically. However, you can cancel the automatic renewal any time you like; the cancellation period is usually 14 days.
be2 also offers a success guarantee, which applies to 3, 6, and 12-month memberships. This means that they guarantee you that you will establish contact with at least 10 of their partner recommendations. If this doesn't work, be2 will prolong your membership for free.
How does the "success guarantee" work?
be2 promises that all paying Premium Members will contact a minimum of 10 partner recommendations.
If you have exchanged personal messages with less than 10 different be2 members in the duration of your paid Premium Membership, upon cancellation at least 14 days prior to expiration be2 will extend your Premium Membership free of charge.
Our be2 review suggests that you please use their contact form to inform be2 support when you want to claim the success guarantee.
Where can I change the search criteria for the partner I am seeking?
Login to the be2 homepage with your email address and password. Click on "My Matches" and then "Advanced Search" to make your changes. Remember to save your changes at the end of the questionnaire.
How can I contact other members of be2?
Click on your partner recommendation's username
You will now view their profile
You will find the option to write a message to the right of their profile picture
Click on the button to see a text box open up that you can fill in
Click on 'Send' to send your message
Only Premium Members can write an unlimited number of free text messages and read the messages sent to them.
How do I cancel my be2 membership?
Users can cancel their membership in the ''settings'' of their be2 profile. You can also contact them via email (to [email protected]) and send an attached document declaring you want to cancel.
Follow the specific instructions on their terms and conditions to go through the process successfully.
How can I contact be2 support?
You can contact be2 support via their email address at [email protected].
Is be2 a legitimate dating site?
Yes, be2 is a legitimate dating site. The site has faced criticism in the past for oversights with its security but has since then corrected its past mistakes by optimizing its business practices and matchmaking system.
Who owns be2?
be2 is owned by a company based in Luxembourg, called S.à.r.l.
be2 review: final thoughts
be2 is one of the most direct dating services on the US market to date. Their personality test ensures high-quality matchmaking and they ensure success for users who commit to finding a serious relationship.
Finding love isn't an easy thing to do. But with be2, you can make your own romance story a reality. Sign up today and begin the search to find your soulmate!