Fdating Review, Updated 2023

In this Fdating review, we'll show you how Fdating aims to connect singles from all around the world who enjoy flirting and dating. We will cover who the service is for, how you can register, and what the pros and cons of Fdating are.
Even though this casual dating website is used worldwide, most of its members appear to come from Russia and Ukraine. This means that your odds of meeting people from Eastern Europe is high, although the site doesn't advertise it as such.
Read through our Fdating review to gain insight into the site's features and experience and to see if this free dating service is right for you.
Fdating review overview
As a free dating site, our Fdating review found that the service was lacking modern conveniences and presentation. Fdating is convenient if you aren't looking to spend money but want to try a service that isn't popular. Despite being plain and outdated, it is still an easy-to-use service.
Most users on Fdating appear to be older members, between the age range of 35-45 on average. Over the course of our Fdating review, we found that the service seems to cater to mature users rather than a younger generation.
Like any free dating site that lacks strong security features, there are a number of fake profiles that you can tell might be used for scamming. Still, these are pretty obvious and you can avoid them easily enough.
The dating website really doesn't have much going for it besides its free use. You may find it to be a little too basic if you are younger and more used to modern dating sites, but older users might find this more appealing. You don't have anything to lose by signing up, so why not try it out for yourself?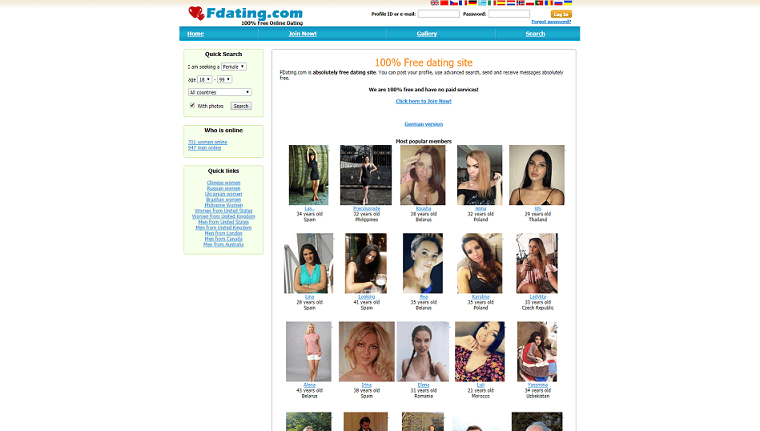 Pros and cons
Pros
Browse profiles without registering
Accessible in many languages
You can see how many times someone's profile was viewed
Quick links leading to specified groups of users (eg. Chinese women, men from Australia etc.)
The site is simple to use and easy to navigate
Registration is easy and requires no strict rules
You can upload as many photos as you want
No immediate match suggestions; you're free to search all you want

Cons
Layout and Navigation are very outdated
Site does not look particularly good
Little information about the company (only FAQ)
Strong possibility of fake accounts and scammers
No mobile app for the service
Can only message other users
Our Fdating review found the site had many ads
Members are not very responsive
Most members don't fill their profile information completely
The free profile at Fdating review
There is currently only one form of membership profile on Fdating, and so features are universal for all Fdating users.
Free Membership at Fdating Review
Send messages
Add others to favorites
Browse photos
Add others to blacklists if you want to stop seeing them pop up
Report abuse
Browse profiles by filters
See who has viewed your profile
See how many times your profile has been viewed
Fdating review of "costs"
Because the website is free to use, you are fully able to utilize its features from the start. So long as you can validate your account using a phone, you will get to see everything there is without ever spending money.
However, even non-members can browse the site and get a feel for it to see if they want to register at all.
If you do sign-up, be on the lookout for anyone who might be trying to scam you or ask for personal info. Fdating warns that you should never send money over a dating site to another user, and this Fdating review agrees.
Registration process and profile creation at Fdating
Our Fdating review found the registration process to be quick and easy to do. You can finish your profile at a later time once you have provided your email. You will be required to verify your account via your mobile phone with a code that you receive per SMS. Here is the sign-up process in detail:
Signing up – When you first register, you will be asked to select your gender (only male or female), username, and will be asked to provide a valid email address for the site.
Building your profile – From here you will be asked to provide more information about your interests, including your physical features such as hair and eye colour, height, weight, and more. You also need to provide your marital status, education, and occupation.
Write a bit about yourself – Once you have filled in the above data, you can write a bit about yourself, such as hobbies and the kind of person you are. Get personal with this because it gives your matches something to read about before meeting you.
What kind of partner are you looking for? – Here you can fill out what kind of partner you would be interested in dating. Be as descriptive as possible to give potential matches a good idea of whether you would like to date them or not.
Registration code and verification – You will be sent a verification email that includes both a profile ID and password for the site. Your account will be inactive until you have used these for the first time. Afterward your account will be active, and you can receive messages.
Once finished you will be asked to provide a valid phone number for verification. Once provided you will receive a 5-digit code that will validate your account and allow you to proceed to the rest of the site.
Fdating review of the website and app
Our Fdating review breaks down the navigation, profiles of other users, and more.
Navigation
The website is quite a bit outdated and lacks a lot of the features and qualities which give most other dating sites something attractive. You can even view other members' profiles from the start before you register if you want to try this out for yourself.
The site is easy to use despite this, and everything is readily accessible from any page that you are currently on while browsing the site. In the end, the site does work even if it is a little old-fashioned and out of date.
Profile
Profiles can be informative, but there are quite a few fake profiles of women that you should be careful of. As for your own profile, there is a lot you can add to it, but the information is basic, focusing on your physical features and a little about yourself. You need to be creative to make it work for you.
Fdating review of the mobile service
Unfortunately, Fdating doesn't have a mobile dating application. You can only access the dating site using your mobile's internet browser. The mobile version of the site works identically to the desktop version and you can still meet people there.
How to contact others with Fdating chat and messaging
After you do a search for women or men who might be right for you and have found a profile you like, you can easily start to talk with them through the following:
Search for a profile that you like
Click on one of the men and women that you fancy
Click the button above the profile pic that says 'Send Message'
A new window will pop up with a message box that you can fill out
Type out your message and click 'Send Message'
Fdating review FAQs
Our Fdating review has answered some of the most frequently asked questions for you here:
What is FDating?
FDating is an online dating website that is completely free to use. It was established in 2009 and it's available worldwide. You can contact people the world over for dating and messaging.
Is FDating available in other countries?
Yes, it is available in most countries. Most women are in Eastern Europe so your contacts will most likely be there.
Is FDating really free?
Yes, the dating site is 100% free. All services are free of charge and you can contact as many men and women as you want for dating.
Why is FDating so slow?
It can happen that the site may load slowly, but the operators failed to give the reason for why this may be. When such a thing happens, you may try reloading the page you're trying to access.
Why haven't I received my email and password yet?
If you don't receive the registration email in 10 minutes, please check your junk/spam folder since some mail services sometimes mark our messages as a junk mail. This happened for our Fdating review so it is possible this has happened to you as well.

If you think that the problem may be with your mail service then you could try using a different e-mail address (gmail.com, yahoo.com etc).
How to delete my FDating profile?
Click on "Delete my profile" and then confirm by clicking the button that says "Yes, delete my profile". Our Fdating review found that there was no way to recover your profile once deleted, so only do this if you are okay with that.