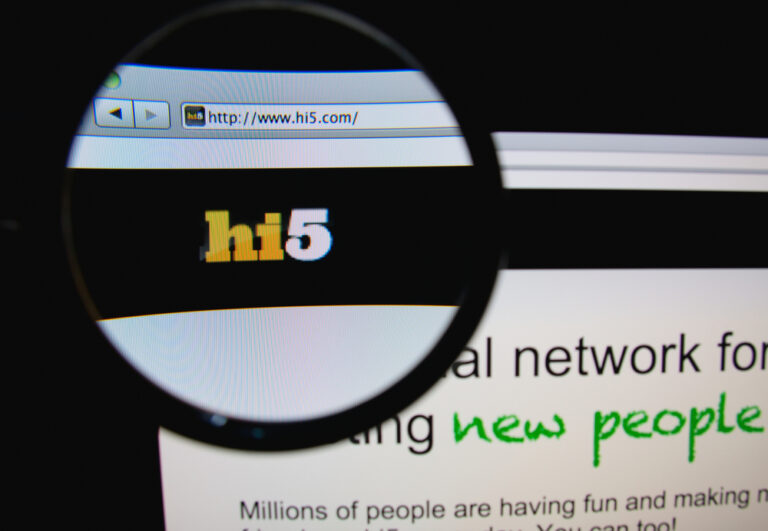 hi5 is a social network and dating site that began in 2004 and has managed to continue to help people search for new friends and share photos with one another. The website has over 100,000,000 people worldwide and is still active with younger people!
hi5 used to be known for its games and social gaming, but since its origins it was bought by The Meet Group and now focuses on being a social networking site with its user groups, friend networks, and photo sharing.
Today, the site is a little behind the times when it comes to working as either a dating service or a social networking site, and its games have been reduced to a single 'Pet' game that leaves a little to be desired.
That doesn't mean the website isn't worth exploring and trying out, and for users looking to have a simple social network to share photos or to search for new friends and possible dates, hi5 can still offer something for anyone.
To show you what we think of hi5, we review the site and look at its members, the user-friendliness of the website and the hi5 mobile app, its biggest feature, and its prices.
Take a look in our ranking for the best casual adult dating sites!
Our Summary
While hi5 was quite popular in the mid- to late 2000s, it has since seen a lot of its innovation and uniqueness drop off. The site seems to have not had its layout or user-interface modernized in over a decade, which hurts it when compared to others.

There are some good things about hi5 though. For example, you can freely chat with anyone so long as their profile isn't set to private. Being able to connect with other users for free is always a good thing, but responsiveness was slow.

The largest feature of hi5 that is advertised on every page is its 'Pet' game, which feels confusing and, after a while, seems to have little impact on whether you will meet someone.

The game is used to increase your popularity, which suggests it will help you meet new people, although it seemed like most users were focused on just the popularity of their profile and not on chatting.

Still, you may find this kind of game entertaining, and if you do your experiences with the site will be more rewarding. You can at the very least enjoy chatting with others. Who knows, you may even find that special someone you were always looking for.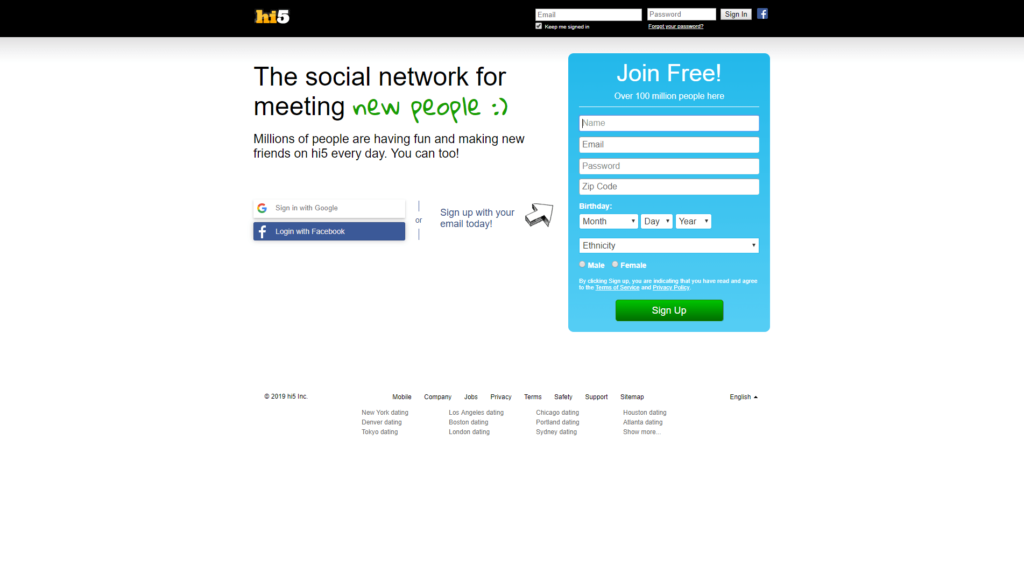 🆓 Free profile vs paid profile review
There are a lot of things you can do with the free version of the site, but there is also a gold system and a VIP premium membership. So how do the paid and free hi5 dating experiences measure up?
Free membership review
Account registration
Member search
Messaging available users
Adding available friends to your friends list
Buying Pets you can afford
Paid Membership review
"Likes You List" – See who says "yes" to you in Meet Me
Profile Viewers – Find out who views your profile
Access popular people – Contact the hottest users on hi5
Messages read – Check if messages you sent have been read
Contact new users – Gain access to new users before others do
Premium Support – Prioritised email support
💰 Types of membership review
There is only one type of paid membership on hi5, and that is the VIP premium membership.
VIP Premium Monthly Plans
There are three different payment plans for the VIP membership. All prices are affordable and won't break the bank.
| | | |
| --- | --- | --- |
| VIP Premium | Monthly price | Total |
| 1 month | $8.99 | $8.99 |
| 3 months | $6.49 | $19.47 |
| 6 months | $4.59 | $ 27.54 |
Credits – What they do and how to earn them
Gold is what is used for currency on hi5. You can use it to buy gifts or Pets. In hi5, 'Pets' are what the profiles of members are called. A Pet's value is determined by their popularity and can be made more popular through purchasing them with gold.
You can purchase gold or earn it for free by completing tasks that are made available by hi5.
Gold – Bundle costs
2,500 Gold – $5.00
10,000 Gold – $10.00
25,000 Gold – $20.00
75,000 Gold – $50.00
200,000 Gold – $100.00
400,000 Gold – $200.00
💡 How to reduce costs?
Use the free version of the site
The site has a lot to offer you with just the free membership, and what it does offer you with the premium membership is a little underwhelming. None of the VIP membership features are truly necessary to chat with anyone or potentially date on hi5.
If you want to try out the VIP membership, we would recommend simply doing the 1-month plan to see if it is right for you.
Minimize using the pet game
The Pet game is one of the primary features that the site advertises to you as you browse, but it is also entirely optional and for entertainment purposes only.
This feature for hi5's social gaming can require a lot of gold to play, so use your free gold first before you buy any to see if this is what you are looking for. You can also earn gold for free, which would be recommended first before you buy.
📊 Membership structure
How many hi5 users in the US?
There are an estimated 1.8 million users in the United States and over 100 million users worldwide.
hi5's demographics of love
Most users on hi5 are under 35 years in age, making up approximately 90% of the website. Our data indicated that there is a rough 50/50 divide between men and women, with most being between 25 and 35.
✍️ Registration process and profile creation review
Time needed: 3 minutes.
The registration process is quick and easy to do, and you can finish your profile later if you would like. You can either register with Facebook or Google+, or with a valid email address. Registering with Facebook or Google+ will import a lot of your data for you.
Signing up

First select whether you are registering with either Facebook, Google+, or an email address. If you are signing up with an email account, put in your screen name, a valid email address, a nominated password, your city, gender, and your birthday.
You will be asked to accept the terms of service before you can proceed.

Find friends

You will now be asked to put in an email account. This will give hi5 permission to import your email address book contacts and store their names and email addresses indefinitely. You can skip this if you don't want that.

Upload a photo

Now you will be asked to upload a photo. You can do this later if you prefer, but it will help you a lot with getting messages and in participating with others on the site.
People on a social networking site like hi5 are more inclined to share photos and information about themselves if you share a good photo first!

Confirm Your account

hi5 will send you an email containing a confirmation code that you must use to activate your profile. Put in the code you receive to conclude your registration.

Browsing the site

You can now go through hi5 and explore some of its social media features or the pet game. You can also try out some of the basic search functions to see if you can start chatting with someone.
📱 User friendliness
hi5 dating site review
Registration
For a social media and dating site, hi5 has a simple registration process that requires very little information from you. The process only takes a few minutes and you can skip most of it.
Navigation
Honestly, the site is quite out-dated and has the look and feel of an early 2000s website. Navigating the website works well enough, but when compared to other dating sites that give you more functionality when you're trying to meet new people, it felt lacklustre.
Profile
There is surprisingly little that you can add to your profile, including a written section about yourself. This means that most profiles you find on the website will be barebones. You won't find out much about new people just by looking at their profile.
If you are looking to start networking on hi5's social dating site, you can try a search of users under the MeetMe feature or under 'Browse'. Chatting will be the best way to get to know new people.
Pets
The Pet feature of hi5's social networking and dating site is a little overwhelming. It's hard to see the point of this at first, but Pets essentially work as a metric for measuring popularity. However, this can be confusing, as there are multiple economies involved.
Pets uses gold which you can purchase with real cash, but this translates into the game's currency of Sd, Nd, and Uv. There is also a place where you can spend money to gamble in order to get more gold.
hi5 dating app review
hi5's social dating app is a smooth dating app that gives you a lot of what the main site has to offer without getting too cluttered. The design of the mobile dating app is minimalistic and clean, giving the user a more pleasing experience that is accessible for anyone.
If you are going to use hi5, we would recommend using the social dating app over the website version.
Registration
This is much the same as the website with no difference.
Navigation
Navigating the social dating app is much more fluid and easier than the website version of hi5.
Adjusting profile
This can be done at any time. Just click on 'My Profile' and you will be able to edit your information there.
✉️ Contacting users with hi5 Chat
There are a few ways to chat with users on hi5, including posting comments under other users' comments via a news feed, much like Facebook. However, you can also chat with other users in a more private manner.
How to contact another user:
Click on either 'Browse', or 'Friends' at the top of the page
If you select Browse, you may have to add a user as a friend before you can chat with them
If you can chat, you will see a button with 'Send Message'
Click 'Send Message'
A new window will open, and you can now type your message out and then send it
You can also send a 'quick chat' by clicking on a profile and sending a message below their picture. This can be done anywhere on the website.
👍 Pros and cons 👎
Pros:
Group forums
Fast registration process
Chatting and messaging are free to do
Possibility to import friends form your email contact list
Can set a status from online to offline
Cons:
Ads on the website
No advanced searching options
Interface not modernized
Few people seem to be on the site
Site is not particularly suited for dating
Pet system is unintuitive and doesn't add much
🙋 FAQs
Who owns hi5?
hi5 is owned by if(we) which is a social and mobile development company of The Meet Group, Inc.
How are hi5 and MeetMe connected?
MeetMe is also owned by The Meet Group, Inc.
How do I delete my hi5 account?
Select "Account" from the top navigation bar, then "Settings".
Locate the "Cancel Account" section and click the "Cancel your Account" link and follow the instructions.
Select "Yes, I want to cancel my account".
Enter your password & click "Cancel Account".
Note: If you are a VIP Member, you MUST first Cancel your VIP Subscription before account cancellation to prevent future billing.
Somebody bought me as a pet. What does that mean?
It means that someone has bought your profile and technically owns you for a limited amount of time. This essentially functions to increase their popularity and potentially your own. If you don't want to be owned, you can 'free yourself' by buying your freedom:
Pet clicks 'set free' and confirms the action.
Pet pays in cash an amount equal to the current value of the pet.
The owner directly receives the cash paid by the pet (and loses this exact amount in assets). It ends up being a net-zero transaction for the owner.The process of the pet setting himself free is almost as if the pet bought himself, but not quite.
Afterwards, the pet's value goes up 10%.
But neither the previous owner nor the pet receives a 5% profit bonus.
When setting yourself free, you purchase yourself using Pets cash, therefore your Pets cash will decrease in the amount of your current value. That said, any Pets player may subsequently buy you at any time after you have set yourself free.
How do I play Pets in hi5?
You can play Pets by simply clicking on a user's profile and 'buying' them. This will take you to the Pets page where you can get an overview of all your Pets data and the data of others. Check out hi5's FAQ on Pets for more information, as there is quite a lot!
How do I block a user in hi5?
It is easy to block a user from messaging you or viewing your profile. Just select "Block User" below the member's user photo.
ℹ️ Company information
hi5 is a social networking site based in San Francisco, California. It was founded in 2004. Owned and operated by The Meet Group, Inc. It became the 8th largest social network by mid-2006.
In 2008, comScore reported that hi5 was the third most popular social networking site in monthly unique visitors behind Facebook and MySpace. hi5 acquired several features oriented toward gaming and entertainment in 2009.