Inner Circle Review, Updated 2023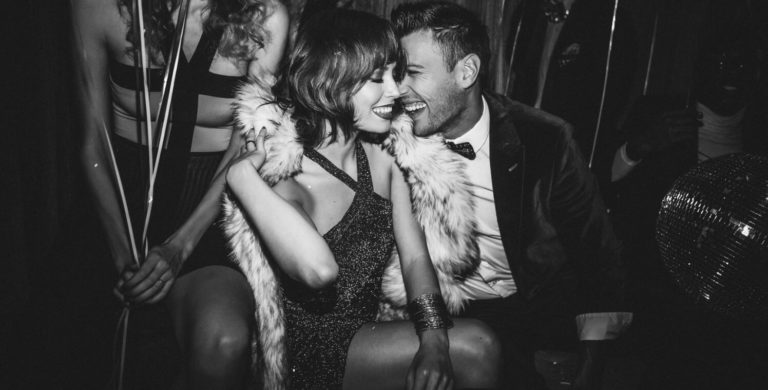 Even the name of the Inner Circle suggests exclusivity. Launched in Amsterdam in 2012 by David Vermeulen, Inner Circle and the Inner Circle app is a hybrid of a selective dating site and a social dating experience.
After the breakdown of a long-term relationship, David Vermeulen turned to online dating. However, he soon became dissatisfied with the experience, seeing the focus as being too much on the quantity of matches a user can enjoy, rather than the quality.
Today, the site and the Inner Circle app boast over 1.5million registered users, with offices in 30 countries. It's also clocked up several awards, including the award for Fastest Growing Technology in the Netherlands 2018.
In addition to offering online dating services for like-minded singles, Inner Circle hosts exclusive events. Since its launch, Inner Circle has held over 300 of these events, with around 40,000 members of its global community attending.
The website prides itself in facilitating authentic connections between young professionals and inspiring singles. However, is it too exclusive for its own good? Our in-depth Inner Circle review puts this discerning app to the test for the best dating sites.
Our Summary
Inner Circle unashamedly sets itself apart from other online dating sites. One of its aims is to save users the bother of having to swipe through endless, tenuous matches and present them with authentic connections based on a thorough personality test.
In addition, the site sets other parameters. Users will only be considered for membership if they have an active LinkedIn account or Facebook page. This is to ensure that only young professionals and those with a degree of financial security make it through the hallowed online portals.
Because the onus is on encouraging members to meet face-to-face, disclosing your location is a must. Using this information, Inner Circle will match your profile and criteria with other users nearby.
This feature tends to use the nearest city as the yardstick for finding matches in your area. So if you live in a more rural location, be prepared to travel to meet matches.
Like most online dating sites, Inner Circle offers alternatives to messaging in the form of 'Winks' and 'Likes'. However, given the type of person who uses the site, these are often a pointless exercise. You'll get more response from the 'Who's up for…?' feature, which allows you to come up with creative ideas for dates.
The 'Favorite Spots' feature is also more likely to generate interest than a wink or a like. This allows you to let other members know about your favourite restaurants, bars and clubs. With this information shared, users can find other like-minded singles with similar interests.
'Events' is popular and the feature through which the website and the Inner Circle app alerts its members to exclusive events. Non-paying members can see the details of these, including the time, date and location. However, these events are private, to prevent gate-crashers.
All in all, we give Inner Circle and the Inner Circle app the thumbs-up. They're not for everyone, but they wear their exclusive hearts on their sleeves. If you want to make your search for matches more selective than what's offered on other sites, this might be the one for you.
🆓 Free services and paid-for services
Registering with Inner Circle is free to start with. As a non-paying member, you can take advantage of a variety of basic services. These include being able to create your account, upload photos, and view other users' profiles.
Full membership buys you everything you need to make communicating with other users that much easier. As a paying user, you'll be able to send, receive, and read messages, discover who has viewed your profile, and see which users have sent you winks.
In addition, those who are making use of the non-paying features can view other users' photo albums and see the details of any exclusive events that have been posted by Inner Circle. However, you will not be able to attend these, although you can comment on the posts published.
Perhaps the biggest advantage for Full Members is the ability to buy tickets for the exclusive events. These are only for paid-up members and entrance to these events is ticket-only.
Inner Circle – those exclusive little extras
While the Inner Circle specialises in selecting carefully-found matches and bridging authentic encounters, it also allows its users to have complete control over how and who they date. Paid-up members will have access to some exclusive extras, which include:
Ghost Mode. This allows you to browse other users' profiles without them being alerted to your profile.
Trips. If you're interested in seeing where your potential matches are taking a break or heading next, this feature will give you all the information you need.
Events. This isn't just for buying tickets. Users can also create their own events and post them here, with all the relevant details.
My Tickets. With Inner Circle hosting so many events, you might find you need to keep on top of the tickets you've bought. This feature allows you to buy tickets to events and see at a glance which ones you've decided to go to.
💰 Prices
The cost of exclusivity
While it's free to register with Inner Circle, the features for guests are limited and users quickly find themselves wanting to level-up their membership. With no hidden fees, such as the cost of credits, to consider, fully-paid membership covers everything and is charged weekly.
Full Membership is charged at $5 per week
It's worth knowing that the Inner Circle uses an auto-renewal system, which means that unless you cancel before your existing subscription ends, you will be automatically charged for another week's membership.
How to pay?
Inner Circle accepts three methods of payment: credit card, debit card and PayPal.
💡 How to reduce costs at Inner Circle?
Inner Circle subscriptions are charged on a weekly basis and fully-paid members can enjoy everything the site has to offer. The only way you can keep the cost of membership down is to use it as a non-paying member.
However, using the basic service severely limits your abilities to communicate and become an active part of the social dating experience.
International appeal
The feeling of exclusivity has its own appeal and Inner Circle is now used in major cities across 30 different countries, including London, Hong Kong, Amsterdam and San Francisco. Its direct approach to selective dating has earned it more than 1.5million users worldwide.
✍️ Registration
Time needed: 10 minutes.
Registering for Inner Circle is a much lengthier process than anything offered by other dating sites. However, in order to maintain its distinctiveness, the information used during registration is used to find accurate and insightful matches. The process can be broken down into five steps:
Sing up

Go to the homepage

Basic Information

You can register using your LinkedIn account or your Facebook account

Personality test for new members

If you're a new member, you'll need to answer a lengthy personality test to determine whether your application for membership will be accepted

Data Verification

You may wait between one week and one month before your application has been screened and approved

Ready to Log In

Once you have been accepted, you can log-in through Facebook, LinkedIn or by using the 'Log-in' button
📱 User-friendliness and the app
As part of our in-depth Inner Circle review, we wanted to see just how easy the site and the Inner Circle app are to use. While there might be some focus on users' levels of education, not everyone is naturally adept at using online dating sites.
Thankfully, we're happy that the desktop site is easy to get around. One excellent aspect is that you can choose how to view the profiles of your potential matches. Choose between a 'grid' view, which allows you to see more than one at any time, or a swipe-style view.
While the registration process might be longer than you'll find elsewhere, you'll get plenty of help along the way. Inner Circle provides plenty of questions which are designed to reflect the issues that other users deem important.
As a result, there's no such thing as a blank profile on Inner Circle. Any profiles that are left unfilled or empty are likely to be fake and are quickly reported. As a member, you'll also receive suggestions as to where to take your date, which is based on your mutual interests.
The Inner Circle app is just as helpful and easy to use. It's presented in a similar way to Facebook, which is familiar to the majority of its members. Photos are important and profile pictures are clearly rendered, even on a mobile phone's screen. All the hints and navigation tips are present and correct.
✉️ Contacting users
If you want to maximise the potential for contacting other users, you'll need to invest in a subscription. As a member, you'll be able to send and receive winks and see which users have sent them. Crucially, you'll be able to send, receive and read messages.
In addition, paid membership allows you to 'Favourite' users, which allows you to receive updates on what they've recently been up to.
All users can comment on the 'Events' board, but only those who are full members can buy tickets to these exclusive get-togethers.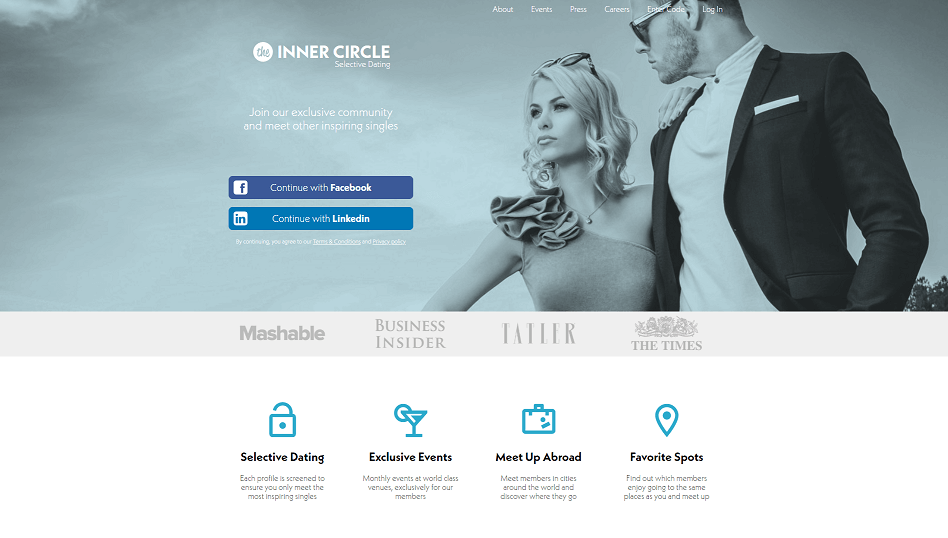 👍 Pros and cons 👎
What we like
Help during the personality test
See your matches in 'grid' or 'swipe' formats
Access to exclusive events
A community feel that operates in the 'real world', as well as online
Knowing that you are communicating with like-minded people
A merciful lack of fake profiles and scammers
What we don't like
The lengthy registration personality test
The frankly ludicrously lengthy wait for approval
The risk that your application may be rejected
A weekly pricing plan
The need for a currently-active Facebook or LinkedIn account
🙋 FAQs
How do users get approved on Inner Circle?
While there's no hard and fast way to guarantee approval, there are a few things you can do to improve your chances. Firstly, if you don't have a Facebook or LinkedIn account, get one as you won't stand a chance without one or the other.
Your social media profiles will be checked so, if you have anything inappropriate in your photo albums, remove them. Similarly, your social media accounts must display a level of activity. If yours hasn't been used in a while, start interacting with your contacts.
In essence, Inner Circle is looking to add respectful and well-presented young professionals to its ranks. As each application is personally reviewed, it's well worth checking that there aren't any avenues of the internet that might let you down.
How do users end the subscription?
To end your subscription, head to the 'Settings' section of your online account. Un-tick the 'Renew Subscription' box and your subscription won't be renewed. It's important that you do this before your current subscription ends, or you'll be charged for another week.
How do users delete the account?
To fully delete your account, head to the 'Profile' section of your homepage. From there, you can remove your account and all the information associated with it. Accounts cannot be recovered so, if you want to use the site again, you'll have to reapply.
How much does the Inner Circle cost?
The Inner Circle is free to those who want to use it as non-paying members. However, the features and messaging services are very limited. To make the most of the site and all it has to offer, subscriptions are charged at a cost of $5 per week.
How long is the Inner Circle waiting list?
One of the cons of the Inner Circle sign-up process is that you aren't guaranteed membership, whether you're wanting to pay or not. Typically, approval is granted between one week and one month after you've submitted all the relevant information.
However, there are applications that have been rejected, with hopefuls waiting just as long to find that they have been turned down. At any one time, there are reckoned to be around 50,000 people on the waiting list.
How can you join Inner Circle?
Joining the Inner Circle isn't much different to joining any other dating site in that you enter certain details and can specify the type of person you're hoping to meet. However, the lengthy personality test and the waiting period can put some people off.
You'll need an active Facebook or LinkedIn account in order to apply. Should your application be
successful, you're then in the position to choose whether to continue as an unpaying user or to subscribe to the weekly subscription plan.

ℹ️ Company Information
Website: www.theinnercircle.co

Company headquarters:
While the Inner Circle has offices in more than 30 major cities across the world, its headquarters can be found at:

The Inner Circle
Kleine-Gartmanplantsoen 10
1017 RR Amsterdam
The Netherlands
Email: [email protected]

CEO: David Vermeulen
We also have reviews of all these dating pages