Oasis Dating Review, Updated 2023
It was first launched in Australia in 2008, the Sydney-based Oasis Dating site has quickly grown into a popular online dating service for men and women hoping to meet like-minded singles. It stands out for being simple, active, low-key and most importantly for some, free.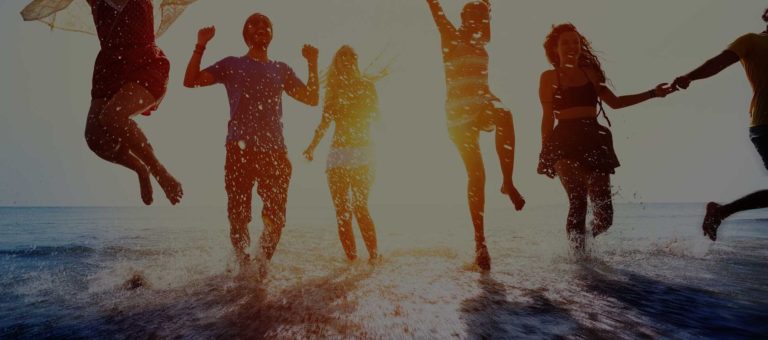 Alternatives to Oasis Dating
Notice: Oasis Dating has closed its services and is no longer available. This review will remain up for informational purposes.
About Oasis Dating
Oasis Dating originally known as Oasis Active has established itself as a phrase for finding love on the oasis active platforms.
This dating community isn't only for those looking for friendships and casual hook-ups either, reviews show Oasis Active has plenty of successful matches ending in love and marriage too.
So, it's surprisingly successful with millions of people taking advantage of the free service, but is the Oasis Dating app and website any good? We've created an in-depth Oasis Dating review to find out.
Oasis Dating Review
The sheer number of people using Oasis Dating proves just how much members value a free platform that finds matches quickly and easily.

Profiles can be quite detailed, but only if members choose to fill in all the information.

It's quick and easy to set up a profile and photos aren't thoroughly checked, so in this instance it's a case of being careful who you hook up with, as there are a lot of fake users on the site.

One of the main perks of the website is that you won't need to upgrade to send messages, giving everyone the ability to connect with each other without needing a premium subscription.

Similar to other dating platforms, – and there are a lot of them. If you want to get rid of the adverts, you'll have to pay to sign up to the 'go ad-free' upgrade.

Overall, the basic, no-frills design means Oasis Dating isn't the most sophisticated dating site available, yet it does exactly what it says on the tin. It's completely free (apart from those optional upgrades) and simple to use.
🆓 Free services and paid-for services
Signing up to Oasis Dating is free to begin with. Once you've registered, you can add more detailed information to your profile and search for matches.
The messaging and chat function is also free, which is a bonus compared to some dating sites that often charge for this key feature.
The Oasis Premium service – The added extras
Whether you want the best quality user experience or just want to make your profile more visible to other members, the premium package offers extra features.
No Advertisements
Going ad-free removes all ads from the website and mobile app for 30 consecutive days, so you can browse profiles and contact potential dates without any distraction.
Shout outs
To meet more people, and faster, you can send a shout out. Choose a shout out message, and it will be sent to hundreds of your most active matches at the same time.
Shout out messages include:
Check out my profile
Contact me! I am looking for new friends
Do you want to chat?
Are you looking for a date?
Check out my photo gallery
It's worth remembering that once you've completed a shout out purchase, your cancellation rights will be lost.
Prices
How much does Premium cost?
The site's two paid upgrades are both reasonably priced. Sending a shout out will cost you $3.49 and you can only send one every five days. Going ad-free costs $3.49 for 30 days.
How to pay?
You can pay for an upgrade with most major credit and debit cards or by PayPal.
How to reduce costs at Oasis Dating?
As it's a free online dating site, there is no way to reduce costs on the additional upgrades.
Membership structure
There are over 21 million members in the Oasis Dating network around the world, and it's geared towards young singles looking for friendship, casual hook-ups or serious relationships. It's open to LGBT options as well.
The number of active members that have logged in in the last 24 hours shows on the site, usually around 300,000, providing plenty of potential options for a match. Both android and iPhone users enjoy the site to boot.
✍️ Registration
Time needed: 6 minutes.
Signing up is simple and straightforward.
Go to datingGo to the Oasis Dating website and on the homepage, select your gender and the gender you're interested in
Join!Click 'Join now'
Create a new userCreate a username and password, and enter your email address, date of birth and postcode
Create your ProfileSelect 'Create my profile'
Give additional info about yourself!You'll then need to verify your email address, add a photo and complete your profile with additional information
Oasis Dating profiles with a photo have 17 times more likes than those without, so it's highly recommended to get one added. To upload your picture, click 'My Profile' and then 'Update Photo'.
📱 User friendliness
You can easily see who's 'liked' your profile, and you'll then have three days to decide whether to like them back or not.
Expect to be inundated with 'likes' from some members as soon as you sign up, even before you've even added a photo and with very basic profile information filled out.
Ideal for meeting like-minded singles, the quick and simple search has dropdown boxes that can be filtered by age range, country, distance and even if they're currently online.
Additional filters include relationship status, appearance, and whether their lifestyle is a good combination with yours. Scrolling through all the options to select each one isn't the best user experience, and can feel time-consuming.
You'll know instantly when someone likes your profile, but these alerts can be a distraction when using the site. To minimize interruption, it does offer you the choice to adjust your status to online, away, and do not disturb.
The Oasis Dating app has all the features of the desktop version, in the same simple layout and style. It may not offer anything new compared to the site, but it's more user-friendly as you can view matches on the go and swiping yes or no is easier.
✉️ Contacting users
It's not very clear how to start chatting with members if you're new to the site. Although there's a chat box, it can take a while to work out that to be able to contact another member by chat, you'll need to like their profile.
If they like your profile back, then they'll be added to your contacts list so you can start chatting.
Selecting 'Yes' at the top right of a profile is an easy way to show you like another member. If they're online, they'll be notified straight away and can choose to either like you back, say they aren't interested or simply ignore your request.
If they like your profile in return, they'll then appear on your contacts list and you can send a message.
Click on their username
Select the 'Send Message' on their profile
The messenger window will open
Send them a personal message.
👍 Pros and cons 👎
What we like
The search function provides access to all other members
You can filter your search using a range of available fields
You also get featured matches from the website
All members can send messages for free
There's a chatroom feature.
What we don't like
Lacks an identity verification system
Many ads on the page
Easy to create fake profiles on the website, so there's the potential for a lot of fake users on the platform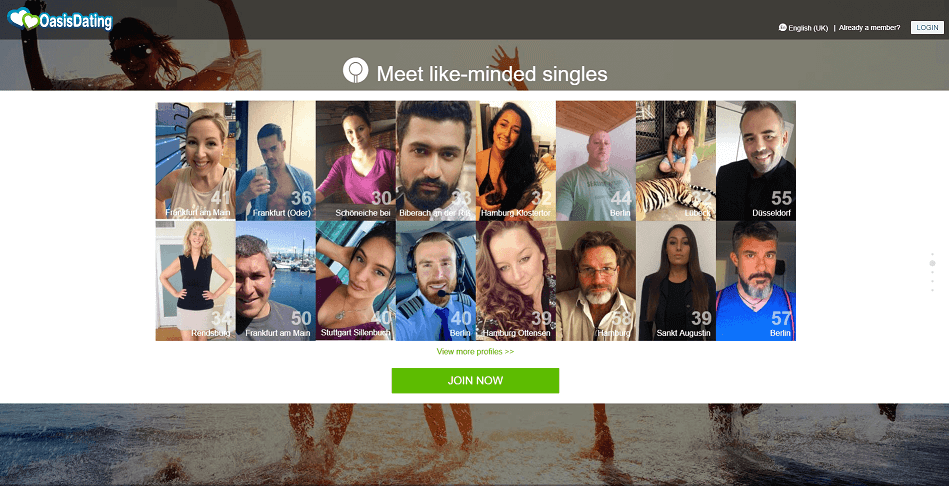 🙋 FAQs
How does Oasis Dating work?
Here's how it works:
1. Every time your profile is liked, you'll be notified
2. You'll have three days to reply if you like them back
3. If you say 'Yes', you'll be added to each other's contact list
4. You can then start chatting straight away
5. You can also choose 'maybe' and decide later.
It's easy, and best of all, it's a free service.
How much does Oasis Dating cost?
Oasis Dating site is free, and there are no subscription fees. You can send messages and contact as many members as you want to. There are optional extra features, such as 'Shout Out' and 'Go Ad-Free', that you can choose to pay for.
How do I unsubscribe from Oasis Dating?
To unsubscribe from Oasis Dating emails you'll need to login to the site and select 'Account Settings' at the top of the page. You can then click on 'Email notification preferences' and choose what emails you receive and how often you get them.
How do I delete my Oasis Dating account?
Deleting your account is straightforward. Simply log in to the site, and click on 'Account settings'. You'll then need to choose 'Deactivate account'.
You can reactivate your account within six months by logging into the site and reactivating your profile. If you want to take a break from online dating, but don't want to delete your existing contacts, you can also hide your profile:
1. Log in to the website
2. Select 'Account Settings'
3. Choose 'Change your profile privacy settings'
4. Click on 'Hide my profile'
5. Your profile is now hidden and you'll be unable to contact any members.
ℹ️ Company information
Registered office address: 3H Group Pty Ltd, Suite 310, 46-56 Kippax St, Surry Hills, NSW 2010, Australia
Registered company based in Sydney, Australia
Parent Company: 3H Group Pty Ltd
Website: https://www.oasisdating.com/
Director: CEO David Heysen and CTO Daniel Haigh