Love Locations: Where should you go to find love?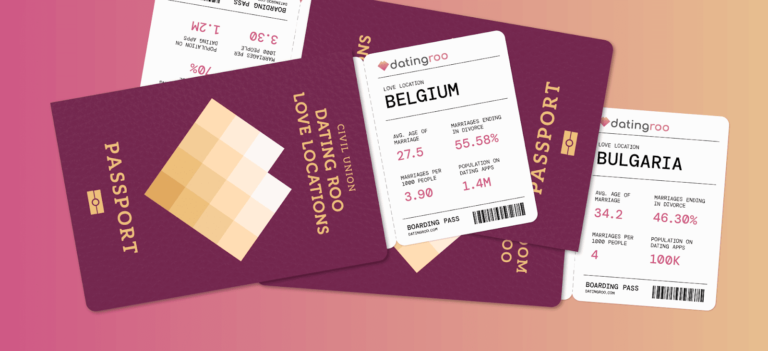 Love is often hard to find, but staying in love is a different story. Around the world, some countries are falling out of love just as quickly as they're falling into it.
The question is, where in the world is love thriving – and where is romance not so readily available?
We conducted an in-depth study into marriage and dating trends across the globe to discover where in the world would increase your chances of finding and staying in love.
Our research also delved into the demographics of dating app users, and let's just say… love has no age limit.
Which countries are having the most successful relationships?
Top 10 Love Locations
Taking into consideration a country's marriage and divorce rate, we've assembled a list of the top 10 countries who are thriving in love.
Kosovo
Malta
Macedonia
Montenegro
Azerbaijan
Albania
Turkey
Romania
Israel
Cyprus
Are these the real Love Islands?
Whilst many singletons have been heading off to Love Island for a chance at love, it seems that there are a number of islands where love is actually firmly on the cards.
Malta and Cyprus both make the top ten 'love locations', with high numbers of marriages and a low divorce percentage relative to population (Malta has a 11% divorce rate, Cyprus has 31% per 1000 of the population).

Malta also has a very low percentage of residents on dating apps – which just goes to show when people have found their soulmate, they're sticking with them.
Whilst a reality TV deal isn't guaranteed, are Malta and Cyprus the real Love Islands we should be heading to to find our happy ever after?
Kosovo has the highest success rate in finding love!
Despite being the smallest Balkan nation, the Southeastern European country of Kosovo is one of the most successful places to find love.

With more than 40% of the population being under 25, Kosovo thrives in its younger demographic, having the highest number of marriages relative to its population (9.60 marriages per 1,000 inhabitants).
More so, only 6.86% of these marriages end in divorce, which is the lowest percentage of divorce rate within the entire study. With the highest marriage rates and the lowest divorce rates, Kosovo has the recipe for long-lasting love.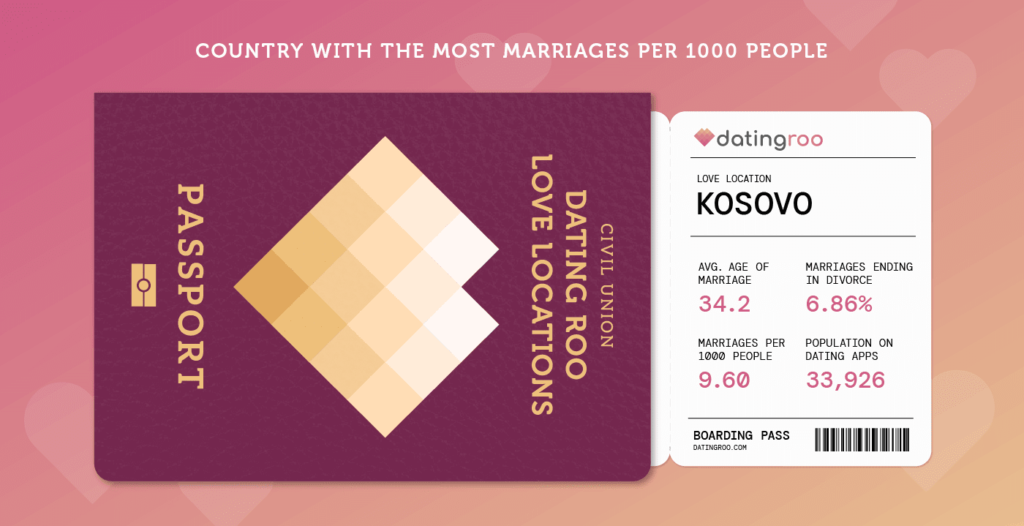 70% of Portuguese marriages end in divorce!
If you're wanting to find love, Portugal should be on the top of your blacklist.
This Western European country may have a lot to offer in terms of history and culture, but love is not one of them. Portugal has the one of the lowest number of marriages relative to its population (3.30 marriages per 1,000 inhabitants) where by 70% of these marriages all end in divorce.
With the highest percentage of divorce rates and one of the lowest percentage of marriage rates across the study, it's fair to say that Portugal is not a prime love location.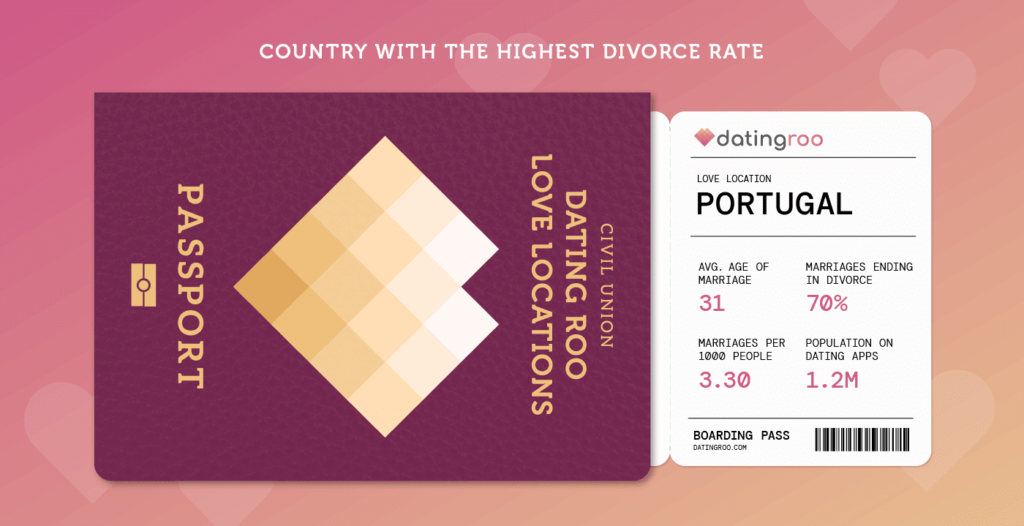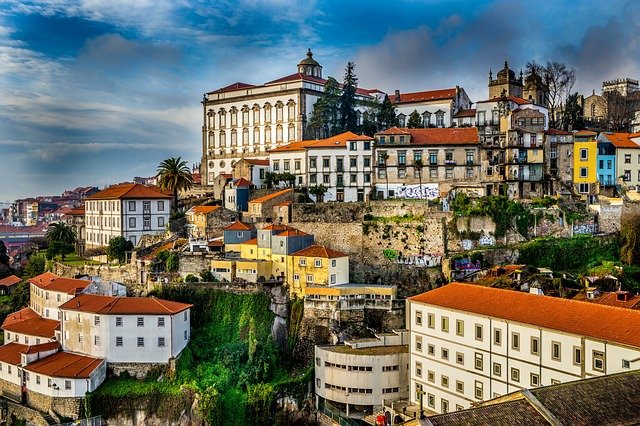 What age are people getting married around the world?
Top 5 Youngest Western Countries To Get Married
Rank
Country
Overall
(Average Age upon marriage)
Women
(Average Age upon marriage)
Men
(Average Age upon marriage)
1
Mexico
24.6
23.2
25.9
2
Brazil
25.4
23.9
26.8
3
Russia
25.7
24.4
27
4
China
26.3
25.4
27.1
5
Belgium
27.5
26.3
28.6
Belgium is the youngest European country to get married!
Belgium may be the youngest European country to get married (at an average of 27.5 years old), but could committing to love at a young age actually be a hindrance?
Despite their love life seeming to boom ahead of the rest of Europe, Belgium actually places in the top 5 countries to end in divorce. Over 55% of their marriages result in a divorce suggesting that potentially young love and quick marriages aren't always as happy as they initially seem to be.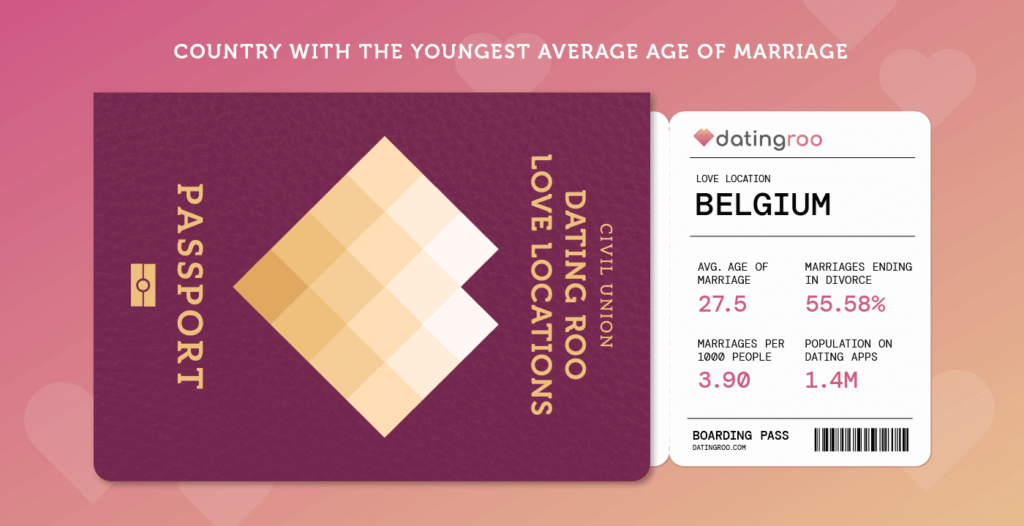 Top 5 Oldest Western Countries To Get Married
Rank
Country
Overall
(Average Age upon marriage)
Women
(Average Age upon marriage)
Men
(Average Age upon marriage)
1
Bulgaria
34.2
32.6
35.7
2
Italy
33.8
32.2
35.3
3
Netherlands
33.4
32.4
34.3
4
France
32.9
32
33.7
5
Germany
32.8
31.7
33.9
Bulgaria has the oldest demographic of people getting married!
Bulgaria, on the other hand, is in no need to rush. The average age to get married there is 34.2 years old – 7 years older than Belgium. The average male is nearly 36 years old before getting married, while women are younger at 33 years old.
Age could potentially play a part in divorce rates, however, as Bulgaria sits in the middle of our study with 40% of marriages still ending in separation. Perhaps being older does not necessarily make you wiser when trying to find love.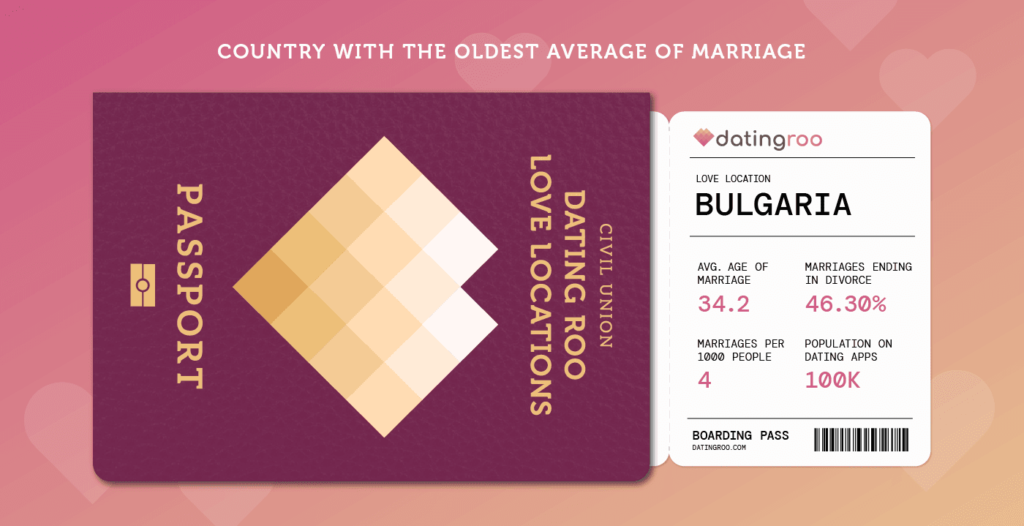 Best sites and apps for dating over 50
These are our recommendations for the best dating sites and apps that cater to people over 50.
Dating apps are giving over 55s a second chance at love!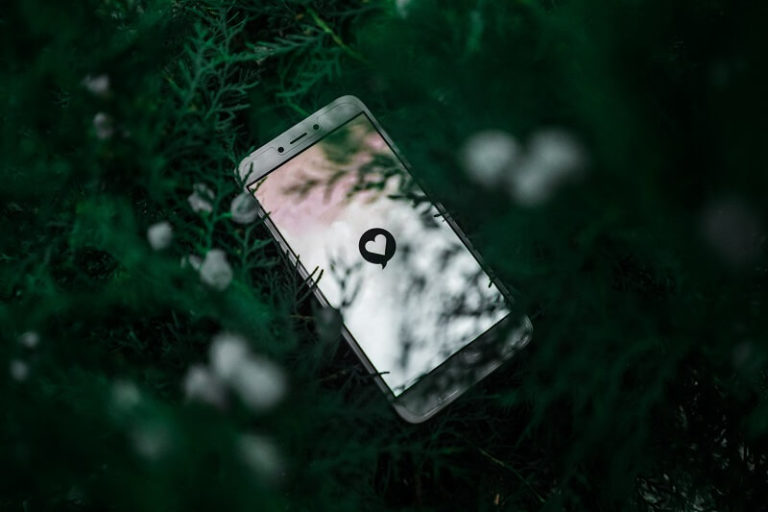 Regardless of age, everyone wants the chance to find that special someone to spend their autumn years with, and dating apps are giving our older generation just that.
With dating apps becoming more prevalent in a modern society, it's not surprising that our older generation are beginning to jump on trend. Here is what our data has to say about it…
44% of US bumble users are over 55 years old!
Our research looked into the demographic of dating app users all over the world and one thing's for sure, it is on the rise. In 2013 only 6% of seniors admitted to using dating apps, compared to 12% in 2016. If we were to go by these statistics, by the year 2030 potentially 40% of over 55s could be joining the online dating scene.
Most popular dating apps for over 55s across the world
If you're wanting to find love and not sure where to look, why not check out our dating comparison site and find the perfect dating site for you on a dating roo!
Qatar's over 65s are embracing online dating!
As well as being the richest country in the world, Qatar's senior love life also seems to be taking off.
Qatar ranked highest in over 65s using dating apps, with 12.71% admitting to using online dating. Despite divorce rates in Qatar being up by 71% since 2002, our study highlights that 99% of over 65s are married, meaning that this country is hopping back on the love train in their later life.
Bulgaria's older population are sticking to their traditional ways
As well as waiting the longest on average before getting married, Bulgaria also has the lowest percentage of dating app users over 65, with only 0.37% of seniors using online dating. Regardless of their divorce rate (40%), our study also found that 97% of over 65s are married, suggesting that this country, despite getting divorced, are falling back in love using some of the more traditional methods of dating.
93% of the UK population are married at 65 years old!
Although 41.73% of UK marriages end in divorce, there is hope. Our data shows that 93% of over 65s in the UK are married, meaning that after divorce people are remarrying.
Nearly 9 million UK residents now use online dating to enhance their chances of finding love, and 490,000 of them are over 65 years old. Also, most commonly the UK uses Tinder to find love, making the UK Tinder's 5th largest population of users after China, USA, India and Brazil.
Rise of the Silver Separator
It seems over 60s are more emotionally and financially comfortable in starting over when it comes to love. Searches for 'divorce over 60' have risen in all western countries. As cultures change and divorce becomes more widely accepted, it is likely to see an increasing trend of marriages ending in divorce over the coming years. It is estimated that 40%-50% of all first marriages end in divorce, however, we have also seen that many people are able to go out, find love again and remarry.
Despite this, searches for 'sex over 60' have declined in all countries and have continued to do so year on year. Whilst over 60s are comfortable divorcing, it seems they really are looking for love again – and not something casual.
Methodology:
Using a variety of data sources from:
Ourworldindata.org
UNdata
Statista


We were able to calculate the percentage of marriages ending in divorce by looking at the average number of individuals getting married and divorced in each country.
We then looked at the percentage of age groups married per country by collecting the most recent % for each country for both men and women, combining these together to calculate the average proportion of each age group that are married.
To work out users per dating app by country, the figure of 'total population using online dating in 2020' was multiplied by the market share of the relevant app, this was then multiplied by the % of users over 65y/o to get an estimate to how many over 65s use each app in each country.
The figures calculated for each app were then added up in order to calculate the total number of over 65s using online dating apps per country.
The figure calculated for the number of online dating users over 65 was then divided by the total number of over 65s in the country in order to work out the proportion of over 65s using dating apps.
Search volume data was used to find searches for 'sex', 'dating', 'divorce' and 'marriage' over 60.