#1 Chat Avenue Review, Updated 2023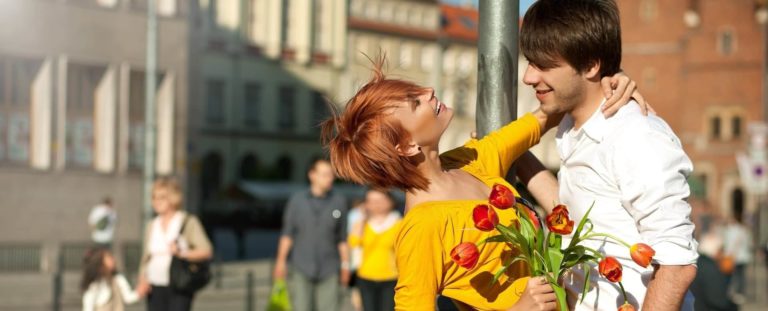 #1 Chat Avenue is a website for chatting about many topics in different chatrooms. Although it features many chatrooms for a wide audience, it does also cater to people looking for dating chatrooms, sex chatrooms, and adult chat experiences.
The site has been around since 2000, making it one of the oldest chat sites on the web. The adult chat avenue experience offers a solid yet standard opportunity for people to meet someone new via their dating chatrooms in the US.
Whether you are looking for US sex chatrooms or you just want to enjoy chatting with chat avenue singles, #1 Chat Avenue gives you a platform to engage with people both in the US and around the world. You can do this either through public chatrooms or private messages.
To show you what we really think of #1 Chat Avenue, we review the website, its costs, the registration process, and its pros and cons.
Our Review
Realistically, your odds of finding either a serious or a casual partner to have a relationship with on #1 Chat Avenue is slim. At best you can expect to enjoy some flirting or even sex chatting with someone that you hope is who they claim to be.

Of the many different chatrooms available there are only five which are relevant to dating, and these are the Adult Chat, Singles Chat, Dating Chat, Live Chat, Gay Chat and Lesbian Chat. You can also view any new live video from members, but only if you are 17+. So finding chat avenue singles in these casual space should not be hard at all.

The chatrooms don't offer anything overwhelmingly unique, but they are stable and function as you would hope a chatroom should. Of course, this also means that it is very hard to verify who you are actually speaking to, which is a problem for dating.

The privacy policy page helpfully states that the site does not collect any data from its users, which is a big plus, and they actively are working to make sure that their chatrooms remain clean of any questionable activity.

Overall, #1 Chat Avenue is not optimal for online dating. However, everyone works differently, and you may find someone truly special here if you put in the time. Just remember to keep your expectations realistic and to be careful while chatting.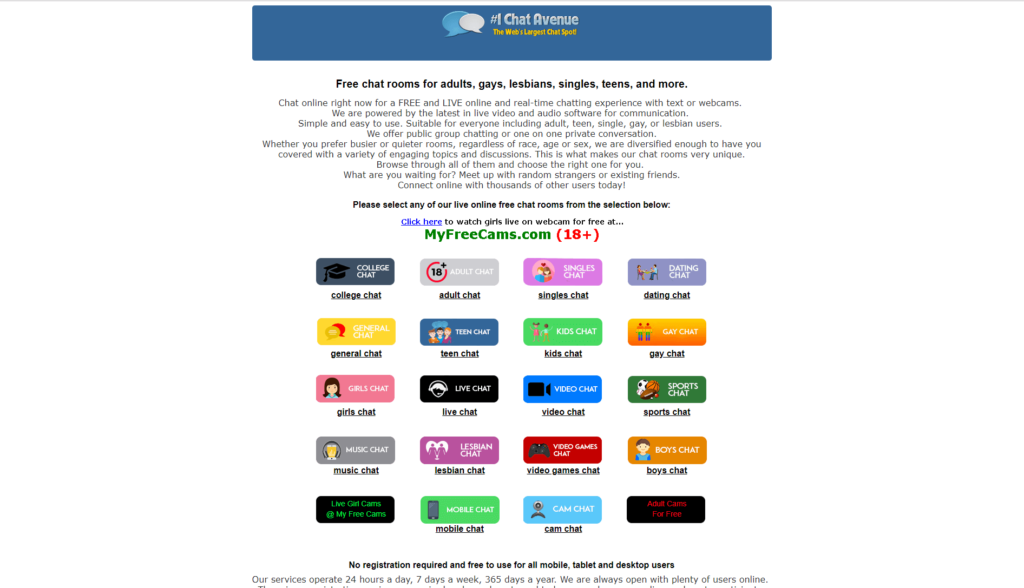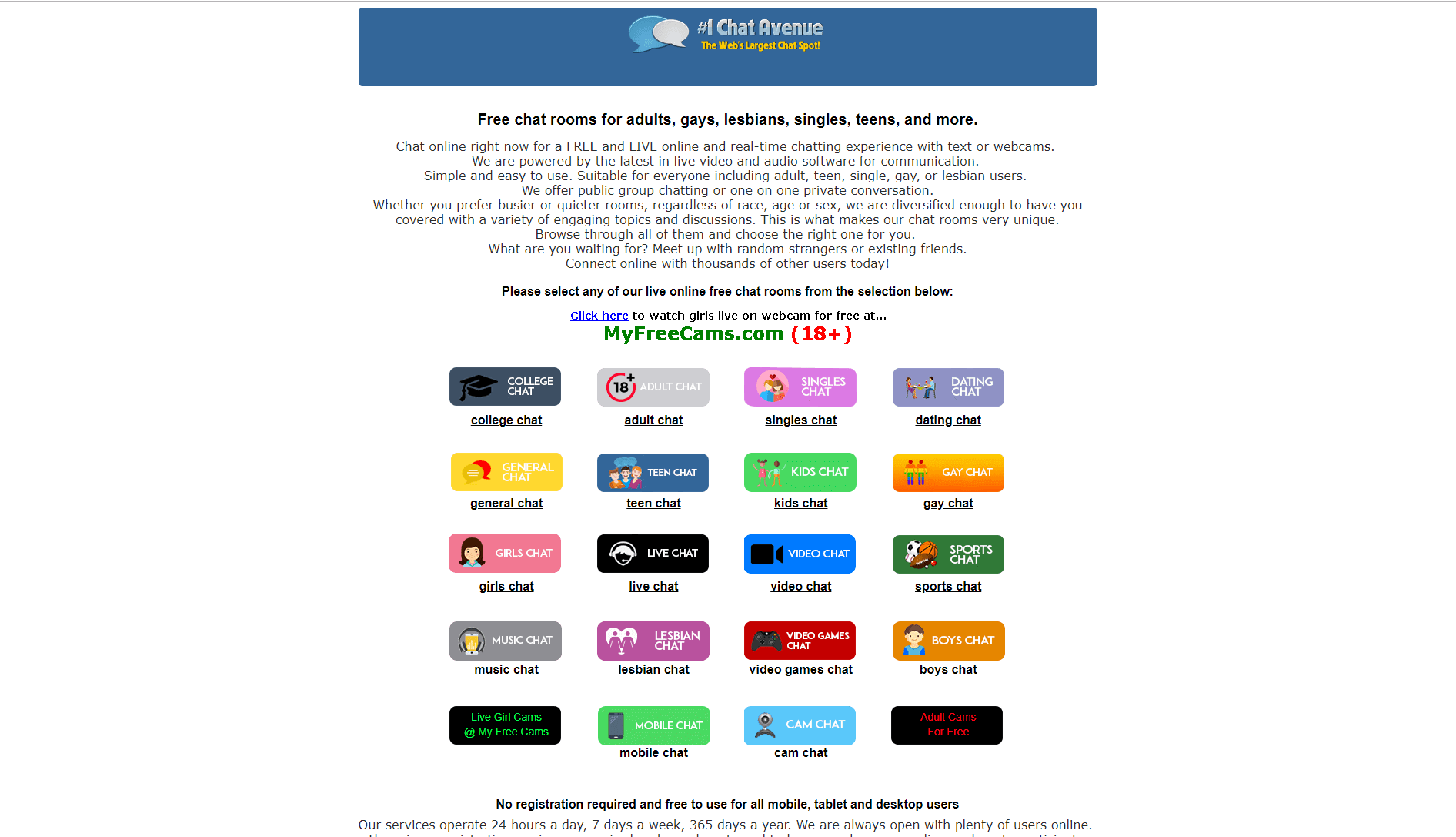 🆓 Free Profile Vs Paid Profile Review
Free Membership
#1 Chat Avenue is entirely free to use, so all members will automatically be given access to the following features:
Log in with a personal account
Enter chatrooms with a "Guest" account that is anonymous
Unlimited chatting
Browse and join chatrooms
Change your avatar
Send private messages
Send Whispers
Add other users to your friends' list
VIP Membership
VIP Membership is entirely optional on #1 Chat Avenue and is available as a way for users to get a more involved chatting experience. You don't need the VIP membership at all to enjoy the site, but it does offer the following benefits should they interest you:
Upload pictures to the chat
Change your username
Create your own room
View chat history
Optional gradient colour username
Optional gradient colour text
Appear at or near the top of the userlist
Special VIP icon next to your username
Post YouTube videos in the room
💰 Types of Membership
#1 Chat Avenue only offers two types of membership, the free membership and the VIP membership. Prices for joining the VIP membership can vary from chatroom to chatroom, and not all rooms offer the VIP Membership.
All prices are in USD. The VIP memberships are broken into three price groups and are as follows:
Adult Chat and Gay Chat
| | |
| --- | --- |
| Time | Price |
| 1 month | $5.00 |
| 3 months | $10.00 |
| 12 months | $20.00 |
| Lifetime | $25.00 |
Dating Chat, Singles Chat and Lesbian Chat
| | |
| --- | --- |
| Time | Price |
| 1 month | $5.00 |
| 3 months | $10.00 |
| 12 months | $15.00 |
| Lifetime | $20.00 |
Live Chat
| | |
| --- | --- |
| Time | Price |
| 1 month | $3.00 |
| 3 months | $5.00 |
| 12 months | $10.00 |
| Lifetime | $15.00 |
✍️ Registration Process and Profile Creation
#1 Chat Avenue does not have a particularly lengthy registration process. In fact, it's very quick, which will let you start chatting immediately.

Be aware that you don't need to register if you just want to chat as a guest but completing the process will help tell people about yourself.
Signing UpAll you need here is a username that people will recognize you by, a password to use for the website, and a valid email address for verification purposes.
Setting Up Your ProfileYou now have the option of adding some more personal information to your profile. You can select an age, gender, and location to tell others a bit more about who you are.
Fill in the "About Me" SectionYou can take the time to write a paragraph or two about yourself. If you are considering #1 Chat Avenue as a place to try online dating, then we recommend filling in as much information about yourself as possible to show others who you are.
Upload an AvatarYou have the option of uploading a picture of yourself (or anything legal, really) that will show up in chat whenever you send a message. You can add this via the icon that is to the left of the field where you will type in your messages.
ChatYou're ready to chat now! With everything in tow you have the best chance possible of having a dating experience via #1 Chat Avenue, but remember to keep your expectations realistic.
📱 User Friendliness Review
Registration
Registering for the chatrooms takes only a moment, and once you verify your email account you won't need to re-enter your data again. However, this is entirely optional.
Navigation
Although you need go back to the home page every time you want to view a new chatroom page, which can be slow, the site is quick enough to use. You can go from chatting to watching a new live video quick enough.
Profile
This is entirely optional, but if you are interested in dating there is a rudimentary profile you can fill out. Don't expect much from other profiles though.
#1 Chat Avenue Dating App
The mobile app is available for Android, iOS and Windows tablets and smart phones and works identically to the website.
Registration
This is identical to the website and is just as optional on mobile.
Navigation
Navigation is quick to do between chatrooms, but you will always need to go back to the home page.
✉️ Contacting Users with #1 Chat Avenue's Chat and Messaging Features
There are two ways to contact a user on #1 Chat Avenue, and that is either through the public chatroom or the private messaging system. Both function like the other. Here is how you contact others:
Login to the Chatroom
Type out your message in the text box and click send to send a public chat out
Click on a member and a window will appear next to the chatroom
Type out your message in the window
Click 'Send' to send it as a private message to the user
👍 Pros and Cons 👎
✔️ What we like
Chatrooms are usually active
Each chatroom is customised according to the room topic
You only need a username to enter the chatrooms
Private chat messages are allowed
Privacy is protected
❌ What we don't like
Lack of verified users
Ads showed in the chat
No special features
Questionable material in some of the other chatrooms
Not a reliable way to start dating
🙋 FAQs
How does #1 Chat Avenue work?
The site works like many other chatroom sites where you can send out a message to a public chatroom with others or send a private message to someone in the chatroom. Here's how you can get started:
1. Select the chatroom you wish to join
2. Login in as either a guest or a member
3. If you have a registered account, login with your credentials
4. If you don't, you can quickly sign up with a valid email address
5. Once the chatroom has loaded, click on the text box and type in your message
6. Click send to send it to the public chatroom
7. Click on a member and type out your message in the smaller window to send a private message
What is wrong with #1 Chat Avenue?
There can be a few reasons for why something might be wrong with #1 Chat Avenue, including the site being down for maintenance, the chatroom being empty, or your account having been kicked or banned.
Why is #1 Chat Avenue not working?
If you are having trouble connecting to a chatroom the issue might lie with your account having been banned on the website. Alternatively, they may be updating the website and have taken it down for a limited amount of time, so check back later.
If you are banned, you will have to contact support to see why and for how long, and if it's possible for them to lift the ban.
How do I delete my #1 Chat Avenue account?
If you decide that you no longer want your account, you can easily delete it at any time. Simply do the following:
1.Go to "My Profile"
Select the "More" tab
Click on "Delete Account"
How do I get unbanned from #1 Chat Avenue?
Depending on the severity of your infraction, a ban can last up to a lifetime. You can either choose to wait the ban's duration out if it's a set amount of time, or you can contact the website's support team to see if you can appeal the ban decision.
ℹ️ Company Info
#1 Chat Avenue is a website that was registered in 2000 and is one of the web's oldest chatrooms and was originally launched with DigiChat software based on Java.
The chatrooms are kept in check by volunteer moderators and administrators but ensure general privacy.