FabSwingers Review, Updated 2023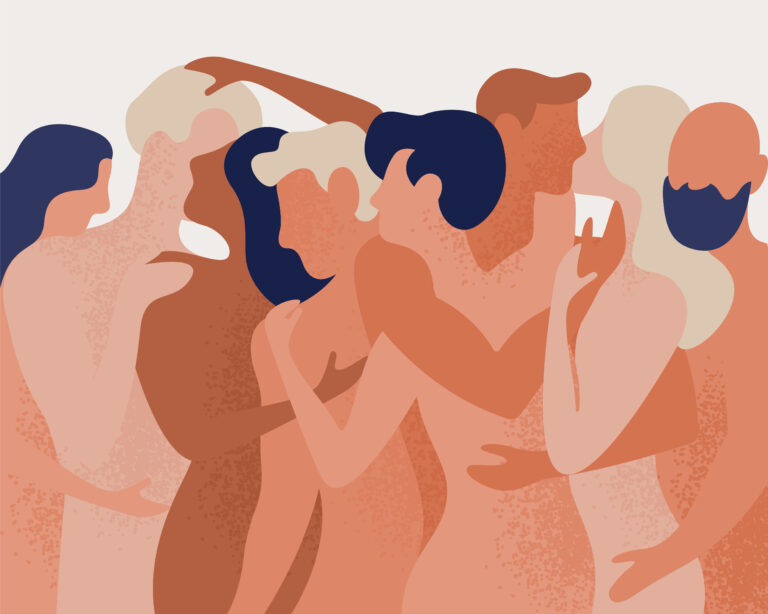 FabSwingers is a swinger dating site that also works like a social media website. The website has been around since 2006 and is entirely free to sign-up for and use. Fabswingers has seen great success in recent years and has over 500,000 people in the US! Our Fabswingers review below explains more.
Fabswingers' site gives swingers who want to explore their sexual kinks, either alone or as a couple, a safe place to chat, meet, and organize events. This includes any recreational or social activity where you can meet swingers.
These activities include wife swapping, husband swapping, non-monogamy free sex, and anything that involves having a fun time. The site also features a swingers forum and other functions. All this has made FabSwingers well-renowned in the swinger us community.
To show you why we think FabSwingers deserves the praise it gets, we review the swinging dating website and look at its members, the user-friendliness of the swingers site, and what makes it so user-friendly!
FabSwingers Review overview
We believe that FabSwingers offers users who are interested in a dating experience catered for swingers and other fetishes a very solid experience and plenty of opportunity. The free nature of the site and the openness of its users goes a long way for new people to the site.

The only real problem that we saw with the website was that it did look a little outdated when compared to modern dating sites. The photo verification also took a little while, but this can be forgiven if it ensures authenticity of users and a safer environment for swingers.

Overall, we recommend the website and feel that it offers more than enough for swingers to enjoy themselves. Read on to find out more about FabSwingers and what you can expect when you register to meet new swingers!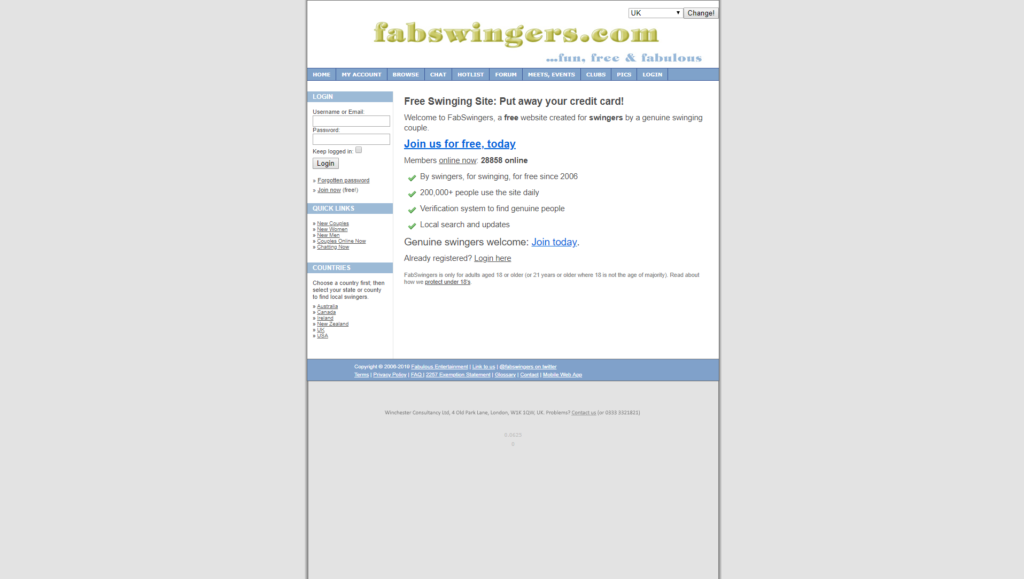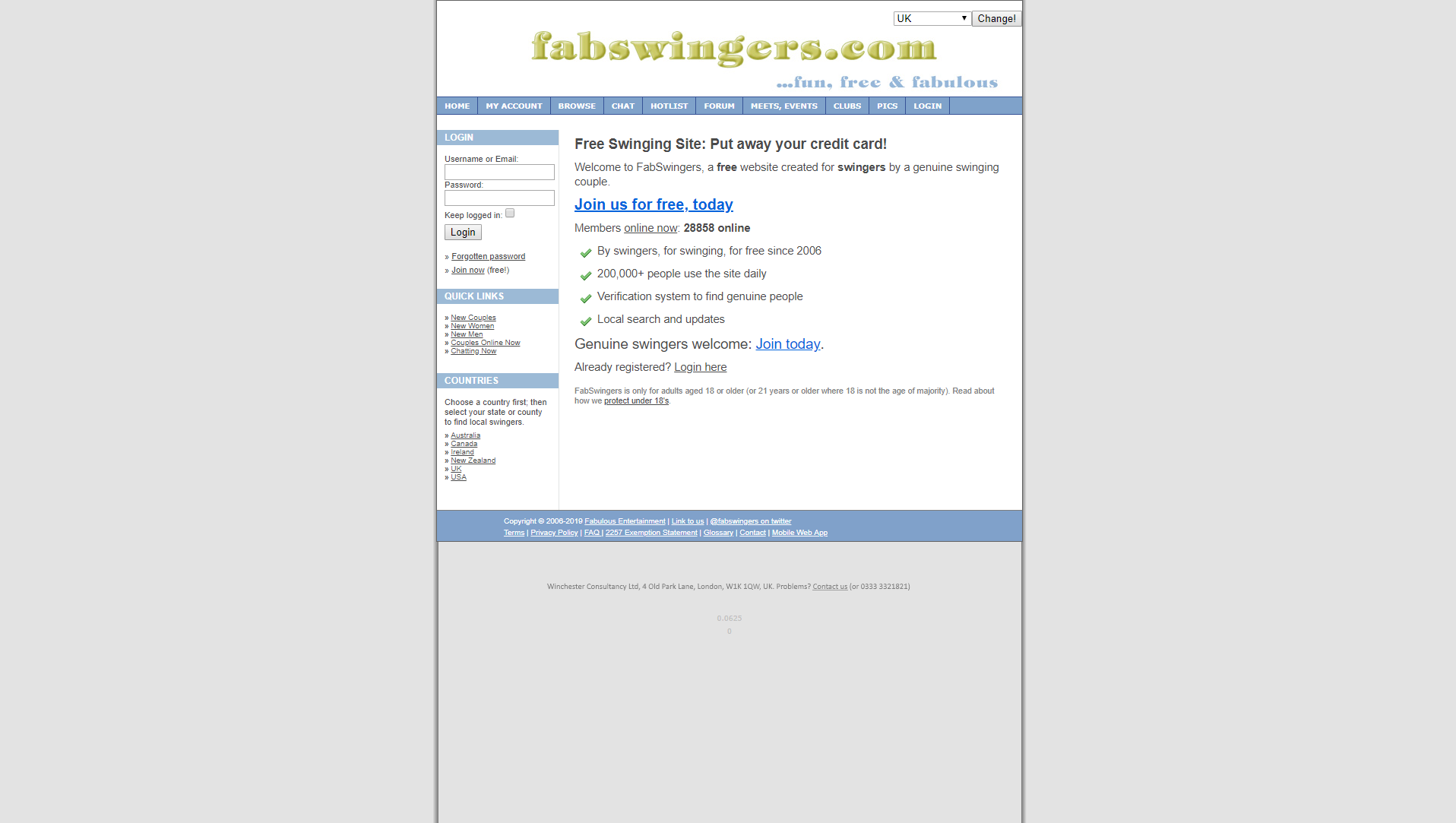 🆓 Free Profile Vs Paid Profile Review
FabSwingers is already free for anyone looking to start online dating within the swinging community, or if they're just interested in experimenting with swingers. However, you can opt to pay an extremely affordable 5 $ to get some extra features for a limited time.
So how do these two versions of the site compare? Either way, you're sure to be happy with what they have to offer!
Free Membership
The site is free to use so all features are essentially available. They are:
Live cams (watching or showing)
Messages
Group chat
Uploading Albums
Posting/participating in forums
Sending photos
Liking other people's photos
Adding friends
Sending "winks"
Looking at other members' albums
Registration
Updating your status
Swingers Club Directory
Searching for other members
All filters in search
Paid Membership
While the site is free, there are two optional premium versions of the site you can access if you donate 5$. These are the silver and gold accounts, and they offer you the following (silver and gold differences will be noted beside relevant points):
See who has looked at your profile
No more ads on site or in chat
Wider, cleaner pages with more info
View larger, high quality photos
Site supporter badge on your profile
See distances on profiles
View multiple cams in chat
More photos on your profile
Use smiles on your messages
View searchable gallery of latest public photo uploads
Save messages to archive folder
View full message thread on all mails
Access to the site supporter cam room
Email photos to us from your mobile
Request a change of username
SILVER Dock 1 cam (view 2 total)
GOLD Dock 3 cams (view 4 total)
SILVER 50 photos (8 per day)
GOLD 150 photos (15 per day)
💰 Types of Membership
Both premium memberships are one-off payments (they don't auto-renew) and vary in terms of length and what you get. You choose to have the upgrade last either 50 days (silver) or 32 days (gold, where you get more goodies).
Premium Monthly Plans
Silver
50 days
1 additional dock cam
8 photos per day
Gold
32 days
3 additional dock cams
15 photos per day
📊 Membership Structure
How Many FabSwingers Users in the US?
There are currently over 800.000 swingers in the United States currently using FabSwingers and over 200,000 logins every day. That's a lot of couples looking to have some swinger fun!
FabSwingers's Demographics of Love
There is generally an even split between men and women using the site, with a good mix of non-binary individuals and couples who also use the site for swinging.
Approximately 40% of the site is female
Most individuals and couples are over 40
Many profiles are couples sharing the account
Most members are polite and happy to respond quickly
✍️ Registration Process and Profile Creation
The registration process is quick and easy to do, taking only a minute or two to complete. You can finish your profile later if you would like, but keep in mind that the more information you put up, the better your chances at meeting other people!
Signing Up

When you first get to the site you will be asked to sign up. Click the link to go to a page that will ask for a username, a valid email address, a personal password to use for the site, and your date of birth.

You will also be asked to state what you are on the site as. This means FabSwingers would like to know if you are using the site as a Male, Female, Couple, Male Couple (MM), Female Couple (FF), or as a transvestite/transsexual/crossdresser (TV/TS/CD).

Provide Account Details

Next you will be asked to give information about what kind of people you want to meet, their age range, if you will meet smokers, and whether you are willing to travel or not.

Give Personal Details

Now you must give the first half of your postcode, the name of the town you live in, your first name, and information about yourself. This includes whether you have piercings, tattoos, your sexuality, and ethnicity.

Your Profile

This is optional but will help you get the most out of your experiences with FabSwingers. You can write up a short paragraph about yourself and what you are looking for, as well as tick off options for the type of experiences you want to have.

You can come back and do this step at any time.

Start Browsing

You can now start exploring the site in full! As a courtesy, FabSwingers automatically keeps email notifications off, so if you want to get updates make sure to set them to on. You can upload photos under 'My Account' and then 'Manage Photos'.
📱 User Friendliness Review
Registration
Registration is extremely fast, and for people who looking to just meet new members and couples for swinging you can rest assured that you will be on the site in no time. You can even update your profile later if you want.
Navigation
The site does look a little outdated in terms of layout but navigating FabSwingers is straightforward and user-friendly. It operates a little like Facebook, though there are obvious differences you will notice once you start using the site.
Profile
All profiles have a lot of information about users' sexual preferences and activities that they would be interested in. This also means you have a lot of flexibility in what you can let others know about yourself.
FabSwingers Dating App Review
There is currently no online dating or swinging app for FabSwingers. However, there is a mobile version of the site that you can access through your phone which operates identically to the website.
✉️ Contacting Users with FabSwingers Chat
Meeting new people and sending messages is quick and easy to do. You can either join a group chat which is public or just send a new message that is private to people you what to have a one-on-one conversation with.
How to contact another user:
Go to the top menu bar and browse for members you like under the search feature
Find a member you would like to message and click their profile
Click on the 'Chat' button
Just write your new message and click 'Send'
👍 Pros and Cons 👎
✔️ What we like
Offers a lot of features for a free site
Caters to swingers and people / couples looking for new experiences
Community chatroom function which includes video options
The paid version of the site is very affordable and entirely optional for getting the full experience
Users are friendly and quick to respond
Fast sign-up and detailed profiles
Can upload entire photo albums
❌ What we don't like
Looks a little outdated
May not always be meetups nearby
The photo verification process can be meticulous
No real way for the site to guarantee experiences at meetups
🙋 FAQs
Will a swinging lifestyle make or break your relationship?
Not if you are open and honest with your partner about it and respect their feelings on the matter. If your partner is okay with you being a swinger, then it should be an issue. If they aren't, you will have to respect their feelings if you want to keep the relationship you have.
Sex toys at parties: what is the right way to introduce them to your partner couple?
Honesty and being upfront about introducing new experiences to people is always the better policy. Be as direct as possible and be willing to take no for an answer.
Are swinger parties hygienic?
So long as all active participants take the appropriate measures to ensure a clean environment and sexual experience, then the party should be hygienic. However, always ask to see if your partner is also clean, as this shows that you care and are interested in safe sex.
How do I find a FabSwingers party?
1. At the top menu part, select 'Meets and Events'
2. Click on 'Browse and Search Meet Listings'
3. Search through to find any that interest you. If you don't find anything, change the parameters (date or location) to see if you get better results
Is FabSwingers safe?
FabSwingers verifies your photos to ensure legitimacy of all users. You are responsible for any meetings you have with others, so make sure you keep yourself safe.
Is there a FabSwingers app?
At this time there is no FabSwingers app, but you can access a mobile version of the site.
Is FabSwingers free?
Yes, FabSwingers is entirely free to use. You can opt to pay 5 $ to get an ad-free version of the site with a few extra additions for a limited time, but this is not necessary and everything you need to enjoy the site is 100% available to you from the start.
ℹ️ Company Info
FabSwingers is owned by Fabulous Entertainment since 2006 and has been founded to take advantage of the move away from charging fees and subscriptions for websites. This has earned them a lot of respect from swingers looking for social media spaces to use.