Idates Review, Updated 2023

iDates is a dating app service for anyone looking to meet someone. In this iDates review, we'll show you how users can enjoy successful hookups, meetings, and even serious relationship opportunities.
One of the primary features of iDates' online dating website and its app is helping you to flirt with locals in your neighborhood before committing to a date. However, if you want to meet singles, be prepared to spend money.
Is iDates a scam site and rip-off, or does a real-life review of the service paint a different picture? Read on to learn more about the iDates dating site and what you should watch out for if you want to try it out.
Our iDates review overview: who is it for?
iDates is an alternative to Tinder, taking on a much different approach to app dating. On the surface, iDates gives users an opportunity to date, flirt, or chat. The service encourages casual dating for a younger user base, between 18 and 30, but is open to older members as well.
The downside to iDates lies in the site's currency, which is coins. You need this to send messages or gifts, and they can cost a lot. On the plus side, you can still read any texts you receive and are free to browse through potential date matches to your heart's content.
Despite the cost, our iDates review wants to highlight that this is more of an alternative service to large-scale dating sites. You will find users here that you won't elsewhere, and signing up is fast, easy, and won't cost you anything to just try it out.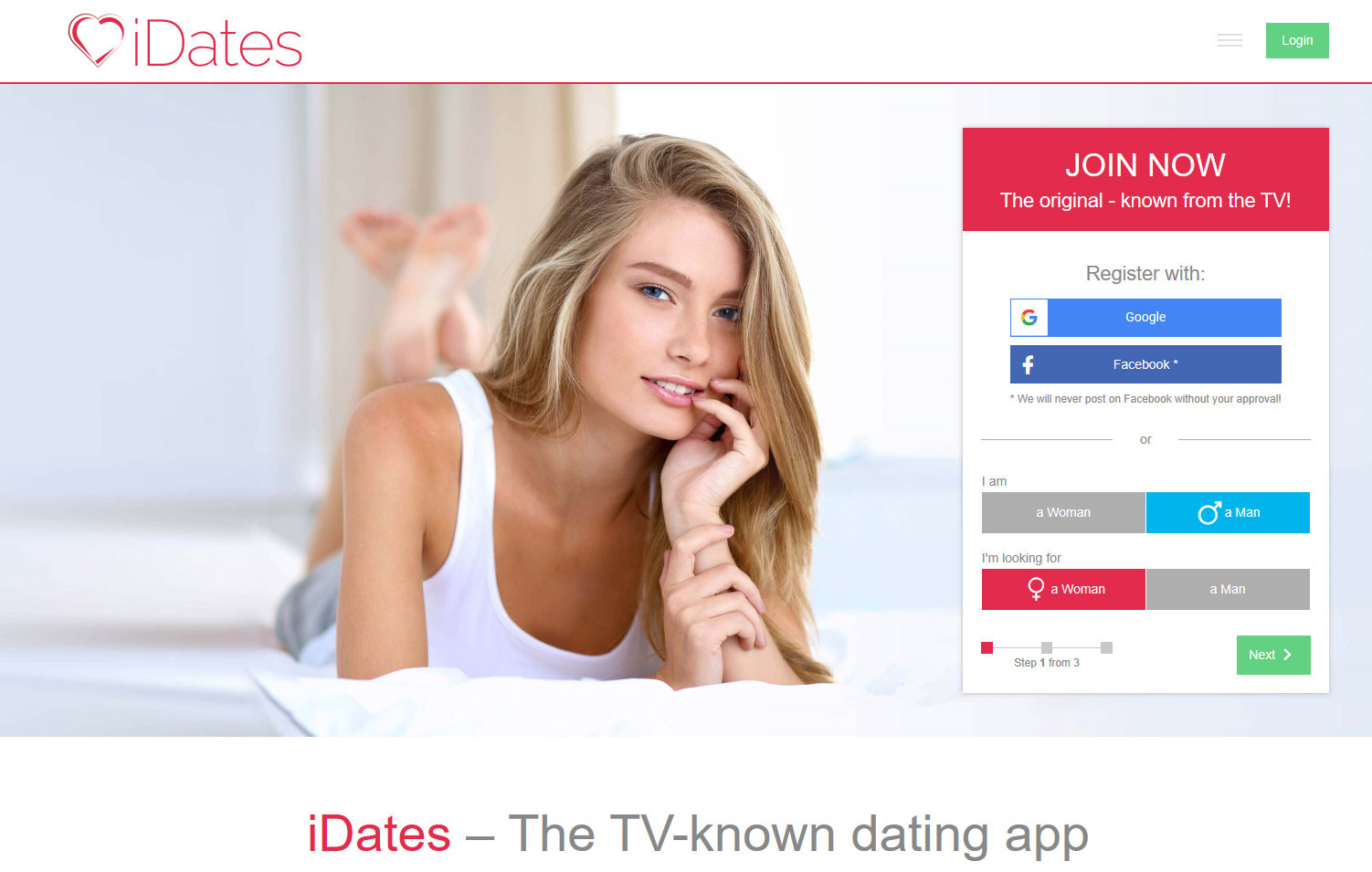 iDates review: pros and cons
Although iDates does offer free registration, this only seems to encourage fake accounts and the potential for notifications to just be bots or scams. However, moderators are working hard to keep the service clean for you to chat with local users.
Here is how our iDates review stacks up a comparison of its pros and cons:
Pros
Easy registration
Casual fun for flirting or hookups
Option to either like a user without spending any coins
Although expensive, it can be fun to send gifts and messages
Functions well on mobile apps, for either iOS or Android
Cons
Contacting and chatting with members requires you to pay, which is expensive
No subscription model to streamline the dating process
Not many features even if you do buy a lot of coins
Fake profiles and bots suggest scammers do use the service
Many members who write a review on sites like Trustpilot dislike iDates
The iDates registration process
If you would rather do a quick sign-up, you can export either your Facebook account or your Google+ account as a profile. If you would rather sign up via your email address, that's also quick to do, taking just three steps:
Signing Up
You need to first state if you are male or female and what kind of partners interest you. You will then have to choose a username that will show up on iDates, as well as a password. Finally, you need a valid email to verify your account. You get 25 free coins by verifying your email address.

Build your profile up
All information from here on is optional when signing up. However, you will see improved odds for meeting someone if you take the time to fill in the facts about yourself on your profile. This includes your body type, hobbies, relationship status, and lifestyle choices.

Upload Photographs
The most important key to success with iDates is to have a great profile picture. Having a picture to match to the profile inspires confidence in other members when they come across your profile. To upload a profile picture, go to your personal settings and choose to edit your profile. Just drag and drop pictures or upload them from your device. Now you can message matches and start buying coins.
Breakdown of iDates coins prices and membership
To use iDates, you must purchase coins. It's just how the service works. The lowest amount you can spend is 4.99 USD for 220 coins and the most is 99.99 USD for 5500 coins. You are, however, still able to browse member profiles and pictures without coins.
You will start with 100 free coins when you first register. However, sending a message will cost you 50 coins. You can download the app and pay via the google play store, amazon pay, or through their website. You can pay with a credit card, PayPal, or a debit card.
Coins and bundles
Sending messages on iDates can cost a lot of money, but to help offset that, iDates offers you a 10% bonus (rounded up) with each bundle that you purchase. This means that when you buy 100 coins, for example, you are getting 110.
This scales with the total purchase, so the more coins you buy, the more you get for free alongside your purchase. iDates coins come in bundles of 110, 280, 720, 1430, and 2860 including the 10% bonus coins you get.
That means you only ever pay for 100, 250, 650, 1300, and 2600 coins at a time. These are the prices for iDates coins and how many you get:
| | | |
| --- | --- | --- |
| Price | Number of iDates coins you get | Bonus iDates coins included |
| 4.99 USD | 220 Coins | incl. 20 Coins |
| 9.99USD | 500 Coins | incl. 50 Coins |
| 24.99USD | 1270 Coins | incl. 120 Coins |
| 49.99USD | 2640 Coins | incl. 240 Coins |
| 99.99USD | 5500 Coins | incl. 500 Coins |
The free profile vs using iDates coins
To put it concisely, you can only look at other member profiles and view received messages with the free profile that you start with. This means that without purchasing iDates coins, you won't be able to respond to anyone that contacts you, and you can't reach out to others.
Free membership
iDates does not have tiers of membership. Instead, our iDates review found that all members have a free membership that they use to create their profiles. From there, they can purchase coins that unlock features used for interacting with others. Here's what you get when you first sign-up:
100 iDates free coins upon registration
Live notifications of received messages
Seeing visitors who view your profile
"Liking" profiles
iDates review of coins and what they unlock
Send as many chat messages as you want as long as you have the coins
Send messages and gifts
Become a "top profile" in searches (costs 20 coins)
Highlight messages from other users
iDates review: FAQs
Although signing up with iDates is easy, that doesn't mean you won't have a few questions of your own about it. That's why our iDates review has answered some of the most frequently asked questions to help you out.
Can I also pay with a credit card? Which payment methods are there?
If you are using the app you can only pay via your Appstore account or PayPal. This does require a credit card or bank account attached to it.
The site offers more variety in payment methods, including:
Direct debit payment
Credit card
Internet banking
How do I cancel my iDates membership?
As noted in our iDates review, there is no membership. To delete your profile you will have to contact [email protected] with your user data (username and email address) so they can process your request as quickly as possible. This is the same process for both the app and website.
Could I purchase a weekly or monthly VIP membership?
No, there is currently no offer for a subscription / VIP model for iDates' app or website service. Once you have used up the purchased coins or the initial ones you start with, you will have to buy more to continue messaging.
However, this does mean that you don't have to worry about cancellation costs or any running fees with a subscription service.
Why are my coins gone?
If you have bought these and your current balance shows that there is nothing present, our iDates review can think of 2 things that may have happened:
You already spent all the coins you bought. As a reminder, sending a message always costs 50, and "TopChat" will use an additional 20.
You/your bank has canceled the purchase and there is an existing outstanding balance that needs to be paid first. You can contact support in this case: [email protected]
Why were my purchased coins not unlocked?
There may be a delay between when you make your purchase and when you will be able to spend these coins. If they have not been unlocked after 2 hours, our iDates review suggests that you make sure to send the invoice to [email protected] to resolve the issue.
Note that if you paid through your own App store account or PayPal, confirmation is always sent to you. This confirmation is used to check why your purchase has not been unlocked yet and to then manually unlock them.
Can I also earn coins?
No, there is currently no such offer on iDates for users to earn any currency to spend on the site. You must purchase these.
Why can't I send messages to someone I am in contact with already for free?
Sending messages will always cost you per message sent, regardless of how long you have been chatting with the person, be it on the app or over the website.
Who owns iDates?
iDates is owned by Boranu Online B.V., located at Frans Erenstraat 14A, 5921VG Venlo, Netherlands.
The iDates review: our final thoughts
Our iDates review covers how to use the dating service, and the expenses you will accumulate. The cost might cause some potential new members to shy away from trying it.
However, iDates does have a lot to offer someone who can afford to try an alternative casual dating service. It's free to register and extremely fast to get started with, making a test run take only a minute or two. Sign up today and see if iDates is right for you.
Other Reviews