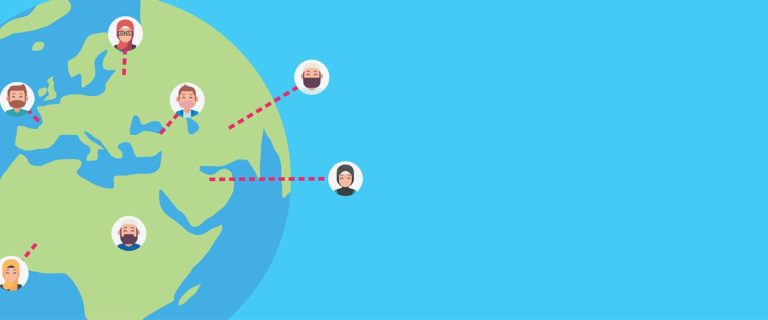 Pure Matrimony is a Muslim marriage site that emphasizes Muslim marriage as a goal for members, giving them a halal platform for pious Muslims who follow the Quran and would like to begin a matrimonial life with a spouse who also holds faith and the Islamic tradition highly.
The website has seen a lot of success between both men and sisters who faithfully are praising/praise Allah. Many Muslims in the United States, either of Indian descent or who are from Pakistan, have been able to find matrimonial matches in no time.
Many Muslims and any person who wants to help a Muslim friend or family member that they know find a partner for a faith-based marriage will find that Pure Matrimony is the leading dating site for them in the market.
To show you why we think Pure Matrimony deserves the praise it gets, we review its memberships, the user-friendliness of the site and its registration process, as well as its prices. Read on to learn everything you need to know about Pure Matrimony!
Our Summary
One of the best things about Pure Matrimony is its focus on giving help to Muslims looking for a platform to search for, contact, and meet Muslim members that are also wanting a faith-based marriage which values Islamic beliefs.

Although the site is not for everyone, and it does prioritize members who value the Islamic faith highly over those who are moderate or lax in their views, Pure Matrimony has had a lot of success. The service is leading Muslim marriage platforms with over 50 marriages a week!

There is a lot to be had for practicing and faithful Muslims with Pure Matrimony, as the site offers a serious match-making process for marriage and starting a family. You will have to pay to explore the site fully, but this is just another step in the commitment process.

If you are curious about finding a partner for yourself or want to help someone else, registering is free and you can always decide to take the leap later if you like the service. Why not check it out today?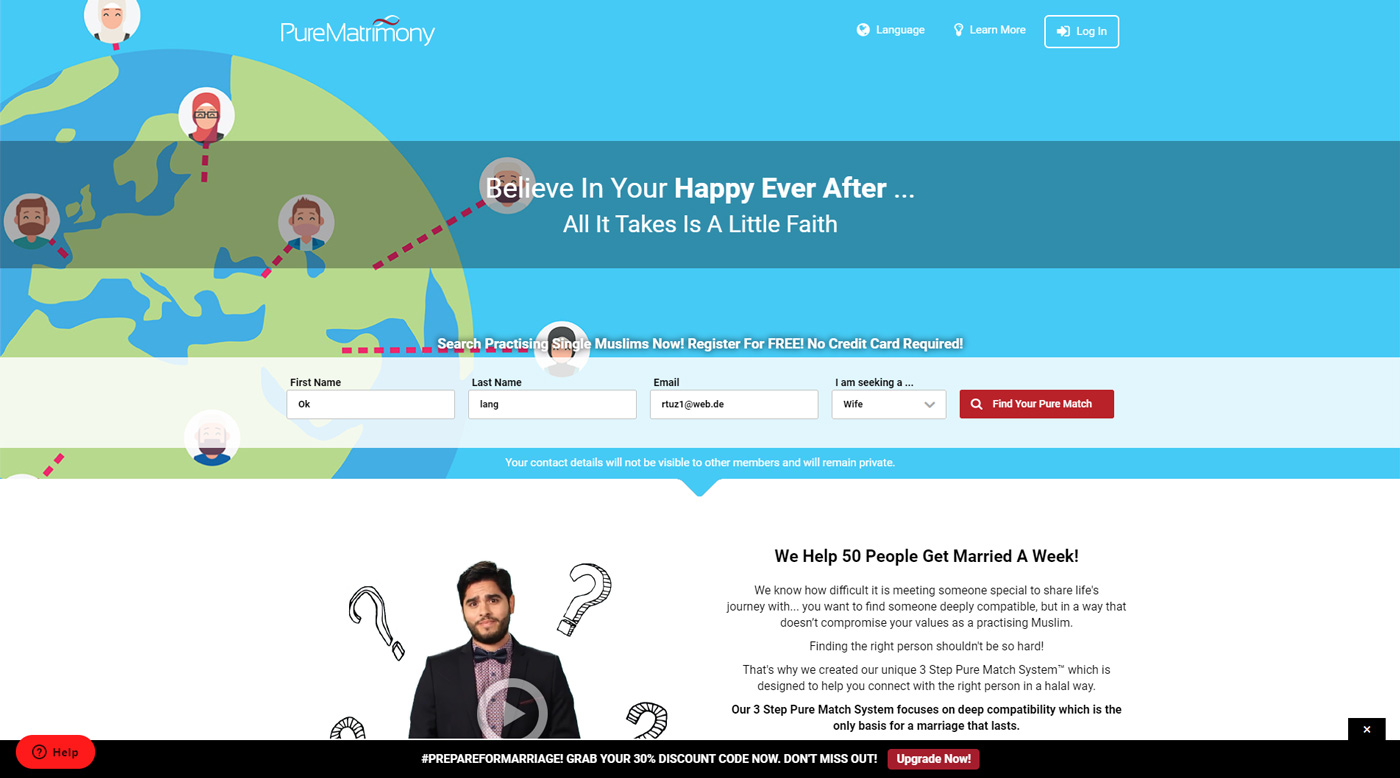 🆓 Free profile vs paid profile review
Free membership
Sophisticated Pure Matching
Sophisticated Advanced Search
Create and save favourite searches
Paid membership
Message or Contact profiles
Request and see personal photos
Receive answers to your questions
Other members can see you
💰 Types of membership
Premium monthly plans
| | |
| --- | --- |
| Duration | Price |
| 12 Months | $6.15 per month |
| 6 Months | $9.84 per month |
| 3 Months | $12.30 per month |
| Month-Month | $17.22 per month |
Note that the month-month model will be billed in an initial payment of $17.22 for 1 months and $17.22 per month thereafter until you cancel.
✍️ Registration process and profile creation
Registering for Pure Matrimony is simple to do and only requires a valid email address and phone number.
Signing Up

To start, all you will need to provide is your first and last name, and a valid email address for verification purposes. You will also have to select whether you are looking for a wife or a husband.

Creating your account details

You now must come up with a username to use on the website, as well as a password to accompany your account. Confirm your password to move on to the next step.

Share some information about yourself

Here you will include data about your birthdate, location, and citizenship in the country that you are looking in / residing in. You must also include a phone number.

After verifying your account through the email sent to you, you can add even more information, including languages you know, lifestyle habits, hobbies, whether you created the account for someone else, views on polygamy, and more.

Share what you are looking for

In this section you can state a location for where you are looking for a partner and then give details about their ideal features and beliefs that interest you.

Write a bit about yourself

Finally, you can write a bit about yourself and what you would like to see in a potential new partner. You can also upload pictures of yourself / the person you created the account for and start your adventure to begin married life!
📱 User friendliness review
Pure Matrimony dating website
Registration
Although registering for the website was simple to do, there was also a lot of information that you could optionally add, making it feel like a thorough registration process. This is a good thing when looking for a potential wife or husband.
Navigation
They do have a slightly dated look to its navigation but is otherwise efficient in getting you from one user to the next.
Profile
Thanks to the accounts requiring a lot of information and the option of providing even more about yourself and your ideal wife or husband, there is a lot to look at when you check out someone's account to find a marriage partner who is also a firm believer of Islam.
Contacting users with messaging
To message another member, you must be a paying subscriber. This is to help ensure that only people looking for a matrimonial commitment and potential family use the website.
✉️ How to contact another user:
Click on a user you like
To the right of their picture will be a link to 'Send Message', click it
Type out your message and click 'Send'
👍 Pros and cons 👎
✔️ What we like
Dedicated community of Islam believers
Focuses on serious relationships
Averages 50 marriages a week
❌ What we don't like
Requires paid membership to message and contact
Cannot view profile pictures freely
May not always find local matches
🙋 FAQs
How can I subscribe to Pure Matrimony?
Users can subscribe when they click on the 'Subscribe Now!' button on the menu at the top right of any screen. From there you may choose which plan works best for you.
How do I cancel or suspend my subscription through the App?
You will have to remember to cancel any payments with Pure Matrimony as they will auto-renew otherwise. Here is how:

1. Click on the 'Triple Bar' on the top left corner
2. Click on 'Settings'
3. Click on 'Close Account'
4. Click on the 'Continue' button on the new page to cancel
5. You will receive confirmation of your cancellation

Payments will stop and you are free to use your account until your membership runs out for that period.
Can I get a refund if I haven't managed to find anyone after looking?
Unfortunately, refunds are not issued to any account based on any of the following reasons:

• Not finding a suitable partner
• You haven't been contacted by other members
• You haven't actively used the account
• Your introductions with prospects didn't work out

Pure Matrimony does not have any control over how many people register or contact/don't contact you. Hence, they cannot refund you for a reason related to that. Also note that a refund will also not be provided if you break the rules.

What is the minimum age for membership?
Pure Matrimony strictly prohibits anyone under the age of 18 to register.

Do I have to fill in my real name and email address? I want to remain anonymous.

Both your name and email address will always be private. These are only used for administrative purposes, so it is important to fill them in. You can later create a unique username for yourself that people will see.
Why do you ask us to swear by Allah SWT that we're being truthful?
The Quran asks believers to be honest and to put such issues as marriage forward in a serious manner. Pure Matrimony stands by this and asks that users do the same.
I sometimes miss my prayers, does that disqualify me from using the site?
Pure Matrimony understands that many people have difficulty in praying 5 times a day on time. They do not want to exclude those people who are aware and acknowledge the importance of the prayer.

What they are interested in doing is excluding those who don't care about prayer at all. This is to make sure that members are both serious about their faith and about their commitment to Muslim relationships that lead to marriage, family, and a happy married life.
What is the importance of including your Wali/Mahram while searching for a spouse?
Many sisters on the site search for a spouse and decide to not use their wali. That is their choice, but Pure Matrimony does encourage sisters to use as it is more in line with the teachings of the Quran. However, sisters are flexible with what they do.
ℹ️ Company info
Pure Matrimony is owned by TSQ Media Ltd. and is located in Centre Bradford, BD8 8BD, United Kingdom.