Our Seeking Arrangement Review – honest expectations from the start

Seeking Arrangement is a multinational dating site that seeks to match a sugar daddy or sugar mommy with the ideal sugar baby. It has 11 million international members.
It was founded by MIT graduate Brandon Wade in San Francisco, California. Wade has a few other niche type dating sites, so we're confident he knows what he's doing, and 11 million other users clearly agree.
We know the concept of sugar dating might be a bit controversial to some users but Seeking Arrangement websites are upfront about their purpose from the start. Rather than looking for a date, users share their data with a sugar daddy or mommy who are prepared to offer financial incentives.
Are there any downsides? Well, we decided to do an in-depth Seeking Arrangement review to help you determine if it's one of the best sugar daddy websites for you
Our Summary
The big draw of using Seeking Arrangement is their obvious experience in the field. It's clear from the off that this isn't a regular dating website (users have to indicate whether they're a sugar daddy or mommy from the very first page) and it makes no secret of matches being a mutually beneficial arrangement.

Your profile is where you put exactly what you're looking for, and there's a big emphasis on the financial side of things. A match happens when a generous sugar daddy or mommy is going to meet the financial expectations of a sugar baby. Sugar babies can be both men and women.

It's the financial element that makes Seeking Arrangement different, and while the whole idea of sugar dating might feel a bit like glorified escort service, Wade is quite clear that this isn't the case and moderators enforce a strict ban on any nefarious activity.

Profiles are clear about whether sex is, or isn't, part of the deal so there's no confusion and no potential problems further down the line due to misinterpreted expectations.

Overall, of all the sugar dating sites, the Seeking Arrangements app is one of the best. Moderators work hard to weed out fake profiles, and the candid attitude of the site about the possibility of escorts and prostitutes using the site is oddly reassuring.

There's good support for users, including a blog that has helpful Seeking Arrangement tips on staying safe and building a good profile.
🆓 Free services and paid-for services
Free Services
Signing up is free, and once you've said whether you're looking for a sugar daddy or mommy or seeking to be a sugar baby you can start browsing profiles within 48 hours. Premium members can start immediately.
Your profile is detailed and includes info about exactly what you want from your arrangement, so there's no awkwardness about saying you're looking for a generous sugar daddy.
Filtering profiles and sending ten messages is included in standard membership for sugar daddies and mommies. Sugar babies have no restrictions on the number of messages they can send.
You can also add people to a favourites list to keep track of who you like the look of. This works the other way too, so you can see if someone has added you to their profile.
There's a free to use chat room to so you can talk to people who are online at the same time as you.
Premium members – making it easier to seek your arrangement
As well as removing ads, the Premium or Diamond membership systems have genuine perks for sugar daddies/mommies or babies.
More in-depth search filters: more search parameters means lots of time saved
Highlighted profile: you can have your profile featured, so you'll come up first in searches.
Unlimited messages
In-box filters: no more messages from someone who's annoying you.
"Message read" receipts
Improved Privacy: As well as hiding your profile, you can hide whether you're online.
Gift wish list: This one's pretty unique, but you can specify exactly what gifts you'd like to receive from your sugar daddy or mommy, right down to the Amazon link.
Notepad type function: you can jot down details about someone who's sparked your interest.
How do I become a Diamond Member?
Diamond membership status is given to sugar parents who've been on the site for a certain length of time and, crucially, spent a certain amount of money. Being a Diamond member means you'll be first to appear in searches and be at the top of each Sugar Baby's dashboard.
💰 Prices
How much does Premium membership cost?
A month's Premium subscription is $95.33. This is billed to you every 30 days.
For Diamond status you have to be a member for two months and have spent a certain amount of money on the site.
How to pay?
You can pay using your mobile or PayPal as well as Visa, Mastercard, American Express, Diners Club or Discover. The description on your credit card bill is discreet.
💡How to reduce costs at Seeking Arrangement?
If you sign up to Premium for 90 days you pay a slightly reduced rate of $81.70 a month, which is taken as a single payment every three months.
College students can use the Seeking Arrangement websites free of charge if they have a university email address that ends with .edu.
📊 Membership structure
Seeking Arrangement is available to everyone over 18, although the target group for sugar babies is university students. Our research for this Secret Arrangement review shows a higher proportion of younger sugar babies and older sugar parents, which fits with a site of this type.
Secret Arrangement is essentially for older, wealthy people who want to build a relationship with clear expectations, and younger people who need financial support and mentoring. Remember, this is not a date site.
The phrase that's used a lot on the site is "mutually beneficial" and the transparency of the site means that any relationship is clearly defined from the outset.
It's not the only platform of its type, but Wade's experience in this field means it's one of the safest. Our review of the site has found it to be very open about its intentions.
The site has over eight million sugar babies, over two million sugar parents. The majority of users are men, and there are about 10,000 active users per month, which is substantial in what's essentially a niche market.
International Coverage
Seeking Arrangement is active in 139 countries. There's an android app and mobile site as well as the web version.
✍️ Registration
Compared to other sites this can take a while, but the level of detail means Seeking Arrangement's ethos of transparency about the relationship means each question helps make the perfect match. There's no personality questionnaires as such, just info on financial status, wish lists and what you want from the arrangement.
It's possible to browse the site without completing your profile, but this will reduce your chances of getting a match.
Step-by-step sign up
Signing upGo to Seeking.com and choose your gender
Select your roleIndicate whether you're a sugar parent or sugar baby
Your match preferencesIndicate your whether your preference is for men, women or both
Enter your emailGive your email; it's here that you're prompted for your.edu email address.
Basic information about youComplete your profile. This is where you give details of things like appearance, and interests, and also where a sugar baby says what kind of gifts they'd like, and the sugar daddy or mommy say how much they expect to spend.
The concept feels a bit odd in the mainstream dating world, but there's no pretence about the financial aspect of these arrangements.
Standard users have their details checked and can begin getting matches and sending messages in 48 hours. Premium members can start interacting on the site immediately.
📱 User friendliness and the app
We found the site quite user-friendly. It's clean and straightforward with simple graphics and icons so it's easy to find your way around. Search tools make it easy to be specific about what you're looking for.
It's been designed with 50-60-year-old users in mind and might seem a bit dull in terms of features, but the simplicity means it's appealing to older users.
One quirk we found on the website was that it's impossible to go back to the dating platform once you've visited the blog. This isn't a massive problem but could be puzzling for less tech-savvy users.
The mobile site is great, with screen optimisation and the same simple graphics.
The Secret Arrangement app works in a similar way, but with a couple of extra features
New "Seeking" feature so you can search for potential matches with the swipe of a finger
Simpler navigation menu, making it even easier to find what you're looking for
Updated layout making profiles easier to view
The app is a little glitchy, but customer service is responsive. Users who don't have niggly problems, like duplication of messages, seem to love it.
✉️ Contacting users
Search functions and filters are extensive, so you've got a lot of control over who can find you and be confident you'll meet a like-minded match.
Matches are made by the site
Results are displayed according to who was online most recently
You can message other matches straight away, or add them to your favourites
Sending messages is free for sugar daddies during the trial period, and permanently free for sugar babies
There's a free search facility so you can browse all public profiles
The chatroom so you can talk to other members
👍 Pros and cons 👎
We like
Transparency of arrangement
Simple website and app
Free trial period for sugar mommies and daddies
Unlimited free membership for Sugar babies
Members are verified, and this verification is indicated on their profile
Emphasis on discretion and privacy. The details you give are confidential and secure.
A blog that gives useful tips on subjects like creating a profile and dating etiquette.
We don't like
Fraudulent profiles slip through, especially from sugar babies.
Ten message limit means the average sugar daddy or mommy has to sign up to premium to get the best from the site.
New members are ranked higher in searches, unless you pay for Premium, or qualify for Diamond status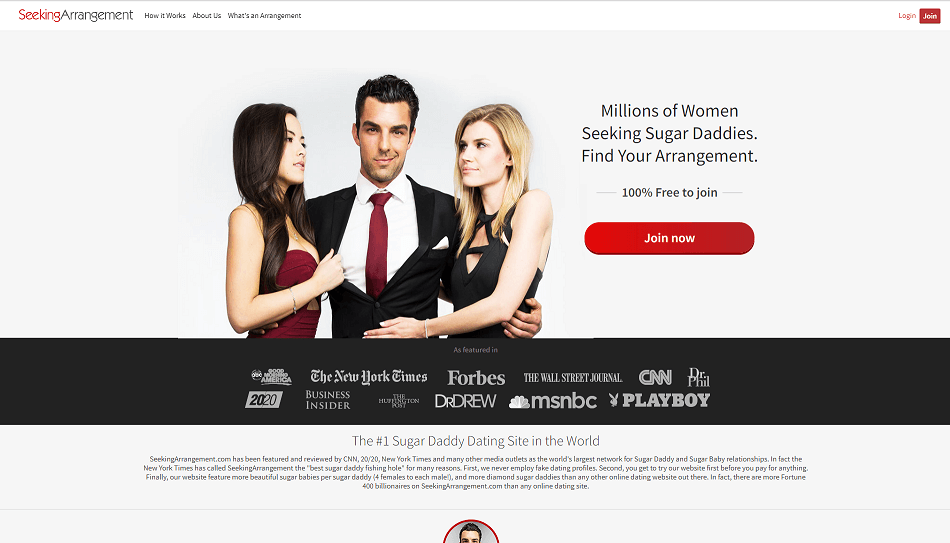 🙋 FAQs
How much does Seeking Arrangement cost per month?
Membership is permanently free for sugar babies. It's free for sugar parents in the trial period.
After the trial period, Premium membership is £69.95 for one month, with small reductions if you sign up for three or six months.
Is Seeking Arrangement safe?
It's as safe as other dating sites. Background checks on Premium and Diamond users mean you have more certainty that details like financial status are genuine, but the checks don't go into things like domestic violence convictions and other criminal activity.
Is Seeking Arrangement legal?
This is a biggie, and one that CEO Brandon Wade is very aware of. Despite the financial element, moderators work to remove any profiles that appear to be from escort agencies. Gifts and cash are given for time, not for sex so any accusations of prostitution are sidestepped.
Is Seeking Arrangement dangerous?
The usual common-sense precautions about first meetings and disclosing details like where you live apply. Seeking Arrangements is arguably safer than some apps because both parties know what's expected.
How long does it take to have a profile approved?
48 hours, or instantly for Premium members.
What should I include on my Seeking Arrangement profile?
As well as details about what you look like, what your interests are, your Secret Arrangement profile is where you set your stall out. Sugar parents can say how much they're prepared to spend on gifts and support each month, and what kind of relationship they expect in return.
A Sugar baby says what they're looking for, even to the point of creating an Amazon wish list, and what they'll offer in return.
How do I delete the Seeking Arrangement app?
There's no option to delete membership on the app, but you can deactivate your account on the website
Log in to your account
Click on your icon in the top right corner
Click the drop-down menu and select settings
At the bottom of the page, click Deactivate or Delete
No refunds are made on membership fees, so if you deactivate before your membership is finished, you'll lose the money.