SugarDaddyMeet review & cost, is it legit?
Our honest SugarDaddyMeet review explains pros, cons, fees and membership options, free vs paid features.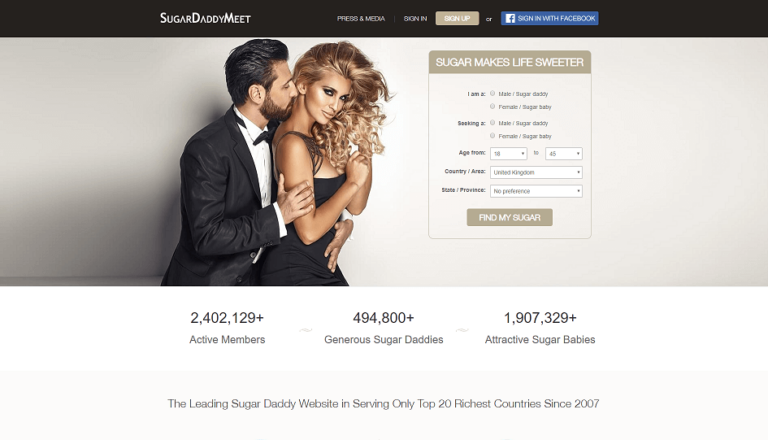 SugarDaddyMeet is a sugar dating site where rich older men can meet sugar babies with discreet arrangements made between them. A sugar girl can date a sugar daddy to provide him with companionship, and in return receive financial support.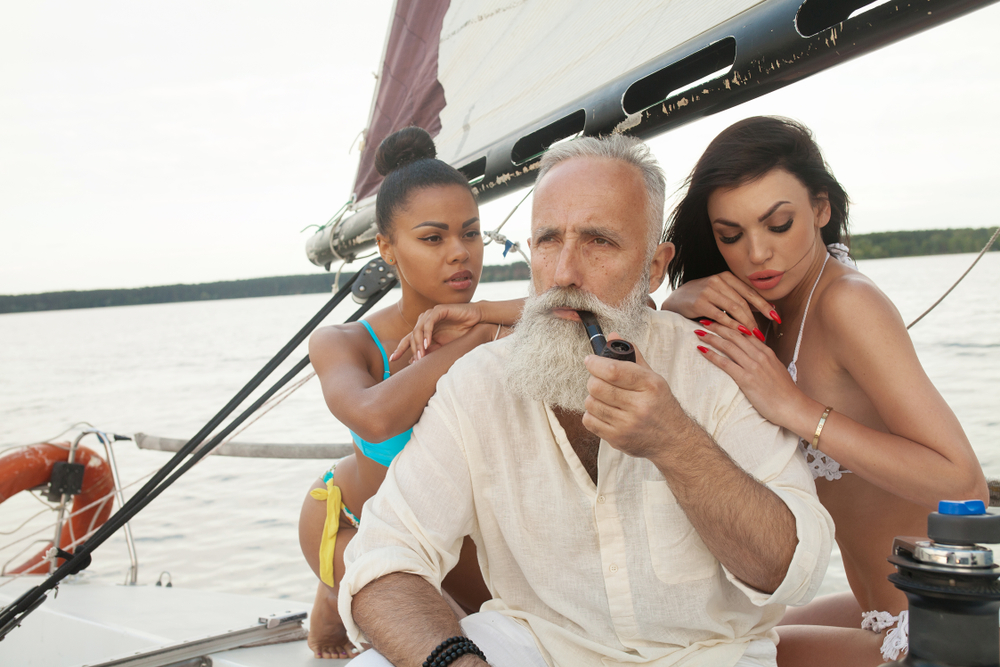 The site has seen a lot of success for online arrangement relationships between its verified sugar daddy feature and the sugar daddy app, helping older men and younger women find happiness.
Young women who say "buy me clothes" will find a rich, older man who is happy to do so. There are many ways for these relationships to start as well on SugarDaddy meet, from finding a skype sugar daddy to meeting a sugar baby via the "Let's Meet" feature.
To show you why we think SugarDaddyMeet deserves the praise it gets, we review the website and look at its members, the user-friendliness of the site and the mobile app, and its prices.
Alternative dating recommendations
These are our top picks for alternative dating sites and apps. Check them out!
Our honest SugarDaddyMeet review
For any younger woman hoping to meet sugar daddies online, SugarDaddyMeet provides a safe and reliable environment for these arrangements to be made. We found the site to be very thorough in its verification process, ensuring a legitimate and dating experience.
We found it nice that there were a lot of features freely available for any member to use when looking for the ideal match. However, the best features were clearly behind the premium membership, including sending messages.
That said, all members can reply to messages for free, so anyone using the site has a good chance to meet their right partner. With the high-quality profiles, this made our experiences enjoyable and provided a user-friendly service that felt rewarding.
Without a doubt, this is one of the best dating sites for meeting a sugar daddy or sugar baby. Signing up won't cost you anything, and even with a free account you have a solid chance of finding someone you like, so why not give it a try? Keep reading for a thorough SugarDaddyMeet review
👍 Pros and Cons 👎
✔️ What we like
Replying to messages is free
Sending winks is free
You can add users to your 'Favourites List'
There is a roulette-type matching called "Let's Meet"
There is a chatroom
Over 1.9 million beautiful sugar babies
Fake and low-quality profiles are immediately suspended
❌ What we don't like
The Apple version of the app is currently not working
The app has fewer features than the website
It is more expensive to upgrade your membership through the mobile app
Alternatives to SugarDaddyMeet
🆓 Free Profile Vs Paid Profile Review
SugarDaddyMeet offers a considerable amount of options for members to use the site to its fullest potential, but what exactly are the differences between the free and paid memberships?
Free Membership
Reply to messages
Send winks
Add to favourites list
Like photos or comments
Request access to view albums
Paid Membership
Send messages
Use of advanced search filters
See last login details of users
Propose first date gift
Use chat function
💰 Types of Membership
You can register for a membership between 1 to 6 months. When purchasing a premium membership through check card / credit card / PayPal, please be aware that the one-month memberships automatically renew unless they are notified to turn off the billing.
You will also have to cancel via Googleplay or iOS if you are using the app.
Premium Monthly Plans
All Prices are in U.S. Dollars:
| | | |
| --- | --- | --- |
| | Monthly price | Total |
| 1 month | $50.00 | $50.00 |
| 3 months | $30.00 | $90.00 |
| 6 months | $24.00 | $144.00 |
💡 How to Reduce Costs
Apply for Bonus Membership
Bonus membership is free membership to the site. You can earn bonus gold membership from Sugar Daddy Meet by sharing dating advice, proposing changes for quality, and by generally being helpful. Be aware that your bonus membership is subject to approval.
📊 Membership Structure Review
According to our data, there is a proportionately larger number of younger women who use the site.
About 50% of female users are under 34 years old
2/3 of male users are 45 and over
Most users are 35 and under
How Many SugarDaddyMeet Users are in the US?
There are approximately 300,000 users looking to start dating sugar daddies and babies.
✍️ Registration Process and Profile Creation Review
The registration process for SugarDaddyMeet is a little more involved than most other dating sites, and it does require you to provide a valid phone for verification, but the process ensures a higher calibre of members and works help you match better.
Signing UpWhen signing up you will be asked to provide whether you are a sugar daddy or a sugar baby. Selecting one automatically selects the other as your interested partner. You will also need to give your age and location.
Phone VerificationSugarDaddyMeet does need to use a valid phone number that you provide for verification. The code will be sent to the number you've provided and is simply used to show that you are a true resident of the country you are registering from.
Building Your ProfileOnce you have verified via phone, you can start to fill in personal information about yourself and your ideal partner, including age, weight, height, ethnicity, and so on.
Write About Yourself and Your Ideal PartnerYou will be given a few paragraphs worth of space to write about yourself and about the kind of partner you ideally would like to have. Use the space here well, as when other members read about you this is what they will look for first!
Upload PhotographsFinally, you can upload an album's worth of photos for other people to look at on the website. Use your best side to sell yourself and meet the best match possible!
📱 User Friendliness Review
Registration
Although the registration does take a while to do, and the phone verification can be a little off-putting, the effort is well worth the time it takes. Longer and more detailed registration processes filter out fake profiles, ensure better matches, and raise the quality of the site.
You will also notice this quality in the profiles of other users and will like the amount of information you can read from these thanks to the dating website's involved registration.
Navigation
The website is easy to navigate and has a focus on providing a user-friendly experience. Users can read up new information on the site's blog, then quickly navigate to a favourite's list, chat with new users, and set up something to meet a sugar daddy or baby easily.
Profile
Thanks to the thorough registration process, the dating site has well thought-out profiles. If profiles have too little information, they will be temporarily banned on the suspicion of being fake. This ensures that all profiles on the site are detailed and legitimate.
📱 SugarDaddyMeet Dating App Review
The app functions much like the website, although some of the features are not available. Read through SugarDaddyMeet's help section for more information on the specific differences.
Registration
Registration is identical to the website's registration process.
Navigation
This is very much like the website, but with an improved interface for quick-mobile use.
Adjusting profile
This can be done at any time, just like the website. Simply go to your profile and choose to edit.
✉️ Contacting Users with SugarDaddyMeet Chat
There are a few ways to get in touch with other members, including a roulette feature called "Let's Meet", a forum, and a traditional chat feature.
How to contact another user using the chat feature:
Search for a profile that you like
Select that profile and look for the 'Chat' button
Click 'chat' to proceed
Type out your message in the text box
Click 'Send'
🙋 FAQs
What is a sugar daddy?
A sugar daddy is someone that is looking for companionship, usually with younger, beautiful women. Sugar babies are looking to date older, wealthy men who enjoy giving gifts and providing financial support.
How does the site work?
SugarDaddyMeet is a sugar daddy dating site where young beautiful women look for older male members, or vice-versa, who agree to give them support in exchange for their time. A sugar daddy takes care of sugar babies financially for the pleasure of their company.
When you first the site, you start as a standard member. This allows you to create a profile, add up to 26 photos, search for people by country / by state, create a favourites list, and send unlimited winks.
You will get notified in the notification area in the top navigation bar if somebody on the site adds you as a favourite, winks at you, or sends you a message. You will also able to respond to a message sent to you by premium members.
How many Sugar Daddies are using SugarDaddyMeet?
There are more and more sugar daddies and sugar babies looking to start dating. Currently, there are over 2.4 million members, with 500,000+ sugar daddies and 1.9 million attractive sugar babies hoping to begin their dating experiences.
Is sugar dating safe?
Yes, sugar dating is safe for both a sugar daddy and a sugar baby. Especially so when it is done on a site like SugarDaddyMeet, which ensures members' safety through its verification process and meticulous oversight of profiles, making sure there are no fake accounts.
How much does SugarDaddyMeet cost?
For just a single month, SugarDaddyMeet costs $50.00, which is about $1.50 a day.
How does a relationship between a sugar baby and a sugar daddy work?
When a sugar daddy or a sugar baby meet someone that they like, for example when they read up their profile and begin to chat them up on the site, then the sugar daddy and sugar baby can agree to the nature of their relationship and how they will exchange services.
A sugar daddy agrees to provide financial support and material goods to the sugar baby that she would like in return for her time and companionship.
ℹ️ Company Info
SugarDaddyMeet is owned and operated by SuccessfulMatch.com and was originally launched in 2007.