Twoo Review, Updated 2023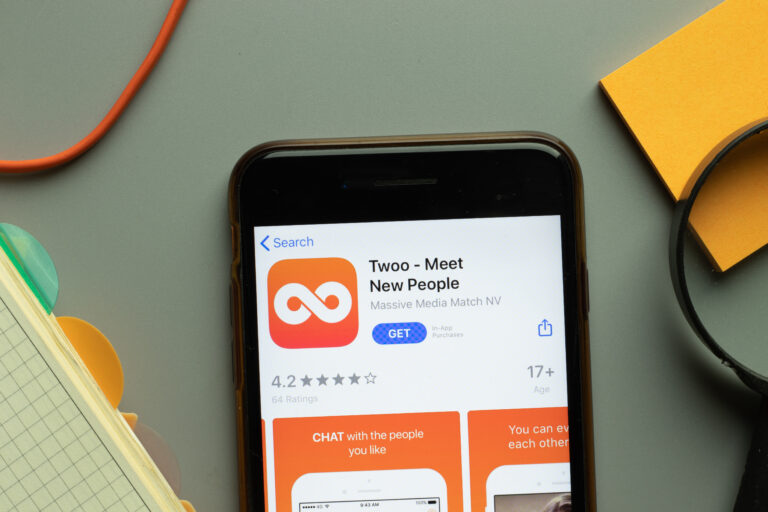 Twoo is a social network and chat-based dating site for meeting new people. The website is owned by Match, one of the leading companies for legit dating sites in the world, but started in Belgium. Twoo has been in service since 2011 and has over 181 million registered members.
Twoo is a casual Tinder for friends, making meeting people quick and easy to do. Not only is Twoo one of the leading chat sites for US chatrooms, but it can also be used as a completely free dating platform with no hidden fees.
Twoo even offers a convenient Facebook login so you can quickly import your information from your other social media accounts into Twoo!
To find everything you need to know about Twoo, read our review to learn about different memberships, prices, the site's user-friendliness, and what you can expect when you sign up!
Our summary of the Twoo experience
If you are looking for a chatting experience or some casual flirting, Twoo is a great site for you to check out. You can meet plenty of active users by browsing the site, although both users must like each other first.

However, this become a chore after a while and using the Premium membership service or the Credits feels like the most realistic way to actively be using Twoo.

The website does offer a solid chatting experience and if this is what you want you will be more than satisfied.

You can do everything for free but be prepared to spend money to make your chat experience more streamlined and convenient. The dating service has a lot of in app purchases to help you meet new people for hookups and more.

That said, everyone's experience may be different. You may feel that Twoo offers a great service. It certainly was enjoyable to chat, so if you don't mind a little work to get a conversation going, then you may get a lot out of Twoo.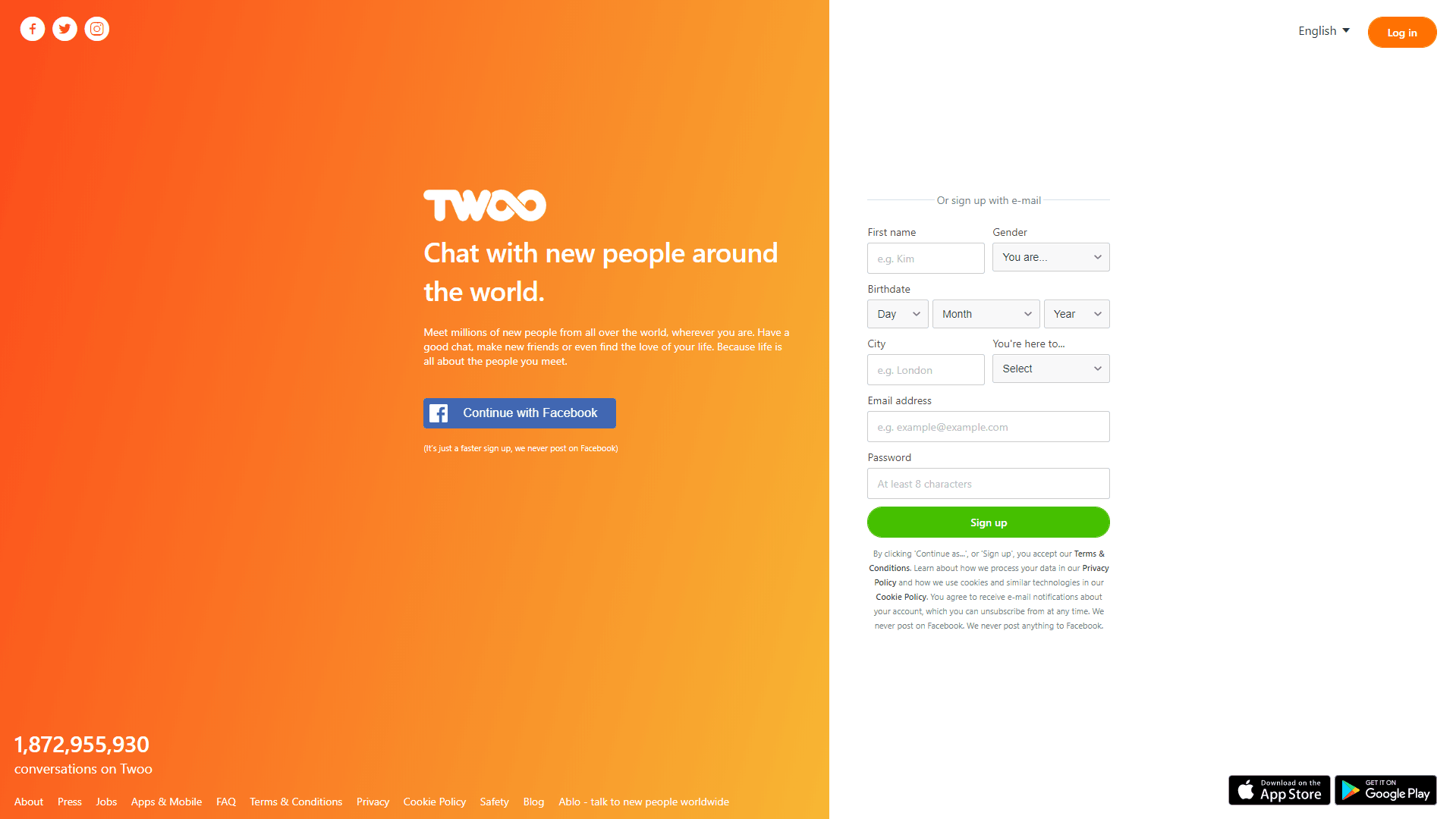 🆓 Free Profile Vs Paid Profile Review
Twoo offers two memberships and the services that you can access through them varies significantly. Here is the overview of what Twoo's memberships give you:
Free Membership Review
View public profiles
Chat with others who are public
Explore and Search features
Answer Twoo's questions to improve matching
Favourites lists
Read blogs of Twoo members
Customer service
View connections
Paid Membership Review
See who liked and viewed your profile
Contact 25 new people daily
Check if your messages are read
Search filters
Ad-free Version
Get promoted in "Explore"
Enjoy 5 free highlights each month
Browse invisibly and access profiles directly
Undo your last "no" vote on the "Like" feature
Enjoy features like hangouts and more
💰 Types of Membership Subscriptions Review
Subscription plans auto-renew and can be paid via credit card, paypal, and other services. The following subscription plans are available for Premium membership:
Twoo Premium Monthly Plans
| | | |
| --- | --- | --- |
| Period | Price | Savings |
| 1 week | 7.99 $ / Week | |
| 1 month | 12.99 $ / Month | |
| 3 months | 10.33 $ / Month | Save 20% |
| 6 months | 7.83 $ / Month | Save 39% |
| 12 months | 6.49 $ / Month | Save 49% |
Credits – What They Do and How to Earn Them
Credits are used for purchasing specific bonuses and offers on Twoo that are designed to help you stand out more and are available to both Free and Premium members. Credits will fast-track you to:
Boost your profile
Highlight your messages
Reach out to 100 women
Send gifts
Get seen 100 times in Explore
Spotlight priority
First in Search
Additional Sticker packs
Super Likes
Credits – Bundle Costs
| | | |
| --- | --- | --- |
| Credits | Price | Savings |
| 550 Credits | $9.99 | 50 free! |
| 900 Credits | $14.99 | 150 free! |
| 1250 Credits | $19.99 | 250 free! |
| 2750 Credits | $39.99 | 750 free! |
💡 How to Reduce Costs
Test the Waters
Twoo is an interesting site where your own popularity directly impacts how often you receive messages and catch people's attention. To find the most success on the site, you will need to take advantage of their special offers via their credits to boost your popularity.
However, for someone who starting out on Twoo, it is best to stick with the website's free membership to see if the site suits your way of getting to know new people. This means holding off on buying and spending credits for awhile.
Once you become more familiar with the service that Twoo offers and decide to stick it out, we recommend trying the week Premium service and cancelling if you aren't satisfied.
📊 Membership Structure Review
How Many People Use Twoo?
Twoo has over 181 million registered members on the website with approximately 13 million logins per month. Twoo is offered in 200 countries in 38 different languages.
Twoo's Demographics of Love
There is an even mix of users on Twoo who use the site for several things. The most common use is to chat and meet people, but a decent percentage of people use the site for dating.
There is a 50-50 split of male and female members
Information on the site indicates dating is a motivator for joining
Most members range from 18-35
✍️ Registration Process and Profile Creation
Signing up for Twoo takes a few minutes but is simple and will pay off later when you are looking to match. Here's what you need to know about registering and creating your Twoo dating profile:
Signing Up – From Twoo's first page, start by giving your first name, your gender, and your date of birth. You will also need to provide your location and a valid email address for verification, as well as a password you will use for Twoo.

There is also a drop-down where you can select what your intentions are with Twoo. You can state whether you are there to chat, make friends, or are there for dating.

Confirm Your Account – You will be taken to a page to confirm your email address being added to the site. You must click on the "Continue" button to proceed. Clicking the button will open a new window that takes you to your email account.

Grant Twoo Access and Upload a Photo – You will be asked to allow Twoo permission for their services to edit and download your contacts. You will also be asked to upload a photo of yourself so others can see what you look like.

Share Twoo – You now have the option of asking Twoo to contact your friends via Gmail, outlook, Yahoo, and Facebook in order to ask if they would like to join as well. This helps to build up your friends' list as soon as possible when first signing up.

If you don't want to do this, you can skip this step.

Confirm Your Email and Start Chatting – A confirmation email from Twoo should arrive. Click on the link that they provide, and you will be all set to start using Twoo's chat service and meeting new people!
📱 User Friendliness Review
Twoo Dating Site
Registering for Twoo is mixed. You will be asked to input the standard information that is typical for a dating site, but you will also need to include certain allowances that many people may not appreciate.
Navigation
Going from one service to another on Twoo is easy to do and relatively quick, so navigating is a user-friendly experience.
Profile
There is potentially a lot of information that you can add to a profile, and in turn see on other profiles, but many people left a lot of their information blank.
Twoo Dating App
Twoo's mobile app functions in much the same way as the website does, although the app provides a sleeker interface that is more user-friendly. You can download the app for Android from Google Play app store and for iOS or iPhone from the Apple app store.
Registration
The app requires the same information as the website does and takes just as long to register.
Navigation
The app provides a nice service for navigating from one chat to another and for making contact with people quickly.
✉️ Contacting Users with Twoo Chat
Twoo is all about making contact with people, so whether you are using the app or the website it is a snap to send messages to anyone on the site. Free members will only get to chat with members if both people like each other, but paid accounts can chat with anyone.
How to contact another user:
In the top menu bar, click on 'Search'
Click on a person's image (you will need to have a profile image of your own to chat)
If you are a free member, you both must like each other before you can chat
On the right below their profile picture is a 'Chat' button, click on this
You will be taken to a chat screen where you can now write out a message and click 'Send' to start a conversation
👍 Pros and Cons
Pros
Free to join and search
Register through your Facebook account for easier profile creation
Few fake profiles
Available in over 38 languages for millions of people
Can meet people for friendship or dating
Popularity meter for gauging interest
Cons
Social media contacts may be visible on Twoo
Cancelling membership is complicated
Many empty or incomplete profiles
Search options are limited unless you use credits
Vague intentions from other members on why they use the site, which makes it hard to sometimes find a good match
Fake profiles suggest scammers who are trying to scam real people
🙋 FAQs
Who owns Twoo?
Twoo is owned and operated by Massive Media Match.
How can I contact moderators or support?
Whether you just need help with making Twoo work or you suspect members are using fake accounts, you can reach out to a moderator at [email protected]. 
What is Twoo all about?
Twoo is a social media chat-based dating website for finding hookups, serious romance, or even new friends. 
Members can share their information with other people on the site and decide if they want to simply chat, meet people, or try dating based on their algorithm for matching.
Is Twoo safe?
Yes, Twoo's services are safe to use and include security measures to help protect your own privacy and to make sure that your data does not fall into the wrong hands. Your payments are also done through secure lines to make sure
Is Twoo a legitimate website?
Yes, Twoo is a legitimate website. It is run by the Match group, which is one of the largest dating and social media portals on the web.
What is Twoomail?
Twoomail is Twoo's automated email notification system that contacts people who are registered with the site about notices related to them and their account.
How can I block other users?
On all profiles and in all messages, you'll find a 'Block' option if you click the three dots or the flag at the top right. Blocked members can no longer contact or view your profile. You won't see them in Explore or in your search results.
How can I report other users?
Just like with blocking users, there is the option to report someone on all profiles and in all messages. You can report abuse by clicking 'Report abuse' on the user's profile or in his/her private messages and the user will have their activities reviewed.
Can I login via Facebook?
Yes, so long as you have a valid Facebook account. If you choose to register through Facebook, Twoo will import your data and contacts automatically.
How do I delete my Twoo account?
If you're sure you want to delete your account, do the following:
1. Go to Settings
2. Click the Edit icon in the Account section
3. Click 'Delete account' and follow the instructions
How do I cancel Twoo's premium subscription?
You can cancel your recurring payments via your Settings. Choose 'Stop subscription' next to the subscription you want to cancel and follow the steps. Here's what you need to do in detail:
1. Head over to the Twoo home page
2. Select Settings by clicking the drop-down box on the top right corner
3. Click Edit on the account section
4. Click Delete account on the account status
ℹ️ Company Info
The site was launched in 2011 by Massive Media. In May 2018, it went under a rebranding with an updated set of policies and other regulations, under the ownership of Massive Media Match.
As a part of the Match community, Twoo is joined with Tinder, Match, and POF among others in the online dating industry.