Uniform Dating Review, Updated 2023

Launched in 2005 by an ex-police officer, the military dating site Uniform Dating was designed to help singles in uniform find dates online. Within two years, it had accumulated around 70,000 US members. Today, it boasts over 2 million worldwide, with almost 150,000 Facebook fans.
While it might seem like a niche market, Uniform Dating serves a very practical purpose. Medical staff, the police, members of the military, and the fire services are all subject to unregulated working schedules, meaning they can be called upon at any given moment.
Similarly, a lot of the work undertaken by singles in uniform can be very stressful. With the pressure of unpredictable schedules and high-risk jobs, members of the uniformed services often find it better to date within their own demographic, as other singles have a better understanding of the demands of their professions.
However, the site doesn't restrict people from outside the uniformed services from joining. In addition to providing singled from the armed forces, medical, police, and fire services with an arena for finding dates online, Uniform Dating offers 'online dating for heroes and their admirers'.
As a facility for those with hectic schedules and high-risk jobs, it appears to have cornered the market. But, does it stand up to close inspection? Our in-depth Uniform Dating review puts the site through its paces.
Our Summary
Uniform Dating is very easy to use and free to join. Like a growing number of online dating sites, it gives you the option to sign up through Facebook, which effectively acts as a background check. However, there are a few fake profiles out there, so it pays to be wary of anything that doesn't seem legit.

There's also a strict policy of keeping inappropriate material away from the site. Profile photos are screened to ensure they are inoffensive, and videos are similarly vetted. There are search filters so that you can specify the types of singles in uniform you want to meet.

However, given that many of the members of the uniformed services aren't always stationed in the same place, Uniform Dating also offers a mobile version of the site; perfect for those who are never in the same place for long.

While the focus might seem to be on finding dates online, singles also acts as an online hangout for those looking for friendships or just to connect with like-minded people who work in similar professions.

If there's any criticism to be levied, it's about the messaging service. Currently, messaging is only available to those who've upgraded their Standard Account to a paying subscription. As a result, those new to the world of online dating will find their options limited.
🆓 Free services and paid-for services
Uniform Dating is free to join but upgrading to a subscription provides a better and more extensive service. While there's plenty of free stuff for newbies to get to grips with, it doesn't offer the full 'test-drive' experience that other sites do.
However, if you're looking for an online dating site that caters specifically to people in your industry, then there are few better. Free services include:
Searching for other members or topics
Taking the site's quiz, which assesses your compatibility with other uniformed singles
Seeing who's online
Being able to see other users' profile pictures

Crucially, upgrading to one of the subscription packages enables you to send messages, which transforms the whole online experience. However, there is a function through which, as a paying member, you can allow non-paying users to see messages you've sent them. Other paid-for services include:
Searching for other members in specific locations
Messaging and chats
Promoting your profile to VIP status
Whether you're fully paid up or using the site to check it out, the Promote Your Account service is available to you and a useful tool. This allows you to keep searching for dates online – even when you're offline.
The Promote My Account feature will keep you up-to-date with notifications and can even send winks to uniformed singles you're interested in on your behalf. On top of that, it can put your matches into your 'Friends' list, to increase your chances of finding a date.
💰 Prices
How much does it cost to join?
There are certainly enough free features to give new users a taste of how to find dates online. However, with no messaging service, members will need to upgrade to a paid subscription to make the most of the site. There are four levels of membership:
| | |
| --- | --- |
| Subscription | Price |
| 3 days | $9.99 |
| 1 month | $34.99 / Month |
| 3 months | $19.99 / Month |
| 6 months | $15.99 / Month |
It's worth knowing that, like most dating sites, it automatically renews subscriptions, on the final day of its duration. If you don't want it renewed, you'll need to cancel at least 24 hours before yours is due to expire.
Uniform dating – the bells and whistles
In addition to unlocking the messaging and chat services, signing up to a subscription package gives you access to a range of premium features and functions. These include:
Allowing no-paying members to read messages you've sent them
Allowing non-paying members to initiate contact
Promoting your profile with the VIP in the Search function
Highlighting your profile to make it more noticeable in search results
How to pay?
Unusually, it only offers members one option when it comes to payment: a credit or debit card.
💡 How to reduce costs at Uniform Dating?
The simplest way to minimise your expenditure, It's to use the free services. However, with no ability to message other users, it almost defeats the point.
It might sound counterintuitive, but the best way to get the most for your money is to subscribe to one of the longer-term packages. While you might pay more as a lump sum, the cost per month decreases the longer you manage the site.
There are no hidden extras such as credits or coins to worry about so, once you've paid your subscription fee, you've got everything you need to find dates online.
📊 Membership structure
Find dates and friends from the uniformed services
Uniform Dating boasts over 2 million users, across the planet, with around a quarter of a million based in the US. An estimated 10,000 users are active each day, and men outnumber women by about 33%. While the site is open to anyone over the age of 18, the biggest take-up is from people aged between their mid-30s and their mid-40s.
While the site aims itself at singles, it's also available to those who want to date or strike up friendships with members of the uniformed jobs. As a result, while you'll find plenty of representatives from the police, medical, emergency, and military services, you'll also find those who work outside those circles.
Whether you're uniformed personnel or not, the site makes it very clear that those who are in the uniformed jobs are people with unregulated work schedules and high-risk jobs. Those who come from other professions are under no illusions as to what that can mean, in terms of dating.
International appeal
Since its launch in 2005, Uniformed Singles has gone on to win legions of fans in the US. However, it's reach has extended across the world and you'll now find users from a range of countries, including: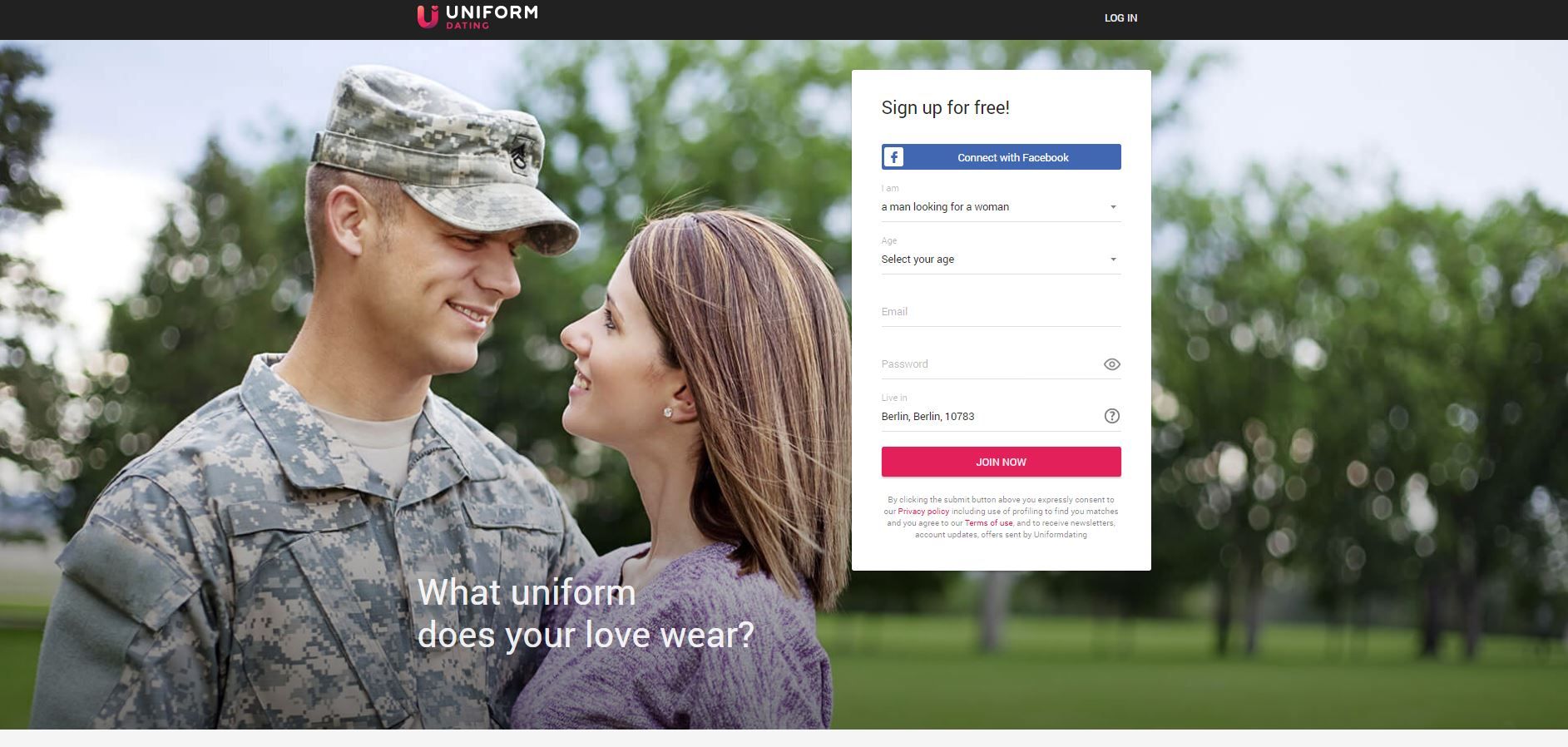 ✍️ Registration
Time needed: 2 minutes.
Members of the uniformed services with busy and unregulated work schedules tend not to have the time to answer lengthy personality tests and quizzes. As a result, the registration process for Uniform Dating is quick and can be broken down into five steps:
Go to the site

Go to the website or download the app.

Sign up

Register through your Facebook account or using an email address.

Email verification

If using an email address, a link will be sent to you so you can be verified.

Select your preferences

State your gender, the type of person you're interested in and the type of work you do.

Basic information

Fill in your profile and upload a profile picture. You're now ready to find friends or dates online.
As soon as your profile is completed, you'll see the profile pictures of dates in your area. You'll immediately have the options to 'like' their profile but, unless you take out a subscription, you won't be able to message them. You'll also need to subscribe to see full-size photos.
📱 User-friendliness and the app
When we decided to take a look at the website and the app, user-friendliness was always going to be a part of our in-depth Uniform Dating review. Thankfully, we're pleased to report that both are easy to use, even if you're not skilled at using dating technology or mobile apps.
The desktop version offers at-a-glance convenience. Rather than skirting around the subject, Uniform Dating presents you with the photos of potential matches right from the start. If you want to refine your search, you'll find the filters at the top of the page.
Above the filters, you'll find all the other functions you need including 'like' alerts and notifications of who has browsed you. The only downside is that unless you're a subscriber, there's no way to message anyone.
If anything, the Uniform Dating app is easier to manage than its desktop counterpart. You get all the functionality of the website, but without the visual frills, making it simple to see exactly what you're doing. However, it's worth knowing that you can only download the app to Apple phones.
If you use anything other than Apple, you can still access the mobile app, from m.uniformdating.com.
✉️ Contacting users
If you're a paid-up member, you've got a variety of options to play with:
The 'chat' function is clearly displayed on the bottom-left of profiles you view
Uniform Dating suggests pre-written ice-breakers, which can be sent to multiple users, at once
'Liking' a profile picture lets a member know you're interested in them, without having to message
👍 Pros and cons 👎
What we like
Free registration
Ease of use
Clear profile pictures
A great service for singles in uniform with unregulated work schedules
What we don't like
Messaging is only open to those with subscriptions
Subscriptions are automatically renewed
There are some fake profiles on the site
You can't see full-size photos unless you're a paid-up member
🙋 FAQs
How do users delete a Uniform Dating account?
Next to your picture on your profile page, you'll see a small arrow. Click that and select 'Settings'. Scroll down your Settings page and, about two-thirds of the way down, you'll see 'Remove Account'. Click on that and you'll be taken through a five-step process to completely remove your account and all information surrounding it.
On completion of the process, you'll be sent a cancellation code, which you need to use to ensure your account's absolute removal.
What is Uniform Dating?
Uniform Dating is an online dating site aimed at singles in uniform and those who want to date members of the uniformed services.
How much does Uniform Dating cost?
You can join the site as a non-paying member, but your communication options will be extremely limited. If you want to take out a subscription, there are four types available to you:
Three days will cost $9.99
One month will cost $34.99
Three months will cost $19.99 / Month
Six months will cost $15.99 / Month
How do users contact Uniform Dating?
Uniform Dating has a 'Support' feature, on your Settings page. Click on 'Support' and you'll be taken to a 'Contact Us' form, where you can message the site with your query.
Who owns Uniform Dating?
Cupid PLC bought Uniform Dating, in 2012. Cupid is an online dating site, based in Edinburgh.
ℹ️ Company information
Website: www.uniformdating.com
Company headquarters:
Cupid PLC
Edinburgh
Scotland
Email: [email protected]
Telephone: +44 131 220 1313
CEO: Geoff Hyams
Related Reviews