Discover the Best Dating Sites and Apps for Military Singles in 2023
Serving in the military can make your social life challenging. Maintaining a relationship can be a lot of work if you frequently move or travel for work, especially if the other individual may not understand your lifestyle. However, military dating helps change that for anyone who faces these obstacles while serving their country.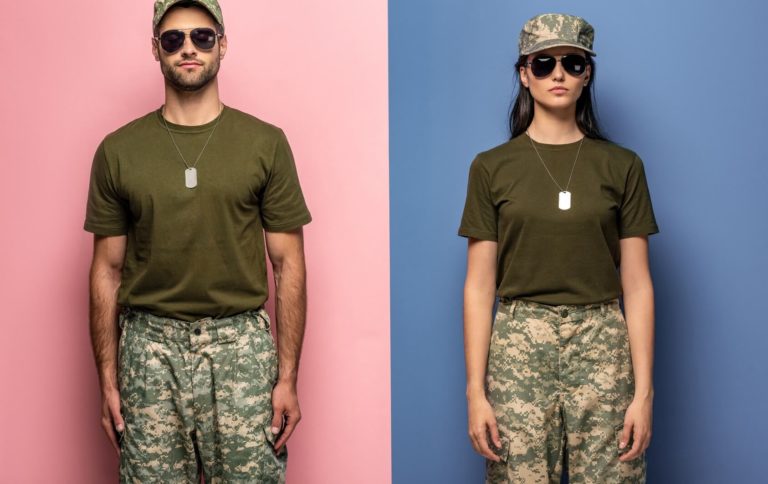 Many military dating websites and apps can put like-minded individuals in touch to find companionship and love, no matter where they are in the world. Military dating platforms can introduce you to a partner who understands the military lifestyle, making dating less stressful. Read on to learn everything you need to know about the best dating sites and apps for military singles.
Why use military dating sites?
To say an enlisted soldier or active officer in the armed forces leads a busy life would be an understatement. Often away for months on end fighting for their country and our freedom, they have very little choice about when they work or where they live.
Finding time for traditional dating can be challenging, which is where a dedicated matchmaking website for army singles and their admirers comes in handy. Designed to help military single men and women find their perfect match, it caters for the Navy, Marines, Army, Air Force, Coast Guard, or any other branch of service.
If you're new to soldier dating, you can browse our reviews to find the best dating sites and apps for military singles and those who want to date and meet military personnel.
What is the best military dating site?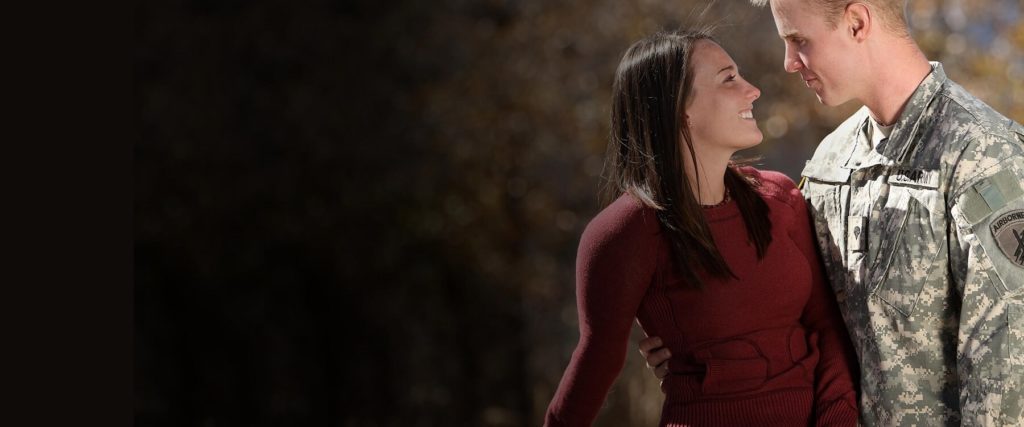 If you're looking to date single soldiers, then there are dating sites and apps for military singles you can join. Once you've decided what to get from signing up for a matchmaking website for the armed forces, you can browse dating site reviews to make it easier to find the one that's best for you.
1. Match.com
Although Match.com is not strictly for military singles, sometimes it can be nice to mingle with civilians. Register on Match to find casual and serious relationships.
2. UniformDating
Launched in 2005 by an ex-police officer, UniformDating was designed to help singles in uniform find dates online. It is one of the most well-known dating sites and apps for military singles since it is easy to use and includes a compatibility test, so you don't have to waste time on dates with incompatible people.
3. EliteSingles
EliteSingles is a good compromise between dating sites that are only for military singles and ones that are open to the public. This dating site is for professional singles, so even though they might not be serving in the military, you know they are working towards something.
4. MilitaryCupid
From the creators of OkCupid, MilitaryCupid is an app you can trust. With over 600,000 military personnel on the app, it is one of the best dating sites and apps for military singles and you are bound to find someone for you.
Fast and simple sign up
Most military dating websites have a quick and easy sign-up process through the homepage and are usually free to join. When you register, you'll also be asked to upload a profile picture and add as much or as little to your dating profile as you want to. Many sites also let you join through Facebook or just with your e-mail, to make the process even easier.
Safe and secure dating experience
It's essential that you trust the army dating website you join, and that you're safeguarded from any unsolicited contact, fake profiles and scams, as well as maintaining your privacy. Some site's terms and conditions mean they will also verify a user's service by submitting their branch of service and driver licence information, and add a verified badge to profiles. This makes it harder for members to impersonate enlisted soldiers.
Paying for a premium service
It's free to become a member on most of the dating sites and apps for military singles, but sometimes the features available to free users are limited. You may need to pay a premium subscription to access the messaging or chat function on some sites and apps, which is worth taking into account when deciding which online dating platform is right for you.
If you do decide to upgrade to a premium subscription, there are often different packages you can choose from and discounts available if you sign up for a longer length of time. Some soldier dating sites also give verified military members a percentage off their subscription, as a special thank you for their service.
Finding your perfect military single
You can connect with other single people in the army by searching dating profiles based on gender, age, appearance and lifestyle. You can also search user profiles by the type of relationship you're looking for, such as friendship, pen-pals, marriage or dating.
Browsing on-the-go
The best military dating apps are free to download, user-friendly and have all of the same functionalities as its desktop counterpart, making it even easier to find a match with an enlisted soldier wherever you are.
Why date another soldier?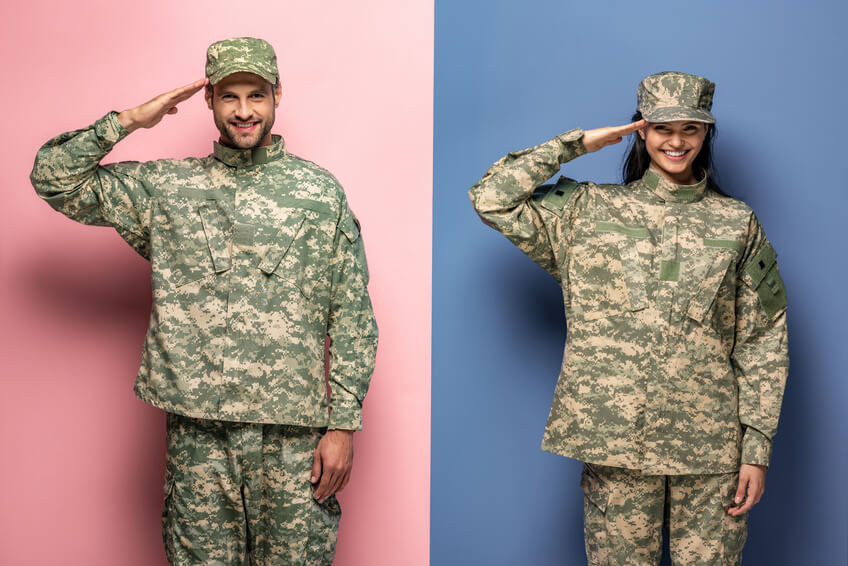 There are plenty of benefits to dating another soldier, but most importantly you'll both have a shared experience of what it's like to have a career in the military and the unique challenges that come with that. You'll have a connection from the offset, and a mutual understanding that service comes first.
Far from being just about the uniform or enjoying the tax benefits for military personnel, dating someone else in the forces has lots to offer.
Loyal values
Committed to serving their country, and potentially being taken to war zones and disaster areas, military singles often have loyal tendencies. They are used to supporting their teammates and putting their needs before their own. When deployments or remote assignments often separate you, it's essential to know that there is a level of integrity and loyalty in the person you're dating.
Making the most of your time together
For some, deployment can mean anything from six months to a year, and deployment can happen many times throughout their careers. When you're not with your loved ones often, you make the time together count.
Keen to commit
Like other dating sites, on dating sites and apps for military singles there will be members who are only interested in casual hookups. As military singles often move around for their career and deployments, the lifestyle can get quite lonely. Many don't have time to date around and look forward to seeing someone when they get back from a combat zone. Dating another soldier can sometimes mean you're both interested in settling down a little earlier in life than the average couple, and may take the next step quicker when you both realise you've met the right person.
Outlook on dating pool: How many soldiers are dating?
Army dating sites bring military personnel and civilians together, as well as soldiers wanting to find love with another military member. Most online dating sites have a database with thousands of active members from around the world, as well as having hundreds of daily site visits, so finding your ideal single soldier just got a lot easier.
If you're a soldier looking to date another soldier, it's worth looking into specific rules about fraternizing. Although it doesn't aim to discourage soldiers from dating, there are rules to prevent any unfair treatment between an officer and their subordinates.
The Best Dating Sites and Apps for Military Singles FAQs
Dating someone who is in active service can put a tremendous amount of strain on a relationship. It can even be more difficult for soldiers who are hoping to start a relationship before they go to serve. The same is true for retired soldiers who are looking to start a new life.
That's why we've answered some of the most frequently asked questions about dating sites and apps for military singles to help get you started on the right foot.
Can I date someone who is currently overseas or abroad?
Yes, just as military personal who have access to online services can use that as a way to connect with singles that want to date someone currently serving. You can filter matches by their current deployment status to see if they are still in the USA or abroad.
What is the best dating site for military dating?
There are a few to choose from, although you may end up being better off trying a larger, more mainstream dating site:
MilitaryCupid
USMilitarySingles
MilitaryFriends.com
Will my matches understand that I may be called out to service at any given time?
Yes, one of the benefits to these dating platforms for military singles is that they are aware of your situation and duty, so they will enter into a relationship knowing full-well what your situation is. How that will look going into the future for a long-term relationship remains up to the two of you.
Our Final Thoughts
Although maintaining a relationship while serving in the military may be challenging, it is still possible to date and take part in a loving relationship. If you think you're ready, sign up for one of the dating sites and apps for military singles we've mentioned to find your next date!
We wrote reviews for these Sites for you