Wellhello Review, Updated 2023
WellHello is a dating platform for swingers. Is it the right one for you? Find out about costs, pros, cons, and members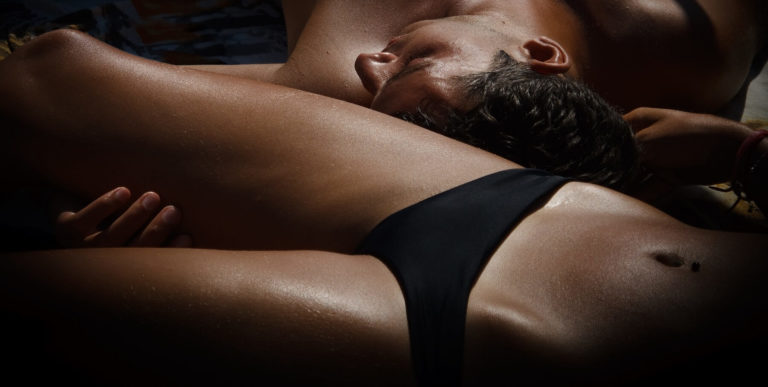 WellHello is a casual dating platform with an online adult community of singles looking for a one night stand and swingers hoping to enjoy couples dating. The website is relatively new but has gained traction for giving users a no strings attached easy way to find a hookup nearby.
People who sign up with WellHello will enjoy several browsing options, including mobile access for their phones and an option to enjoy video chat and video streaming. Whatever your pleasure may be, WellHello aims to please by giving you options and accessibility.
To see why we think you should give WellHello a chance for your casual dating needs, read our WellHello review, which includes memberships, prices, user-friendliness, and more to see what all the buzz is about!
Check out the best swinger dating sites!
WellHello review: a summary
WellHello offers a fairly straightforward casual dating experience, giving you a good selection of local singles and couples who might be nearby to help you find some action. From sign up to chatting, you won't have to wait long, and that's a good thing.

There are some nice features on the website, including a survey that gets you access to a few porn sites if you complete it, as well as some private galleries and video streaming. The videos are a fun addition to the standard packages offered.

The biggest problem with WellHello was that some accounts did seem to be fake and given how easy it was to register and sign in, it's little wonder. It is a downside to having such a simple sign up process with little info from the user required.

Still, these were very noticeable, and if you use a little bit of caution you will be more than fine browsing WellHello. Signing up is free, so we feel why not give it a shot and see if you don't find something exciting to get you hooked on their hookup service?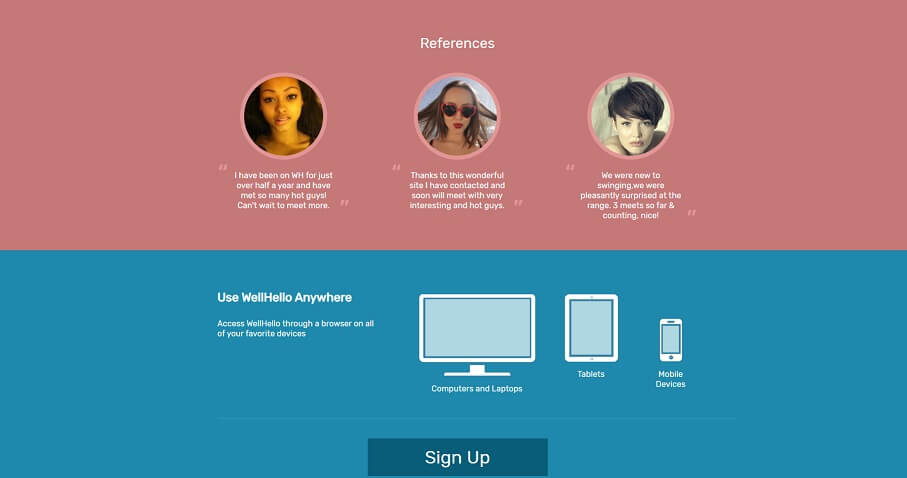 🆓 Free profile vs paid profile review
WellHello dating offers a decent variety of people looking for casual hook-ups, and both free standard users and paying members will be able to feel like they're getting lucky with the site. But how do the two memberships really match up with one another?
Free membership
Registration
Uploading photos
Looking for and browsing members
Searching and viewing matches
Liking photos
Reading messages
Paid membership
Unlimited messaging
Private photos
Chat
Sending flirts
Viewing members' videos
Video chat
See who has viewed your info
Commenting on photos
📊 Types of membership
There are three types of paid memberships that you can upgrade to at any time, ranging from a single day used for testing the site out, to a full year.
Premium monthly plans
💡 How to reduce costs
Take advantage of their 24-hour trial
If you aren't sure whether you want to invest in a full month or year with the paid membership, or perhaps you are just looking for some quick fun, we recommend that you try out the 24-hour trial run of the paid membership for just 1.00 GBP.
It's extremely cheap and gives you complete access to the best features of the website to help you have some fun, enjoy a nice hookup, and much more!
✍️ Registration process and profile creation
Registering for WellHello is extremely fast, but a lot of the information you will ideally want to add to your data will be optional. Overall, the process only takes a few minutes to do.
Signing Up

The first thing you will have to do when signing up is select whether you are a man, a woman, or a couple (male and female). There is currently no option for same-sex couples looking to do casual dating.

You will then need to provide a valid email for verification purposes and a password to be used on the website. After that, you will have to provide your age and zip code to ensure you are eligible for the website and to better match you with locals.

You can also sign in with Facebook, which makes it easier if you don't mind your data from Facebook being on a casual dating site.

Membership status

After providing your email and password, WellHello will automatically take you to their page for upgrading your membership. There are three options, with the cheapest being a test day for one pound.

However, this is optional and you can skip it for now. You are free to browse the site a little bit if you want to, but you probably won't see any real success without something built up. To add to this, click on 'My Profile' in the upper left of the page.

Building Your Profile


Click on the 'Edit Profile' tab to gain access to changing basic info about yourself. You can adjust your age, gender, height, race, orientation, and more. You can also add a catchy header and bit about yourself to get people's attention.

Preferences

This is the part of the account where you can describe what kind of relationship you are hoping to have on the website. This means you can state whether you are looking for a one-on-one encounter, into threeways, looking for an orgy, and more.

You can also expand on what kind of people you would like to meet up with, including their sexual orientation and gender identification.

Uploading your photographs

This is perhaps the most important step. WellHello is a fast-paced matching website for casual encounters, so your picture is going to say a lot for you. Make sure you have a photo that you think shows off your best side in some good light.

No need for anything explicit for your profile picture. Save that for when you are chatting and someone is interested.
📱 User friendliness review
WellHello dating site
Registration
Registration is simple with WellHello, making it easy to start your casual dating adventures right away. A lot of the profile steps are optional too, which makes this even faster to do.
Navigation
The website is pretty easy to navigate, although going from one user to another can feel a little cumbersome. Still, chatting and starting some online dating fun is quick to get going.
Profile
Profiles are generally well fleshed-out, and you can get a pretty good idea really fast about what the person is interested in. Still, sometimes they can be sparse, which is due to most information for your account being optional to give.
WellHello dating app
The dating app is very similar to the website, although it does feature an improved user-friendly experience.
Registration
Signing up for WellHello dating on the app is just as simple the website and takes less than a minute to get started.
Navigation
The app is better for navigating than the website, although it still felt a little clunky to use.
Adjusting profile
This is easy to do and is something that you can do at any time on either the website or the dating app.
✉️ Contacting users with WellHello chat
WellHello's chat uses a standard and direct way of messaging, but it does require you to be a paying member to make use of. Chatting is a bit like messaging on Facebook, which should make it familiar to most people.
How to contact another user:
Click on a user that pique's your interest
Click on the message icon in the lower-right of the user's picture
In the new pop-up, type out your message and click 'Send'
Pros and cons
✔️ What we like
Signing up is free
Register as an individual or a couple
Complete a two-step registration process
Sign up in less than two minutes
Membership requires email verification
Video chat features for premium members
Private galleries of photos and videos
❌ What we don't like
Fake accounts reportedly created by the site
Only basic information is required
Some Love Hostesses are said to be bots
There's a lot of advertisements popping up
🙋 FAQs
What are the payment options available?
You can pay for an upgrade with a credit card, debit card, or gift card. Just sign in and click on the option to upgrade your membership.
Why do I need a WellHello membership upgrade?
An upgraded member has complete access to all the features on the website which means they can send unlimited messages, use the instant messenger, view all images, videos and much more.
What are favorites?
Favorites are similar to bookmarks; this feature allows you to create a list of profiles you like. Users that you add to your favorites list won't know they've been added to your list.
What are Private Galleries?
Private galleries allows you to upload pictures that users can't see or access unless you specifically invite them to do so. Once they have been added you can stop them having access at any time.
What is the WellHello Survey?
It is a survey with questions about your sex life.
What reward do I get in taking part in the Wellhello survey?
Upon finishing the survey, you will be asked to choose one reward from three options, which are joining MyFreeCams, a free lifetime account on Punishtube.com, or a free lifetime membership to BigDickSmallTeens.com.
Is it possible to disable email notifications in WellHello?
To turn off email notifications, log in to the site. Under the menu options you'll see a link to 'Email Preferences'. Simply uncheck the emails you no longer wish to receive.
How do I delete my profile?
Even if you don't use the site regularly, your profile will still be seen by many members who are interested in hooking up with you. Your perfect match may only be a message away. However, we do understand that you may want your profile deleted for privacy.

If you need to delete your profile, please send us a message by clicking on "Create a new ticket" below and we'll be happy to assist. Note that if you are a paying member, your subscription will have to be canceled separately.
ℹ️ Company info
WellHello is owned by Smoochy Brands, Ltd., which is based in Nicosia, Cyprus.
More related reviews