AnastasiaDate Review, Updated 2023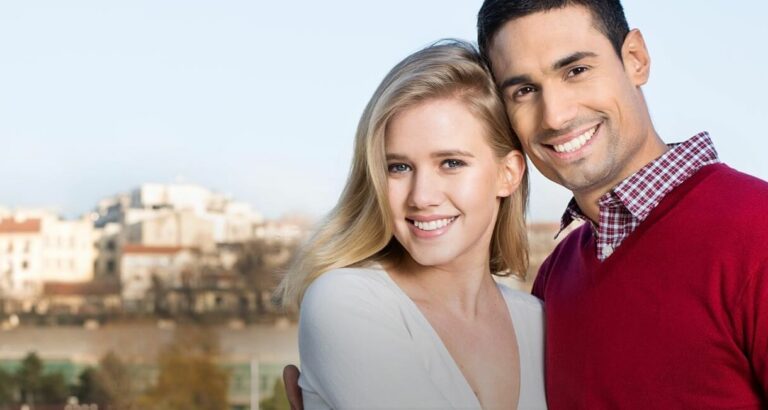 AnastasiaDate is a dating site designed around giving men who want a relationship with Eastern European women. A site to meet, like, send and receive gifts, and date beautiful women. AnastasiaDate has been around since 1993 and has more than 4 million users!
As a dating site, AnastasiaDate has managed to create a long-lived dating site with quality platforms to chat, meet, and date with women from abroad. Men who would like to or want to spend the money and time to get to know these women will get a lot out of this service.
AnastasiaDate has had concerns in the past that the site may be a scam designed to take your money, but the service it provides is legitimate and backed by strong security systems and a clear terms and conditions.
For those who want to meet with women who like to get to know them, they will find many singles who are looking for a serious relationship.
To show you why we think AnastasiaDate is a dating site that deserves your attention, we review AnastasiaDate and look at its members, the user-friendliness of the site and the AnastasiaDate mobile app, and its prices.
Check out our ranking table for the best Russian dating sites!
Our Summary
If you want a site that allows you to meet and date Eastern European women for fun or something more serious, then AnastasiaDate should be on your radar. The site and its app provide all the features you could want for contacting singles looking to start dating in a way that is constantly innovated, even leading to wedding bells if you are persistent.

However, you may find some of the dating services that Anastasia has to be lacking. Our experience navigating the site was a little frustrating as there aren't always clear links to certain basic pages, like the FAQ.

AnastasiaDate is also intended for men who have a lot of disposable cash, which may not be for everyone. You can still try the site out freely to experience it for yourself, and if you are committed you will find what you are looking for.
🆓 Free profile Vs paid profile review
Anyone can browse the site for free, but you will need credits to get the most out of it. How do the paid and free AnastasiaDate dating experiences measure up?
Free membership
Signing-up
Browsing members
Basic Correspondence
Virtual gifts
Reading letters
360° videos
Love Notes
Paid membership
Live chat
CamShare
Flowers and Presents
Call Me
Sending Correspondence
💰 Types of membership
AnastasiaDates currently only offers credits for its dating services, leaving you with having to pay to contact women.
Credits – What they do and how to earn them
AnastasiaDate exclusively uses credits for chatting with women and sending women goods. Credits are also used for CamSharing with women and calling women.
Credits – bundle costs
| | |
| --- | --- |
| Credits | Costs |
| 20 credits | $15.99 |
| 160 credits | $96.00 |
| 1000 credits | $399.00 |
The 20-credit bundle will cost $15.99 starting with the 2nd purchase.
When purchasing credits or in your settings and account you can select whether you will have your purchase auto-renew when you run out of credits.
💡 How to reduce costs?
Take advantage of their free user experience
If you are concerned that dating sites like AnastasiaDates may be a scam, then we would recommend you try the free options. The site is not a scam though and gives you enough access to get a good feel for what you will get out of it without having to pay anything.
Earn bonus points
AnastasiaDate has a unique system where, by using the features on the site, you earn bonus points that effectively serve as credits. This is a great way to save on money!
📊 Membership structure
How many AnastasiaDate users are in the US?
There are currently over 500,000 users in the US using Anastasia dating services, and well over 4 million worldwide.
AnastasiaDate's demographics of love
AnastasiaDate is focused on connecting singles from around the world, with most men being from North America and most women being from Eastern Europe. The site's interests include women who are:
Sun-Seekers
Fitness-Fans
City Trippers
Nature Girls
Animal Lovers.
✍️ Registration process and profile creation
Time needed: 5 minutes.
The registration process is quick and easy to do, and you can finish your profile later if you would like.
Signing up

Put in your email address, password, and username to begin the registration process. You can also sign up with Google or Facebook.

Building your profile

You can do this at any time, but it is encouraged to do this as soon as possible. This will allow you to get the most out of the search feature and will give women something to look at when they check out your information.

Upload photographs

Free users can upload up to 4 photographs, so make sure that you find the ones which best show you off.

Setting your preferences

At the bottom of your profile you can select what kind of woman you want to date.

Begin searching

You can now start browsing profiles to send them chat invitations or gifts. If you suspect scam profiles contact Anastasia's support to have them reviewed.
📱 User friendliness
Registration
The registration process is quick and easy to set up. You can even use Facebook to automatically fill in your data.
Navigation
The dating site's main navigation is quick and easy to search for profiles, which are featured with large pictures. It is easy to send and use the site for dating here, but it was also difficult to find certain help pages without having to use Google.
Profile
Filling in your profile is easy to do and gives you room to add a lot of detail. This means that when you click on other profiles to send messages, you will also get to see a lot of detail there, which is a good thing.
Communication
Anastasia's chat options to send gifts and messages are diverse and engaging, but will require you to always spend credits, so it can be expensive.
📲AnastasiaDate dating app
The Anastasia app for android and iOS functions identically to the website.
Registration
Registration is much the same. You can use either Google or Facebook to fill in the data.
Navigation
This is a mobile-friendly version of the site that is easy to use.
Communication
It is a breeze to send messages and contact women on the site but will also cost you.
Adjusting profile
You can adjust the profile at any time by clicking on your profile icon in the upper-right.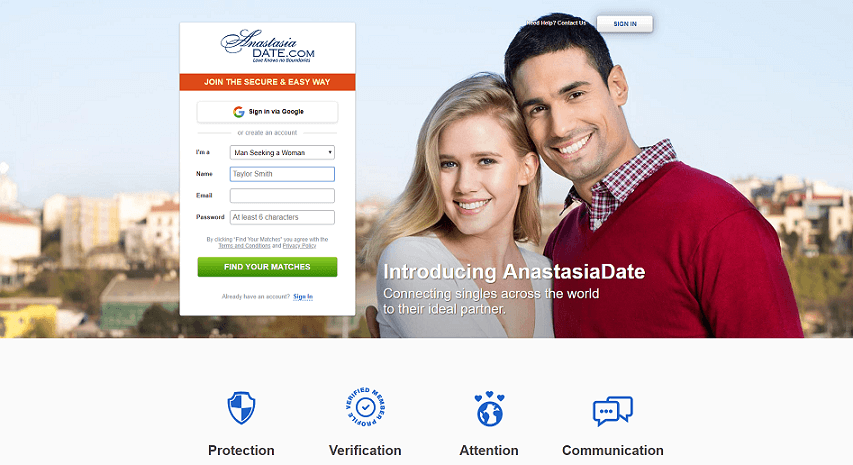 ✉️ Contacting users with AnastasiaDate
There are many ways to meet users for dating on AnastasiaDate, including the basic chatting you can do, as well as Live Chat and CamShare.
How to contact another user:
On the main page, click on a profile you like
From here select whether you want to email, Live Chat, CamShare, or Call
One you have selected, make sure you have enough credits to begin the service
Live Chat offers the following features:
Instant messaging with two-way chat
Standard video quality (standard)
Small video size (small)
One-way video direction (one way)
Virtual gifts
Instant access
Pay as you go with credits (2 cr/min)
CamShare offers the following features:
Instant messaging with two-way chat
High video quality (high)
Large video size (large)
Video Direction (two way)
Full Screen mode
Virtual gifts
Instant access
Pay as you go with credits (6 cr/min)
👍 Pros and cons 👎
Pros:
Site features many women from Eastern Europe
Actively works to minimize fake profiles
Offers many features for paying members, including meetups and traveling
One of the oldest and most successful international dating sites
Many ways to interact with other users, including sending gifts, messages, chatting, and talking with live cam
Mobile app on iTunes and Google Play for Apple Inc. and Android devices
Cons:
Site is geared toward upper-moderate to upper income users
All features for contacting users require credits
Not all messages received will come from real profiles
Can be difficult to find certain basic features (for example, the FAQ)
🙋 FAQs
How do I delete my AnastasiaDate account?
To delete your AnastasiaDate account you will need to contact the site's support team. However, you can delete your information at any time:

1. Log into your account
2. Click the profile thumbnail at the top right-hand corner of the main page
3. Select ´My Profile´
4. Click the pencil thumbnail in section you would like to edit
5. Edit your personal data
6. Click ´Save´

This will allow you to remove any information about yourself.
What is AnastasiaDate's Live Chat?
Live Chat is an instant messaging service with basic video features to give you a way to get to know the women you meet online.
What is AnastasiaDate's CamShare?
CamShare is a 2-way webcam interaction that allows you to see another member face-to-face in a video chat that has a clear and vibrant HD quality.
What is AnastasiaDate's phone reservation system?
This is a service that lets you converse with your online date whether you speak the same language or not by using a translator that is provided. The experience is guaranteed to be valid.
What is a contact list on AnastasiaDate?
The contact list is a list of members with whom you have contacted or have contacted you. You can access this at any time with the menu on the left.
What is a Love Note on AnastasiaDate?
A 'Love Note' is an easy way to start communication with one of the members that has caught your interest.

1. Love Notes are free
2. Click on the member
3. Find the 'Love Note' icon
4. Choose one of the cards
5. Click 'Send for Free' before opting for any other feature on offer

You can send one Love Note per member with whom you have never communicated before.
What is the AnastasiaDate bonus program?
This is a program that gives you rewards when you communicate with other members. You receive 50 complimentary points when you start using Anastasia's dating site and you can earn points by using the different features on site.

Once you collect 200 bonus points, you receive an unlimited Bonus Camshare session. When you receive a Camshare invitation from the member of your interest – press 'Start Free Camshare'.
ℹ️ Company information

AnastasiaDates was founded in 1993 and began with catalogues that were mailed to men who would like to date Eastern European women. The website was first published in 1997.
The company and its sister sites are now owned by Social Discovery Ventures and today AnastasiaDate is one of the largest international dating services.
More sites to meet Eastern-European singles