How to Meet LGBTQ+ Friends Online

Are you looking to make new friends within the LGBTQ+ community? You've come to the right place! Finding new people to make friends with can be a challenge, especially since the pandemic started.
In this article, we'll share with you the places both offline and online you can find friends or lovers from the queer community, the do's and don'ts of new friendships, and even some ideas of activities you can do with a new friend!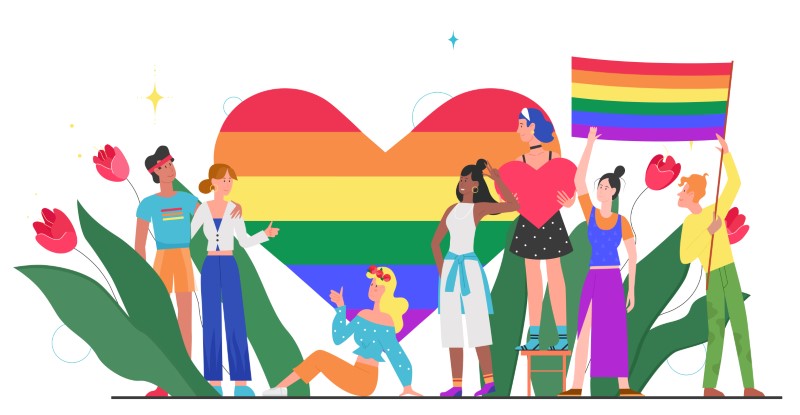 Best LGBTQ+ friendly places to find queer friends online
If you're looking to make friends from the LGBTQ+ community online, what are the best websites and apps to use? The internet is expansive, and there's no doubt that we may miss some options on this list, but we'll share a few to give you some ideas on where you can find new friends!
Meetup: It's exactly how the name sounds. This is both a website and an app that is catered to meeting up with other people in your local community. You can try searching under various different LGBTQ+ related tags along with your city to see if there are any groups in your area, or you can try meetups based on your hobbies.
TrevorSpace: If you're between the age of 13-24, you can join the LGBTQ+ community focused forum website where you can meet other young people all around the world. You can customize your profile to your own individual identity, join discussion forums, and even join or create your very own group that's centered around your hobbies.
Facebook groups: There's probably a group for almost anything on Facebook, including for the queer community. Similar to Meetup above, try searching keywords such as 'LGBTQ' and your town or city to see if there are any local groups. You can also try searching for events and pride parades on Facebook.
Reddit: Not everyone thinks of Reddit, but it's a forum-style website that has 'subreddits' for almost every topic under the sun. You can search broadly for LGBTQ+ subreddits, and even get more focused such as searching for transgender, bisexual, gay, etc. subreddits. Depending on where you live, there may even be a specific subreddit for your city.
Dating sites/apps: Even if you're just looking to make friends, you can try using dating apps. OkCupid has a feature that allows you to not be viewable by straight people. The Bumble app has an option to just search for friends. Tinder doesn't have a specific friend search option, but it's one of the most popular dating apps. Using Grindr isn't recommended because it's most commonly used by people that are looking to hookup.
Other social media: If you're looking for more ideas on where to make friends, you could try other apps such as Instagram. Although apps like Instagram are focused on sharing content, you could try interacting with other people's profiles and even encourage other people to reach out to you through LGBTQ+ related hashtags.
Our recommendations for LGBTQ Dating Sites and Apps
These are our top picks for LGBTQ dating sites and apps. Check them out today!
How do I start a conversation on a friendship dating app?
If you're looking for friends on a dating app, it's likely that you won't be able to message the other person until they "match" with you first. If that's the case and it seems like the other person isn't sending the first message, a great way to start a conversation is to relate to something on their profile.
You can mention any similar hobbies that the two of you share. For example, if their profile states that they like to watch movies, you can try asking what their favourite movie is. Comment on or ask questions about anything that stands out about their profile.
Because everyone is their own individual person, it's difficult to say exactly what you should say when meeting someone for the first time. The best advice is of course to be friendly, be yourself, and have fun while talking about your mutual interests!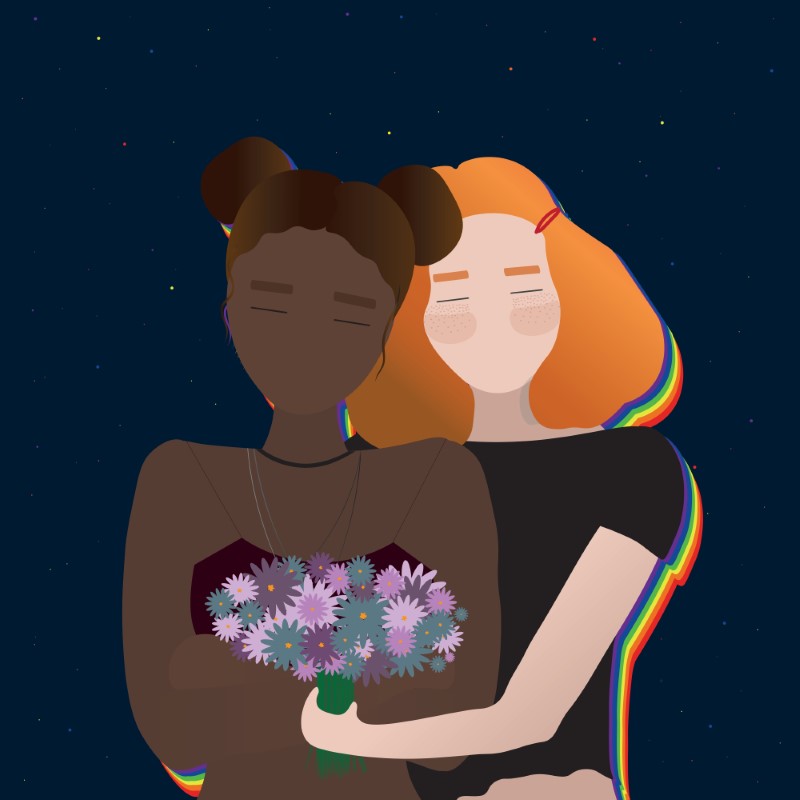 Tips for your profile if you're looking for LGBTQ+ friends online
Especially if you're trying to use dating apps to look for friends, you should include at the top of your profile that you're looking for friends to help deter anyone that is focused on looking for a relationship and to avoid any miscommunication.
Depending on what website or app you're using and the options you have for your profile, you may be able to include any hobbies or interests you may have. It's helpful if you're able to somehow display most of your interests as it can help attract like-minded people.
It's also a great idea to add your sexual orientation, gender identity, and pronouns to your profile as it not only helps other people refer to you properly, but you could also find a tighter-knit community with people that have the same identity as you.
The do's and don'ts of friendship dating
​​​​When you're trying to meet gay or other queer people and make new friends, there are some things that are quite obvious to do and not do. The biggest example of the things you should do is to be friendly, treat people how you would like to be treated, and don't harass people to hang out all the time, especially if they have mentioned that they have a busy schedule.
Some things to do:
Find common ground: As mentioned earlier, it's a great idea to find similar interests and hobbies that can keep both of you entertained. Although you can still make friends with different people, it can sometimes be difficult to decide on an activity to do if you have opposite interests!
Accept invitations: If the other person invites you to go out, try to make an effort to accept their invitation if you're able to. After all, it's good to get out every once in a while!
Put in effort: This goes both ways, but a friendship can fizzle out if you don't speak to or message each other. Of course, everyone has their own schedules and commitments, but try to not leave them hanging.
What not to do:
Don't expect too much at once: Especially when meeting someone new, it can take a little while to build trust and companionship. Everyone also has their own comfort levels and social batteries. Someone that's introverted may not want to do a lot of outside activities, especially in crowded areas for example.
Don't change yourself: Always remember to be true to who you are. It's impossible to create a genuine friendship or relationship when you're also not being genuine. You don't need to change yourself to fit in, and instead should look to finding like-minded people to spend your time with!
Don't pressure yourself: You don't need to do anything that makes you feel uncomfortable. You're able to still make friends while not engaging in every activity with them. For example, if you're more introverted and you don't like going out to clubs and bars, you don't have to. However, it would be a good idea to be honest about your comfort levels so that your friend knows it's your own preference.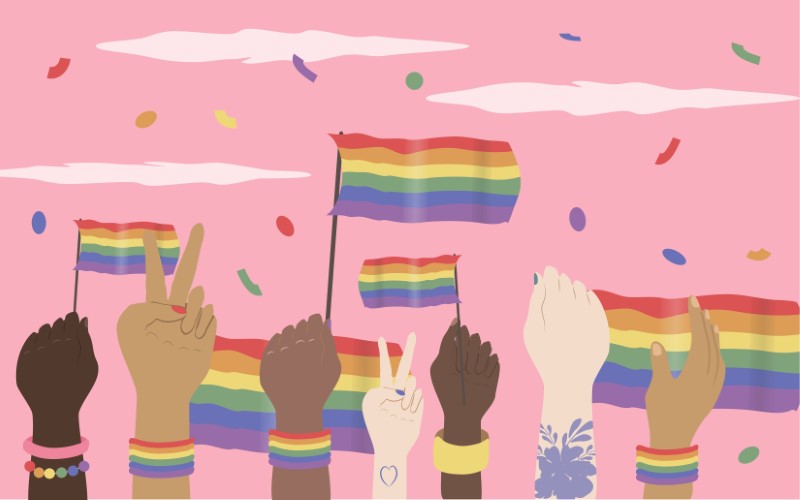 Places and activities to find friends from the queer community offline
It may be more difficult to find offline queer community activities if you live in a small town, but there are several different places to find people from the LGBTQ+ community.
Book club: This could either be at your school, library, or other public event. There may even be a specific book club for the queer community.
Gay bar: Again, it can be difficult to find one if you don't live in a city, but gay and queer bars attract all members of the LGBTQ+ community. It's traditionally for the gay and lesbian community, but it has grown into a safe space for the community as a whole.
Various public events: Depending on where you live, there may be different types of events catered to the community. One main example would be pride parades, but there could be other events such as drag shows.
First friendship date ideas for queer people
What you do for the first activity as new friends depends on your mutual interests, but we'll give you a list below of some things you can do!
Watch movies or play video games
Going for a walk or hike
Shopping
Visiting a history or art museum
Going out to eat
By no means is this a complete list, and if your friendship is strictly online, it can be difficult to do a variety of activities. However, there are ways to mutually watch movies together online, or play multiplayer games. The best advice is to use your creativity!