Muslima Review, Updated 2023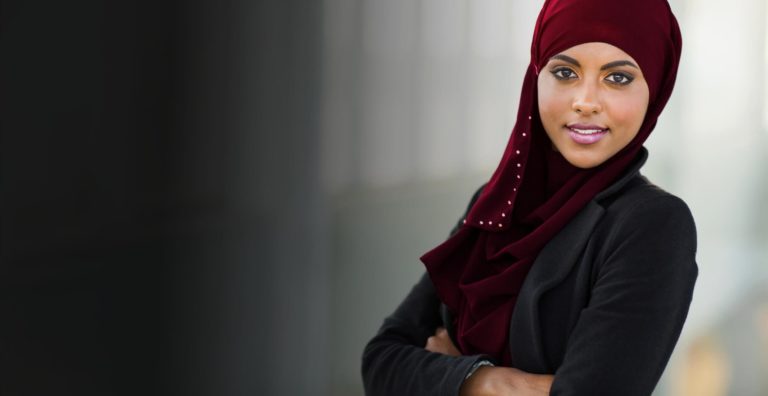 Muslima.com is designed for bringing single Muslim men and women together with the intention that they build a lasting halal relationship and happy marriage or "nikah". With over 4.5 million members, Muslima is a leading Islamic dating matrimonial site!
Muslims who are looking for a committed long-term relationship based on faith, worship, and religious beliefs will find their soulmate among the many other singles looking for marriage on Muslima.com.
The site is especially popular with Muslim singles who are in their mid-twenties and above. People who are also looking for a second chance at love can also find interested singles! The site focuses on Muslims and people who are willing to convert to Islam, so anyone can join if they keep this in mind.
For anyone who is looking for a life partner to share and thank, or to share a religious experience with, then choose the best muslim dating site and consider Muslima.
To show you why we think Muslima deserves the praise it gets, we review Muslima and look at its members, the user-friendliness of the site and the Muslima mobile app, and its prices.
Our Summary
Muslima.com provides a competent platform for Muslim singles to find marriage or people to date from all over the world. The site's many ways to tailor search and match suggestions based on whatever preferences you prefer improves the filtering process for strong matches quite well. Coupled with its stringent but smooth registration process and the streamlined interface of the site, and you have a highly professionalized matchmaking service that is extremely broad in its userbase, giving you a good chance at meeting the love of your life.

However, the site's full potential is only realized for paying members, as free members will be left with no way to really interact with other users. You can still get a good feel for what the site has to offer though, and this is enough to see if you want to upgrade to Muslima.com's premium membership. Once you've done this, your paid membership will see your success improve drastically, giving you access to some truly great tools, like the translation feature for messages. If you are really interested in starting a true relationship with a Muslim single, then Muslima.com has truly great opportunities for you.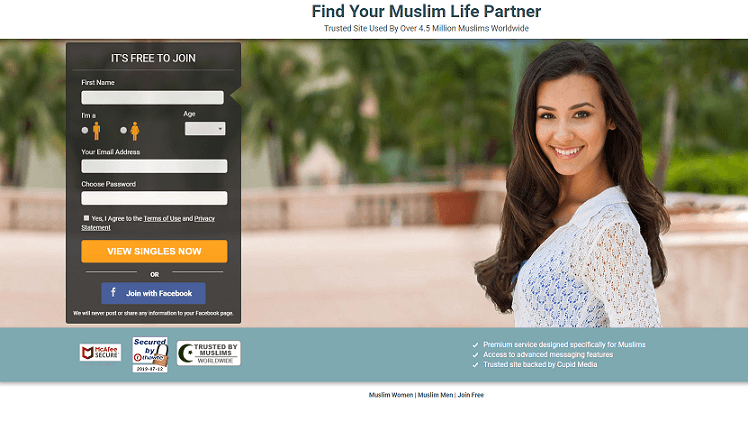 🆓 Free profile vs paid profile review
Muslima offers several varieties in terms of memberships for users with its website and app, with the starting membership being the free service that includes basic features and services. To get the most out of the site, you will need to explore its paid memberships.
Once you sign up, users can upgrade their status to either a Gold Membership or a Platinum Membership. So how do the paid and free Muslima dating experiences measure up?
Free Membership review
Basic matching
Send interest
Communicate only with paying members
Gold Membership review
Contact all members
Instant messaging
Advanced search
Free members can reply to your messages
Profile listing ranks higher than standard members
Platinum Membership review
All benefits of gold membership
Profile listing ranks higher than gold members
Use video, voice or text instant messaging
Personality information
Translate messages in your mailbox from/to other languages
💰 Payment types for membership
Between the two types of membership at Muslima.com, both have three different monthly subscriptions. Members with subscriptions will get the most out of the site and see a lot more interest than free members.
If you are truly looking for lasting love on Muslima.com, then consider upgrading to a membership.
| | | |
| --- | --- | --- |
| | Gold Membership | Platinum Membership |
| 1 Month | 34.99 USD / Month | 34.99 USD |
| 3 Months | 23.33 USD / Month | 69.98 USD |
| 12 Months | 11.67 USD / Month | 139.99 USD |
💡 How to reduce costs?
Take advantage of free site
You should consider giving the free version of the site a look for yourself first. Test out the limited features to get a feel for what Muslima in the US has to offer and then decide on whether to upgrade your membership or not.
Keep an eye on the overall price of membership
If you would like to purchase a membership with Muslima, either to use the site for it's mobile, app, or desktop version for dating, then keep in mind that longer memberships are cheaper overall than purchasing the 1-month membership multiple times in a row.
Paying for 3 months of membership is approximately 1/3 cheaper than paying for 1 month and paying for 12 months is 2/3 cheaper! That's quite a discount!
Gold Membership
If you are sure you want to try out the paid features, try out the gold membership of the site. This should ensure that you get a reasonable experience while keeping your costs down. You can search and compare it to other sites to see that Muslima is well worth it!
📊 Membership structure
How many Muslima users in the US?
Muslima.com has over 180,000 members in the United States alone, and approximately 4.5 million users dating worldwide. When you use Muslima.com, you won't just be chatting with people in your country, but all over the world!
Muslima's demographics of love
The majority of Muslima.com's members are under 40 years old, with approximately 30% of male users being within the 25-40 age range and approximately 30% of female users being within the 25-40 age range as well. Numbers for dating drop off quite a bit over 40.
Most users are Muslim people looking for love and marriage.
✍️ Registration process and profile creation
Time needed: 7 minutes.
Keep in mind that the site is intended for Muslims and people looking to convert to Islam when you register. The registration process is quick and easy to do, and you can finish your profile later if you would like. You can even use either Facebook or your email.
Signing up

Select whether you are signing up with either Facebook or your email. If you are using an email account you will need a valid email address, a name, password, your gender and age.

Building your profile

This can be tedious but is required if you want your account to be verified and to receive the best matches. Fill in the questions with your information and details and be as accurate as possible. This will pay off immensely for you in the long run.

Verify your account

You will then need to have your account verified. This will take a moment and you will receive the verification code once the process has been completed. Put that in to proceed.

Upload photographs

To ensure that your profile meets the requirements for verification and that other users will see your account as a real one and like it, you should take the time to upload as many photos as possible. Free users can upload up to 5 pictures.

Contacting members

Depending on your membership status, you can now begin to send messages and receive them from other members. Free members can only successfully contact premium members while premium members can contact anyone.
📱 User friendliness review
Muslima dating site review
The registration process for Muslima.com is at first somewhat tiresome and can feel like it takes a while to get all the information into your profile. However, this is worth the effort as a more filled out profile will produce better results and will require less work in the future.
The verification process can take a little while but is still reasonable. The percentages that indicate the completion of your profile and its verification are very helpful and appreciated. In the end, it's a very professional setup and will help to make your profile also look good.
Navigation
The site's clear layout presents user profiles in easy-to-see pictures that can be filtered based on your preferences, giving a streamlined dating user-experience.
Profile
Your profile does take quite a bit of work to finish up, and a lot of the information is mandatory to fill in so that you can have your profile verified. This is a rewarding process and will help to make sure that you see dating returns in the future from interested singles.
Messages translation
Because there are so many members from all over the world, Muslima.com offers a translation service to its registered users. Messages of other members who use a different language can be instantly translated to the language you use.
This makes communicating with people from different cultures and backgrounds easier and gives you the broadest chance possible for meeting a match.
Muslima dating app review
The Muslima dating app functions identically to the website, though it does offer a smooth mobile-friendly experience. All features on the website are similar to the app, so don't expect much to be different. This is still convenient if you are on the go.
Registration
Registration is identical to the website and takes the same amount of time and effort.
Navigation
The app uses a simple scroll-down to look through profiles and other pages but otherwise navigate as easily as the website.
Hearts ♥
You can send out 'Hearts' to other people to show them that you are interested in that person. Any suggestions you receive in mobile are displayed using a scroll-down function, but the app does not automatically update or refresh these suggestions for any hearts that you send.
Adjusting profile
This can be done later and is the same as the website.
Contacting users with Muslima Chat
Contacting and messaging users in Muslima.com is a premium feature—both on the website and mobile app. But even as a free member, you are still able to receive messages from anyone.
Unfortunately, you won't be able to search for or view the messages sent to you by fellow free members.
✉️ How to contact another user:
Search for a profile that interests you
You can also click on the email icon from the homepage that is beneath their picture
Within the profile, you will see a large message box beneath their picture
Type out the message you want to send
Click 'Send'
👍 Pros and cons review 👎
Pros:
Variety of tiers for Memberships
Good Support Service
Easy-to-use App
A straight-forward site and app to use
Verified Users feature which determines if members are who they claim they are
Cons:
The site can be moderately expensive
There can be fake profiles and bots who will message you, resulting in bad reviews
The international nature of the site sometimes means you will match with people very far from you
🙋 FAQs
Do I Need to Be Muslim to Join Muslima US?
No, but the site is only for people who are interested in converting to Islam or are already Muslim. This is a site specifically for Muslim Matrimonial matchmaking, and as such users will almost exclusively be focused on that.
What are the available payment options for a premium membership?
1. PayPal
2. Credit Card
3. Paysafecard
4. Bank Transfer
5. Skrill
Can I Cancel my Premium Membership with Muslima anytime?
Yes, it is possible for you to cancel your membership of any tier at Muslima US anytime. Depending on the tier you are subscribed to, you will be able to make use of these features until the end of your current billing cycle.
I Lost My Password to my Profile, How Can I Reset My Profile Password?
1. Click the Forgot Password text on the login page.
2. Clicking this takes you to a separate window where you need to input your account registered email.
3. Instructions on how to reset your password are sent to your email.
How to Delete a Profile on Muslima ?
To delete your profile at Muslima.com, simply follow this step-by-step guide:
1. Go to your profile settings
2. Click the button at the bottom of the page which states 'To switch your profile off on Muslima, click here'.
3. Doing so will bring you to a different page where you will have to explain why you would like to close your account. You are also given the option of providing feedback for the site. Feel free to give any reason.
4. Enter your password twice to confirm that you want to delete your profile at Muslima.com.
If you have any trouble deleting your profile, contact the Muslima support and they should be able to help you complete the process.
Is Muslima Legit?
Yes, the site is legitimate. The site uses a verification process to check if new users are real or not. Muslima.com is also owned by Cupid Media, a reputable owner of multiple dating sites and services.
ℹ️ Company Info
Muslima.com is owned by Cupid Media, a network that operates over 30 reputable niche dating sites. Their dating sites are recognized the world over and provide users with plenty of opportunities. Cupid Media's sites are renowned for their services and quality.
Alternatives to Muslima