PinkCupid Review, Updated 2023
PinkCupid is a lesbian dating site by Cupid Media for bi-curious women and lesbians. Cupid Media offers a variety of niche online dating sites, and PinkCupid focuses on giving single ladies a platform to find someone special.
The site does not shy away from giving women the freedom to express their sexual orientation and homosexuality in a safe and secure environment that is intended to help you find a lasting relationship. PinkCupid encourages you to put yourself out there!
Rather than traditional dating sites which tend to emphasize feminine gender roles and empower one gender over the other, PinkCupid benefits from being an exclusively all-female dating site that encourages you to embrace women's sexuality.
There are more than 800,000 members around the world using PinkCupid, and over 100,000 in the United States alone! PinkCupid wants you to join a growing community of lesbian women looking for love online so that you can enjoy the experience as well.
We want to show you why we feel like PinkCupid is a premier dating site for women only. To do so, we review the site's memberships, registration process, prices, app, and more! Read on to find out everything that you can expect to see when you sign up!
Our Summary
PinkCupid represents a user-friendly online dating site that has modernized well. Like many of Cupid Media's nice dating sites, this site is direct in providing users with a way to match and find a date without having to resort to something gimmicky or tacky.

Each tier of membership provides users with a good mix of different features, and users of all levels will be able to find something satisfying. Even if you are a free member, being able to read and send messages felt convenient and good.

One of the things that we enjoyed about PinkCupid was its minimalist design and the way that its user-interface was seamlessly integrated, giving you an aesthetically pleasing experience as you navigated between different profiles and messages.

The site's strict security was both a positive and negative element, as it did ensure a level of security and safety that we appreciate but could also slow down the dating experience. More than that, as free users we saw a few ads on the site which were distracting.

Overall, for lesbians or women who are simply bi-curious, PinkCupid offers a welcoming community of other single ladies looking for love. The site and app are both simple to use and convenient and provide you with ample opportunity to meet someone special.
🆓 Free profile vs paid profile
There are three grades of membership on PinkCupid.com: Standard, Gold, and Platinum. Standard membership is free and allows you to send interest to other members and communicate with Gold and Platinum members.
Gold members can communicate with all members of the site, regardless of their member grade. Platinum members have access to all site features, including advanced matching features, message translation services, and profile notes.
Free membership
Create an account
Add photos
See who's online
Search and browse profiles
View other profiles
Show interest
Add to Favourites
Basic matching
Communicate with premium members
Gold membership
Communicate with all members
Live chat with instant messenger
Send and receive messages
No ads
Platinum membership
Platinum Membership includes all the features that the free and Gold memberships offer, along with the following:
Hide your presence and browse anonymously
Rank above other members
Double your profile space
VIP profile highlighting
Exclusive search features
Advanced matching algorithms
Translate messages
💰 Types of membership
PinkCupid has two different tiers of paid membership, each with three different options for how long you want to subscribe for:
Gold membership
| | | |
| --- | --- | --- |
| | Monthly price | Total |
| 1 Month | $24.99 | $24.99 |
| 3 Months | $16.66 | $49.99 |
| 12 Months | $8.33 | $99.99 |
Platinum membership
| | | |
| --- | --- | --- |
| | Monthly price | Total |
| 1 Month | $29.98 | $29.98 |
| 3 Months | $19.99 | $59.98 |
| 12 Months | $10.00 | $120.00 |
Payment options
PinkCupid offers the following payment methods:
Credit card
Debit card
PayPal
Check
Bank transfer
Vouchers
Other country-specific payment methods
Please note that not all methods are available in each country. To see which payment methods are available in your country, check their payment page.
💡 How to reduce costs?
Try the Free membership out
Even with the free version of the site, there are a lot of features that you can make use of when looking to start dating online! Try out the basic matching and have a look at all the accounts of women interested in lesbian dating to start.
This is a great way to give the website a test run and to see if you really want to commit yourself to it. But if you are interested in dating lesbians via an online dating community, then you will get a lot out of even the basic membership.
Take advantage of their payment plans
Once you have a feel for how the dating site works and would like to take the plunge into lesbian dating online, check out the different paid memberships that the site has. If you are committed, then both the gold and platinum memberships have a lot to offer.
Try the 1-month plan to get a feel for the premium memberships and cancel before the end of the month if you aren't satisfied, as this will get you the best deal without costing you too much. If you do upgrade, the prices are all reasonable and cheaper the longer you go.
📊 Membership structure
How many PinkCupid users are in the US?
There are currently over 60,000 users in the United Kingdom who are looking to start dating with PinkCupid.
PinkCupid's demographics of love
PinkCupid has over 800,000 users online around the world with an average of 200 members online at any given time. Despite being mostly optional, many members have profile pictures and completed profiles.
✍️ Registration process and profile creation
Time needed: 5 minutes.
Registering with one of the best lesbian dating sites on the web is honestly very simple and takes only a few minutes to do. The registration process is quick and easy to do, and you can finish your profile later if you would like.
Signing up

When you begin the registration process, you will be asked to give your first name, a valid email address, a password to use for the site, and details about your sex, and age.

Once you have provided this information you will be taken to the next page.

Upload photographs

This is an optional step but having a photo will increase your chances of attracting the women you're looking for. When you submit a photo, you will have to wait for it to be approved.

Your pictures will be subject for approval and should be reviewed within 12 hours of your uploading them.

Building your profile

You will now be asked to fill in information about yourself. There are several tabs to choose from to fill in that will help you to better meet lesbian women. This includes answering questions about your personality and hobbies.

The more you fill in the better your odds will be at finding someone that is a good match for you.

Decide what kind of matches you want

The next big thing you should do to get started is define what kind of lesbian you would like to start dating. This includes their basic information, appearance, their background, languages, and religious views.

Verify your account

This is optional, but we recommend doing this if you are serious about lesbian dating and wish to get the most out of the website. Under 'Edit Profile', click on the tab marked 'Verify Profile' and follow the instructions to prove you are genuine.

You will need to upload a government approved document, such as a driver's licence or a passport. You don't have to do this, but your account will have a 'Verified' comment once you do that will let people know you are real.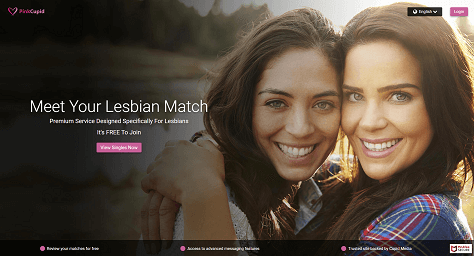 📱 User friendliness
PinkCupid dating site review
The registration process at PinkCupid is like many of the other Cupid Media dating sites and is streamlined to give you a straightforward experience. Registering takes almost no time at all and is very easy to do.
Navigation
Like Cupid Media's other dating sites, PinkCupid offers a user-friendly and multifaceted navigational system for giving you the most optimized dating experience.
You can use their many features quickly and easily from any page, and the intuitive design will make going from messages to profiles and matches a truly seamless experience.
Profile
Your own account and the profiles of others will have a wealth of information that you can add to and access. There is a lot of flexibility to what you can add to your own, and if others have filled their own in you will get to see a lot of info about the lesbian women here.
PinkCupid dating app review
The app functions smoothly and is a good alternative to the website if you are on the go. It does operate very similarly, so nothing is much different between the website and the app.
Registration
Registration is the same as on the homepage, taking no time at all.
Navigation
The navigation of the app is a little different from the site, being focused on giving a suitable mobile experience. The app works wonders though and is easy to use.
Adjusting profile
You can do this at any time, and it is simple to do. Just click on the 'Edit Profile' button at the top of the page.
✉️ Contacting users with PinkCupid chat
Sending a message for another user who is looking to meet the woman of their dreams is easy to do and can be done in just a few clicks.
How to contact another user:
On the user's profile you will see a message icon, click that
A message box will pop up, type in your message
Click "send"
Alternatively, you can first look at their profile to get some basic info:
Click on a profile that you are interested in
To the right of the profile picture you will see two buttons, 'Show Interest' and 'Send Message'
Click on 'Send Message'
Type out the message you would like to send
Click on 'Send'
👍 Pros and cons 👎
Pros:
Secure site
Instant messaging is available for anyone
"Online now" feature
An average of 200 members are online at anytime
Easy to register and quick to start using
There is a built-in translator
There is a chatroom
Cons:
Annoying pop-ups
Before you can edit your birthday you have to upload an ID
Not all fields are mandatory, so profiles can be very empty sometimes
You're not allowed to put your contact info in your profile for the app
App is only available for Android users
Automatically logs you out if you are away for ~15 min
🙋 FAQs
How does Pink Cupid work?
Once you have registered for the site, PinkCupid gives you the opportunity to search for other lesbians either through basic or advanced searching, matching, keyword searching, popular searching, and much more!
Is Pink Cupid safe?
Yes, PinkCupid is a very safe site to use. The site employs encryption to keep all of your data safe, and Cupid Media even utilizes a Fraud Prevention team created exclusively to protect your privacy.
How much does Pink Cupid cost?
Subscription prices can vary depending on the length of the subscription you would like and which tier you want to opt into. The cheapest single month subscription is $24.99 and the more expensive tier is $29.98.

Keep in mind that longer subscriptions translate into cheaper per month costs, so if you are enjoying the site consider extending your subscription length to save on costs.
How do I delete my pink cupid account?
To delete your account, you will need to login to do the following:

1. Login at pinkcupid.com/switchoff/reasons.cfm
2. Follow the instructions provided
3. State the reason for leaving and feedback on the dating site
4. If you have met someone on the site, they ask you to leave a testimonial
ℹ️ Company Information
Started in 2006, PinkCupid is part of the well-established Cupid Media network that operates over 30 reputable niche dating sites. The company is known for producing both country and gender-based online dating websites.

Headquarter:
Cupid Media Pty Ltd
PO Box 9304
Gold Coast MC QLD 9726
Australia
PinkCupid is catered for lesbians who want to meet someone online.
Related Reviews