OKCupid Review, Updated 2023
The OKCupid mobile app may not be a new concept in the online dating world, but it might just be one of the most overlooked. Whether you use it as a social networking site or as a dating site, it has plenty to offer – particularly if you're new to the scene.
The OKCupid app has been designed for those who favour functionality over aesthetics, although this social networking site seems to have found the delicate balance between the two.
With intuitive algorithm matches at the forefront and an easy-to-use site, there's plenty to like.
The site was launched in 2001 by Sam Yagan, Chris Coyne, Max Krohn, and Christian Rudder. It was created as an antidote to the sign-up-and-get-dating style websites that were all the rage in the late '90s.
As a result, it was one of the first online dating sites to use multiple choice questions to help users find their perfect match.
Its sister site, The Spark, favored a version of the famous Myers-Briggs personality test to match users according to their answers. The OKCupid app took the process a step further and used those results to match users with those that had responded in a similar fashion.
Newbies will find the site easy to navigate, and the OKCupid mobile app doesn't skimp on the feelgood factor. The dating site uses vivid colours and an equally-bright sense of humour to help you find your way.
In addition, OKCupid offers excellent services for those who don't subscribe to the notion of binary relationships.
With around 50million users worldwide, the OKCupid app has proved to be one of the top online dating sites on the planet. However, does bigger make things automatically better? Our in-depth OKCupid review takes a look at the finer points of this ground-breaking site.
Our Summary
A dating site that's staked its claim in the 21st Century, the OKCupid mobile dating site is one of a growing number that doesn't cater solely for heterosexuals. Gays, lesbians and most members of the LGBTQ community are represented here.

Having used the insights offered by the Myers-Briggs personality test, the app has invested further research into the dating habits of modern-day singles. For example, OKCupid's research has found the prime time for a search is at around 7pm on a Sunday evening.

In addition, it's used its profile to plug into current events. As an example, users who are prepared to publicly declare their love for the TV series, Game of Thrones, are rewarded with a GoT badge on their profile pages.

While this might sound a little light-hearted, OKCupid appears to have done its homework.
The TV show has had over 2million mentions on the dating site and OKCupid calculates that displaying a GoT badge on your profile increases your likeability by around 20%, with a potential increase in conversations of around 15%.

If statistics are your thing, it might be worth knowing that with the site boasting over 50,000 dates each week, it's the most referred-to dating site in the New York Times.

Without doubt, the OKCupid app is one of the biggest of its kind. Its presentation, ease-of-use and likeability make it a serious contender in the world of online dating. If you're looking for a free app that allows you to search for your dream-match, there are few better places.
🆓 Free services and paid-for services
The OKCupid app offers some of the best value for money in the world of online dating. However, if you're unsure or want to watch your budget, there's a good range of free services for those who don't yet want to invest. These include:
Registering for your account
The ability to send message communications to other users
Making lists of the other users that catch your eye
Being able to search for potential matches
Being able to set filters for searches
The facility to browse the profiles of other users
Being able to use the Double Take feature
However, while these features offer a good grounding in using the OKCupid dating app, upgrading to a paid subscription does provide you with further options and features. These include:
Being able to see who has 'liked' you
Notifications that tell you who has read your messages
A refreshing lack of adverts
The facility to use the advanced features on your search filters
Use Auto-Boost to promote your profile
Ensure your messages are seen first, with the Message Priority function
See the answers to questions that are answered in public chats and forums
💰 Prices
What is the cost of love?
The OKCupid dating app is one of the few that offers its non-paying users enough to dip their toes into the world of online dating, buy buying a subscription considerably widens the field. There are two tiers of subscription, each of which is broken down into three payment levels:
A-List Basic and Premium Subscription
| | | |
| --- | --- | --- |
| Subscription | Basic | Premium |
| 1 month | $15.95 | $34.90 |
| 3 months | $35.85 ($11.95 per month) | $89.70 ($29.90 per month) |
| 6 months | $47.70 ($7.95 per month) | $149.40 ($24.90 per month) |
Boost credits are also available to buy you access to special features. There are three levels of purchase available:
Boost
One credit will cost you $1.99
Five credits will cost you $9.45, which works out at $1.89 per credit
10 credits will cost you $16.90, which works out at $1.69 per credit
👍 OK Cupid – all the extra bits
Take your dating to the next level
If you're new to the site, the chances are that you'll find the free features enough to keep you going on your search for a date. However, subscribing offers some excellent little extras, which can help stack the odds in your favor.
Double Take
A bit like Tinder, this operates on the swipe left or right premise. The OKCupid app will fire some potential matches at you and it's up to you to decide what you're interested in and what you're not.
See Who You Like
In essence, this is much like a Favourites feature. You can message any users you file in this section and their Double Take function will let them know you've been in touch.
See Who Likes You
This is only available to users subscribing to the A-Lists Premium Subscription package. Using the See Who Likes You function allows you to see who has expressed an interest in your profile.
OKCupid Blog
This is a great resource for those new to the online dating game or who need to give their confidence a bit of a boost. Packed with tips on how to level-up your dating prospects, it's an invaluable mine of information.
Algorithm Matches
As part of the free registration process, the OKCupid algorithm matches you with other users that meet your criteria. When you sign up, you'll be asked to complete an in-depth questionnaire which helps the site to match you with the right people.
While the personality test might take a few minutes to complete, it's a vital part of the OKCupid online dating process. The answers you give will determine who you are matched with, so it's worth being as honest as possible.
How to pay?
The OKCupid dating app offers three methods through which you can purchase subscriptions: credit/debit card, PayPal or paying via your mobile phone with a valid phone number.
💡 How to reduce pricing costs at OKCupid?
Signing up for the OKCupid app is free and the subsequent questionnaire will put you in a good position to search for a match or two. However, if you want to improve your chances, buying a subscription is the way to go.
When it comes to reducing costs, there are several options you can take. The first is to subscribe to one of the longer packages. The longer your subscription, the less you're charged on a monthly basis.
So, while you might feel you're paying more, your long-term savings are actually greater.
The other thing to consider is whether you want to worry about the Boost features. While it can be a great way to give your profile instant promotion, you might find it an unnecessary expenditure.
📊 Membership structure
Relationships of every type
The OKCupid dating app boasts more than 50million users worldwide. As a result, you'll find users looking for relationships of every type. From long-term commitments to one-night encounters, the app offers opportunities for straight, gay and bi singles.
Typically, the average OkCupid member is aged between their mid-20s and mid-30s. As with most dating services, male users tend to outnumber their female counterparts, but there are still plenty of new profiles to browse.
However, you can specify the kind of relationship you're interested in. As part of the registration process, you'll be asked to state whether you're looking for 'New Friends', 'Hookups', 'Short Term Dating' or Long Term Dating'.
With these options at your fingertips, you won't go in blind to the dating website, and can easily use OkCupid for your ideal matchmaking experience. After all, the matching system is one of the most effective in the industry.
OKCupid offers its services to people of all sexual orientations for long-term relationships, although users are gay or lesbian, but the majority are heterosexuals.
International appeal
The OKCupid app is used across the world, offering plenty of dating potential for those on holiday or travelling for business. However, if you'd rather search locally, you can use your search filters to set the distance over which you're prepared to travel to meet a match.
✍️ Registration
You can use your Facebook account for the signup process with the OKCupid dating app. However, if you don't have an account or would rather keep it separate from your social media, then the registration process can be broken down into five, easy steps:
Join OkCupidGo to the app's homepage and click on 'Join OKC'
Register!You'll be taken to a welcome page, where you can either register with Facebook or use an email address
Sign inIf using an email address, you'll be asked to create a password or use one suggested by the site
Take the Quiz!You'll then be taken to the questionnaire, which will ask you some basic details before exploring your interests and the type of match you're hoping to meet. This is great for fine-tuning your ideal date, from their body type to an age range that appeals to you
And you are ready to go!With your account set up, you're ready to start online dating.
📱 User-friendliness and the app
As part of our in-depth OKCupid review, we wanted to see just how user-friendly the OKCupid dating site and the OKCupid app are for new users. We're happy to say that both are incredibly easy to use, allowing even committed technophobes to begin online dating.
The desktop site is well laid-out, with everything you need to navigate placed conveniently at the bottom of the screen. This works on a practical level, as it gives you the opportunity to view profiles and photos without having to scroll to the top to carry out your next action.
If anything, the OKCupid app is easier to use than its desktop counterpart. While there are no additional features, its layout makes it easy to operate with one hand, and as with the website, all the links and buttons are located at the bottom of the page.
One thing that the app has over the website is the Double Take feature. On the app, this is far easier to use. Swiping left on a profile will instantly discard it, while swiping right will present you with a pop-up window, ready for you to send a message.
Overall, we liked both the site and the OKCupid app but with mobile browsing taking the place of laptops and computers, we feel the on-the-go version has the added edge.
Compare OkCupid vs Coffee Meets Bagel app
✉️ Contacting Users
The messaging system is a bit of a mixed bag. To spare users from having to tolerate unsolicited or sleazy messages, as well as scammers that might make an otherwise ad-free and enjoyable experience a pain, OKCupid has introduced a system based on mutual likes.
While you can send a message to another user, they can only see it if they've liked your profile. A lot of the best dating apps like Bumble, Zoosk, Plenty of Fish (PoF) utilize it. Free dating sites also try to use something similar, so free users can enjoy those benefits.
The logic behind the idea is a sound one, but it does present something of an obstacle to genuine users who want to initiate a conversation with their match. However, once contact has been established, messaging and chats are straightforward.
👍 Pros and cons 👎
Like with eHarmony and Match.com, OkCupid has a lot to offer users. That doesn't mean that there aren't pros and cons to weigh when making your selection:
What we like
Free registration
In-depth questionnaire sorts the wheat from the chaff
Viewing other users' profile is part of the free service
Messaging is free
Hints and tips are sent on sign-up
What we don't like
You can only see who's liked you as a subscribing member
Messaging can only take place if users 'like' each other
Fake profiles haven't been completely weeded out
Subscriptions are automatically renewed
Users in low-populated areas may find it hard to get a match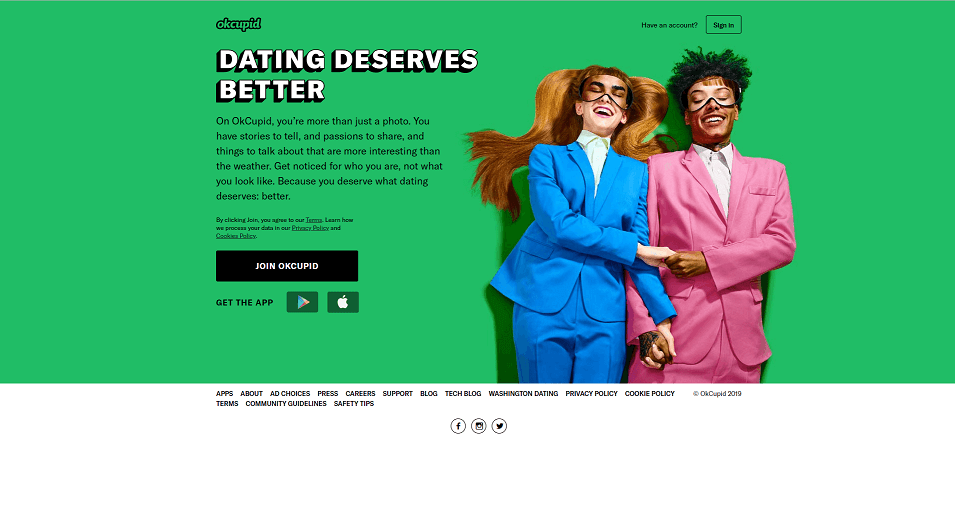 🙋 FAQs
How to delete an OKCupid account?
Deleting your OKCupid account is easy. Head to your profile page and click on your photo, which you'll find in the top-right. 
Hit 'Settings', followed by 'Account' and go to 'My Account'. Towards the bottom, you'll find the option to 'Delete Account'. Click this and then click 'Confirm'.
How do I change my username on OKCupid?
If you're wondering how to change your name on OKCupid, follow these simple steps. On your profile page, next to your name, you'll find a pencil icon. Click that and you'll be taken to the Settings page, where you can edit your information, including your username.
How to log off the OKCupid app?
Go to your Settings page and click 'Sign Out'. By doing this, you'll have to sign back in the next time you want to use the dating app.
How to get more visitors on OKCupid?
The best way to encourage visitors to your profile is to get involved. The more posts you put up, the more conversations you engage in and the more photos you upload, the greater the likelihood there is of catching someone's eye.
How to chat on OKCupid?
Use the Double Take or Match Search features to find a potential date. Once you've liked them, you can send them a message.
To do this, click on the Message button on their profile and type your message. Hit 'send' and the job's done. However, users will only see your message if they've already liked your profile.
Does OKCupid offer Premium Membership?
Does OKCupid offer Premium Membership?
You can join the OKCupid dating site or the OKCupid app as a non-paying member. However, to make the most of your online experience, there are two levels of subscription you can choose from. The A-List Premium Membership gives you access to all the site's features.
What is Double Take?
Double Take is a Boost feature that gives you the opportunity to explore another user's profile, in detail. Photos and highlights of each profile are displayed clearly to let you see at a glance just how compatible you are.
If you and another user both 'like' each other's profiles using the Double Take function, then the OKCupid app will let you know for free.
What is Boost?
Boost is a feature that allows you to promote your profile and expose it to more users. It results in more algorithm matches, helping you to cast your net a little wider for people that match your compatibility.
Where do I see my matches?
You'll be notified if someone has liked your profile, courtesy of a pop-up. However, if you want to see a comprehensive list of who's liked you – whether you've liked them or not – you'll need to subscribe to one of the A-List packages.
OKCupid Alternatives
There are plenty of free alternatives to OKCupid to find singles near you!
ℹ️ Company information

Website: www.okcupid.com
Download from: Google Play or the Apple Store
Company address:
OKCupid
129 W 29th Street
New York
USA
CEO: Elie Seidman
Contact: [email protected]

By post:
Privacy Officer
MTCH Technology Services Limited
5 Harcourt Road
Dublin 2, D02 FW64
Ireland