How does Bumble work for men?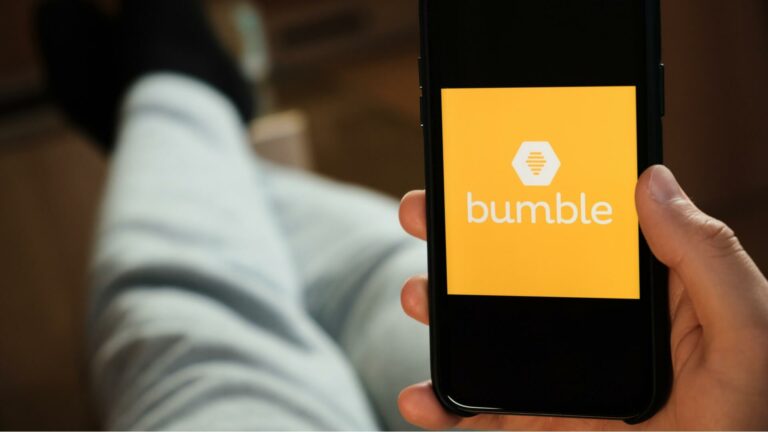 The Bumble dating app is very popular amongst female users, because it offers a very unique approach to online dating, shaking up old gender norms by empowering female users to take initiative.
On the dating app Bumble, women make the first move – in the areas of love, friendship or business. But what does that mean for male singles?
In this article, we will take a closer look at how Bumble works for men, how you can be more successful on the app and take your messaging to the next level. We will also provide tips and tricks for a better Bumble profile and share some clever opening lines with you.
Does Bumble work for guys too & how does it work?
The company was founded in 2014 by Whitney Wolfe Herd and has since grown to more than 55 million users in 150 countries.
Even though Bumble is more focused on serious relationships, it shows some similarities to the popular dating app Tinder. The CEO and co-founder Whitney Wolfe had a vision of a female-friendly version of Tinder that empowers female users to take the lead in a male-dominated dating world.
Bumble's algorithm works similar to Tinder. Both dating sites have the swiping feature in common – if two singles swipe right, they match and can start a conversation.
Your Bumble matches will be located at the top of your Conversation page. There you will find your match queue and if you have upgraded to Premium, your "Beeline". The Beeline shows the profiles that already swiped right on you but which you haven't yet checked out.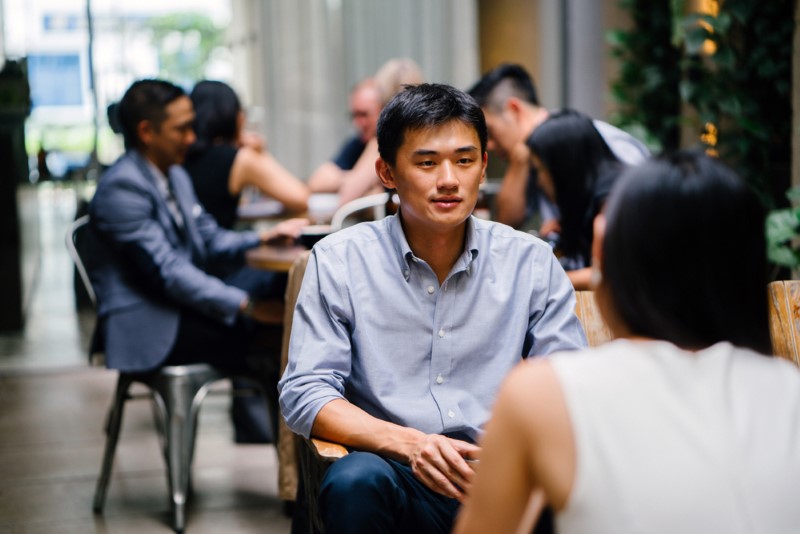 But there exists a major difference to all the other dating apps on the market. When a man matches with a female single, he cannot send her a message first.
On Bumble, women are encouraged to make the first move. Only women can initiate a conversation, which needs to be initiated within 24 hours or the match will be lost.
Once both singles have responded, there are no more limits to messaging. The app even offers a video and voice call option, so that both Bumble users can get to know each other better before exchanging personal information.
The dating platform is free to download on your android phone or iPhone on both the google play store and the app store. The use of the popular online dating app is completely free, but if you want to access premium features, you can upgrade to Bumble Boost or Premium. 
With the Bumble Boost subscription, you can extend your matches for 24 hours, see everyone who has swiped right on your Bumble profile and rematch with already expired matches. With Premium you have access to a lot more features like spotlight, superswipes, advanced filters, backtrack and travel mode.
Besides Bumble Date, the user can also use Bumble BFF to make new friends or Bumble Bizz to build a career network.
The key to successful messaging on Bumble
The key to being successful is not only swiping as much as you can (which definitely helps to improve your chances to get more Bumble matches) but also to get your Bumble profile right – because a good profile helps to encourage the woman to swipe right and really make the first move.
After that, it is crucial to get your first messages right. Your job as a guy is to make the algorithm work for you and to keep the conversation going. We collected the best tips and tricks for you.
Tips and tricks for a better Bumble profile
Women like it if you put effort into your dating profile and give them a little insight into your personality. Take time to fill in personal information to gain the interest of your potential match.
Don't be afraid to show your personality and interests, no matter how geeky or niche they might be – in the end, you want to find someone who accepts you for who you are.
Choose a profile pic that shows you from your best angle, doing your favourite activities, with your pets or just a smiling selfie.
Don't just swipe right on every dating profile you encounter, because Bumble's algorithm will consider you insincere and make it harder for other Bumble users to discover you.
Verify your profile to generate more trust.
Some female-identifying users might not be used to making the first move and do simply not know what to write, so leave a hint on your profile in the form of an open question they can respond to – this will help them to start a conversation.
Once you match with another single, you can use emoji reactions to indicate your interest in your match. The emoji shows your response to a specific photo or their bio.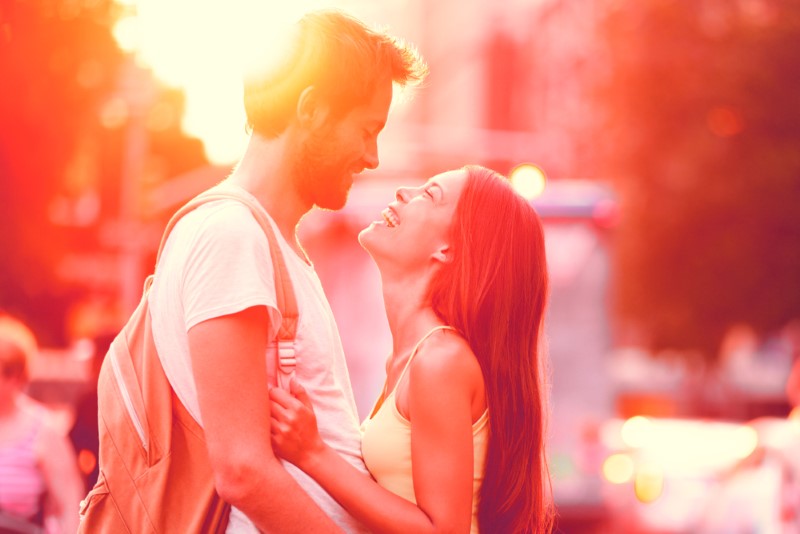 How to make your messages a success
Use their name in the first message which according to Bumble, boosts the response rate by up to 60%.
The writing style of both your profile and your messages is really important: keep it short but interesting, ask captivating questions and include a bit of clever humour.
Match their writing style and message length, this will immediately make her feel more comfortable.
Take great care of your grammar, because misspelt words and typos are a major turnoff and can quickly lead to a left swipe.
You can make compliments but do not overdo it. Thoughtful responses and questions can go a lot further than a simple compliment.
Avoid sexual messages and comments, as long as you are not 100% sure that she is down to some dirty talk.
The golden hour for messaging is at peak usage times – which in Bumble's case is at 6 pm.
One last thing: Your match is likely to be in conversations with more than one guy, so you need to be able to feel when it's the time to take the conversation to the next level – and to meet her face to face on a first date in real life.
Here are some clues that show that your match is ready for the next step:
They are engaged in the process and actively participating in the conversation.
They are asking questions back which means they are interested in you, too.
They are using emojis that show their enthusiasm and excitement.
They share their weekend plans with you – maybe they want you to be part of them.
Does Bumble work for gay guys?
Even if Bumble's focus seems to be on heterosexual relationships, the app still offers very good features for singles of any kind of gender identification or sexuality. The app offers a long list of different gender options to choose from.
If you are looking for a same-sex match, Bumble works the same way as Tinder – once both singles have swiped right, either one of them can initiate a conversation. The 24-hour timeline still applies.
In a nutshell, Bumble works for gay guys the same way as any other online dating site on the market, because it wasn't originally designed for same-sex singles. It is still a good choice, even though it doesn't offer any special or unique features for the gay community.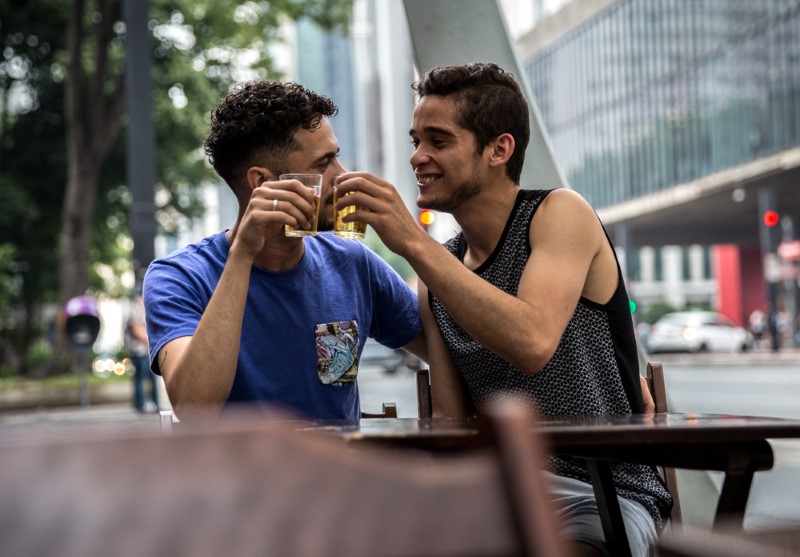 Tinder or Bumble – why Bumble is the better choice for you
The Bumble dating app is a very safe platform to flirt on with extensive safety options and strict guidelines. In contrast to its competitor Tinder, the dating app focused less on hookups and more on serious online dating.
Because of its women-first approach, female singles feel more empowered and relaxed using Bumble. That means that men will find it easier to connect to women who are looking for a serious relationship.
Another advantage of Bumble's approach is that men feel less pressure to write the first message which usually needs to be super creative and unique in order to attract attention. Anyhow, there are still two options for men who just do not like to wait around and want to increase their chances:
Super Swipes: A Premium feature very similar to the Super Like on Tinder. If you use this feature on a woman, you show her that you are really interested in her – so much that you are willing to spend some money. This feature increased the likelihood of you being seen and matched.
Extending the Match: To get around the time limit, every day you have the possibility to extend one match for another 24 hours. This gives the woman more time to start off a conversation with you.
In contrast to other popular dating apps like Tinder, OkCupid or Hinge, men can take a step back and let the woman initiate the flirting. For men who like to give back a little bit of control to switch up the power dynamic in the matching process, Bumble is the perfect option.
These are some of the leading dating apps in the match-making market. Sign-up today for free:
Best Bumble chat opening lines for guys
Even though only females can start a conversation on the dating app, it is still good to have a smart and funny response ready. Make sure you study her profile, show interest in her and do your best to keep the conversation alive.
The key is to create an emotional connection so that she is having fun messaging you. Other than Tinder, singles on Bumble are looking for something serious – that is why the opening lines differ greatly and are much more focused on establishing a connection and showing interest.
If your match starts the conversation with an uncreative "hi", just hit her with one of those creative opening lines. Here are some of the best questions to ask on your dating profile and the most clever opening lines to make any conversation interesting:
What's your next passport stamp going to be?
Rock climbing, scuba diving or exotic chocolate tasting?
Your perfect lazy Sunday: Yoga, Netflix or sleeping until noon?
If I met your friends at a party and asked them to describe you in 3 words … what would they say?
If you had to listen to one Spotify song on repeat forever, what would it be?
I swiped right 73% because I thought you were cute and 27% because your dog is adorable. Wait, or maybe it was the other way around 😉
Describe yourself in 3 emojis.
Consider this a brief smile … and slightly longer than usual eye contact 😉
Before we can start this conversation I have to quickly test you. Look at my profile and tell me which is the lie.
Additional Tip: Instead of using words, use a clever and funny GIF to gain her attention and to make her respond to you.
If you are of the same sex, both of you can send the first message – in which case you need a very unique and catchy opening line. Any of the lines above can be used as an ice breaker as well.
Is Bumble a safe dating app for women?
One reason the app is so popular among female users is the extensive safety it offers. Their vision is to encourage women to be changemakers and to empower them to make the first move – which is why a lot of their safety features are created to make the app safer for its users.
The company recently launched a brand new feature called the "Private Detector" which automatically blurs nude pictures sent to any user. The extensive profile and photo verification process and the easy unmatch, block and report system makes the dating app a very safe place to meet new singles.
If you are interested in knowing more about Bumble's safety features and why it is considered one of the safest dating apps for women, check out this article.
Thanks to the video and voice call option, singles don't need to exchange personal information in order to get to know their match, which appeals to a lot of women as they don't have to share their phone number or email with a stranger.
Not only women benefit from Bumble's extensive safety features and strict guidelines, but also men can enjoy a great online dating experience, moving on to meet their match face to face on a first date – where your flirting and dating skills will be tested in real life.