Our Bumble Review – changing the way we date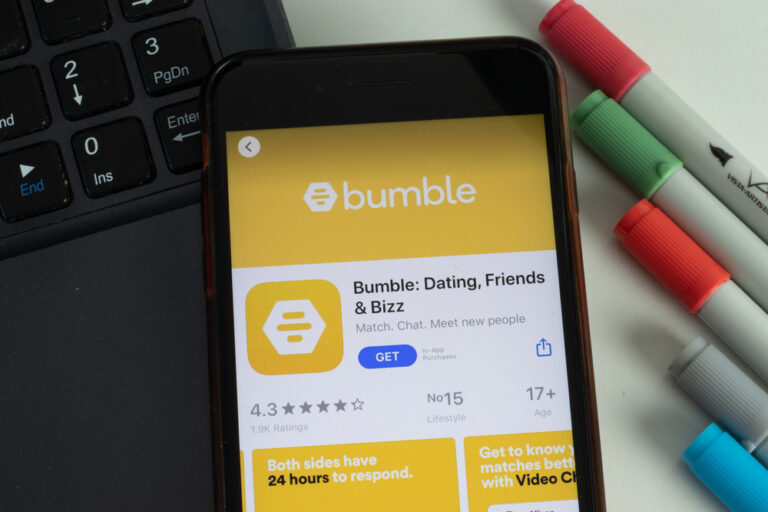 Launched in 2014 by Whitney Wolfe Herd, the Bumble dating app could be the world's first feminist dating app. Wolfe had previously worked for Tinder and, as a result, the two sites share similar characteristics.
However, Bumble puts women in the driving seat, and only female members can initiate an online conversation. In just three years, the Bumble app has chalked-up around 22million users worldwide, making it one of the most popular dating sites in history.
Despite the tables being turned on male users, there's a roughly even split between men and women, with 55% being male and 45% being female.
According to the Bumble dating app, around six out of 10 matches result in a conversation. Female users can choose from a range of pre-written 'ice-breakers', designed to start things off on the right foot.
The Bumble app has even won over a sizeable chunk of Tinder's users. But, is this just a novelty? Our in-depth Bumble review puts the site to the test for the best dating app.
Our Review
Bumble doesn't exclude gay men or lesbian women from using its services, so it's generally very inclusive. However, one slight niggle is that you can't join Bumble dating without having a Facebook account.

Another downside is that profiles tend to lack detail. While you can see the basics such as age, location, job and education, there's not much detail about personality.

As a location-based social and dating application, Bumble offers the chance for on-the-go dating opportunities.

Keep in mind it isn't really for hookups, as most other members will be pursuing long-term relationships or just trying to expand their own social circles by making new friends.

The site is free to join and there are some good services on offer. However, if you want to make the most of your matches, you'll need to subscribe to one of the packages.

In addition, there are further features, such as SuperSwipe, which require the purchase of Bumble Coins.

Bumble markets itself as a feminist dating app, and with features such as BumbleBff, there's plenty of opportunities to form platonic friendships.
👍 Pros and cons 👎
What we like
Only women can initiate communication in heterosexual dating situations, encouraging more thought out conversations
The 24-hour time-limit does encourage users to be proactive in making communication
Bumblebff and BumbleBizz allow the dating app to be used for other purposes
Many of the social media connections needed to start using the app ensure some measure of safety, as social networks are another layer of filtering out fake Bumble users
What we don't like
Profiles lack the personal touch, reducing information to the absolute basics
Heterosexual men have limited input in initiating communication
Anyone wanting to join needs a Facebook account
Fake profiles are rare but do exist
🆓 Free services and paid-for services
When it comes to the basics, the Bumble app stands up really well. There are the usual features, such as setting up your profile and being able to see match suggestions; the sort of thing you'd expect from most dating sites and free dating apps.
However, where this mobile dating platform really stands out from the crowd is with the inclusion of the chat and messaging services. These are usually a subscription-only feature on other sites, and it's a welcome feature – particularly for newbies.
Subscribing to one of Bumble's subscription packages allows you to make even more of your online experience. You'll get a range of extra features and perks, including:
The ability to extend links with matches for a further 24 hours
The chance to reconnect with matches that have been discarded via their "Rematch" service
The 'SuperSwipe' feature
The ability to see those people who have already swiped right on your profile
Get notifications about matches who have liked you back
Video chat
Advanced filters
💰 Prices for Bumble.com
How much does Bumble premium for the Bumble app cost?
With such a good range of free features, it might seem a bit unnecessary to bother with a subscription. However, if you want to maximize your chances to meet people for full-blown relationships, then subscribing does give you that extra edge.
There are four levels of subscription, each of which gives you all the free features in addition to the special features. All levels of subscription are known as BumbleBoost Membership.
You don't necessarily need to provide a phone number to the app, and you can download it from the app store for both Android and iOS.
| | |
| --- | --- |
| Subscription | Price |
| 1 week | $8.99 / Week |
| 1 month | $33.99 / Month |
| 3 months | $22.33 / Month |
| 6 months | $17.83 / Month |
Wonder if Bumble really is better than Tinder? We've tested both of them and have the ultimate answer for you!
Bumble Coins
Bumble Coins are the virtual currency used in the dating app. You can buy these to enable special features, such as 'Spotlight' and 'SuperSwipe'. You can buy Bumble Coins in two amounts:
One coin costs $1.99
Five coins cost $10.99, which works out at $2.20 per coin
Spotlight
The Spotlight feature is designed to get you noticed. Using Bumble Coins to purchase this sends your profile to the top of the heap, so it's immediately seen by more people.
This tends to be used by people who want to cast their net wide, particularly if they're looking for casual dates. It should be noted that Bumble is really more for serious dating and long term relationships, and even making new friends.
SuperSwipe
With the 24-hour time limit, you might find you want to try and make your intentions known that much quicker. When you use Bumble Coins to buy SuperSwipe, you gain the ability to make potential matches aware that they've definitely caught your eye.
👍 Bumble premium features
The Bumble app might have made its name as a feminist dating app that puts the reins in the hands of its female users, but there are other uses for it. Buying Bumble Coins will also give you access to:
Bumble bff. Bumble doesn't have to be used solely as a dating app. When you employ the Bumblebff mode, you'll be matched with other users who only want friendship and nothing more. A great add-on for those who want to expand their social circle and make new friends, rather than date.
BumbleBizz. Again, this will cost you a few Bumble Coins but if you're looking to make some business connections, then it's well worth trying it out. You'll find everyone from contractors offering their services to investors looking for new projects and even people willing to give business advice.
The BeeHive. This is a superb resource for new users and those who don't seem to have much luck. The BeeHive is an online mine of information, from tips on how to maximise your profile's potential to updates about Bumble-sponsored, real-life events.
Bumble Hive. Bumble doesn't just restrict its activity to cyberspace; occasionally it sponsors real-life events. Bumble Hive events are for all users and they're ideal for finding hookups, starting relationships, making friends and business connections. Your profile is your ticket in.
Bumble Travel Mode. The option to change your location on the go, before or during a trip. With this feature you can meet up with other travelers or locals all around the world.
Beeline.
How to pay
Designed as a location-based social and dating application, Bumble is perfect for finding dates, friends and business networking. To make it as quick and convenient as possible, it offers three ways through which you can pay:
Credit/debit card
PayPal
Mobile phone
💡 How to reduce costs at Bumble?
The simple answer is to use the free version of the dating app and make do with the features that come with it. However, some of these – particularly the 24-hour time limit on response – can become frustrating.
If you really want to become a member but want to keep the costs down, the best thing to do is pay for one of the longer subscriptions. While this might sound counterintuitive, the cost per month is reduced as the length of your subscription increases.
The other option is to stay away from the Bumble Coins. While they do unlock some fantastic features, it's possible to enjoy online dating without paying any more than your subscription fee.
📊 Membership structure
Put the buzz back in your love life
Although the app has been designed with the safety of women and female-identifying people in mind, they only make up around 45% of users, while men make up around 55%.
In theory, anyone over the age of 18 can become a member, but the main take-up is from those aged between 18 and 35.
The dating app also challenges the notion that it's only men who are interested in casual dating and hookups. For some women, this is all they use the app for. However, there are those who are interested in pursuing long-term relationships.
In addition, with special features such as Bumblebff and BumbleBizz, you'll find members who aren't interested in dating at all. For them, it's a more buzzing version of Facebook or LinkedIn; an environment where they can pursue friendships or forge business relationships.
All in all, Bumble can be whatever you want it to be, whether you want to give your social life a lift, get some wheeling and dealing done, or engage with potential romantic matches.
International appeal
As a location-based social and dating app, Bumble has over 22million users worldwide. This makes it ideal for those looking for holiday hookups, international business opportunities, and even long-distance friendships.
The app is used widely across Europe and other countries, including:
USA
Philippines
Japan
China
United Arab Emirates
South Korea
✍️ Creating a user profile
Time needed: 4 minutes.
Registering for the Bumble app is designed to be quick and simple and should only take a couple of minutes.
One of the benefits of signing up through your Facebook account or instagram account is that you don't have to spend time filling in your personal details, as the app will import it all for you. There are five steps to registration:
Get the app – Download the app from Google Play or the Apple Store

Sign in – Use either your Facebook account or mobile phone to sign in and create your profile

Select your preferences – Choose your gender, the gender of the matches you're interested and the type of relationships you want to pursue

Upload pictures – Choose up to six photos from your Facebook account to add to your profile

Basic information – Write a short biography about yourself.
Now your profile is complete and ready to roll. You'll receive potential matches almost instantly and you can choose to continue as a non-paying member or upgrade with a paid subscription.
📱 User-friendliness and the app
Bumble is a mobile-only dating app, which might put some users off trying it out. As part of our in-depth Bumble review we wanted to weigh-up its user-friendliness. We're happy to report that Bumble ticks all the right boxes as one of the most popular dating apps today.
The screen is well set out, allowing you to see everything you need, quickly and conveniently. One of its best features is colour-coded connections, such as using green for Bumblebff connections and red to show you which ones are set to expire.
Swiping is simple and you're notified if your potential match has swiped right too, creating a connection. From there, the message and chat services are as easy to use as WhatsApp or sending an email.
With plenty of prompts and a refreshing lack of ads, it's a convenient dating app for even the most tentative of phone-users.
✉️ Contacting users
Whitney Wolfe Herd created the Bumble app with a view to giving women more control over the dating process. Connections begin with a swipe: if you're interested in someone, you swipe on their profile – right if you're interested and left if you're not.
Should your match also swipe right then messaging can begin. However, the conversation can only be initiated by the woman and she is under a 24-hour time-limit to do this. Once that time's up, then the match is cancelled.
Should the woman make the first move, then the man has an extra 24 hours in which to reply. When it comes to those looking for platonic relationships or same-sex users, then either party can start the conversation. However, the 24-hour time-limit still applies.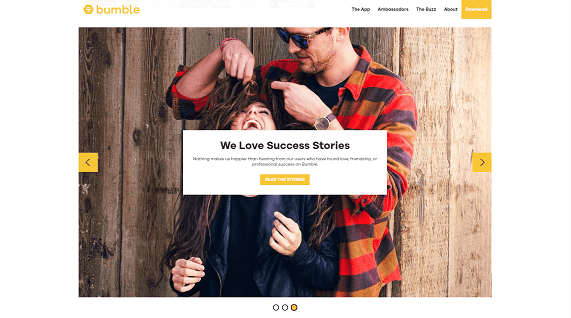 🙋 FAQs
How do I delete Bumble?
If you want to delete a Bumble account, there are three simple steps. Open the dating app and head to 'Settings'. Once there, you can scroll to the bottom, where you'll find the option to 'Delete Account'. One click and the job's done.
How do I start a conversation in Bumble?
If you're wondering how to start a Bumble conversation, begin by swiping right on the match you're interested in. If they also swipe right, the woman can initiate conversation, either by sending a message or using one of the pre-written ice-breakers.
What can I say on Bumble?
If you're stuck for ideas, there are pre-written conversation starters. Alternatively, if you're a paid member, use the BeeHive feature for tips and advice. Just keep in mind that when you meet potential dates, women will get to send the first message. 
How does Bumble work for guys?
For heterosexual men, they must wait for a woman to start a conversation. For gay men, either party can initiate chat, assuming both have swiped right. The functionality has served the app well and made it popular. 
How does the Bumble algorithm work?
The algorithm works by showing you other users who have already swiped right on you. In addition, it will also show you the most popular profiles in your location. However, swiping right on every profile you see will only result in yours being ranked lower and seen by fewer.
How do I change location on Bumble?
As a location-based social and dating app Bumble will automatically set your location, based on tracking your GPS signal.
When was Bumble created?
Bumble was created in 2014, by Whitney Wolfe Herd.
How can I report someone?
There are two ways to report someone on Bumble: from the profile or from the conversation.
From the profile:
Scroll to the bottom of their profile, where you'll find a 'Block and Report' button. Explain your reasons and click 'Submit Report'.
From the conversation:
In the top, right-hand corner of the screen you'll find three dots. Click on those to reveal the 'Block and Report' option. Explain your reasons and click 'Submit Report'.
ℹ️ Company information
Where to get the app: Google Play or the Apple Store
Company helpline: There is an online form under the 'Contact Us' section
CEO: Whitney Wolfe Herd
Company headquarters: Austin, Texas, USA
Bumble Alternatives
Find love, casual sex or love with sites like Bumble.