What Hookup Sites Actually Work?
A hookup site is another way of referring to a website or app that offers users a way to meet up with others for quick and easy sexual encounters. If you want to know which are the best casual dating sites, click here. Our team reviewed all of the most well-known services, so you don't have to
These are services that give users a no-strings attached approach to online dating and make having sex the primary goal.
This is opposed to the more traditional online dating service, which is typically oriented toward trying to match members in a way that allows them to meet someone for a long-term relationship. This also means that how you match with other members online differs from standard dating websites.
One key difference lies in what portions of a profile members are most interested in. Standard online dating services will have you emphasize elaborating on details about yourself, such as your interests, history, beliefs, and lifestyle choices. This isn't necessarily the same with a hookup site.
Because hookup sites are more interested in connecting people for casual sex, their emphasis is on profile pictures and picture galleries, as well as quick information about yourself. This is usually more focused on your physical characteristics.
That isn't to say that a casual dating hookup site can't be used to find someone for a lasting and loving relationship, as it does happen. Check out this article to read more on how casual dating can turn into a serious relationship. However, the fact remains that these sites and apps are intended for a casual fling than they are for serious dating.
Sexting apps and casual dating sites recommendations
Check out our latest recommendations for the top hookup apps and casual dating sites and sign up today for free:
What are some of the leading hookup sites that work?
One of the leading casual hookup services in the market is Tinder, offering a casual and quick swipe left or right for you to show interest. But if you are looking for something that is an alternative to Tinder that works for you, then consider some of these excellent hookup sites: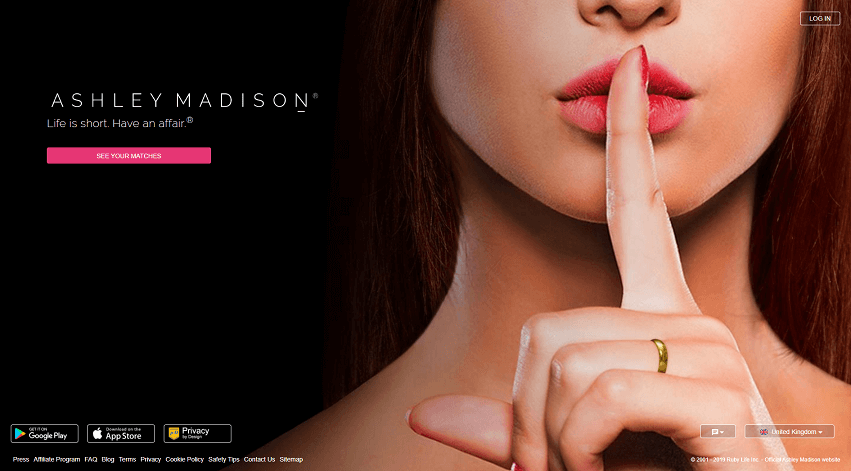 Ashley Madison – Famous for its slogan "Life is short. Have an affair", this Canadian online dating and social networking service is geared toward people who are already in a relationship and are looking for a casual but discreet fling on the side.
C-Date – This is a no strings attached casual dating service that offers easy encounters with like-minded people, ranging from singles to couples and even groups. C-Date offers an anonymous and safe service for both newbies and the experienced.
Adultfriendfinder – One of the leading casual dating hookup service, giving you a variety of ways to interact with other men and women both locally and around the world. Enjoy uncensored photos and videos, profiles, flirting and hooking up!
Iamnaughty – A popular platform to help you find the perfect relationship with naughty local singles. Limits are established by you, so enjoy getting together with all the like-minded individuals near you today!
Badoo – Take advantage of a leading hookup service that allows you to chat, date and meet with people locally and across the world. Date honestly with over 465 million real, unapologetic people eager to enjoy what they truly want.
Benaughty – Check out chat rooms that are full of flirty and naughty singles in your local area that want the same thing you do with someone just like you. Now is the time to stop being so shy and go out there to meet singles today!
If you are trying to get laid and save money while doing so, make sure to read the following article. Our team has made a compilation of the top free hook up sites.
What are some tips for using a hookup site?
It is important to be yourself and to be honest with what you want and what you would like to get out of a hookup site. Don't pretend to be someone you aren't, as this will usually result in a negative experience for both parties.
Include a flattering profile picture of yourself and some appropriate pictures. No need for nudity unless the site in question encourages it. Put enough in your profile to keep someone interested, but remember that with hookups, it's more about your pictures.
How can I tell which hookup site is right for me?
To be honest, this will greatly depend on what you want out of a hookup site and how comfortable you feel using one. It is important to first identify what you expect out of the service, and what your special preferences are, and then to look for a hookup site that best offers you these kinds of entertainment.
After that, it boils down to simple experimentation. Almost all hookup sites offer a free version of their service to members who sign up, so you can explore the site before committing to subscription or purchase. Try out what you can and stick with what feels right, and you can't go wrong.
Success Stories with Hookup Sites
"Women on C-Date want the same as me. To have fun with someone without any fuss. I've met a couple of very nice ladies and some of them are my few friends with benefits. I guess everything is possible when both partners are into it!" – Liam, 41 via C-Date
"When I signed up for this I had no idea what to expect. I have to say that I was pleasantly surprised with the warm and care-free attitude I was greeted with by some of the women I have met here. It is not what I expected in the best possible way" – Greg, 38 via Badoo