Our C-Date Review – A Casual Dating Site For The Adventurous
Find out what you need to know before signup for C-Date from cost and features to offers and pros and cons.

The C-Date dating site is for those who are looking for something a little extra from their love lives. With the 'c' standing for 'casual', you'll find singles, attached and even married users looking for special encounters.
Launched in 2008, the site quickly found itself ranking as the most popular casual dating site in Spain, the second-largest in Germany, and the third in both Switzerland and France. Today, it boasts over 36 million users in 35 different countries, with around 500,000 in the US.
Each day it's reckoned that around 7500 new members sign-up from the US, with 25,000 joining worldwide. However, while the numbers might seem to stand up to scrutiny, does the site? If you want to answer the question "what is C-Date" then check out our in-depth C-Date review because it is one of the best hookup sites.
Our Review
With a rapidly-expanding user-base, C-Date offers a sleek and user-friendly opportunity for adventurous singles and couples to find like-minded people. While the accent might be on 'casual', many C-Daters are fairly upfront about stating their erotic fantasies. If you're looking for lasting romance, this isn't the site for you.

Unusually, the balance between male and female users is evenly split. However, it's not purely for binary hook-ups; there are gay and lesbian users and even those who want to indulge themselves in fetish play. C-date is a virtual playground for those who want to add some spice to their love lives.

Registration is quick, simple and to the point. What's important for many of its users is that the registration process is free of charge; sign up and within minutes you can browse the profiles of other members.

Even more importantly, the services are as anonymous as you want them to be. The only information you need to supply is a username and an email address. Once that's done, you can begin to use the services, although you will find that you'll have to pay a subscription fee for certain features, such as messaging.

All in all, C-Date stands up as one of the better casual dating sites. With the facility for users to express exactly what they're into, there's no chance of mistaking this site for anything with more romantic leanings.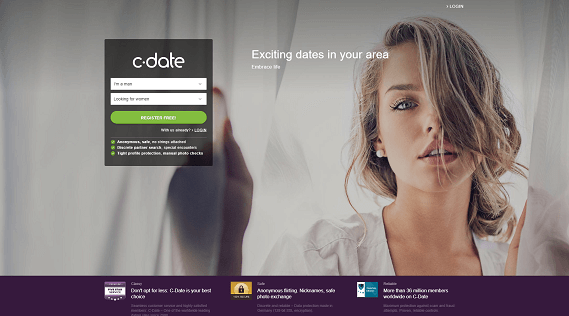 🆓 Free services and paid-for services
C-Date's initial sign-up procedure is free, and you can browse other profiles within minutes of completing it. In addition, creating your own profile won't cost you anything and you can receive contact proposals and messages without paying a penny.
However, in order to read those messages and send your own, you'll need to sign up for a subscription. Similarly, the free services don't allow you to see full profiles.
Once you've registered for a subscription package, you'll be able to see them in their entirety, and start making steps towards hooking up, chatting, or exchanging photographs.
C-Date's special features
The website offers some clever little extras that are designed to help you get the most out of your online experience. In keeping with the casual dating theme, you can use some of the special features to give your discreet partner search that little extra edge. These include:
'My Erotic Type'. Using this function, you can let other users know what your sexual interests are by selecting up to five suggestive photographs from a choice of thumbnails. Displaying these on your profile helps make finding like-minded people that much quicker.
'Ask Me Personally'. To further preserve your anonymity, subscribed members can give as little information about themselves as they want. Rather than feeling you have to disclose everything, such as your smoking habits or whether you sport tattoos, there's an 'Ask Me Personally' feature.
The navigation bar. Part of what makes C-Date so user-friendly is its minimalist navigation bar. All you're presented with three main sections: mailbox, contacts and fees. On the right-hand side, there are widgets allowing you to view your profile, browse suggested matches, and to see who has seen your profile.
Search criteria. This is particularly useful for anyone wanting a discreet encounter. In addition to the usual specs such as appearance and location, there's the facility to specify the sexual interests you want a potential match to have in common.
💰 Prices
How much does each subscription cost?
C-Date's subscription services save the headache of having to buy virtual credits every time you use a particular service. Once you've signed up you can give the site a free, if somewhat limited, test-drive to see if it's for you. If you decide it is, then you can choose from three subscription packages.
| | | |
| --- | --- | --- |
| | Price per month | Total |
| 3 months | $79.90 | $239.70 |
| 6 months | $59.90 | $359.40 |
| 12 months | $59.90 | $478.80 |
How to pay
There are a number of payment options available to users, but an important factor for many is that the billing is discreet. C-Date helps its customers to remain anonymous by keeping all mentions of the website away from any issued bills.
You can make payments using debit or credit cards, online bank transfers or by setting up a direct debit. If you decide that you want to cancel your subscription, you'll need to give up to 14 days' notice, prior to your current subscription expiring.
Customer service
Customer care and customer service are often a bit of a bugbear for users of online dating sites. However, this is where C-Date outshines many of its competitors. The 'Help' button is the best way to get in touch with customer service staff, although a reply can take up to three days.
Alternatively, you can email the company, but the response time will be the same.
💡 How to reduce costs at C-Date?
The only way you'll make any significant savings on C-Date is to subscribe to the long-term packages. If you sign up for three months, you're effectively paying twice as much as you would if you signed up for a year.
The three-month package is great for those testing the waters in the world of casual dating but doesn't make financial sense if you're going to be a regular, long-term user.
📊 Membership structure
While it's aimed at users between 18 and 55+, the biggest take-up is from members between the ages of 25 and 45.
The site is for singles, couples and married people who might want to pep up their bedroom activities. Affairs, casual dates and even erotic chats are just some of the interests displayed on members' profiles.
Interestingly, the balance of male and female members is almost 50/50, whereas many other dating sites are heavily over-subscribed by men.
✍️ Registration
Time needed: 3 minutes.
Sign-up for C-Date's services is easy.
Signing upOn the website's homepage, specify whether you're male or female and whether you're looking for males or females. Hit 'Register for Free'.
Your match preferencesYou'll now be asked to specify what you're looking for. Options include 'Meeting Singles', 'A Discreet Affair', 'Watching' and 'Games'.
Select the pictureThe next step is to select between two photographs; one male, one female.
Basic information about youAfter filing in your postcode, you'll be asked for some personal information, including your date of birth, your relationship status and some brief, physical characteristics. The drop-down menus through which can give your answers are a little fiddly but once you get the hang of it, it becomes much easier.
Enter your email addressFinally, enter an email address and create a password. Hit 'Create Free Account' and you'll be able to use the site, at a limited level. To unlock all services, sign up for a subscription.
Once you've created your account, you'll be able to upload a photograph to your profile. These help to create an interest in your potential as a match, for other users. C-Date operates manual photo checks in order to weed out any scammers.
📱 Users-friendliness and the app
When we decided to conduct our C-Date review, user-friendliness was high on our list of criteria. Thankfully, as the result of a pared-down homepage, the site is one of the simplest we've come across. Everything you need is on the navigation bar and it quickly becomes second nature.
Browsing other users' profiles is as simple as clicking on their picture, and if you can use email, you'll have no trouble sending and receiving messages. Similarly, the filters are easy to use and will help you narrow your search parameters very quickly.
The mobile app works on both Android and iOS. Switching between other users' profiles is straightforward and messaging is just as easy as it is on the desktop site.
If you're in any way confused as to how to use the site or its facilities, C-Date has its own YouTube channel, where you can watch video tutorials. In addition, there's a comprehensive FAQ section, which should answer any questions you might have.
✉️ Contacting users
One of the great aspects of this site is that it will supply you with match suggestions according to your preferences and interests. However, if you'd rather get straight to the point, messaging other users is quick and hassle-free.
A 'Now Active' feature tells you who's currently online and as long as you've subscribed to one of C-Date's three packages, you can message as much as you like. Click on the 'Send Message' button, write what you want to say, and send it.
Whether you're paid up or not, C-Date will send you email notifications to let you know which users have been checking out your profile. As a subscribed member, you'll be able to save contacts and messages, favourite the ones that catch your eye and have access to users' erotic galleries.
While the free features are convenient, you'll only get the best online experience by subscribing.
👍 Pros and cons 👎
What we like
An easy-to-use site, both for desktops and mobile devices
Straight-to-the-point profiles leave you in no doubt who's interested in what
Quick and simple registration process
The facility to see who's online
What we don't like
The free account doesn't offer much in the way of features
You can only see profile pictures with a subscription
The free account doesn't include search or browsing options
🙋 FAQs
Is C-Date legit?
C-Date is a legitimate website for casual dating, extra-marital affairs and the sexually adventurous. However, in recent years, customers have complained of a large number of fake accounts set up by scammers and cat-phish artists. To combat this, the site has revised its security protocols and implemented a manual photo check to verify the authenticity of new users.
How can one cancel a C-Date subscription?
If you want to cancel your subscription, you must inform the company by email at least 14 days before your current subscription expires. Once that date has been reached, your subscription will be cancelled, and you'll no longer be able to use all the features offered to paying members.
Alternatives to C-Date
Find people seeking casual sex and one-night stands with our selection of sites like C-Date.
ℹ️ Company information
C-Date is owned by Interdate SA and is based in Luxembourg City, Luxembourg.
Website: www.c-date.com/
Company address:
Interdate SA
13, Rue de Commerce
Luxembourg City
1351 Luxembourg