Badoo Review, Updated 2023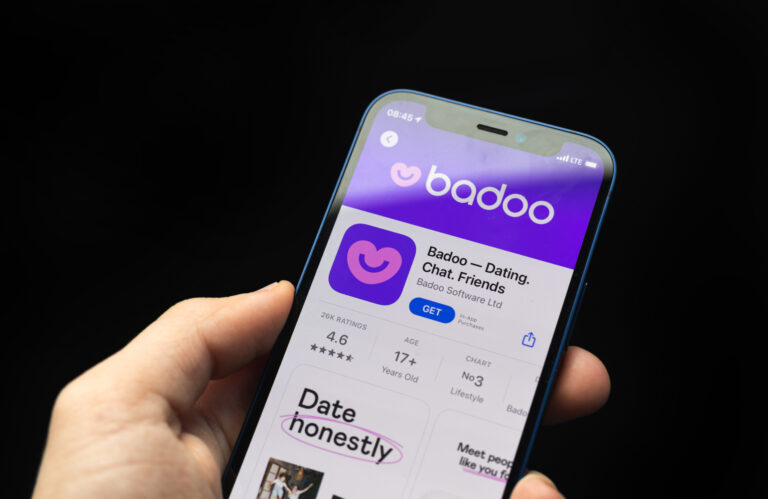 Badoo is a social media platform with a focus on online dating. With its matchmaking algorithms, this dating app aims to help its users find the right person either for a serious relationship or casual encounters.
Badoo got its start in the mid-00s, incorporating social games and quizzes into a dating site format. With thousands of active users, we figured it's time for an in-depth Badoo review. Check our Badoo cost breakdown to see how it stacks up against the best dating apps and sites!
Badoo review: Overview
Badoo is one of the largest online dating platforms in the world, alongside Tinder and Bumble. With so many people using the app, the search features work best when you use the People Nearby option.
You can find well-balanced features across Badoo premium and free accounts. The Badoo cost for premium services is relatively low when compared to its rivals. Overall, Badoo is an accessible and fun online dating platform. We strongly advise using the mobile app, which is clearer and user-friendly than the dating site.
Badoo Review: Pros and cons
This is our Badoo review verdict in terms of the advantages and disadvantages of the dating service.
Pros
The dating app has an easy to use format.
Badoo is widely available across mobile and web.
Badoo lets you choose between 50 genders in addition to male and female.
Video Chat: users can easily connect for a live video chat once they've exchanged messages
Badoo Clips: 15-second video clips that let you introduce yourself
Badoo has a Celebrity Lookalike feature that finds profiles that look like your celebrity of choice.
Cons
The Badoo online dating site is not as user-friendly as the app.
The matchmaking system requires the user to use a lot of search filters to get relevant results.
Badoo costs can be confusing. Between Badoo credits and Badoo premium, there are several overlapping pricing options.
Badoo free vs premium membership
Badoo has features that are available for free and others that you can only access once you pay. Take a look at what is available to decide if this is the dating app for you.
Free Features
Badoo will let you access core dating platform features for free as long as you verify your account successfully. These core free features are:
Filtering your searches
Browsing dating profiles
Basic messaging
You can also access the Encounters matchmaking feature for free, which offers a fun swipe-based way to find matches. If both people vote yes on Encounters, they can then start chatting.
A new free feature Badoo offers is a Celebrity Lookalike profile search which lets you find people that resemble a celebrity of your choice. This feature was developed as a result of Badoo's automated fake profile photo prevention efforts. Additionally, if your celebrity of choice isn't listed you can upload your own photo to find lookalike profiles.
The 'People Nearby' function is also available for free. It narrows down the area of your searches so that you can talk to more local users. Additionally, you can see at a glance whether users are online. Be aware, this feature can be turned off in the privacy settings.
Green dot: The user is online right now
Orange dot: The user is not online now but they recently were
How bad are the ads?
Just like other dating platforms, Badoo makes money through advertising, so if you only sign up for the free service, expect to see a fair amount of adverts throughout the service.
Badoo Premium review
Premium services on Badoo can be accessed by purchasing Badoo credits or paying for Badoo Premium. Let's take a look at what you get.
Badoo premium features help your profile become more visible to other users and for you to see who is interested.
Liked you allows you to know who voted 'Yes' for you in Encounters even if you haven't matched with them.
Added you as Favourite lets you know who has made your Badoo profile a favourite while browsing.
Undo last Vote: This feature lets you change your mind if you voted "No" by mistake.
Send a Crush to a specific dating profile on Encounters. You do this by clicking on the two hearts symbol next to their photo. This is similar to a Super Like on Tinder or Superswipe on Bumble.
The paid features on Badoo also make it easier to chat with more people.
Chat to popular users gives you exclusive access to the most popular Badoo profiles so you can chat with them.
First to contact new people: start talking to new users as soon as they've signed to Badoo. This lets you jump the queue and get the first word in.
Highlight your messages: This feature ensures your message appears at the top of an inbox.
Some paid features make Badoo more pleasant to use. See how useful they can be for you.
Invisible Mode: Lets you view profiles without letting others know, giving you enhanced privacy.
Ad-free access: Badoo Premium lets you experience the dating service without the ads.
Stickers: Use stickers to make your messages more appealing.
Is Badoo Premium worth it?
Once you've become familiar with all the free features, you can decide if Badoo Premium is worth it based on the additional features you get. While it is competitively priced, you want to become skilled at using all of Badoo's free features first. This will allow you to fully benefit and get the most out of the premium features listed above.
Badoo cost breakdown and how to save
Badoo prices and plans can be confusing, which is why we decided to break it down for you below. Badoo premium features come in two main flavours:
Badoo premium subscriptions
Badoo credits to purchase super powers and boosts
This is our Badoo cost breakdown specifically. You should be aware that prices can vary based on seasonal promotions or discounts.
| | |
| --- | --- |
| Badoo Premium Subscription | Badoo Cost |
| 1 month of Badoo Premium | $9.34 / Month |
| 3 months of Badoo Premium | $22.27 Payment ($7.41 / Month) |
There are currently two Badoo Premium paid subscriptions: a month-to-month one, and the 3-month deal which you pay for in one go.
Monthly Badoo costs seem to be on the lower end of the market when compared to competitors like eHarmony or EliteSingles. This means that Badoo is a great option if you're on a budget.
Badoo in-app purchases
Badoo premium features are also available for purchase on the mobile dating app directly. Here is the Badoo cost breakdown for mobile purchases. These prices are subject to change due to seasonal promotions or discounts.
| | |
| --- | --- |
| Badoo Super Powers (iOS) | Badoo cost |
| Activate Super Powers – 1 month (iOS) | $10.06 to $15.81 |
| Activate Super Powers – 3 months (iOS) | $21.55 |
| Rise up to first place (iOS) | $2.15 to $3.22 |
| Contacts limit increase (iOS) | $2.15 to $3.22 |
| Voting limit increase (iOS) | $2.15 to $3.22 |
Badoo also has specific in-app purchases for iPhones. There is both a premium service subscription and one-off purchases for specific Super Powers which lift usage limits for contacting, voting on the app, or appearing higher up in search results.
Badoo Android In-App purchases on the price per item, according to Google Play.
Badoo Credits
This is the current pricing available for Badoo Credits. Be aware that this Badoo cost changes over time, depending on whether there are promotions or deals.
Badoo Credits can be used to increase your chances to be seen on Badoo by using them on Rise Up, Spotlight features as well as more views on Encounters.
| | | |
| --- | --- | --- |
| Credit Pack | Pack Cost | Badoo cost per credit |
| 100 Credits | $0.97 | 3c per credit |
| 550 Credits | $4.86 | 1c per credit |
| 1,250 Credits | $17.97 | 1c per credit |
| 2,750 Credits | $35.93 | 1c per credit |
Badoo credits expire after six months, unless you buy them through iTunes. They do not rollover and cannot be refunded.
One thing to remember is that a subscription for the Premium service will automatically renew itself at the end of each billing period, so you'll need to make sure you cancel it if you don't want the service anymore. You can cancel your membership by going to the Settings icon and then scroll down to Payment Settings to click 'Unsubscribe'.
Badoo cost verdict
Although it can be a bit confusing, Badoo cost is lower than its main competitors. Badoo is one of the more affordable dating services available, alongside Zoosk.
How to save on Badoo
To save on Badoo, you have to compare premium service pricing between the web and mobile app versions of the dating platform. Don't settle for the first paid subscription option you see because it might not be the cheapest one.
For example, the Badoo app on iOS has three "Activate Super Powers" 1-month options a range of prices while there is a single 3-month option that is considerably cheaper in terms of cost per month.
Our tip for saving money on Badoo is to start with the free account which already gives you a lot of features. Once you are comfortable with the service, you will have a good idea of what premium features you will actually need. The result is that you'll keep your Badoo costs under control.
How to pay for it?
Once you decide to get Badoo Premium, you can either pay by credit card, PayPal, or 'Pay By Mobile' where the cost of the credits is charged to your mobile phone bill. Credit card charges will show up on your statement as "Social Online Payments Ltd." for the sake of discretion.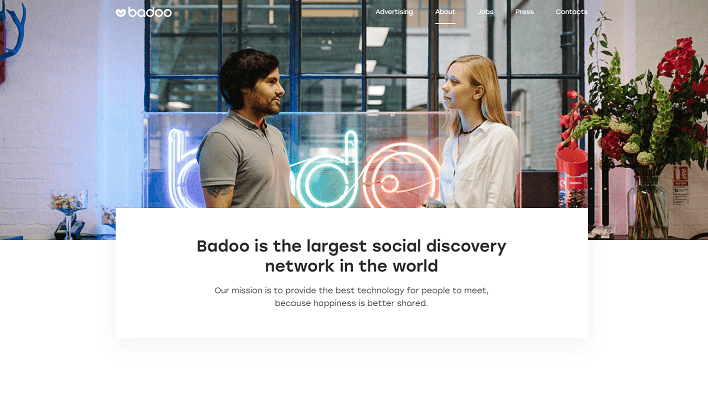 Badoo Registration
These are the Badoo Registration steps:
Select your gender. Badoo offers over 50 gender choices.
Say what you want to use Badoo for: 'Chat', 'Make new friends,' or 'Date'.
Add your details: name, date of birth, location, and email address.
How to meet people on Badoo
Badoo is primarily a social discovery network that emphasizes meeting potential matches.
Best features to meet people
For Badoo users, the first thing to do is use the location-based search features to make sure you are finding potential matches nearby. The People Nearby feature is the most obvious choice here. However don't forget to use Geolocation and fine-tune the distance radius for best results.
To make sure the Badoo profiles you see are relevant to you, set a goal that matches what you're looking for. This can be anything from 'Make new friends' to 'Date' in the 'I'm here to' section.
The same goes for gender choice, with fifty gender options you can better hone in on the right matches. Additionally, you can also narrow your search down with the interest criteria. Finally don't forget to refresh so your results are updated to the most relevant Badoo profiles.
How to chat on Badoo
To chat on Badoo, click on the username of a profile to access their information. Go to the 'Chat now' button at the top right-hand corner and you'll be able to message them.
Alternatively, you can send a Welcome message to a user, and they'll be added to your contact list straight away. Just remember that there are limits to how many contacts you can add in a day. To lift any limits you can pay for Badoo Premium and buy Badoo Credits.
If a person doesn't reply to your initial contact then you can send one more message, but that's the limit. This is to prevent users from being harassed by constant messages from people they don't wish to communicate with. It also helps you know if someone is interested or not.
FAQ: Common Badoo queries and concerns
Find answers to common questions about Badoo here.
Is Badoo just a dating app?
Badoo is primarily centred on dating even though it originally presented itself as a social network with strong dating features. Currently, Badoo describes itself as "the place to date honestly".
Is Badoo safer than Tinder?
Badoo is as safe as Tinder. Both dating apps use a photo verification process. This involves taking selfies with certain specifications to make it harder for scammers to sign up with fake profiles.
What's Badoo's backstory?
Starting life in Moscow in the mid-00s, Badoo grew rapidly and now operates in 190 countries and 47 different languages. Andrey Andreev, the innovator and founder of the Badoo brand, was convincing enough for investors to entrust $30million in funding, enabling developers to really work on the platform's usability, security, and overall format.
A high-profile social media marketing campaign saw Badoo go viral on Facebook. It was particularly popular with younger users because of the inclusion of social games and quizzes, making it a very user-friendly platform.
Who is on Badoo?
Badoo's audience is primarily made up of 20 to 35-year-olds. This means it is used by young professionals who want to connect with people around the world. Badoo has around 300,000 new daily sign-ups.
What is "Badoo Request a Selfie"?
One of Badoo's security measures is the 'Request a Selfie' option, which helps prevent catfishing.
What is Badoo doing to address security concerns?
Badoo is continually upgrading its security and safety features to make sure accounts are genuine and verified. Part of this includes gathering personal information to verify that the person opening the account is real and not a 'bot' trying to farm data.
What additional information does Badoo ask for?
You'll be asked for a phone number, which is held for up to 90 days. If you expand your profile to include premium services, you'll also have to supply payment details.
If you use the mobile app rather than the website, the company will collect data about Wi-Fi access points and location information. This is so that users can view 'nearby' profiles. However, you can turn off the location services by changing the privacy and location settings on your phone.
What is Badoo's Photo verification system?
Photo verification is also being used by the platform, to make sure users are who they say they are. The user is asked to upload a photo of themselves mimicking a specific pose, which is then checked by one of Badoo's 5,000 moderators.
How to change location on Badoo
Go to your profile and click on the tab next to your current location. You can then enter a new location. Make sure you only have one app open, or your GPS won't be able to complete the location function correctly.
What is Badoo's company information?
Badoo now has offices in Malta, the UK, the USA and Russia, with headquarters in Limassol, Cyprus, and London.
Website: www.badoo.com
Headquarters:
The Broadgate Tower
Third Floor
London EC2A 2RS
United Kingdom
Badoo review: final thoughts
Badoo is a simple, straightforward, and easy to navigate dating platform with a social network flavour. Clear icons and emojis make it simple and fun to find your way around. The service can be used either as a dating site on the web or as a dating app on mobile.
The mobile app is more user-friendly than the website, but Badoo has a clutter-free layout overall.
Badoo is great for those who want to get started with online dating quickly. There's no 'personality test' to initially help narrow down your suggested matches. However, the 'People Nearby' feature and other search options are there to help you narrow your search to local singles.
Alternatives to Badoo
Find free dating apps like Badoo to find both casual and serious partners.