Christian Connection Review, Updated 2023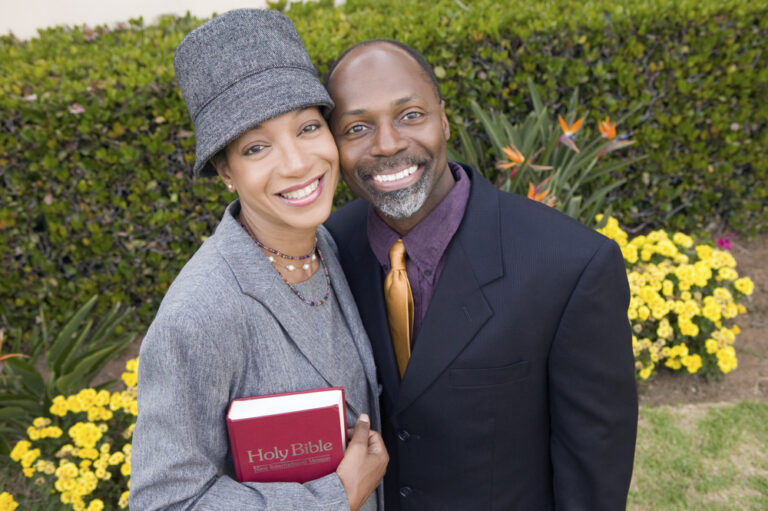 Founded in 2000, the Christian Connection was one of the first to aim itself squarely at single Christians. The brainchild of Jackie Elton, it has since picked up several awards, including Daters' Favourite Site and Best Niche Dating Site.
However, the Christian Connection isn't just for one branch of the faith. Open to single Christians from a range of church backgrounds and traditions, it offers the chance for those interested in serious dating to seek out matches online.
While this online dating website has been instrumental in a marriage or two, it also provides an online community for those of similar religious beliefs. Message-boards and meet-ups keep members informed about opportunities beyond online dating.
However, do you need a leap of faith to sign up, or is the Christian Connection everything it's cracked up to be? Our in-depth Christian Connection review will help you decide if it's one of the best christian dating sites.
Our Summary
The Christian Connection and the app are both designed to appeal to a very specific type of user. However, the organisers are very aware that Christianity covers a wide variety of practices and beliefs. Users are given the chance to specify which they come from but are politely asked to respect the views of others.

Although it might be considered a niche site, it's visited by almost 60,000 users each month. Unlike other online dating sites, Christian Connection is almost entirely free of fake profiles and scammers. In part, this is likely to be because many of the members regularly meet, forming offline extensions of the website.

With this in mind, the site has some great special features for its users. The message boards are geared towards discussion and contact. You'll find them divided into five separate forums and are regularly monitored and updated, giving a real community feel.

However, the Christian Connection isn't for those looking for a quick fix. Despite its growing numbers, you'll generally only find around 100 users online at any given time. If you're interested in serious dating or making genuine connections, this isn't necessarily a bad thing.

All in all, we give this online dating service a thumbs-up. It's got a cheery, positive attitude and doesn't pretend to be anything it's not. While it might not be for everyone, it ticks all the right boxes for those who are looking for meaningful connections or long-term friendship where their faith is an important factor in their decision-making process.
🆓 Free services and paid-for services
Signing up to Christian Connection is free to begin with. Once you've registered, you'll be given a chance to see how you like it with a trial membership lasting three days. This entitles you to send up to five messages and unlimited 'waves', which are the site's version of the Facebook 'poke'.
As part of the trial run, you'll be able to browse other user's profiles, access the message boards, and set your filters to show you only the kind of people you're interested in.
On subscribing, you'll unlock further features, including unlimited messages, the ability to keep lists of the users whose profiles you've looked at, and the ability to use the private messaging service. There are two levels of membership available:
Standard: this buys you five messages a day, complete access to the message boards, and the ability to see which other users are active.
Fully Paid: this is the premium service and offers you unlimited messaging, as well as unlimited access to all the other features the site provides.
Although there are plenty of dating opportunities available through the website, its community appeal is what brings many people to its doors. The Boards play a huge part in this and are divided into five categories:
Dating Chat & Support
Lighter Notes
Out & About
Culture Vulture
Anything Else
Each board is divided into sub-topics, set by the users. As an example, on Dating Chat & Support, you'll find topics, such as Prayer Requests and Response, while in Culture Vulture, you'll find conversation starters, such as Unexpected Christian Music.
Similarly, Meetups aren't the usual fare found on sites of this sort. The Meetups are arranged by members, who'll post the time, date and location and put a little about the occasion. Members can register their interest by leaving a comment or hitting the 'going' button.
Little extras such as these make the Christian Connection much more than a traditional online dating portal.
💰 Prices
How much does each subscription package cost?
One of the major bonuses to using the Christian Connection is that it's virtually ad-free. Without having your chats or messaging interrupted by unwanted pop-ups, you're free to enjoy the site at your leisure.
However, the site has to sustain itself, which is where the subscription packages come in. For the Fully Paid level of membership, there are three packages available:
| | | |
| --- | --- | --- |
| | Monthly price | Total |
| 1 month | $24.00 | $24.00 |
| 3 months | $16.00 | $48.00 |
| 6 months | $12.00 | $72.00 |
How to pay?
Perhaps one of the downsides of the website is that there's only one method for payment, which is by credit card. However, for your security, all transactions are encrypted. There are no hidden fees; the subscription price you choose is the price you pay.
Payments are recurring, so your account will be debited the appropriate amount just before it's due to expire. If you want to cancel your membership, just head to your settings screen, where you'll be taken through the process, which is as easy as registration.
💡 How to reduce costs at Christian Connection?
With no hidden fees, the best way to get the most for your money is to subscribe to the longer packages. These offer good savings and give you full access to everything that Christian Connection has to offer.
📊 Membership structure
A welcoming website for dating, community and friendship
Both the desktop website and the Christian Connection app are aimed at people with a predominantly-Christian faith, between the ages of 18 and 55 and over. The biggest membership seems to be between the mid-30s and late 40s age group, offering a more mature approach than you'll find on regular dating sites.
There are around 100 users online at any given time and Christian Connection has reported a 50% increase in membership during the last 12 months and a 37% increase in online activity. With the congregation steadily swelling, you'll always find new faces among the familiar ones.
International appeal
While around 60% of the members are from the US, Christian Connection attracts like-minded Christians from across the world. Browse the profile pages and you'll find users from as far as the United States, Canada and Australia.
✍️ Registration
Time needed: 4 minutes.
Signing-up to this online community can be broken down into five simple steps:
Sign-up

Enter your email address and you'll be taken to the 'Welcome' page. Hit the 'Let's do this!' button and you're on your way to becoming a member

Select your preferred gender

You'll be asked whether you want to meet males, females or both

Enter your name

Only your Christian name will be on display to other users

You'll now be asked for your location and mobile number

Your location remains hidden and your phone number is only used for the site to send you SMS notifications telling you when you've received messages

Sign-up (or not) for the Christian Connection newsletter

Finally, you'll be asked to create a password and asked whether or not you want to receive the Christian Connection newsletter. From here, you're free to personalise your profile and start chatting with other members.
Once you're registered, you can spend three days using the site as a Trial Member for free. After that time, you can decide whether you want to subscribe.
📱 User-friendliness and the app
When we decided to put together our in-depth Christian Connection review, we wanted to pay special attention to the site's user-friendliness.
From the moment you find yourself on the homepage, you can tell everything is exactly where you want it to be. With a pale blue background and a white navigation bar at the top, all the options are easy to see.
The navigation bar is the only thing you need to see yourself around the site. It holds all the pages you need, including 'Lists', 'Boards', 'Meetups' and 'Blog'. These are all written in a deeper shade of blue, marking them out from the rest of the page.
The background colour also helps to make other users' profiles stand out. To view a particular user, just click on their profile pictures. For the Boards and Meet-ups, click on the appropriate link on the navigation bar and you'll be taken straight there.
The Christian Connection app is just as simple to use and is a great way to keep in touch with the community or seek out dates, while you're on the go. As a Fully Paid member, you can send and receive messages in real-time and the most recent update gives you the facility to delete any you don't want.
✉️ Contacting users
Just like navigating the site, contacting other users is easy. If you're signing up with the Standard subscription, you'll be able to send up to five messages a day, while the Fully Paid option gives you unlimited messaging.
To contact another user, click on their profile picture. You'll be taken to their profile page, where you can learn a little more about them. Just below their picture, you'll see the option to Message or Wave. The Message button is blue, and the Wave button is pink.
Waving is a way of letting someone you're interested in them, without messaging. It's intended as an ice-breaker and is a good way of getting another user's attention. To message, click the blue button and write your message, before hitting 'Send'.
👍 Pros and cons 👎
What we like
The site is incredibly positive and very easy to use
The free version allows a lot of access to singletons and other users
The Boards and Meetups offer other ways to interact with members
Trial membership allows you test-drive the site, before subscribing
What we don't like
Messaging is restricted to paying members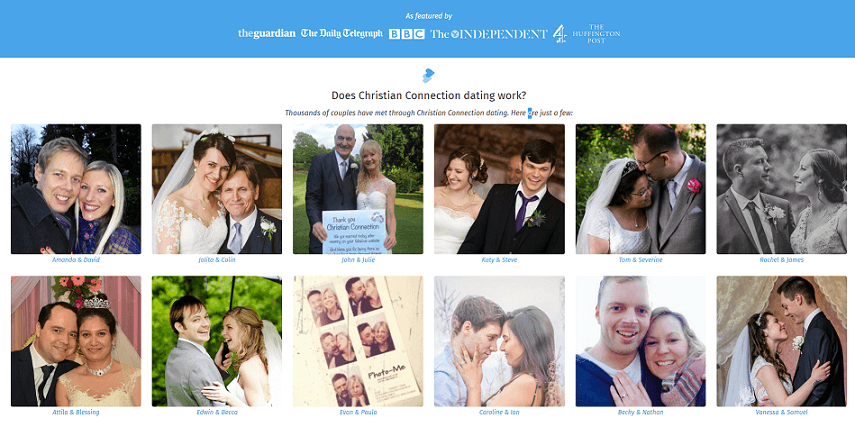 🙋 FAQs
Is Christian Connection legit?
Christian Connection has been active for almost 20 years and continues to attract users for both its online dating service and for getting to know like-minded people. It's mercifully free of fake profiles and offers single Christians a safe environment in which to pursue serious dating.
How does Christian Connection work?
Users subscribe to be able to message other members. Profiles are informative and give the option to 'wave', rather than message. The Boards and Meet-ups forums provide an alternative way of getting in touch and some users regularly meet in the 'real' world.
How do I delete my Christian Connection account?
Cancelling your subscription is quick and hassle-free. Go to your Settings page, click 'Cancel Subscription' and recurring payments will be stopped. However, you'll still have access as a member, right up to the end of the period you've subscribed for.
Where can I find Christian Connection events?
The 'Meet-ups' page is where you'll find all the details you need, including the time, place and a bit about the event. You can comment to find out more or register your interest by pressing the 'Going' button.
How do I contact Christian Connection?
The website operates a virtual helpdesk, which you'll find in your account settings, under 'Help & Support'. Click that and you'll be taken to a page, where you can write your query. Alternatively, you can email: [email protected]
How long does the Christian Connection free trial last?
The free trial lasts for three days. Once it expires, you'll only be able to respond to other users, using pre-written replies.
Wondering if modern dating meshes well with Biblical dating? Check out our look at how they line up!
ℹ️ Company details

Christian Connection is part of Widernet Communications Ltd
Address: The Pillbox Studios, 115 Coventry Road, London, E2 6GG
Website: www.christianconnection.com
Company Number in the UK: 3849530
Vat Number in the UK: 756 4398 89
Registered under the Data Protection Act 1998 Z4898414
You might be interested in the following review