Divorce Rate in America and the Reasons Marriages Fail, Updated 2022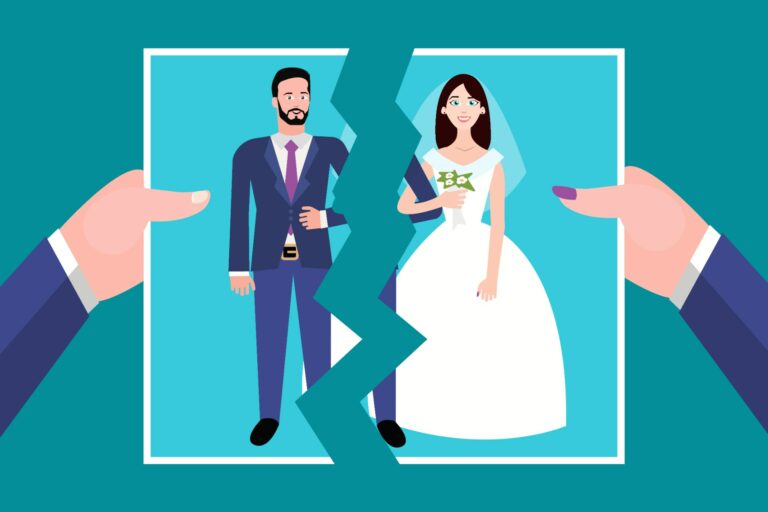 Not all marriages last. While there are fewer divorces overall in the USA, the divorce rate in America shows that a significant number of relationships still end well before "until death do us part".
In this study, we cover information about the divorce rate in America and marriages. By looking at what the divorce rate is, major causes for divorce, as well as statistics related to marriages and separations, you can gain insights into the impact of divorce on American society.
What is the average age of marriage in America?
According to the CDC, the average age for marriage in America is 27 years old for women and 29 for men. Ages naturally vary from each state, but the trend is between 25-30. Women tend to marry at a younger age than men. 
Here are some key facts about marriage in the United States in 2021:
Number of marriages on average per year: 2 million
Marriage rate per year on average: 6.1 per 1,000 total population
The state with the youngest average marriage age is Idaho at the age of 25.1, although you can marry under the age of 16

According to regain.us, a court order and written parental consent are needed. 102 girls under the age of 16 were married in Idaho between 1999 and 2016.

Massachusetts has the oldest average age of marriage, with women marrying at 29.7 and men at 30.9.

Massachusetts also boasts the 4th lowest divorce rate in the United States.
What is the US divorce rate?
The Center for Disease Control (CDC) lists the current divorce rate in America is approximately 2.7 per 1,000 people as of the end of 2021. This means that there are around 750,000 divorces per year in America.
This is lower than in previous years. In 1980 the divorce rate was at 5.2 per 1,000 people. Let's take a look at the main causes of divorce.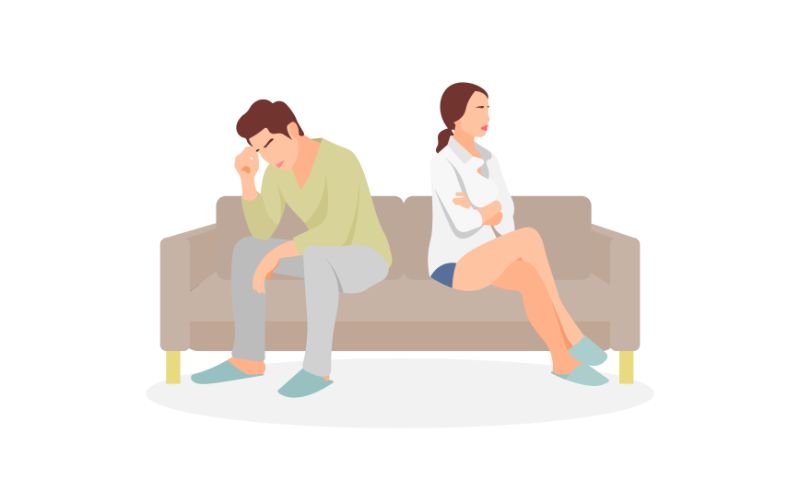 What is the major cause of divorce in America?
Shelby S. Scott states in his article "Reasons for Divorce and Recollections of Premarital Intervention" that the major cause of divorce in the US is infidelity. The article was published for the US National Institutes of Health in the journal National Library of Medicine.
Other common contributors include:
A lack of commitment
Conflict or arguing
Substance abuse
Domestic violence
Infidelity is usually the "final straw" that pushes most couples to separate. It's worth noting that most participants in this research project stated that they blamed their partner for the divorce.
The average divorce rate in America broken down
The divorce rate in America can be broken down by factors such as age, ethnicity, or whether the couple has children. These all play a significant role in the likelihood of divorce.
Below you can find demographic statistics relating to divorce rates in America.
The average divorce rate in America by age
Age plays a major role in divorce rates, with rates being higher amongst younger people and lower for older people:
| | |
| --- | --- |
| Age Range | Divorce Rate |
| 15-24 | 27 divorces per 1000 people |
| 25-34 | 23 divorces per 1000 people |
| 35-44 | 21 divorces per 1000 people |
| 45-54 | 18 divorces per 1000 people |
| 55-64 | 12 divorces per 1000 people |
| 65+ | 5 divorces per 1000 people |
The data is provided by the US Census Bureau: American Community Survey for the National Center for Family & Marriage Research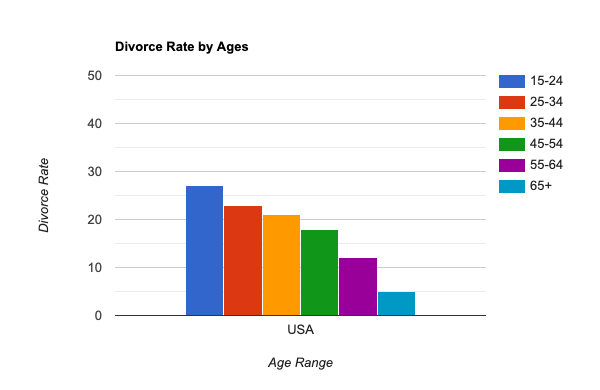 The reasons for divorce being less likely the older you get include higher levels of trust, children, and shared mutual interests. The biggest divorce rate drop occurs at 65+ with another significant decrease happening for those who are 55+.
The average marriage and divorce rate in America by ethnicity
According to Pew research in 2020, marriage rates vary significantly across different ethnicities in America. According to the latest research, the following was found for marriage rates:
54% of white adults ages 18 and older were married
60% of Asian Americans were married
46% of Hispanics were married
30% of African Americans were married
Research also found the following for intermarriages, which is marrying a person of a different race or ethnicity:
Asian (29%) and Hispanic (27%) newlyweds are most likely to intermarry in the U.S.
Black (18%) newlyweds have seen the most dramatic increases for intermarriage with 18%, up from 5% in 1980.
White newlyweds (11%) are married to someone of a different race or ethnicity.
How does race impact marriage and divorce?
Divorce rates also vary based on ethnicity, with Asians having the lowest divorce rates and Native Americans experiencing the highest divorce rates:
Asian American women (18%) and men (16%) have at least one divorce in their lifetimes.
Spanish/Hispanic/Latino women (30%) and men (27%) have at least one divorce in their lifetimes.
Caucasian women (38%) and men (36%) go through a divorce at least once in their lifetimes.
Black women and men (42%) both experience similar rates of divorce.
Native American women (45%) and men (44%) have at least one divorce in their lifetimes.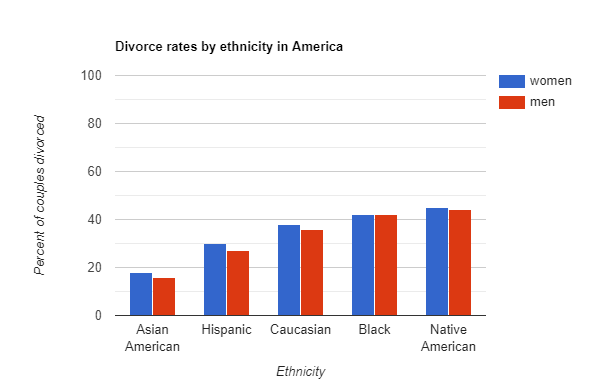 Despite these numbers, there are some key points to remember about ethnicity and the divorce rate in America:
Almost all racial-ethnic groups had more marriages than divorces.
'Women who identify as "other" including Asian, American Indian, Alaska Native, and multiracial women, have the highest marriage to divorce ratio (3.0).

This means that 3 women married for every 1 woman who divorced.
Further statistics include Hispanic women (2.5) followed by White women (2.1) and Black women (1.6).

Pew Research in 2020 showed that black women were the only group who had a higher divorce rate than the marriage rate.

31 divorces per 1,000 married women aged 15 and older and only 17.3 marriages per 1,000 unmarried women.
The average divorce rate in America for interracial marriages
The National Council on Family Relations (NCFR) explored divorce rates between interracial couples in the United States using data from the 2002 National Survey of Family Growth. The study analyzed 6,000 men and women between the ages of 15-44.
Interracial marriage pairings were compared to statistics for a white man and a white woman unless otherwise stated. The study found that:
Marriages between a black man and white woman were twice as likely to lead to divorce.

When adjusted for other factors such as age at marriage and educational level, differences between black men/white women marriages and white men/white women marriages leveled out.

Asian men/white women marriages were 59% more likely to end in divorce.
Marriages involving a white man and black woman were substantially less likely to end in divorce; a white man/black woman divorce rate was 44% less than a black man/white woman.
A white man and Asian woman were 4% more likely to end in divorce.
Hispanic white/non-Hispanic white and Asian/white marriages were more liable to divorce than those of Hispanic whites and Asians.
Marriages including a black man and white woman were more prone to divorce than those composed of black men and black women. Black men/white woman couples also had the highest likelihood of divorce of all white/non-white marriages.
While interracial marriage correlates to a higher rate of divorce, this parallel applies mainly to marriages involving a non-white man and white woman.
The average divorce rate in America for couples with children vs couples without children
The average divorce rate in America for couples with children is 6 divorces per 1000 marriages. The average divorce rate for couples without children is 15 divorces per 1000 marriages. Divorce rates for couples with children are 40% less than childless couples.
Having children does not always reduce the likelihood of divorce. If you have a child before marriage, you are 24% more at risk of getting a divorce. Based on data from the U.S. Census Bureau, having twins or triplets also increases the risk of divorce by up to 17%.
The average divorce rate in America for couples who experienced loss or grief
The average divorce rate for bereaved couples is 1.6 divorces per 1000 marriages. However, the death of a child only accounts for 0.4 divorces per 1000 marriages. The majority of divorces for couples grieving are due to pre-existing issues in the marriage.
The divorce rate for bereaved couples is up to seven times higher according to the most recent statistics from The Compassionate Friends society, a bereavement support advocacy group. Their survey includes small-scale observations and meta-studies from therapists and counselors across the United States.
Same-sex marriage rate and divorce rate in America
With the legalization of same-sex marriage at the federal level occurring in 2015, there is less divorce data available for same-sex couples than for straight couples. Same-sex historical divorce data is not as available.
Nevertheless, there are emerging marriage trends that LGBTQ+ groups, such as the Williams Institute, have observed:
20% of same-sex couples have decided to get married or enter into some form of recognized union.
Lesbians represent two-thirds of married same-sex couples.
Gay couples have a clear preference for marriage over civil unions or domestic partnerships.
Currently, available data suggests that divorce rates for same-sex couples are in line with national averages.
What is the divorce rate in the US military?
The combined divorce rate for the U.S. military is 3.7%. The Air Force led all military personnel with a divorce rate of 3.9%, the highest it has been in 20 years. The Marine Corps had a divorce rate of 3.8%, which was the same as it was in 2010.
Contributing factors to military divorce rates include infidelity, stress related to having a spouse on deployment or having to move homes frequently, and instability in the family.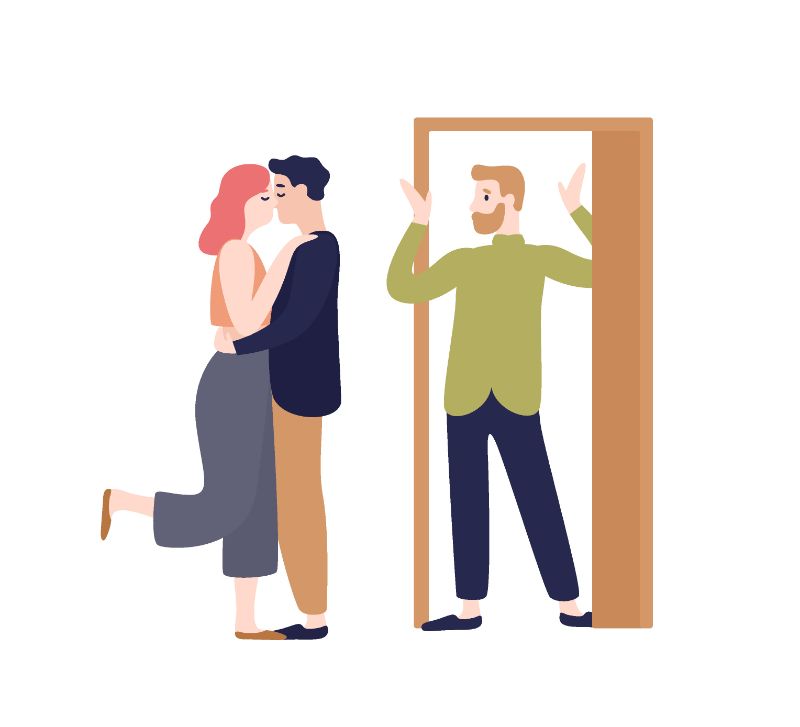 Casual dating recommendations
Check out our latest recommendations for the top hookup apps and dating sites and sign up today for free:
Serious dating recommendations
Here are our top online dating services for finding a long-term relationship. Sign up for free today!
FAQs about the divorce rate in America
The divorce rate in America varies by region, ethnic groups, and age groups. We have answered some of the most frequently asked questions about the divorce rate in America to give you better insight into the matter.
What is the #1 cause of divorce?
Adultery is the most common reason cited for the divorce rate in America. Adultery is when a spouse has a sexual relationship outside the marriage. Commitment and exclusivity are core aspects of traditional marriage expectations, and infidelity is the main cause for couples seeking a divorce.
Which country has the highest divorce rate?
According to the UN, the country with the highest divorce rate in the world is the Maldives with 10.97 divorces per 1,000 inhabitants per year.
Who is more likely to commit adultery in a marriage?
Men are more likely than women to cheat: 20% of men and 13% of women reported that they've had sex with someone other than their spouse while married, according to data from the recent General Social Survey (GSS).
Are second marriages more prone to divorce?
It's true too that many second marriages after divorcing have a higher chance of ending in divorce as well. Dating after a divorce can still work so you find your perfect partner. Anything is possible and dating after divorce is common.
Final thoughts about the divorce rate in America
Divorce is a complex subject for many people, and how we approach problems in marriage has drastically changed over time. Whether it is because your partner has cheated on you or because you want to get out of a bad relationship, divorce is sometimes the best solution.
While the divorce rate in America paints a nuanced picture of modern American marriage, the takeaway is that divorce rates are decreasing. Divorces, while rarely a happy occasion, give opportunities to both individuals that can lead to a better relationship and more happiness.