eharmony Free Trial: Learn How to Try eharmony Premium for Free (2023)
With over 10 million users, eharmony is one of the most popular matchmaking sites in the United States for finding a serious relationship. The in-depth personality test and high-quality compatibility system make the dating site worth a try—but not without a price.
The costs of the premium eharmony 1 month subscription are higher than the industry average, so it is understandable that users may want to try the service before committing to a subscription plan. Read our eharmony free trial review to find out how you can try premium for free.
Table of contents [ Show Hide ]
Is eharmony free?
eharmony offers free registration and a number of free features. You can join the community for free without providing your credit card information, and you can use your free eharmony account for as long as you want. The basic membership serves to get a feel of the site and its members.
Free features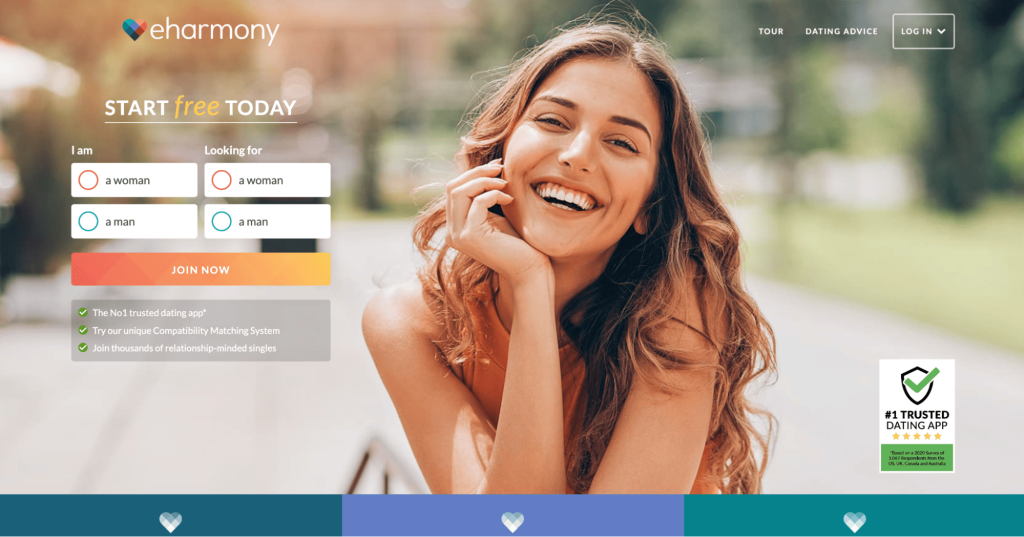 Setting up your account and profile is free on eharmony. Thanks to the personality quiz, you may have access to a number of profiles that likely match your relationship type. Here is what you can do on eharmony as a basic member:
Register
Take the personality quiz and fill in your profile
Get unlimited matches every day
Communicate with other members using smileys, icebreakers, and greetings
Respond to your first message
Browse other profiles anonymously
See the profiles you recently visited
Premium membership on eharmony
In order to enjoy the complete dating experience and start communicating with other users, you may want a premium subscription. Without a premium membership, you can't see the photos of your matches or properly communicate with them. Once you have an account, you can easily buy a premium subscription.
Paid features
If you decide to buy a subscription plan, you will get all of the features of the basic membership plus the premium features, which include
messaging other members
using enhanced search and filters
using distance search
seeing all your matches' photos
accessing exclusive dating content and tips
eharmony compiling your unique personality profile
finding out who visited your profile
a free review of your profile
eharmony premium prices are above the industry average. More detailed information on eharmony prices is available in our eharmony price breakdown.
Getting an eharmony free trial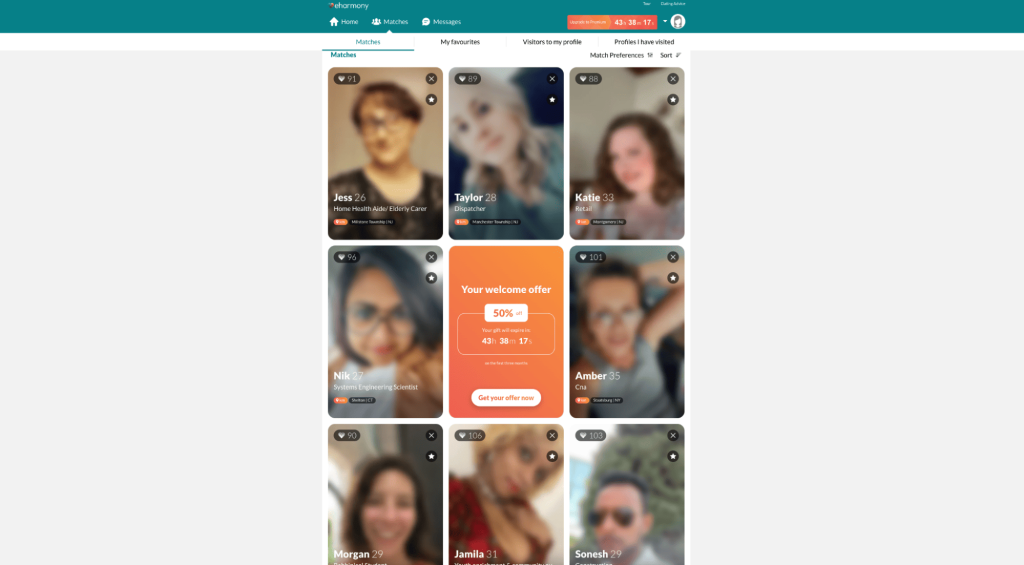 To save on your premium subscription, you can make use of specials, discounts, and promo codes. Once you register, you will be automatically informed about any discounts and specials.
If you want to try an eharmony free trial for a premium membership, there are several ways to access it.
Option 1: the free trial hack
While an eharmony free trial for one month doesn't exist, it is still possible to try eharmony's premium features for free for a limited time by using a hack. Follow these steps to try eharmony premium for free:
Register on eharmony for free
Complete the personality test and fill in your profile
Sign up for a premium eharmony 1 month subscription
Give Premium a try and enjoy the new features
Cancel your premium eharmony 1 month subscription within 3 days
If you don't cancel your subscription within 3 days of registering, you will have to pay the full 1-month premium subscription price. 3 days are normally enough to try the dating site and its services and decide if you like it. If you cancel in time, you may get a full refund.
💡 Important: In order to use this hack, you have to live in one of the states eligible for a refund which are Arizona, California, Colorado, Connecticut, Illinois, Iowa, Minnesota, New York, North Carolina, Ohio, Rhode Island, and Wisconsin.
Option 2: free communication weekends
Another great option for trying out premium is the free communication weekend. eharmony occasionally offers events lasting from 3 to 6 days, where you can communicate with all members for free. The downside is that while these weekends allow access to more features, they do not make all premium features free, so you still can't see your matches' photos or use enhanced search.
There are no set dates for those events, as eharmony wants to keep it a surprise. In the past, free communication weekends have been scheduled on 3-day weekends and holidays because people usually get time off of work and have more time for chatting with other singles. To find out when the next free communication weekend will be, pay attention to the eharmony communication channels.
💡 Our tip: Sign up to eharmony for free today in order to get automatically notified by email when the next free communication weekend will take place.
FAQs
Here are the answers to some of the most commonly asked questions about the eharmony free trial options.
Does eharmony have a free trial?
eharmony doesn't offer a free trial officially, but you can try our eharmony free trial hack mentioned in our review or wait for a free communication event. To save some money on a premium subscription plan, you can search for eharmony promo codes. 
How can I get eharmony for cheaper?
Sign up for free at eharmony in order to receive information about promo codes and discounts via email. Upon registering on eharmony, you are also offered a discount for new members. If you choose a 12-month plan, you can save up to 50% compared to a month-by-month subscription.
Is paying for eharmony worth it?
Most members say eharmony is worth paying for.  Your chances of finding a good match are high because the site features a well-thought-out compatibility system. Paying for premium is worth it if you want to be able to message your matches. 
Our final thoughts
eharmony is a high-quality dating service for serious relationships. In order to get an eharmony free trial, you can use our eharmony free trial hack or attend a free communication weekend. To save some money on your premium subscription, use discount codes and specials.
We also recommend signing up for eharmony in order to receive notifications about upcoming events. For more recommendations on dating apps for long-term commitments, check out Datingroo!
These are some of the leading dating apps in the match-making market. Sign-up today for free: