Tinder for Trans People: Is It a Safe Space?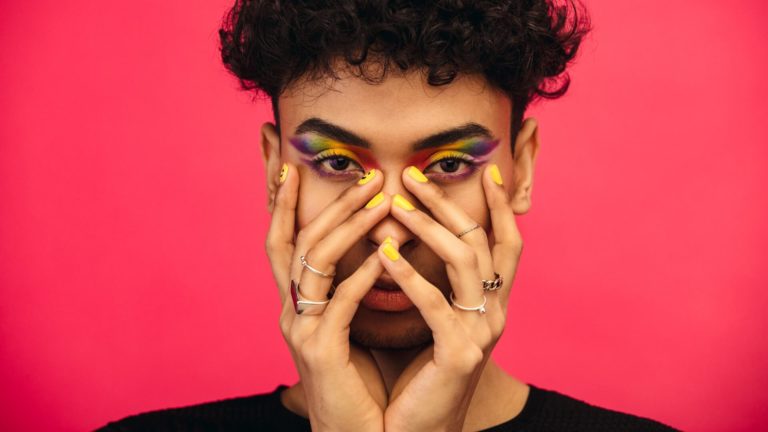 Online dating — especially during the COVID-19 pandemic — has its own challenges. However, it can be much more difficult for transgender people who want to find a relationship.
Tinder is still one of the top dating apps worldwide, especially for young adults with over 50% of the users being between the ages 18-29 according to a report by SurveyMonkey Intelligence.
Despite its popularity, there are some elements that pose a challenge for trans people trying to use Tinder, especially if they are searching for a long-term relationship.
In this article, we will review some of Tinder's current features and talk about the difficulties that trans people face as they navigate the world of online dating.
Table of contents [ Show Hide ]
Does Tinder work for trans people?
To answer this question, let's take a look at some key features of the app:
Tinder's layout – Most dating apps have a layout that makes each user's photo the main object of their profile, and that is especially true for Tinder. The profile photos use the majority of your phone's screen space and only includes a portion of the potential extra information of that user's profile at the bottom of the photo. If someone has more than a few lines of text written to explain more about themselves, it will not be visible unless you click on that user's photo to see the rest of their profile.

Why is this a problem?

It may not be an issue for every person using Tinder, but it can be limiting for trans people.

If a trans person wished to share more information about themselves in advance on their profile, there is a chance that it may be easily missed if other users do not click on their photo to see the extra information.

With limited information being displayed up front, there is a chance of miscommunication or disappointment if the other user had swiped and matched with the trans person without seeing the additional information.
Gender and sexuality label options – A feature that Tinder has gradually yet continuously improved on is their 'I Am' and 'Sexual Orientation' options.

The 'I Am' option is the place for a user to not only select but also have the option of displaying their gender identity on their profile.
Besides 'man' and 'woman', you now have the option to select 'more' and type in your own identity to display on your profile.

Other than trans people being able to express their identity, anyone can now write the identity that fits them best rather than being forced to choose from a pre-determined list.
No messages without a match – As anyone that uses Tinder is aware, users cannot send messages unless they have matched with each other.

The positive thing about this feature for trans people is it can drastically reduce the amount of bullying and microaggressions that they may experience elsewhere. However, on the flip side matching with someone does not mean a person will never experience hateful messages.
Besides some concerns about the layout of the app, Tinder appears to have been making an effort to improve in other ways. The 'I Am' gender identity option is one of the most significant updates that allows users to showcase their identity no matter what that may be.

In general, Tinder is a solid choice that can be used by trans people, but one thing to keep in mind is that the app has a diverse userbase with varying preferences and opinions.
Online dating as a trans person is difficult
Trying to date as a trans person comes with its own set of challenges.
As mentioned above, one issue that trans people struggle with is bullying and microaggressions. Even if a match is made on an app such as Tinder, it may not be a genuine match and the person on the other end may have used their profile simply to attack others.

Even though a 'match before messaging' mechanic exists on most dating apps, the true nature of others does not appear until those first few messages.
Another challenge that trans people face with online dating how much focus is placed on both photos and first impressions.
Here's why trans-trans relationships can be easier than trans-cis dating relationships.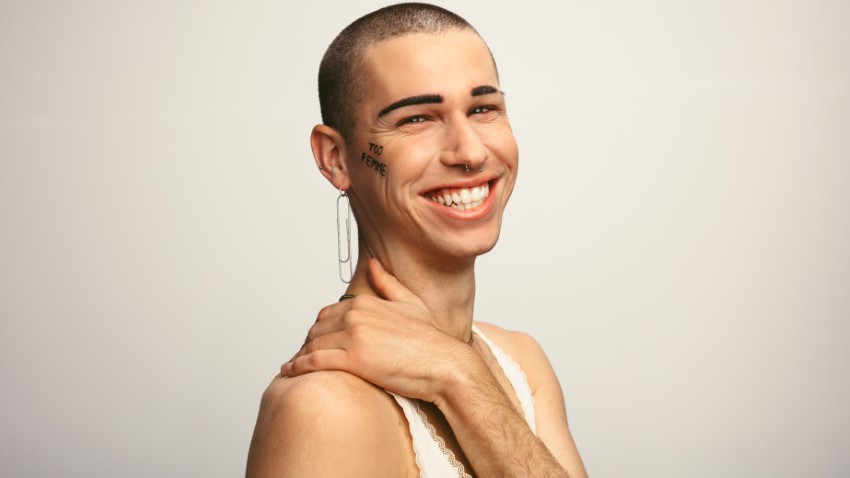 Unfortunately, people can be biased when it comes to what they want their partner to look like. Trans people often exist outside of the cis-gender presentation that other people may expect, which can immediately deter others from swiping on their profile.
Simply the fact alone that someone is trans and perhaps does not look cis can cause a trans person to lose potential matches.
This causes many gender-diverse people to question whether they should even disclose their identity on their dating profile; or whether to tell their potential match about it at all.
When you browse through hundreds of profiles, it's difficult to get a truly accurate impression of someone. It's not currently possible to list every single hobby, interest, favourite music artist, etc. on a dating profile, so how can you know if you may be compatible with someone with such minimal information until messages can be exchanged?
It's these types of limitations with sharing information that can also contribute to trans people losing potential matches.
Besides the bias some people have against dating a trans person, there can also be potential issues with microaggressions even if someone is interested in dating them.
Questions that trans people hear a lot, such as "have you had XYZ surgery" or "you're pretty for a trans girl" can be traumatic even if the other person believes they have good intentions.
These types of questions are considered to be microaggressions and should be avoided, especially when first meeting a trans person. Willingness to learn is valued, but people need to ask for permission to ask personal questions and try their best to ask them in the most respectful way possible.
Safe online dating spaces are needed
With online dating becoming commonplace for people looking for anything from hookups to long-term relationships, there needs to be more considerations for people that exist outside of cis-gender and heteronormative boxes.
Apps like Tinder have been improving over the years in an effort to become more inclusive, but more work still needs to be done.
One of the most effective ways to boost awareness is through education and exposure. Especially in recent years, more celebrities have come out as transgender which will continue to help the community receive the recognition it deserves.
Elliot Page has recently brought more visibility to the trans community when he came out as a trans man in December 2020. With his public coming out announcement and his decision to not medically transition, his journey is helping to shed some much-needed light on the trans community.
Despite more visible people such as celebrities participating in education and activism, in the meantime there needs to be more safe spaces for trans people.
There are many dating apps out there, but there has yet to be a truly safe one for trans people.
MyTransgenderCupid claims to be dedicated to trans people looking for relationships, but it has become infamous for being an epicenter for people specifically looking for and fetishizing trans people. Grindr – a dating app catering to gay men – tends to dismiss trans men and focuses more on cis-gender people.
Our recommendation for transgender dating sites and apps
Here are our latest recommendations and top picks for the best transgender dating sites and apps:
Alternatives to Tinder
Even though more work needs to be done to create a true safe online dating space for trans people, what other options that are similar to Tinder are there?
Bumble – This app has mechanics that are very similar to Tinder such as displaying a large profile photo with minimal up-front information until you scroll further down.
A feature that also similar to Tinder is their gender identity options. Not only does Bumble have a long list of pre-made identities ranging from non-binary to two-spirit, but at the bottom of the list it also gives you an option to write your own identity.
One thing that appears to be unique to Bumble is their messaging system. For a heterosexual match, women are the only ones that have 'First Move' privileges to message a man they have matched with. However, for other matches, both parties have the option to make the first move.
OkCupid – Although this may not be the first app that many people think of, it has interesting features that deserves a spot on this list.
To start, OkCupid was the first large dating app to have an option for users to display their pronouns and now offers 22 gender options and 20 sexual orientation options.
One of the most interesting features for trans people on OkCupid is an option to answer some gender and sexuality questions to appear on your profile. Some examples include, "when did you come out?" and "are gender and sexuality labels important to you?".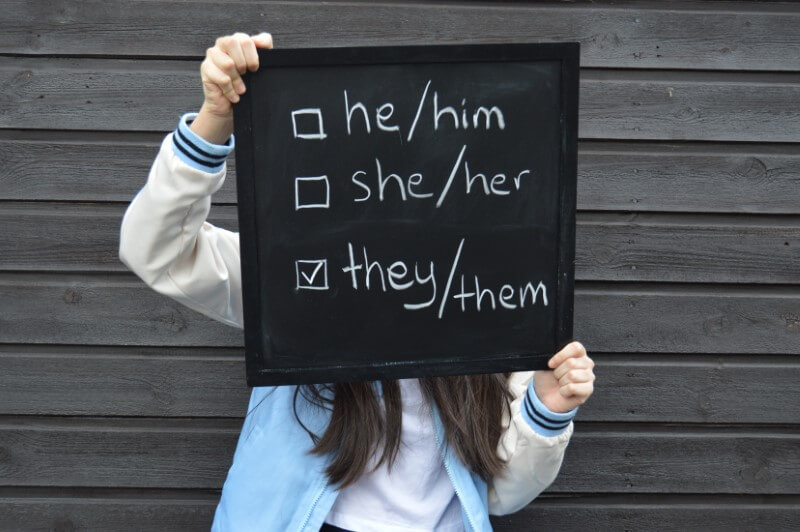 Bumble and OkCupid still have areas of improvement, but both apps are popular and have similar features to Tinder. For now, trans people should be cautious about using dating apps such as MyTransgenderCupid that claim to cater specifically to trans people because it tends to attract people that fetishize the community.
More awareness and education need to be done to help create safe online dating spaces for trans people, but there appears to be continuous improvement on apps such as Tinder, Bumble, and OkCupid even if it may be slower than we would like to see.
Notes from the author
"Thank you for reading! My name is Felix, and I am a trans man who wrote this article. Based on my experience using dating apps (usually Tinder), I do wish there could be other features added such as perhaps a more visible label or badge to display pronouns and gender identity as well as the ability to answer questions and display them similar to OkCupid.
I also found an interesting suggestion, but it would ultimately depend on the general population becoming more inclusive and educated about trans people. The suggestion was for people to state in their profile if they are open to dating trans people. There is also now a trans flag emoji that can be put to good use!
Personally, I have not experienced many microaggressions or hateful comments, but that doesn't mean it doesn't happen. It's important to continue learning from each other so we can build a better world together."