LOVOO Review, Updated 2023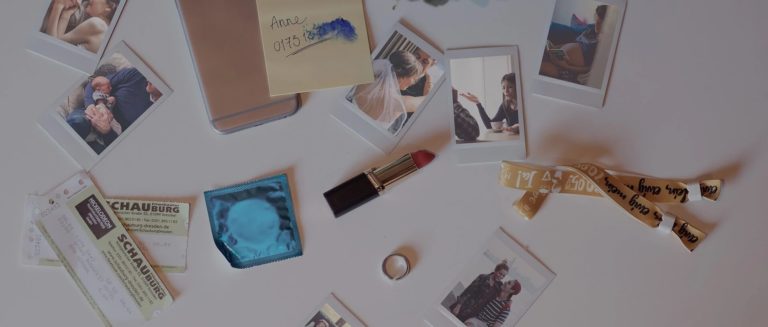 LOVOO is one of the fastest growing and popular social app and network dating sites in the world. It has a staggering 70 million members, which is a lot of singles to choose from!
The site's success comes from their specialization in location specific apps for mobile with Android and iOS. This dating site is responsible for over 4,200 new relationships a month and rising.
LOVOO works hard to improve and evolve their features, which has earned them a lot of respect from a younger generation that appreciates dedication to providing the best up-to-date services possible. This commitment has set LOVOO apart from its competition a one of the best dating apps.
Whether you are looking for dating, love, fun, or just want to chat to make new friends, LOVOO will give you the best chance possible with its high-quality apps and site.
To show you why we think LOVOO deserves the praise it gets, we review LOVOO and look at its members, the user-friendliness of the site and the LOVOO mobile app, and its prices.
LOVOO review
For people who are serious about finding love and meeting new faces, the LOVOO dating site really does offer you the features and flexibility to be successful. Fortunately, LOVOO is an affordable social dating app and network, making it a dating site that is earnestly interested in helping singles who are looking for a committed relationship.

Because the fields in the profiles are optional, including the profile picture, members' profiles can be poorly detailed. This hasn't stopped LOVOO from helping thousands of people successfully matching for long-term relationships or finding the occasional hookup or flirt. Users have managed to nevertheless make the site work wonders for them, and LOVOO continues to be one of the more engaging and affordable social app and network dating sites.
LOVOO review: App features
The LOVOO app offers a free, simple way to sign up. You can then use the service as is or upgrade. LOVOO also uses credits independent of its memberships. How do the paid and free LOVOO dating experiences measure up?
Free membership
Host or watch live video streams
Send hearts and likes
One icebreaker daily
Use of search functions
Add users to your favourites list
Paid membership
See who visited your profile or liked you in match
Be shown more often in match
Send more icebreakers
See all the likes you have given and find your favourites again
Chat with newly registered people near you before everyone else
Adblock
Visit other profiles unnoticed
LOVOO review: App pricing
There is one type of paid membership on the LOVOO app with prices ranging from $2.50 per week to $0.90, the longer you subscribe for the cheaper it gets. You can pay using a credit card, PayPal or Paysafe card.
Premium monthly plans
Premium memberships auto-renew when purchased but can be cancelled anytime.
| | |
| --- | --- |
| LOVOO app membership | Price |
| 1 month | $9.99 / Month |
| 3 months | $8.33 / Month |
| 12 months | $5.83 / Month |
Credits – what they do and how to earn them
These show the blurred profile visitors and Match votes. You can either earn credits for free daily for logging in or through app downloads. You can also earn them by:
Verifying your email address
Verifying your account
Connecting to Facebook
Inviting Facebook Friends to the LOVOO app (100 credits every time!)
LOVOO app credits – bundle costs
| | |
| --- | --- |
| Amount of credits | Price |
| 300 credits | $3.49 |
| 550 credits | $5.49 |
| 2500 credits | $17.00 |
| 8000 credits | $33.60 |
LOVOO app savings
Take advantage of their payment plans
LOVOO offers various upfront discounts. The average cost per month reduces the longer you sign up for (Up to 57%!)
If you only want to test the site out, you can earn credits freely by simply logging in. This is a great way to test out the match game and view profiles with zero cost!
If you don't want to wait, the 1-month plan is more than enough time to test out the site's features to the fullest. With the 300 credit bundle, that would put you at about $12, which will give you a full test of the site for a full month to see if its right for you.
Many of the site's features can be tested even for free, so give them a look to see if you would want to spend a little extra to get the full experience.
LOVOO reviews: Who can I chat with?
How many LOVOO users in the US?
LOVOO estimates that there are 7 million US users, with almost 2 million active daily users.
LOVOO's demographics of love
The dating gender ratio of LOVOO in the under 35 age range is approximately 60% male to 40% female.
LOVOO's affordability means that it attracts a wide range of demographics for dating, although its constant innovation of the LOVOO app and social network features draw in more singles 35 and under.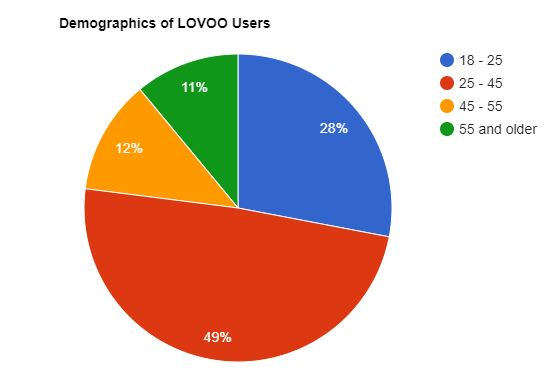 28% of users are aged between 18-25
49% of users are between the ages of 25-45
12% are 45-55 years old
11% are 55 years and older
LOVOO review: How to sign up and chat
Time needed: 5 minutes.
The registration process is quick and easy to do, and you can finish your profile at a later time if you would like.
Signing upLOVOO starts by asking for your name, location, birthdate and gender. Then it will ask for an email and password.
Browsing and setting preferencesYou are now free to explore the site and browse profiles. You can select whether you are interested in men or women by ticking the respective boxes in the lower right of the screen. You can also search based on age and location.
Building your profileAt the top of the screen you will see a tab called 'Your Profile'. Click on this and select 'Complete Your Profile Now' to add information about yourself and what kind of person you are looking for.
Upload photographsFinally, you can add a photo under the 'Your Profile' tab at the top of the screen. You will need to have your webcam or phone take the photo and wait for it to be approved by the site.
Once you have done this you can make use of the site's major features, including the Match game and Icebreakers. 3 photos are needed to see other members photos.
Your registration and profile creation are complete! You'll have to wait for verification of your photo, but you can tweak your details and browse others while you wait.
LOVOO app review: Ease of use
LOVOO dating site
Registration
During our LOVOO review, we found registration to be very straightforward and quick to do. You do need to complete your profile to get the most out of the site.
Once you are registered we advise you to collect as many of the free credits as possible so you can enjoy trying out the site's features before you pay for a premium membership.
Navigation
You can browse profiles with ease by clicking on the photos of others. Across the top of the site you can discover new people, play the match game, check your messages and notifications, and view your profile.
Profile
Profiles are simple to add to and don't require you to fill them out for your profile to be 'glanced' at (viewed) by others. Profiles also allow for as much detail as you like to add.
Matches
You can play the match game using credits so long as you have a profile picture that has been verified. People you match with can view your details and then decide to match with you or not.
It's also easy to simply browse through profiles and view their details and picture to decide if you 'like' them. Every time you click on one it will open a pop-up which shows you their photos and details. The 'like' button is located on the right with a heart in the centre.
LOVOO dating app
The LOVOO app is available on both iOS and Android for mobile and operates as a more streamlined version of the site.
Registration
The mobile version is the same process as the website, very simple to use.
Navigation
While similar to the site, LOVOO's innovation has ensured that the LOVOO app navigates fluidly.
Matches
LOVOO offers modern dating app features for mobile such as swiping matches or using location features. LOVOO makes matching exciting and interactive.
Adjusting profile
Adjusting this is easy and can be done at any time.
LOVOO chat: How it works
LOVOO encourages exploring different options for contacting users for dating or to just talk with LOVOO chat, including icebreaker which is a special form of contact request that is severely limited per day, normal chat requests, and matching.
How to contact another user:
Click on a profile you like
Select 'Chats' to the right of the profile picture
There are then two options, you can either 'Break the Ice' or 'Write a Message'
If you select 'Break the Ice' a special message will be sent which will take priority and will almost always give you a reply.
If you select 'Write a Message' you'll be able to freely type whatever you wish (up to 250 characters).
You will only be able to send one icebreaker a day with a basic account.
LOVOO review: Pros and cons
Pros:
The dating site boasts high user activity
70 million users worldwide
LOVOO Live video stream is free for all members
Members can earn free LOVOO credits
There are strict security features to secure profile authenticity
Sending hearts (likes) is free
You can add members to a favourites list
Highly interactive app
Easy navigation for usability
Cons:
Required to fill out profile details to see other members' details
At least 3 photo uploads are needed to see all photos of other members
The profiles can be poorly detailed
Search filters are very basic
Profile photo is required to use the app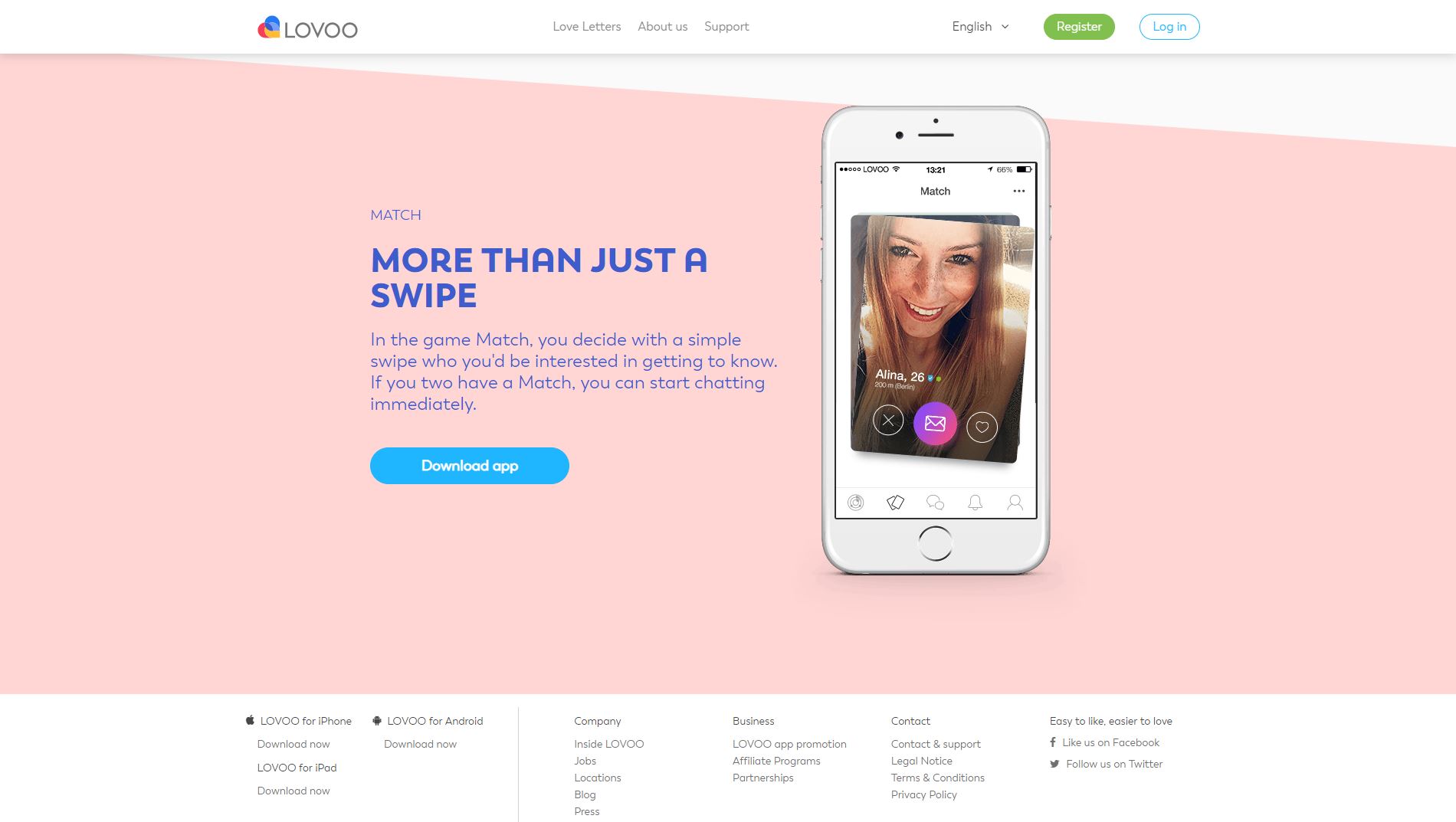 LOVOO review: FAQs
How do I delete my LOVOO account?
Go to Settings in the top right of the screen
Under 'My Account' you can select 'Delete Account'
If you don't have a password to your account, you can delete your profile by clicking on the link that is automatically sent to your registered email address
Temporary deactivation of your account is not possible.
How do I 'Like' someone on LOVOO?
Click on a profile and click on the like button to the right with the heart icon.
How do I 'Unmatch' with someone on LOVOO?
As a basic user, you can take back a vote up to three times per day and as a Premium user without limit.
Immediately after swiping in the match game, you can click on the round icon in the top left corner (iOS) / upper right corner (Android) and the last profile will be displayed again as if nothing had happened.
How can I get credits on LOVOO?
There are several ways to get credits on LOVOO:
Purchase: You can purchase and immediately receive these at any time by clicking on the credit icon in the upper right of the screen. Here you will be asked to select the bundle and will then be taken to a payment screen.
Free: By logging in once a day you will be given 5 free credits.
Earn: You can earn them through your email confirmation, verification following the initial successful verification of your account, when you connect your account to Facebook, and when you send a Facebook invitation to friends.
How do I verify my account on LOVOO?
Switch to the ´Your profile´ view.
Click on ´Verify profile´ below your profile picture (app) or to the right of your profile picture (website).
Follow the instructions. This will be reviewed by a moderator to ensure authenticity.
What are glances on LOVOO?
Glance in LOVOO shows your profile visitors. This tells you the number of visitors, and if you have a premium account, you can even view their profiles.
What is an "Icebreaker"?
Icebreaker is a special form of contact request that is severely limited per day with premium members getting more icebreakers. Icebreakers take priority and serve as a push notification for the recipient.
What is "LOVOO Live"?
LOVOO Live is a live video dating service that was integrated into LOVOO's website as a way to innovate the app and site. You can create and view videos and live streams. This is to give users a real look at one another. Anyone can use LOVOO Live.
What is the "NEARBY LIST"?
This feature shows you people that are in your area. All profiles from your radar are clearly ordered in a list to make knowing who is nearby simple.
Alternatives to LOOVO
Meet singles near you with other dating sites like LOOVO.