Picking the right gay dating app means you have the best chance of meeting the right man for you. Coffee Meets Bagel and OkCupid are both reputable dating apps. Find out which one stands out for gay singles today. See how they differ, which one is cheaper, and fits your dating needs better.
Coffee Meets Bagel vs. OkCupid for gay singles: The differences
These are the main differences between Coffee Meets Bagel, or CMB for short, and OkCupid.
Coffee Meets Bagel
OkCupid
Operating for over a decade
Operating for over two decades
2 gender options (male & female)
22 gender options (incl. male & female)
Dating app only
Dating app and website available
What makes Coffee Meets Bagel a great app for gay singles?
The Coffee Meets Bagel approach to online dating appeals to many gay singles. The CMB app isn't going to blast an endless stream of profiles at you. Instead you will get 6 curated dating profiles every day. Your daily profiles are chosen by an algorithm based on:
Singles that have liked your profile
Your stated preferences
Compatible profile criteria such as interests, education, and social circles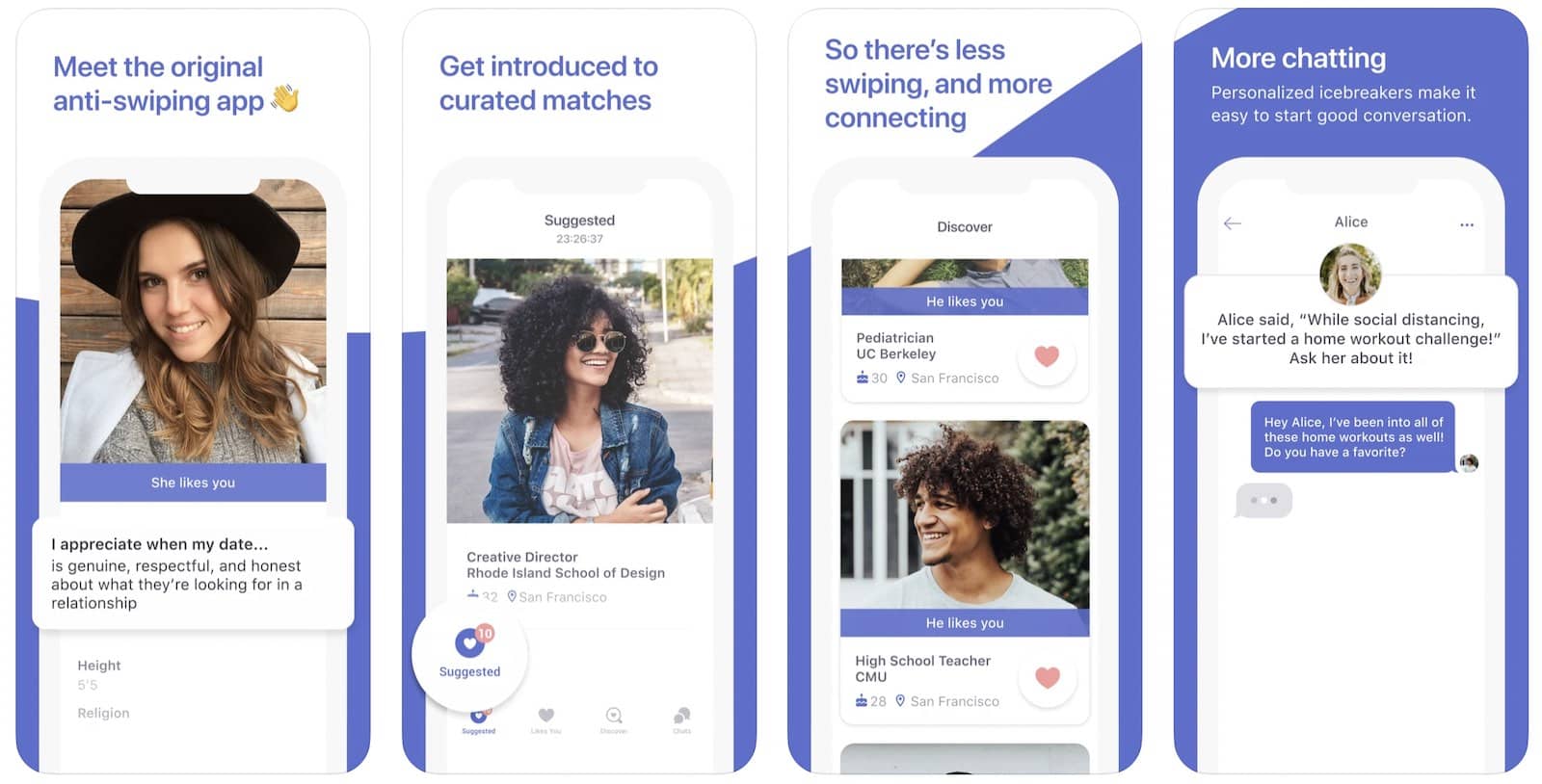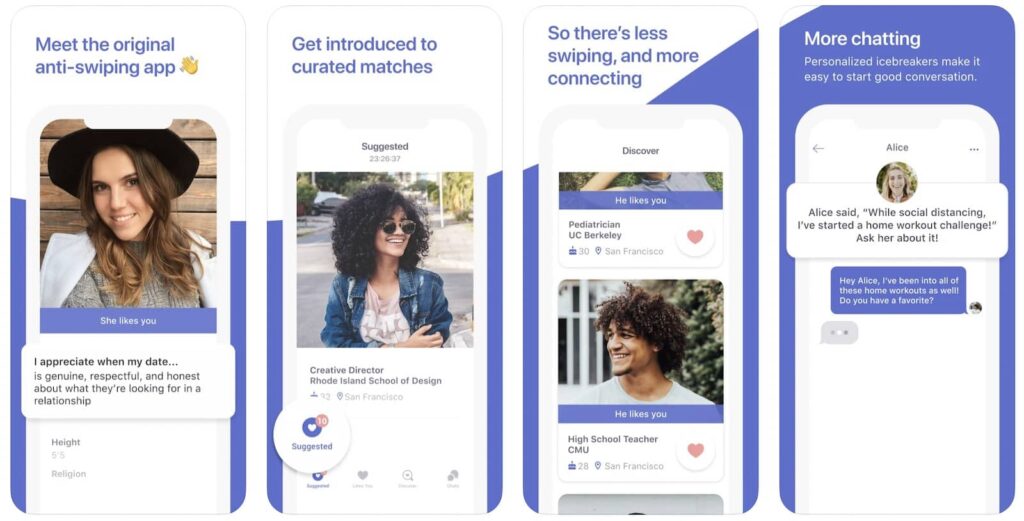 Coffee Meets Bagel considers the preferences you set when you sign up as "dealbreakers". This means the app will pick curated profiles based on your stated preferences to ensure that selected matches meet your expectations as closely as possible.
CMB has two sign-up methods: through a Facebook account or a verified phone number. This gives the dating platform potential insights into compatibility between different users.
Once your preferences are met, CMB then looks for compatibility in other categories. Coffee Meets Bagel is also able to pull some general information from Facebook to find common trends between members. All of these qualities factor into the selection of the 6 curated profiles.
While Coffee Meets Bagel doesn't necessarily advertise itself solely as a gay dating app, still, many members have successfully found their gay bagel (a match in CMB slang). The CMB blog has a dedicated gay dating section with success stories and eye-opening member polls.
It's worth checking out for the heartwarming meet-cute anecdotes, cheeky dating memes, as well as the in-depth surveys on the most adventurous places to have sex.
What makes OkCupid a great app for gay singles?
OkCupid is more proactive in terms of inclusivity. Starting with their tagline, "Dating for every single person", OkCupid starts off strong with the following gay-friendly features:
20 gender choices (in addition to male and female) available when signing up.
12 sexual orientations to choose from.
Privacy controls for LGBTQ+ singles
LGBTQ+ support articles
OkCupid's LGBTQ+ privacy controls are key feature for gay singles on the app. If your OkCupid profile is set to gay or bisexual, you can choose not to see heterosexual profiles and to not be seen by straight members, no matter their search criteria. This greatly contributes to LGBTQ+ safety on OkCupid.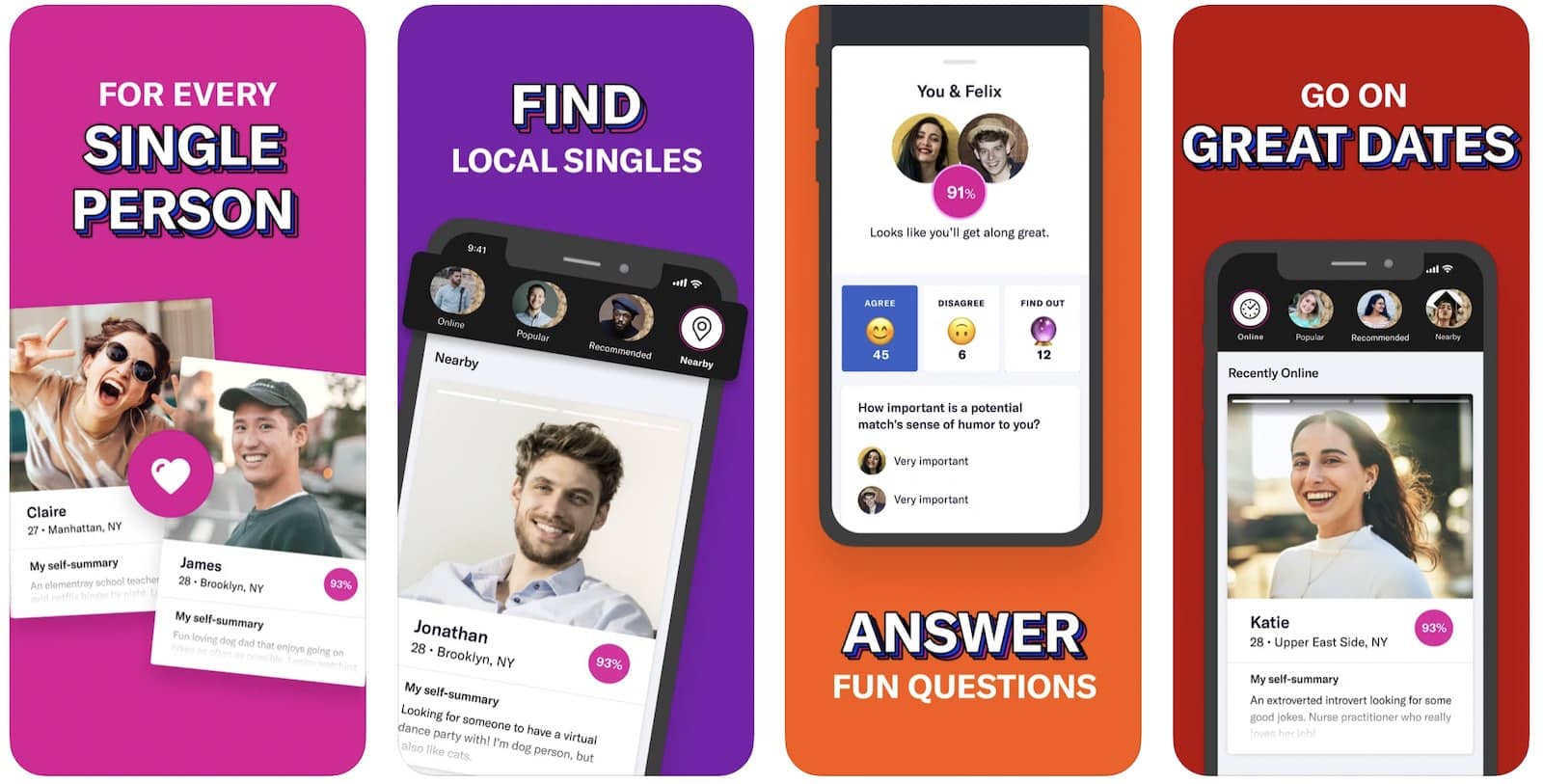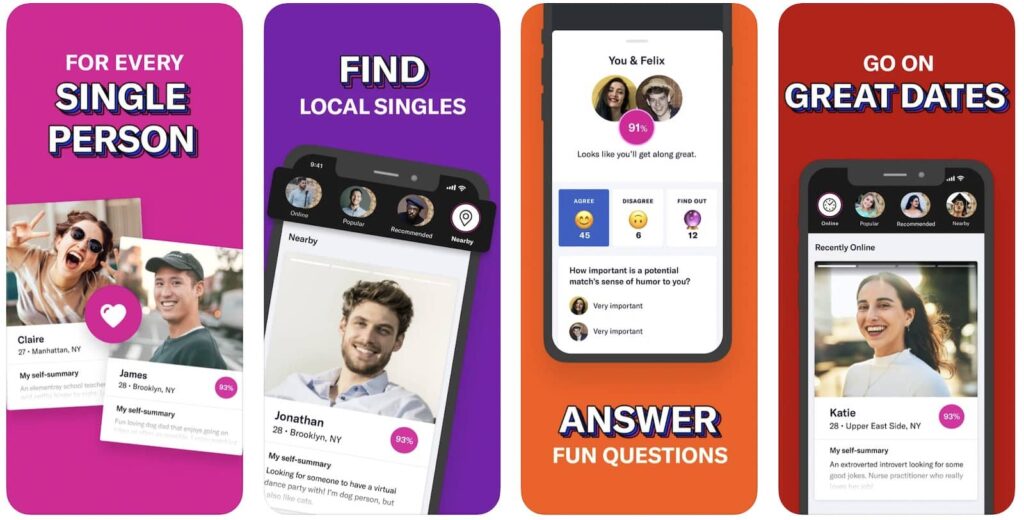 The OkCupid support center has specific resources for gay singles on the app. You can learn more about LGBTQ+ safety topics such as tips for using OkCupid while traveling as a gay single. This demonstrates that OkCupid has gay singles in mind when it comes to app features.
Picking your gay dating app: Coffee Meets Bagel vs OkCupid
The right gay dating app for you depends on your dating goals – you need to decide whether you want casual fun or a serious relationship. Dating apps are like people, you'll have to find the ones you click with. It could be Coffee Meets Bagel, OkCupid, or even something entirely different.
Online dating recommendations for gay singles
Before picking your fave app, make sure you check out our gay dating app recommendations.
Elite Singles
Meet intelligent singles who want real relationships
Numerous signups daily
Perfect matching system
eharmony
Most common dating platform in the US
For finding real connections
No negative remarks
Zoosk
Perfect matching system
Have fun with no limit
Consider a trial now!
Adult Friend Finder
Better dating option
For real connections
No hidden charges
Prompt reply
Loveaholics
Connect with singles worldwide
For individuals ready to mingle
Meet people with similar fantasies
Only-flirts
Easy and convenient interface
Many success stories
Plenty of cool members for you to have fun with
Buddygays
Best for: Popular gay male dating site with local singles
Free membership: Sign up for free
Users: Modern communication features
Gays2fuck
Easy interface
Discreet
Genuine users
Which one is cheaper: Coffee Meets Bagel vs. OkCupid
The good news is that the main features on both apps can be used for free. This includes creating a profile, viewing other profiles, and messaging gay singles you've matched with.
The bad news is that both apps charge for other features that give members a better idea of who is interested in them. See below how much paid memberships cost for each app.
OkCupid has two tiers for their paid memberships (basic and premium) at different pricing levels. Coffee Meets Bagel only has one premium subscription.
| | | | |
| --- | --- | --- | --- |
| Membership packages | OkCupid Basic membership | OkCupid Premium membership | Coffee Meets Bagel Premium membership |
| 1 month | $15.95 per month | $34.90 per month | $34.99 per month |
| 3 months | $11.95 per month | $29.90 per month | n/a |
| 6 months | $7.95 per month | $24.90 per month | $20 per month |
OkCupid is cheaper than Coffee Meets Bagel, if you're only looking for the cheapest monthly paid option. However, that's not the full story.
Below we compare the features and perks of paid memberships on OkCupid and Coffee Meets Bagel to see which one gives you most value for money
Feature comparison
| | | |
| --- | --- | --- |
| OkCupid Basic Membership | OkCupid Premium Membership | Coffee Meets Bagel Premium Membership |
| No external ads | No external ads | See all likes and match instantly with them |
| Unlimited likes | Unlimited likes | Activity reports and insights |
| Unlock all intro messages | Unlock all intro messages | Read receipts |
| Set dealbreakers | Set dealbreakers | Profile boost for 2 days of every month |
| | See everyone who has liked your profile | Unlimited Skip The Line |
| | See public answers from a profile before you answer them | 8 Discover Likes per month |
Both OkCupid and Coffee Meets Bagel paid memberships have unlimited likes. Being able to like as many profiles as you want doesn't mean that everyone likes you back, however it does make matches more likely.
The "dealbreaker" feature, where you set strict matching criteria, sounds like it's unique to OkCupid. This is not the case since Coffee Meets Bagel includes this in its free service as part of its matching algorithm.
OkCupid paid features let you like more profiles, see who likes you, as well as preview responses to icebreaker questions.
The Coffee Meets Bagel paid features stretch further. Not only can you see who likes you but you can also be seen by more members through the Skip The Line, Discover Likes, and monthly profile boosts. That last feature alone can result in a five-fold increase in profile views over a 2 day period.
The bottom line is that unless you are only after the cheapest membership possible then Coffee Meets Bagel is clearly better value for money.
The 6-month premium package from Coffee Meets Bagel is actually cheaper than OkCupid's and you get more in terms of premium features and perks.
Which one is better for gay singles? Coffee Meets Bagel vs. OkCupid
Coffee Meets Bagel and OkCupid each have their pros and cons. Let's have a look at what they are before deciding on a final verdict.
Coffee Meets Bagel pros and cons
These are pros and cons we found while researching Coffee Meets Bagel's core features and premium perks.
| | |
| --- | --- |
| Pros | Cons |
| ✅ Curated gay single profiles presented daily | ❌ Designed primarily for straight users |
| ✅ Quality over quantity approach | ❌ Limited audience outside big cities |
| ✅ Gay dating blog with great tips and stories | ❌ Less suited for gay casual dating |
| ✅ Paid options with better value for money | ❌ App-only dating service |
| ✅ App Store review score: 4.5 out of 5 | |
OkCupid pros and cons
Here are the OkCupid pros and cons that came up while looking at the service for this dating service comparison.
| | |
| --- | --- |
| Pros | Cons |
| ✅ Inclusive features and design | ❌ Not many gay singles outside of cities |
| ✅ Privacy options for gay singles | ❌ Less suited to gay casual dating |
| ✅ LGBT resources in support center | ❌ No profile curation |
| ✅ Access OkCupid through app or website | ❌ Paid features are limited |
| ✅ App Store review score: 4.3 out of 5 | |
Coffee Meets Bagel vs OkCupid for gay singles: Final round
Both dating apps are suited to gay singles looking for serious relationships. If you're after a casual date, these might not be the best apps for you.
OkCupid is designed to be as inclusive as possible, while Coffee Meets Bagel solves the problem of overwhelming choice through daily curated matches. Both dating apps are fully functional, in terms of messaging and viewing matches, without having to pay a cent. This means you can get a lot of use out of the free version.
However, when comparing which of the two apps is best for gay singles, Coffee Meets Bagel narrowly beats OkCupid. CMB has a quality over quantity approach that offers something fresh, slightly higher review scores from app users, and better paid membership features.
Dating apps compared
Check out our dating app comparisons so you can pick the best one for you.