What are the Best Secret Dating Apps for iPhone? Updated 2023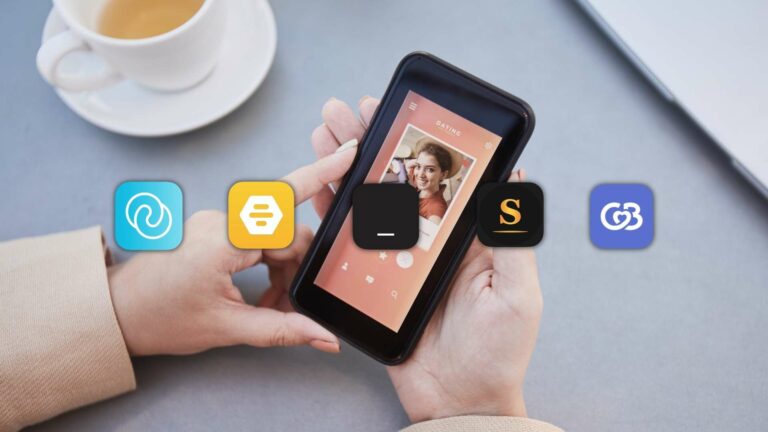 There are many well-known dating apps for iPhone, including free iPhone dating apps, but in this guide, we take a look at apps that are off the beaten path. Have a look at the best secret dating apps for iPhone.
What are the best secret dating apps for iPhone?
Dating is very personal, which is why there are several different apps to choose from depending on your lifestyle and relationship expectations. Below you can find our suggestions for the best secret dating apps for iPhone to start dating discreetly.
Best secret dating apps for iPhone if you're cis-gendered
Here are our recommendations for the best secret dating apps for iPhone geared toward cis-gendered users (users that have the same gender identity as assigned at birth).
Inner Circle
Inner Circle is an app that can help you find like-minded partners who value discreetness. Geography is key for Inner Circle since it prioritizes having its users meet face-to-face. Inner Circle has an extremely thorough screening process that keeps out fake profiles and scammers.
Pros:
👍Personalized interface
👍Access to exclusive community events
👍No fake accounts
Cons:
👎Long registration process
👎Long wait times to be approved
👎Weekly subscription price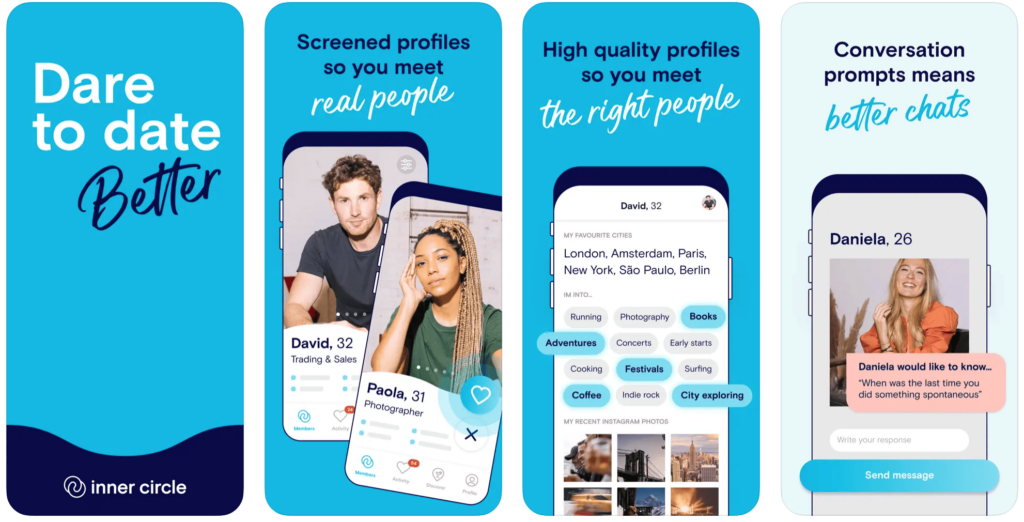 Ashley Madison
Ashley Madison has a very specific audience in mind. It is one of the most popular married dating sites because it operates under maximum discretion and is easy to use. Members are able to filter what kind of encounter they want, ranging from "short-term" to "undecided."
Pros:
👍Discretion, even on billing statements
👍Fast and easy signup process
👍Easy-to-use interface
Cons:
👎You have to pay to send messages
👎Some profiles are fake
👎You can only chat with other users that have purchased credits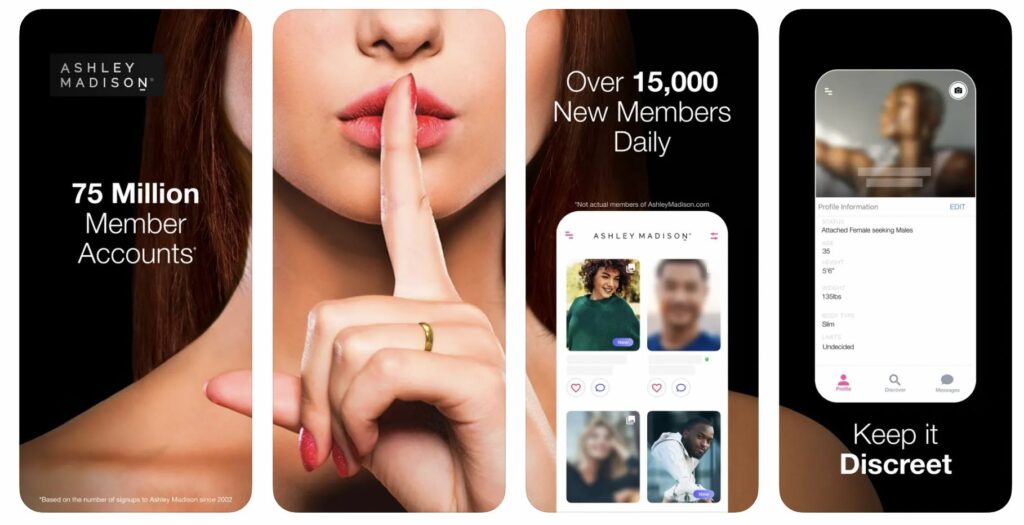 Seeking
Seeking is an app that focuses on the concept of "sugar dating"—where money forms the basis of the relationship. The app has over 11 million verified users worldwide which, once you sign up, you can search through and chat with.
Pros:
👍Simple app design
👍Free membership for Sugar babies
👍Emphasis on confidentiality and discretion
Cons:
👎Some profiles may be fake
👎Ten message limit for free users
👎You have to be a premium user to be ranked higher in searches

Blendr
Blendr is a popular app for singles because it's free and easy to use. It also features plenty of options for filtering through hundreds of millions of profiles. Singles use this app for casual dating as well as serious relationships.
Pros:
👍User-friendly
👍Lots of active users
👍Verification process included in the signup process
Cons:
👎Constant reminders to upgrade to a premium account
👎Completing your profile can take a long time
👎Challenging to search through profiles as a free user
Best secret dating apps for iPhone for the LGBTQ community
Here are our suggestions for the best secret dating apps for LGBTQ+ singles.
Feeld
Feeld is a location-based dating app for iPhone that allows singles to match based on their preferences for dating such as polyamory, swinging, or other alternative lifestyles. Feeld prioritizes inclusivity and diversity, and its users rate it very highly.
Pros:
👍Large active user base
👍Open to all genders
👍Ability to register as a couple
Cons:
👎No actual photos
👎Very strict policy of photo-sharing
👎Your account has to be synced with Facebook
Jack'd
Jack'd is a dating app that is LGBTQ+ owned. Although it presents itself as the most inclusive app for Queer People of Color (QPOC), it is primarily focused on gay male dating. Jack'd has some fun features. For example, you can share more intimate photos on your profile once you have matched with a profile you like.
Pros:
👍More than 5 million users
👍Free messaging
👍Available in more than 180 countries
Cons:
👎You cannot unblock users you have blocked
👎You lose access to the app if you delete your account
👎You can only register once per device
Coffee Meets Bagel
Coffee Meets Bagel, or CMB, may not be as well-known as Tinder or Bumble, but it is an app that many gay singles like to use because of its curated profile matching and fun features like "Truth or Dare."
Instead of having to swipe through dozens of profiles, CMB presents you with 6 profiles per day based on people who liked your profile, your preferences, and your location.
Pros:
👍Targeted daily matches
👍Profiles are more private because they are unsearchable
👍No random messaging from unwanted users
Cons:
👎Limited matches per day
👎Matching criteria are vague
👎Hard to use outside of large cities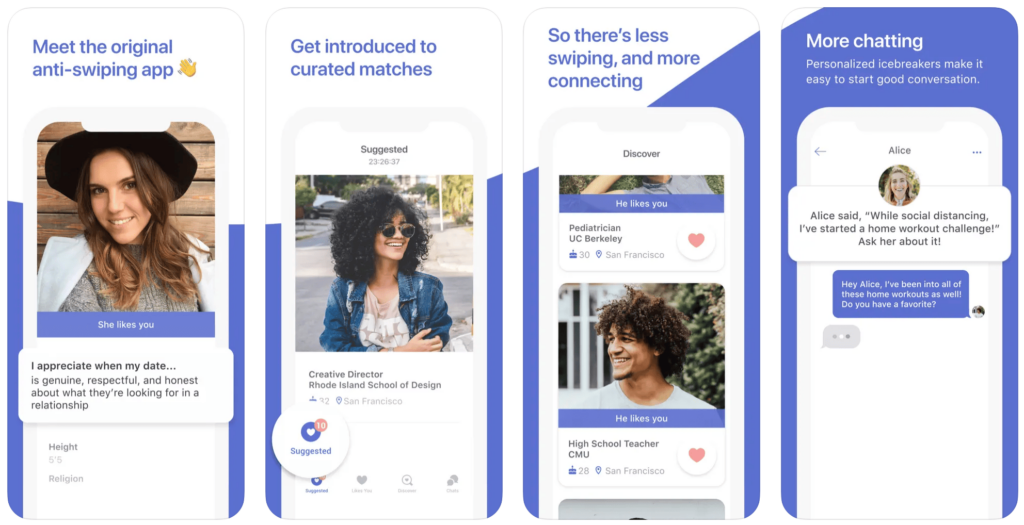 Best secret dating apps for iPhone for meeting international singles
QDating
Qdating is an app that allows users to access several dating sites for meeting singles from around the world. These include:
What makes a good secret dating app for iPhone?
When deciding which of the best secret dating apps for iPhone to use, there are some key points to keep in mind and look out for.
Features: before downloading an app, read the description on the app store to see if the features are right for you.
Review Scores: check the app store for ratings and comments to see what other users are saying about the app and their experiences. Apple rewards highly-rated apps with an editors' choice award—be on the lookout for those.
Compatibility: there are apps aimed at broad dating groups while there are other apps that focus on specific communities. The app description should give you a good idea of who the app is aimed at, but you may have to try it to find out.
Best secret dating apps for iPhone: FAQs
Here are some answers to common questions about the best secret dating apps for iPhone.
What are the most popular secret dating apps for iPhone?
These are some of the most popular secret dating apps for iPhone:
– Inner Circle
– Blendr
– WooPlus
– Coffee Meets Bagel
Can I hide dating apps on my iPhone? 
iPhones allow their users to hide apps. Here's how to do it in three easy steps:
– Go to the app store and find your downloaded apps
– Find the app you wish to hide and swipe left on the app
– Tap hide
What is the safest secret dating app for iPhone? 
Inner Circle has a lengthy registration process that ensures the validity of its users' personal information.
Are secret dating apps for iPhone any good? 
The apps we have covered all offer a wide array of features and functions for you to use to get started dating. When you are comfortable with what the apps have to offer, you can then decide which one is right for you.
Best secret dating apps for iPhone: our final thoughts
If you're looking for an iPhone dating app that values exclusivity or to date discreetly, there is an abundance of apps to choose from. These apps focus on different dating communities and lifestyles so you can find one that's best for what your relationship goals are. It's all about finding which features and dating pools match up with your expectations. It's important to consider an app's features, reviews from its users, and its intended audience before making a decision.