Tinder Review, Updated 2023

Since its launch in 2012, the Tinder app has revolutionized the online dating game. With a one-of-a-kind swiping motion, the online dating app soon replaced long, detailed profiles with a quicker photo-focused on-the-go approach.
Owned by the Match Group, which runs the popular long-term relationships dating site Match.com, Tinder suggests your best hookups based on their proximity to you. When it comes to hook-up apps, it is king of the no-strings attached world of dating.
Of course, you can still potentially find singles who want love and serious relationships.
With 10 million daily users around the world choosing to swipe left or right, we think this online dating app must be doing something right.
We've taken an in-depth look at this location-based social search mobile app, and created our very own Tinder review just for you. We'll walk you through everything you need to know to get plenty of swipes on the best dating app.
Considering another dating app? Check out our ultimate comparison between Bumble and Tinder to know which one really is the best!
The bottom line with Tinder
If you want to meet a lot of people for a dating experience that is quick, easy, and full of new features, Tinder is one of the best services on the market. You can meet people locally based on your sexual orientation, age range, and interests, and swipe right on the ones you like.
It all started with a fun, simple swipe that changed the way people meet, and Tinder has become, without doubt, one of the most well-known dating sites in the world.
Millions of members use the dating platform's service for free, except for those who want to pay for advanced features like Tinder Gold and Tinder Plus. People have enjoyed matching with and without the subscriptions.
A major benefit of the dating site is that sending messages costs you nothing, but it's only for members who mutually like each other. The algorithm finds you local matches automatically to boot for free.
Straight, gay and lesbian members are also welcome to register on the site, and it also changed the only two gender options of 'male' or 'female' to more than 30 options to make it more inclusive.
The ability to connect to other apps like Spotify means you can find people that you share common interests with, instead of finding a match solely based on looks.
Be aware that, at the moment, you will find ads on Tnder as you swipe between users. If you upgrade you can get rid of these ads, but at least they are specialized enough to each user to not be too invasive.
It lacks an advanced verification process and there's limited profile information available, but its quick and easy swiping appeals to so many. You won't need to fill out (or read) a lengthy profile to find your match.
The emphasis on matching via pictures may seem superficial to some, but the Tinder app recognizes the importance of attraction when you're trying to meet someone and gives singles access to a large pool of other single people.
Overall, we like that Tinder offers members the ability to view local singles easily and with a simple swipe of their finger they can decide if they're interested or not.
🆓 Free services and paid-for services
With the free version of Tinder, which is like a Tinder free trial, you can create an account and set up everything you need, including pics, social media accounts to stuff like snapchat, and info to find daters who match your compatibility.
Once you've joined, you can immediately start using the dating site's discovery feature and choose to swipe left or right on other users.
You'll be able to access the live video feature called "Face to Face", although both members need to accept this. You can send 'reactions' like hearts or emojis in chats with a single tap. Finally, send an icebreaker daily to connect with someone automatically once a day.
The Tinder Premium service – paying for those little extras
If you prefer more than just your standard Tinder, then there are three premium upgrades available to make the swiping game easier and more exciting.
Tinder Plus
You can try Tinder Plus free when you first sign up, but for only a limited time. With it, you get:
Unlimited likes – Like as many members as you want without a daily maximum
Rewind last swipe – Great if you've changed your mind or swiped left by accident
Five Super Likes per day – Stand out from the crowd and send the blue star icon
One Boost each month – Be one of the top profiles in your area for 30 minutes
Passport to swipe around the world – Change your preferred location and chat with singles anywhere
Tinder Gold
Tinder Gold offers all of the same upgraded features as Tinder Plus, with the added benefit of:
Seeing who likes you
The new top picks of the day
This exclusive feature means you see who likes you before you swipe, so you're more likely to find your match. You can also try out the Tinder gold trial free when you first sign up.
Tinder Platinum
Tinder Platinum gives you all the features of Tinder gold as well as:
Messaging before you match
Prioritized likes
Reviewing all of your likes from the past 7 days
With this you will have unlocked the full potential of Tinder, giving you the best chance possible at meeting your match.
💰 Prices
How much does Premium cost?
Tinder Plus and Tinder Gold are premium subscriptions that come in monthly, six month or yearly packages.
| | |
| --- | --- |
| | Monthly price |
| Tinder Plus | $9.99 |
| Tinder Gold | $29.99 |
| Tinder Platinum | $39.90 |
Does tinder charge you all at once?
Signing up to a month-to-month subscription means you'll be charged once a month. If you subscribe to either the six or 12-month subscription, you'll immediately be charged in one go for the entire subscription package.
How to pay?
You can pay for a premium subscription using most major credit and debit cards. For iPhone, you'll need to check the payment methods accepted by the App Store. If you're using it on an Android phone, it's best to check what payment the Google Play Store accepts.
💡 How to reduce costs at Tinder?
You can save money on a premium subscription by simply signing up to a longer-length package and paying the reduced cost all in one go.
Tinder also sends discounted promotions on its premium subscription to certain users. It's worth keeping an eye out for these, as the discount is only valid for 24 hours. Check out our in-depth Tinder price breakdown, if you are interested in save money using this app.
Do you wonder if Tinder for seniors works after your 50s?
📊 Membership structure
Spread over 190 countries and available in over 40 languages, it's estimated that around 50million users around the world use Tinder. As well as the number of members, the website and app have some impressive figures when it comes to usage too.
Active users tend to log in to the Tinder app on an average of four times a day, so you can always expect plenty of members to swipe through.
The majority of users are aged between 18-24, and it's still highly popular with people in the 25-34 age group. The app's two premium services have 4.1million Tinder subscribers, implying the benefits of subscribing are good and that they're fairly priced.
Showing its appeal to a wide range of users, regardless of their location, Tinder has a main office in Texas and has opened its first international headquarters in India. The growing popularity of the app in India highlights how dating apps are becoming much more mainstream in the region.
✍️ Registration
Time needed: 3 minutes.

Signing up to Tinder is fast and easy. You have a choice of using your Facebook account or your phone number to register. These are separate methods of login, so if you choose to sign up with both, two Tinder accounts will be created.


To register with Facebook:
Tinder!

Download the Tinder app

Choose the signing in method

Select 'Login with Facebook'

Sign into your FB account

If prompted, sign into your Facebook account. The app will not post anything to Facebook.

Give the app the necessary info

Allow Tinder access to all required permissions

Swipe left and right 👍 or 👎

Start swiping through members
To register with your phone number:
Download the Tinder app
Click on 'Login with phone number'
Complete your profile information
Allow Tinder access to all required permissions
Start swiping through members
Adding photos
Once you've signed up, adding photos to your Tinder account is a must. You can upload a photo directly from Facebook if it's in a public album and visible to your friends, or you can upload it from your phone if you've already allowed Tinder access.
There's also the Smart Photos feature, which is when your profile photos are tested by Tinder to show the ones that are more likely to get a right swipe. You'll need a minimum of three photos and it can be easily enabled in the 'Edit info' part of your profile.
As signing up is so quick and easy, you can expect to see some fake profiles. So, it's worth taking a good look at the photo and bio before swiping that profile to the right.
📱 User friendliness
You can sign up with a phone number, but if you sign up with your Facebook account instead you'll have easy access to all your photos and it will automatically exclude any of your Facebook friends from appearing in your search.
It will notify you of any common connections you have with Tinder users, and highlights who you have as a mutual Facebook friend. This is often seen as an advantage, with many using it as a potential icebreaker.
Tinder Online, the web-based version of the app, means people can still use Tinder even if they don't have a smartphone. Tinder Online has all the usual features, including being able to chat with your matches and search through members.
The design of both Tinder Online and the Tinder app is clear and modern, but you'll need to familiarise yourself with the icons first so you don't waste any freebies like your one Superlike, Boost, or Rewind.
However, we'd still recommend using the Tinder app over the web-based site. It's free to download from the Apple Store and the Google Play Store, and doesn't take up much memory on your phone.
The swipe feature is easy to use on the go, and works much better on a phone. Really, it's kind of the iconic part of using the app in the first place.
Contacting users
You'll only be able to contact another member if you've swiped right on each other's profiles, then you can send them unlimited messages for free. To send a message on the app:
Click on the speech bubble icon at the top-right corner
All of your matches will appear on the page
Tap on the image of the member you'd like to message
Once the chat window has opened, click on the text field and start typing your message
Click 'Send'
All Tinder messages will sync between the web version and the app, so you won't lose any information when you switch between the two. If you realise you're not a match after all or you've received offensive messages, blocking a member is straightforward.
Pros and cons
Here are some of the pros and cons to using an app like this that we found:
What we like
It's easy to use
Free messaging with matches
The huge number of users
Available around the world
It can be linked to your Instagram or Spotify account
Innovative swipe feature
What we don't like
Can only sign up with a Facebook account or telephone number
A limited number of Super Likes
More for hook-up and short-time relationships, not for serious dating
Short profile descriptions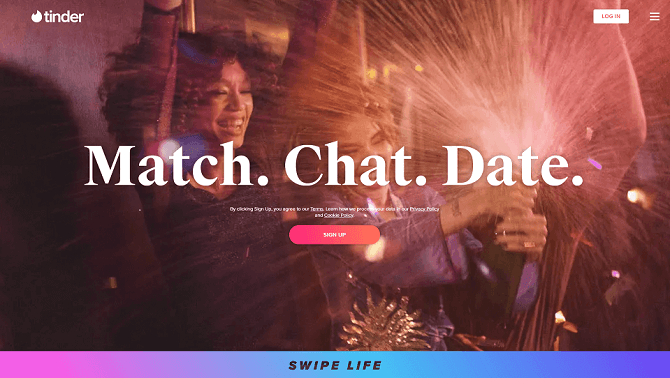 🙋 FAQs
How does Tinder work?
Once you've signed up, Tinder finds potential matches based on location, gender and age.
If you're interested in them when you see their profile picture and bio, you can choose to swipe right to 'like' them or swipe left to 'pass'. 
You can start messaging if they've 'liked' you too.
Is Tinder free?
Downloading the Tinder app is free. To use the premium features, you'll need to subscribe to either Tinder Plus or Tinder Gold.
How do I delete Tinder?
If you want to delete your account, you'll need to do it on the Tinder app. Simply click on the profile icon on the screen, select 'settings' and tap 'Delete account'.
It's worth remembering that once you've deleted your account, all your matches, messages and other information will be lost.
Are Tinder distances accurate?
Your location is updated when you open the Tinder app, so when you're inactive it uses your last known position. If a match's distance has changed but yours has stayed the same, it's because they've opened the app in a different location.
How do I cancel Tinder Gold or Platinum on iOS
1. Go to iTunes & App Store in your iPhone settings
2. Select your Apple ID, then view Apple ID and sign in
3. Scroll down, then choose 'Subscriptions'
4. Choose the subscription you'd like to manage
5. Click on 'Cancel subscription'
How do I cancel Tinder Gold or Platinum on Android
1. Go to your Google Play Store account
2. Click 'My subscriptions' on the left
3. Select the subscription you'd like to cancel
How do I cancel Tinder Gold or Platinum on Tinder Online
1. Go to the desktop version (Tinder Online)
2. Click on the profile icon at the top of the page
3. Select 'Manage Account'
4. Choose to either disable 'Auto Renew' or select 'Cancel'
Once you've cancelled your subscription, you can still use Tinder Gold for any days left that you've already paid for. If you only delete the Tinder app, your subscription won't be cancelled.
How do I get more matches on Tinder?
To increase your chances of getting a match on Tinder, you can try changing your photos or turn on 'Smart Photos' to make sure that your main picture is the one most likely to be swiped right.
You can also try adding more information to your bio, or connecting your Instagram and Spotify accounts to your Tinder profile so potential matches know a little more about what you're interested in.
How do I find someone on Tinder?
You're only able to search for someone on Tinder if you're already matched with them.
To search for someone in your match list:
1. Select the speech bubble icon on the main screen
2. Press and pull down the screen until the search bar appears
3. Start typing the person's name into the search bar
How do I change my name on Tinder?
If you sign into Tinder with your phone number, you won't be able to edit your name. If you used Facebook to sign up, then you can update your name on your Facebook profile and any changes should show on Tinder within 24 hours.
Can Tinder see if you screenshot?
Tinder won't send notifications if you take a screenshot of a message, conversation, or of a Tinder profile.
Can you see when someone is online on Tinder?
You can't see when someone is online, but inactive users on Tinder are sent to the bottom of the stack and are therefore less likely to be viewed by more active users.
Can you unmatch on Tinder?
To unmatch with someone on Tinder, you can open your chat with that person and either select the flag icon on iOS, or choose the ellipses icon on Android. Then tap 'Unmatch'.
Once you've unmatched someone, you'll then be removed from each other's match lists and they won't be unable to send you any messages.
What is Discovery?
On Tinder, Discovery is the feature that lets you swipe other users. There's an option to turn off Discovery, so your profile won't show to anyone in Discovery yet you'll still be able to chat with your matches.
To turn Discovery on or off, just click the profile icon at top of the main screen. Then choose 'Settings', followed by 'Discovery'.
What is Tinder Loops?
Designed to get you even more matches, Tinder's two-second Loops are when you can take any video and create a two-second loop from it. You can upload an existing video, and then just edit it in the Tinder app.
How to Loop it: 
1. Click the 'Add Media' button on your profile
2. Choose the video you wish to add
3. Drag the time strip to select the loop you want
4. Preview your loop
5. Select 'Add to profile'
What is a Tinder Surge?
Whether it's during festivals or because there's the best party happening in your area, there are times on Tinder when activity naturally increases. 
According to Tinder, activity can be up to 15 times higher during a Swipe Surge and the potential to meet matches increases by 250%. To be notified of any Swipe Surges, simply turn on your push notifications for real-time updates and get swiping.
What security features does Tinder have?
Currently, Tinder as a dating service has been undergoing stringent efforts to try and improve its security to prevent scam and physical threats to users. This includes the innovative Noonlight feature, which is an app you download alongside Tinder. 
It is limited to subscription users at the moment, but by activating the Noonlight app you can put in a simple alert system that will tell both the service and local authorities what your location is and that you are in danger. 
There is also photo verification now built into the user profile creation process, which checks either Facebook or your other social media channels to see if you are a real person. There is an additional passport feature which asks you to upload a passport to verify you are real. 
Many apps like Tinder, such as Hinge and Bumble, are making strides in improving their overall security for users, and you can expect this to continue as these services go forward.  
What's the minimum age you have to be to use Tinder?
The minimum age required to sign up to Tinder is 18 years old. If you've been blocked from using Tinder because you entered a birth date that shows you are under 18, you won't be able to use Tinder again for the amount of time specified on the login screen.
Alternatives to Tinder
Discover the top dating apps like Tinder for casual flirts that can turn into serious relationships or even marriage with kids.
ℹ️ Company information
Tinder has offices around the world, with the latest branch opening up in India.
Registered office address: 8750 North Central Expressway, Suite 1400
Dallas, TX 75231, USA Parent Company: The Match Group
Website: https://tinder.com/
Director: CEO Elie Seidman