Zoosk vs eharmony comparison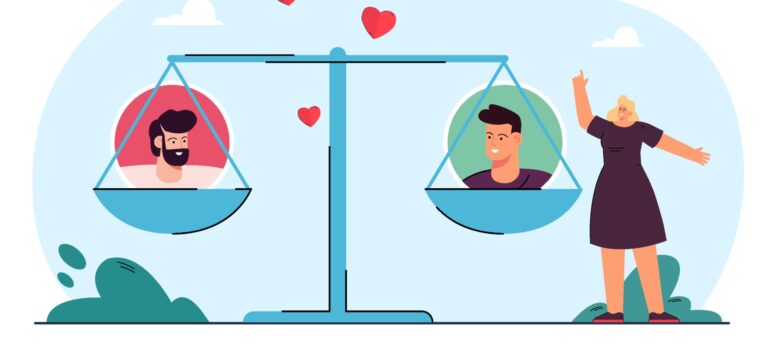 Are you debating between joining Zoosk or eharmony? Both offer serious dating opportunities, but Zoosk branches out into hookup dating. In our Zoosk vs eharmony comparison, we cover their differences and everything you need to know to find the best service for your needs.
We cover the basics for what you need, pros and cons, memberships, costs, and more.
Zoosk vs eharmony Summary
When comparing Zoosk vs eharmony, we found that both services offer dating for long-term relationships, but Zoosk did more with its hookup opportunities. However, eharmony offered a more robust sign-up process for better quality profiles.
Here's our summary of Zoosk vs eharmony:
| | | |
| --- | --- | --- |
| | Zoosk | eharmony |
| Who is it for? | Singles looking for either serious relationships or casual flirting | Singles looking for long-term relationships |
| Registration detail | Fast sign-up needs only basic information to access site | Lengthy personality quiz and profile creation process |
| Memberships and profiles | Estimated 40+ million members world-wide | 29+ million members worldwide, in-depth profiles |
| Premium service | Limited free service, one subscription plan with different lengths, coins for additional features | Limited free service, all subscription plans share same features |
| Pro | Options for long-term dating or for casual flirting and hookups | In-depth registration and personality quiz results in better match-making opportunities |
| Con | Limited sign-up process means many profiles are lacking a lot of information | More expensive than Zoosk, price bumps up significantly after first month |
eharmony is one of the most popular dating sites on the market to date. It provides long-term relationship opportunities for a broad range of users around the world. They are known for their in-depth personality quiz in the registration process which uses psychology for advanced, successful matchmaking.
Zoosk, on the other hand, is easier to sign-up with and quick for people to use when they are on the go or traveling around. Zoosk also gives users the opportunity to enjoy casual flings if they aren't ready to settle into a long-term relationship just yet.
Pros and cons
Zoosk and eharmony offer a broad range of shared features and services. Below we stack the pros and cons of Zoosk vs eharmony to show you how they stand out from one another.
Zoosk pros and cons
| | |
| --- | --- |
| Pros | Cons |
| ✅ Streamlined and convenient free sign-up process | ❌ Online dating video features need to be easier for matches to use |
| ✅ Special features like Zoosk Carousel and Smart Picks | ❌ Virtual gifts and Zoosk offers can be confusing to understand |
| ✅ Familiar, user-friendly dating site and app design | ❌ Pay to send messages to other Zooskers after the 7-day trial period |
| ✅ You can scroll back up to check out a dating profile for free | ❌ Annoying ads for free account users |
| ✅ Comprehensive search functionality with multiple filtering options | |
| ✅ Robust safety features like photo verification reduce scams and fake profiles | |
| ✅ Good balance of genders across Zoosk's 80,000 active weekly users | |
eharmony pros and cons
| | |
| --- | --- |
| Pros | Cons |
| ✅ Detailed sign-up quiz and process | ❌ Can't look for individual users |
| ✅ Daily matches | ❌ Limited features with free membership |
| ✅ In-depth profiles | ❌ Limited LGBTQ+ options |
| ✅ Advanced matchmaking | ❌ Only 6-24 month subscriptions |
| ✅ Ideal for long-term relationships | |
| ✅ Easy-to-understand price scheme | |
Pick the right dating app: Zoosk vs eharmony
The dating apps you're on have an impact on your relationship goals. You're more likely to find profiles that you like when you're on a dating app that is suited to your romantic interests.
What app you go with is a very personal choice, like your favorite movie. That's why it's a good idea to check out more than one so you can make a better choice.
Look at our dating app recommendations to find the one that best suits you.
How do the memberships and costs compare?
Zoosk offers more flexibility in a Zoosk vs eharmony cost comparison. The 1-month subscription plan gives you a chance to test the service, whereas eharmony's minimum 6-month subscription is a commitment. The 24-month plan is the most expensive when looking at total costs.
Although prices with Zoosk are lower overall, Zoosk also uses "coins" to provide users with additional features. The cost of these coins can add up quickly, leading some members to spend more than they're realizing.
Prices with eharmony rise significantly after the 1st month. This means you pay less with Zoosk overall if you don't use their coins. Here is an overview of how each brands' subscription length and cost per month compares:
| | | |
| --- | --- | --- |
| Subscription lengths | Zoosk | eharmony |
| 1 month | $14.99 / month, one payment of $14.99 | N/A |
| 3-months | $19.98 / month, one payment of $59.95 | N/A |
| 6-months | $11.00 / month, one payment of $65.99 | Premium Light – $27.95 for the first month, $55.90 /month after |
| 12-months | N/A | Premium Plus – $17.95 for the first month, $35.90 /month after |
| 24-months | N/A | Premium Extra – $12.95 for the first month, $25.90 /month after |
The costs for Zoosk's coins are as follows:
| | | |
| --- | --- | --- |
| 180 coins | $19.95 total | No savings |
| 480 coins | $39.95 total | 25% savings |
| 1800 coins | $99.95 total | 50% savings |
What are the in-depth costs and features for eharmony?
eharmony is more expensive than Zoosk when looking at total costs. Although $12.95 for the first month seems affordable, this rises to $25.90 per month after the first month, meaning for 24 months you pay a total of $608.65, not including tax. The price doubles for all of eharmony's plans after the 1st month.
There is a limited free version of the service for members who initially sign-up. The free features on eharmony do not offer a lot of options to the user, but they give you an idea of what to expect. These features include:
Suggested Matches
Giving Likes and Smiles to other EliteSingles members
Sharing your answers to 5 site-generated questions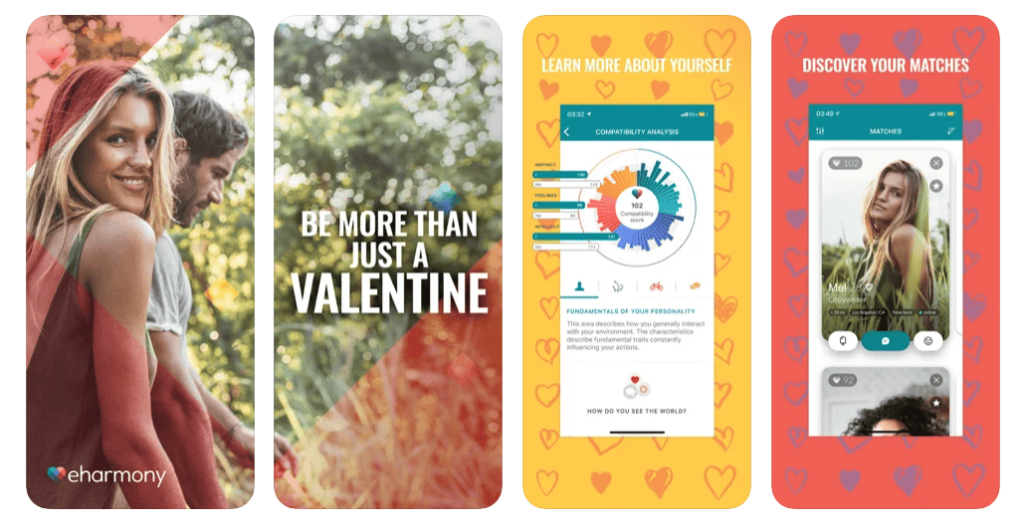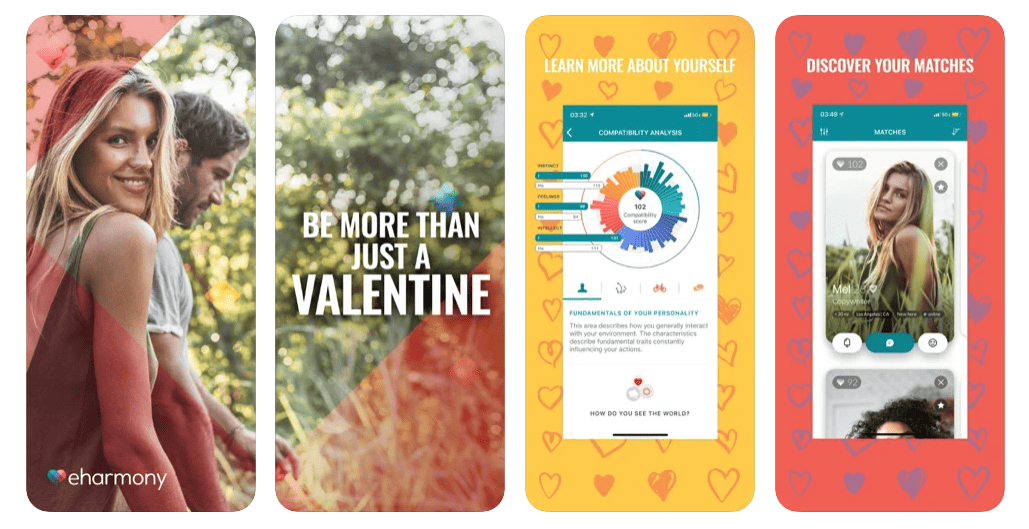 All premium subscriptions unlock every feature on eharmony. A premium subscription gives you the best chance at making quality matches quickly and reliably. The features include:
View unlimited photos
Unlimited messaging
See who's viewed you
Distance search
Detailed personality profile
What are the in-depth costs and features for Zoosk?
Costs with Zoosk are cheaper than eharmony, and you can save money with a 1-month subscription.
Zoosk is certainly a more affordable service in comparison, when just looking at their subscription plans. Each plan offers the following features:
Send messages
Full access to SmartPicks
Browse incognito mode
Use the chat feature
See who likes you
Use Boost, Super Sends, and other special features
Video chat
Flexible filters for flexible dating
Enjoy Zoosk Great Dates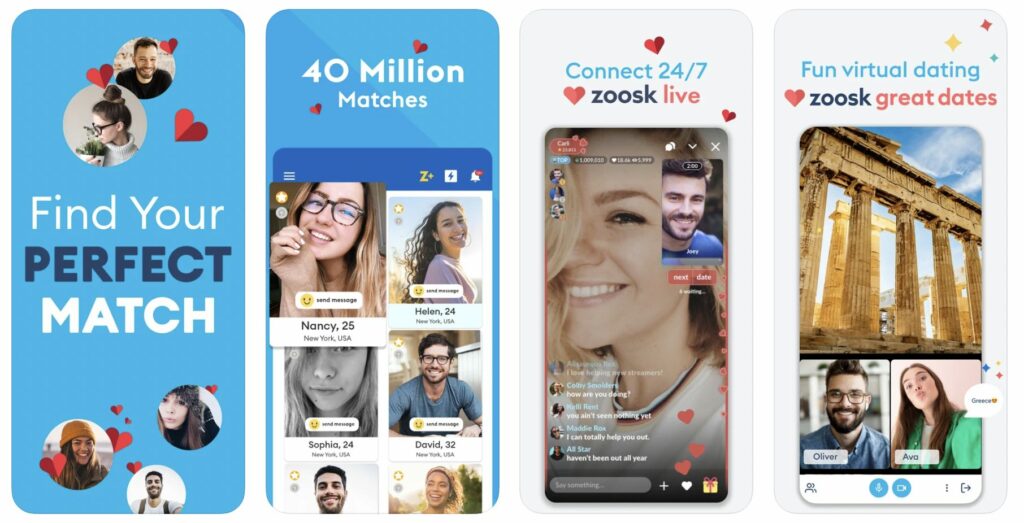 However, the necessity of coins to really explore everything Zoosk has to offer can push your costs up. Coins allow you to: 
Promote yourself on matchmaking pages
Use Super Sends
Boost yourself in your local area
How does the registration process compare for Zoosk vs eharmony?
Our Zoosk vs eharmony comparison finds that eharmony's lengthy registration for members to sign up was better for long-term matchmaking. The average time to sign-up there is 20-30 minutes, but the quality of the profiles is much better and matchmaking feels improved.
Zoosk, on the other hand, just asks you for your basic information before having you confirm your identity via email. You can access the site from there and update your profile with information to improve your odds of better matchmaking. However, this isn't mandatory, unlike eharmony.
Zoosk
Signing up with Zoosk is a quick and easy process. Just fill out your personal information form disclosing your gender and gender preference, birthday, email address, and zip code. You'll be sent an activation code via email.
You will be able to use the site then, but only in a limited capacity. To unlock Zoosk, you must then provide your phone number and then validate your account using a pin provided. After that you are free to update your profile as much as you'd like.
eharmony
eharmony uses situational questions in the form of "what would you do if…?" There are some similarities between the two personality quizzes, but eharmony's questions lean more on how you would like your match to be and what you are looking for in a partner/relationship.
This can include your and their:
Habits
Interests
Dislikes
Ideal reactions to certain situations (positive and negative)
Feelings about various topics (politics, environment, etc.)
The quiz also asks for preferences with a series of images, much like an ink-blot test. Think "do you like the circle or the square?" and "which is better: the circle with a dot in the center or the circle with a dot outside its circumference?"
What can you expect with users and profiles for Zoosk vs eharmony?
Members of both eharmony and Zoosk are looking for long-term relationships, although on Zoosk there is a healthy mix of people looking to simply flirt or hookup. Because of the lengthy sign-up process on eharmony, the service may be better suited for serious relationships.
However, Zoosk's easy sign-up and flexible dating options has lead to a larger user base than eharmony around the world:
Generally, the quality of users were overall better on eharmony, but there are enough members on Zoosk to make up for that. With some careful filtering you can enjoy both services equally.
Zoosk vs eharmony FAQ
We answer the most frequently asked questions in an Zoosk vs eharmony comparison:
Which is better: Zoosk vs eharmony?
Zoosk is a slightly better service for its pricing and flexibility with its target audience for either serious or casual dating, but eharmony is better for finding long-term relationship partners.  
In terms of quality, eharmony offers high-quality profiles and opportunities for dating. Both encourage long-term relationships but Zoosk allows for casual hookups. Because of this, Zoosk is a slightly larger service, but both are massive in the industry.
If you are looking for a long-term relationship, eharmony is the better pick. If you want to keep your options open, then Zoosk may be better. 
Which is cheaper: Zoosk vs eharmony?
Zoosk is more affordable than eharmony, but only when you don't spend money on coins. It is also a more flexible service with shorter subscription plans. eharmony's prices rise considerably after the first month for each of its plans after you sign up, increasing your total costs. 
Purchasing coins can drastically impact your overall spending, so if you find yourself buying them a lot then eharmony will be the cheaper option. 
Who is Zoosk for? 
Zoosk is targeted towards people who aren't sure what they want out of a relationship, or who want to keep their options open for either a serious relationship or something more casual. This means that profiles can be lacking and aren't always reliable. 
Who is eharmony for?
eharmony is for a more focused and dedicated membership than Zoosk. Anyone who is of legal age to use an online dating service can join. It is only for serious, long-term relationships, and most users are looking for a life-partner. However, the quality of member profiles is much higher.
Final thoughts on Zoosk vs eharmony
Our Zoosk vs eharmony comparison finds both are reliable for matching users. In terms of numbers, Zoosk is larger, but eharmony is almost as large. In the end, eharmony is a slightly better service thanks to its detailed and involved registration process and matchmaking.
However, Zoosk and eharmony are very good dating services and we recommend them both. If you want to keep your options open, then Zoosk is the better choice. If you are more certain about wanting a life-long relationship, then eharmony may be better.