Pure Dating App Review
The self-proclaimed "shameless dating app" Pure is on the rise, making great competition to its brother Tinder. Both are based on swiping and liking in order to match with singles from different cities all over the world who only want one thing: casual fun.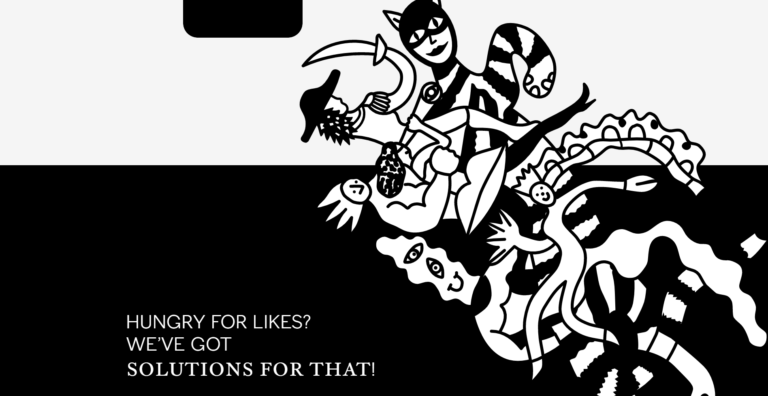 But in contrast to Tinder, Pure works with the element of time in order to provide quick, discreet and anonymous matches that lead to casual dating meetups in real life, as fast as possible. The app's special features make it stand out from all the other hookup apps on the market.
In our dating app review we will look at pros and cons, usability, features, registration, membership structure, pricing and much more. Keep on reading to find out, if the Pure dating app is the best match for you.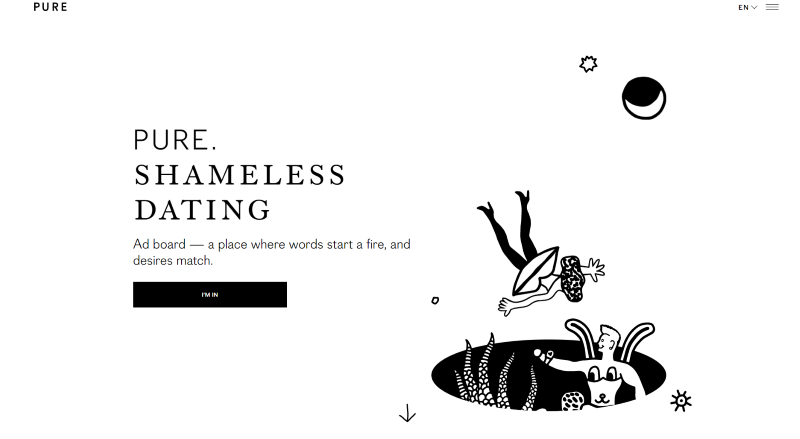 👍 Pros and cons 👎
✔️ What we like
Pure is perfect if you are looking for discreet, casual sex hookups with no strings attached.
You can feel save. All photos you send to another user will self-destruct after being seen. If a screenshot is taken, you will instantly be notified.
Privacy is appreciated. If you choose to, you can stay 100% anonymous – you only have to reveal your gender, preference and add photo of you (if you want). Your profile completely disappears after 24 hours.
The Pure app has a minimalistic modern design, great usability and convinces with a beautiful aesthetic.
As a woman, you can use the app completely free and as a man, you can try the app for free for 3 days.
❌ What we don't like
Profiles self-destruct themselves after 24 hours, which means if you do not find a match, you will have to recreate your profile again and again, every time.
Pure is very superficial and relies on selfies rather than personality. There exist no way of conveying your character to other users or get to know the personality of a potential match.
Only women can send free messages on Pure, men cannot. Male users have to pay a subscription in order to get matches and start chatting.
Because matches are based on your location and on the hour your ad was created, it can happen that you won't have a lot of options. Sometimes it's just a game of luck.
Because of the anonymity and short time span, it can be tempting to exchange personal information or meet up directly – right after you have just matched. Be extra careful with whom you share information and meet up in person.
Our dating app summary
Pure is a hookup dating app to find casual relationships and casual sex partners. It is perfect for everyone who is looking for dirty talks, sexting and casual video chatting. Its simple interface and usability make it very easy to register, post a personal ad and meet people nearby and all over the world.
The service is quick, direct and discreet, assuring a great anonymous dating experience. It provides a safe space for everyone seeking pleasure and adventure.
You can download the app for Android and iOS in the App or Google Play Store for free. We recommend using the matchmaking service in largely populated areas and big cities, as your chances of finding a quick casual date are much bigger.
If you are looking for a quick, fun adventure, Pure is perfect for you. If you are interested in establishing deeper connections and finding a partner for a serious relationship, this app is not for you.
Want to know more about casual dating? Here is all the advice you need.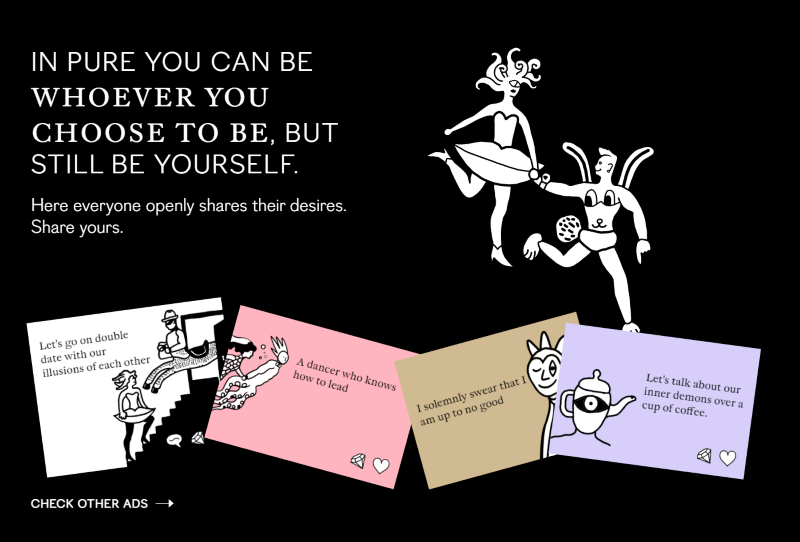 📊 Membership structure
Members: 8,000
Active members per week: 3,000
Gender proportions: 63% women, 37% men
Age distribution: majority 25 to 34
Most members are from the United States, but you can also find users from Canada, Ukraine, Russia, United Kingdom, Poland, Brazil, Argentina and the Czech Republic.
The online dating app is open to all genders and sexuality, even though the majority is straight. People who use Pure are usually sexually active and open to a quick adventure. As there is basically no time to get to know each other, users are straightforward and to the point – they want to hook up with someone.
You can find users of all ages, but the majority is between 25 and 34 years old. There are more women than men on the platform, as women can use its services for free.
🆓 Free services and paid-for services
Pure is straight forward when it comes to their subscriptions – if you are a woman, you can use the app for free and acquire additional in-app purchases if needed. If you are a man, you will have to buy a subscription after your free trial in order to keep using the app.
Free Services
Women can use the app for free and men can start for free with a three-day trial.
Once you have created a personal ad, you can see and swipe through as many potential hookups as there are in reach of your location for 24 hours.
You can see who liked you back and if you matched with someone, you can chat for free until the 24-hour time limit is up.
Paid-for services – what do you get for your money?
With a subscription, you can use everything the app has to offer – create personal ads, search and like others and chat with your matches.
The only exception are additional features. You can acquire in-app purchases like instant chat, King of the Hill or sending gifts.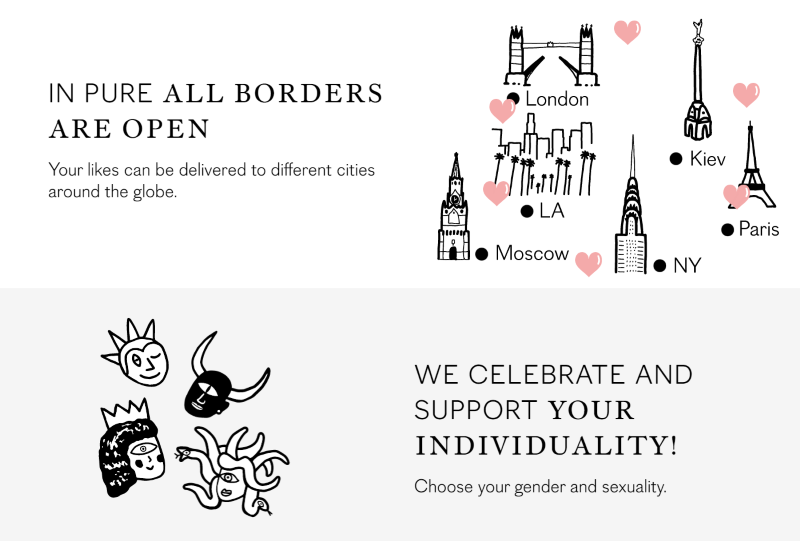 💰Prices – What does Pure Dating cost?
In comparison to other dating sites, the price of Pure is in the upper midfield. You can purchase memberships and acquire separate in-app purchases.
| | |
| --- | --- |
| Subscriptions: | Price |
| 1-Week Membership | $14.99 |
| 1-Month Membership | $29.99 |
| 3-Months Membership | $49.99 |
| 1-Year Membership | $64.99 |
In-app purchases:
Instant Chat Feature $1.99 (5 for $7.99)
King of the Hill Feature $1.99 (5 for $7.99)
Sending a Gift $1.99 (5 for $7.99)
The different subscription plans only differ in length and offer the same services. Additionally to the membership you can pay for different features inside the app.
The Instant Chat feature allows you to chat with another user instantly, even if they haven't liked you back. The King of the Hill feature is only available for men and puts you on top of all search results. You can choose to send gifts to other users in order to get their attention – which has its price.
You need to provide your credit card information upon registration because after the three-day trial, your account is automatically charged the monthly payment. You can cancel your Pure subscription through on the App Store or Google Play Store. Be careful because deleting your account or the app will not cancel your subscription.
💡How to reduce costs at Pure?
If you aren't a woman, in which case you don't need to reduce costs because the app is completely free to use for you, we recommend the 3-day free trial to all male users out there.
In the trial period, you can try all the features Pure has to offer and decide if it's a waste of time or if you want to keep using the app. If you decide to give Pure another chance, we recommend the 1-month membership to see if the concept works for you.
If you are only in a big city for a visit and are looking for a quick adventure, we recommend the 1-week membership. If you want a longer break from serious dating and a year full of casual sex, then we recommend the 1-year subscription.
If you want to make use of Pure's additional features like KIng of the Hill or Instant Chat, we recommend giving it a try first and if you like it, buy the package of 5 uses of the features, because then you will get one use for free.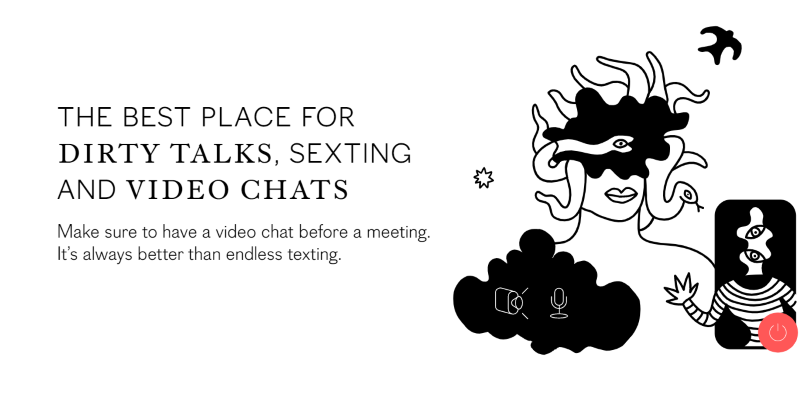 ✍️ Registration
You can download the app for free on the Google Play Store or Apple Store. Registering doesn't take more than 2-3 minutes.
First, you need to grant the app permission to process your personal data, such as e-mail, phone number and payment information. Then you can decide whether to register via e-mail or phone number.
The next step is to select your gender, verify your e-mail or phone number and create your account. To use the app you will need to turn on your location settings, as the service relies on GPS to find matches for you.
If you choose, you can remain entirely anonymous on Pure, because the only information you have to provide is your gender, sexual preference and a profile picture. There is no "about me" section.
Once you created your profile – which is more of a personal ad – you are ready to start browsing through all the other ads. The algorithm will select and show you users in your area, which you can then decide to like or dislike. If the like is mutual, you will match and a chat window will open. You can then message with your match – but be careful, you don't have time forever!
After creating your account you only have 24 hours to use it before it destroys itself, along with all the interactions and contacts you made. That is because your account is more a temporary ad than a detailed profile. If you want to use the Pure app again after this, you will have to create a brand new profile from scratch.
Our tips for success:
The photo you choose is what will decide if you win or lose, so choose a very convincing pic of you that shows you from your best angle and communicates what you are looking for.
Your success largely depends both on your location and the time you are posting your personal ad. Try different times of the day and days during the week. It is likely that more people are looking for a hookup on a Friday or Saturday afternoon/night.
As there is not a lot of time, be straightforward with your messaging and get to the point quickly. Ask your match what they want on the app and direct the conversation to a personal meet up in real life.
If you are a man and want to stand out from the crowd, you can use the app's King of the Hill feature in order to get noticed. This in-app purchase puts you automatically on top of the feed.
To gain attention from other users and to make a great first impression, use the gift feature. Send a gift to a person you like and add a personalized voice message (you can even record your favorite track from iTunes).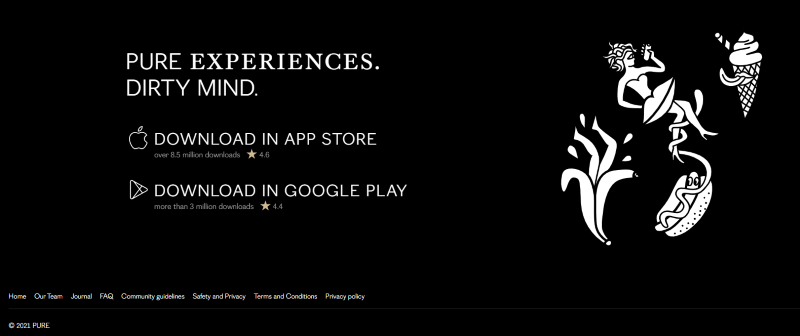 📱 User-friendliness and hookup app
Pure can only be used with the app. So far there are more than 3 million downloads on Google Play and over 8.5 million in the App Store.
The intuitive app has a minimalistic design and simple functions, as well as an easy to use interface. They use a black and white design concept with simple drawings which are funny, naughty and kind of retro.
There are only 3 screens available – search results, chat screen and a timer. Aligning with their mission, the app narrows it down to simple functions like matching and chatting which helps you to understand the app very fast and gets you quickly to where you want to end up – in bed.
✉️ Contacting users
Once you created your personal ad, you have 24 hours in order to like users near your location, wait until they like you back, start chatting with them and hope to arrange a personal meeting.
The personal ad works like an Instagram story, which automatically disappears after a certain amount of time. After the time period is over, all messages are also deleted. You will then have to create a new ad and start all over again.
You can communicate with other users through the following ways:
Basic Chat
You can contact users through a basic chat, which pops up once you two matched. You can also make use of the special instant chat feature, which let's you message anyone you liked so far, without them having to like you back.
Sending Gifts
If you want to show your appreciation or simply get attention from another user, you can make use of this in-app purchase feature. Sending a gift is like giving someone a compliment. You can add a personal note, photo or voice message. Once the gift is accepted by the other user, a chat will be opened for both of you.
Video Chat
You can even use video chats to communicate face-to-face with your potential hookup. It is also a great way to protect yourself from fake profiles, bots and scammers.
if someone is breaking the rules, you can report them or send an e-mail to [email protected].
🙋 FAQs
What is Pure?
Pure is a dating app for everyone who is looking for a quick and discreet hookup nearby. Anonimity is guaranteed through the automatic deletion of your profile after 24 hours. You don't need to reveal any personal information or connect to your social media accounts.
How does Pure work?
After registration you create a personal ad with your photo, which works like a meeting request shown to people in your area. You will see photos of other people nearby you can like or dislike, and once there is a mutual like, a chat window will open and you are given 24 hours to get to know each other and arrange a meeting. After the time limit is over, your profile, contacts and all correspondence is automatically deleted.
Is the Pure hookup app safe?
Yes, the app is very safe. Your profile and all the information you provided or shared with another user disappears after 24 hours. The app doesn't connect with your social media, you only have to register with your e-mail or phone number.
Is the Pure online dating service legit?
Yes, Pure is a legit hookup app where you get what you paid for. They are working hard to ensure safety and prevent scam and fraud.
Can I use Pure for free?
Yes and no. For women, it is completely free. Men can use the app for 3 days for free, after that they will have to pay a subscription.
How do I register?
1. download the app 
2. provide and verify your e-mail or phone number
3. add your credit card information
4. allow the app to access your GPS
5. add a photo
6. start searching for a hook-up
How do I cancel my membership?
You can only cancel your subscription in the Google Play Store or App Store directly. Deleting the app won't cancel your membership. After canceling, you will be able to use the app until the time of your subscription expires.
How do I report someone on the app?
To block or report a user, click on the x icon on their profile pic. You can also contact customer service directly via [email protected].
What photos can I upload?
The app allows you to add up to 3 photos to your ad. Adding photos is not necessary – but highly recommended for success. Prohibited are photos of drugs, weapons, illegal things and nudes (these are only allowed in chats). Texts on photos and crazy filters are not allowed either, as the goal is to show you as you are.
How does the ad feed work?
As soon as you post your own ad, you will see your feed filled with ads of other users, based on your location and preferences. You can adjust your preferences using the following filters: Online, Nearby, City, with Photo, Gender and Sexuality.
Can I see ads from other locations far from me?
Yes, you can use the feed filter settings to show ads from any other city you choose. If you are from London but want to get to know someone from New York, then you can choose "Anywhere" in the location settings, which will show you ads which are over 100 km away.
What is the King of the Hill?
This is a feature available to men and non-binary users who want more attention and engagement. To become the King of the Hill, you need to pay $1.99 in the app and your ad will be pinned at the top of the feed – which will lead to more likes, chats and dates.
ℹ️ Company information
The Pure online dating app was launched 2012 by Misterico Limited. Pure was developed by the two entrepreneurs Roman Sidorenko and Alexander Kukhtenko. The company's headquarters are in Lisbon, Portugal.
Company:
Misterico Ltd, Company Incorporation
Company Adress:
73 Methonis Tower, 7th floor, Flat/Office 703,
Nicosia, Cyprus 1070
Contact:
Interested in other hookup apps? Check out our reviews for these ones: