Hinge vs Zoosk Compared: Pick the Best Dating App in 2023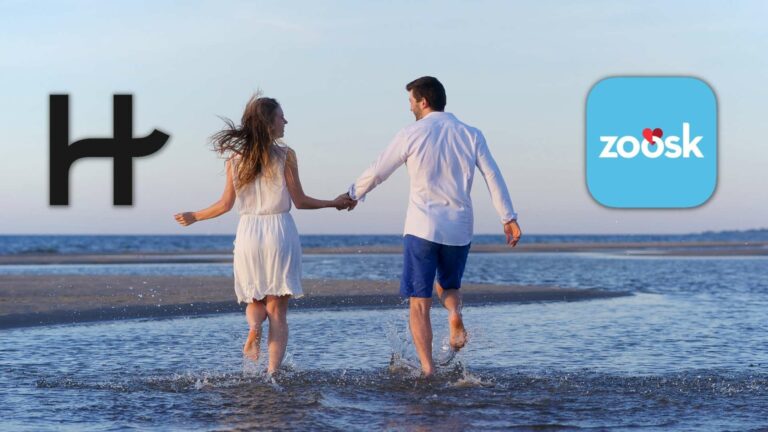 Finding the dating app that works best for you can improve your chances of meeting the right person. Hinge and Zoosk are both popular apps when it comes to online dating. Find out which one is best suited to your dating needs. See how features and prices compare between the two dating apps.
Picking the right dating app: Hinge vs Zoosk
The right dating app for you will be the one that most closely matches your romantic preferences, which can include the type of relationship, intimacy needs, as well as lifestyle goals. Dating apps are a bit like makeup or aftershave, everyone has a favourite. That could well be Zoosk, Hinge, or a different dating app.
Online dating app recommendations
Before you pick your favourite, be sure to have a look at our dating app recommendations.
These are some of the leading dating apps in the match-making market. Sign-up today for free:
Hinge vs Zoosk: where are they different?
Here are the most important differences between Hinge vs Zoosk.
| | | |
| --- | --- | --- |
| | Hinge | Zoosk |
| Who is it for? | Younger singles looking for meaningful connections through online dating. This may include serious dating. | Singles looking for either serious relationships or casual flirting. |
| Registration details | Requires a Facebook account unless you sign up with a phone number. Quick registration process. | Fast sign-up needs only basic information to access the site. |
| Memberships and profiles | 20 million users have joined Hinge, about 1 million pay for a Hinge Preferred user account. | Estimated 40+ million members worldwide. |
| Premium Service | Free service includes messaging. Paid subscription adds more perks to improve experience on app. | Free service available, one subscription plan with full messaging, different lengths, and coins for additional features. |
| Pros | Messaging and main features are free. Inclusive sign-up options. Matchmaking approach for younger users. | Flexible features for long-term dating or for casual flirting and hookups. A fun approach to a dating app with new features like video chat. |
| Cons | There are quite a few inactive and fake accounts cropping up in Hinge. | You have to pay for unlimited messaging after the trial period. |
There is some overlap between Hinge vs Zoosk. Let's have a look at what the strengths of each dating app are.
How is Hinge better than Zoosk?
Hinge was designed as a dating app from the ground up. This means that the user experience is exclusively designed for mobile phones. Instead of having time-consuming personality questionnaires to fill out on a cramped screen, Hinge only has three initial questions and keeps the number of deal breaker options at a manageable number.
Viewing profiles on Hinge doesn't mean passively just scrolling or swiping through on apps like Tinder or Bumble. While you can do that to a certain extent, Hinge makes browsing through profiles a much more interactive experience.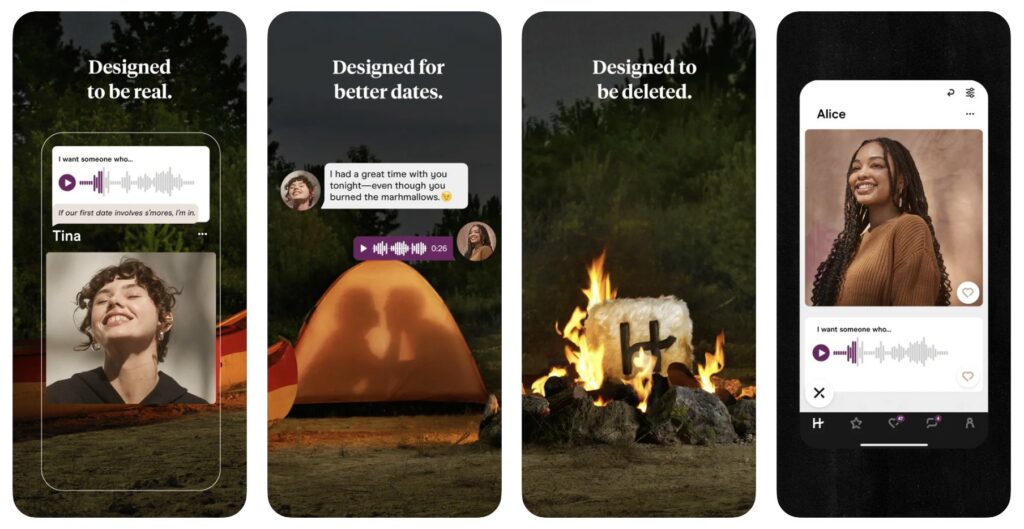 You can respond to part of a user's profile instead of just liking or disliking it wholesale. By interacting with the profile, such as playing voice memos, you unlock more parts of the profile such as photos and other details. This slows down the profile browsing process but it also cuts down on the serial swiping prevalent in other apps.
The result is potentially more meaningful interaction on Hinge. This happens not just through text and pictures but also through the ability to hear snippets of the other person's voice as they respond to certain prompts.
Did you know?
Hinge has slightly more female users than male ones. The current gender breakdown on this dating app is 45% men and 55% women.
Hinge is wholly owned by Match Group, the makers of another dating heavyweight app—Match.
Hinge uses this provocative tagline to attract new users: The dating app designed to be deleted. The company's advertising focuses on users who have met someone and are about to delete the Hinge app off their phones.
How is Zoosk better than Hinge?
Zoosk is better than Hinge because it is designed to be more fun to use. The dating app takes a gamification approach that aims to make online dating less stressful. Zoosk's layout will be familiar to anyone who has used social media sites before.
Zoosk doesn't require users to answer a lot of detailed questions to suggest profiles you might like. To find compatible matches, Zoosk will only ask you a few basic questions when you use the Smart Picks feature, which is optional.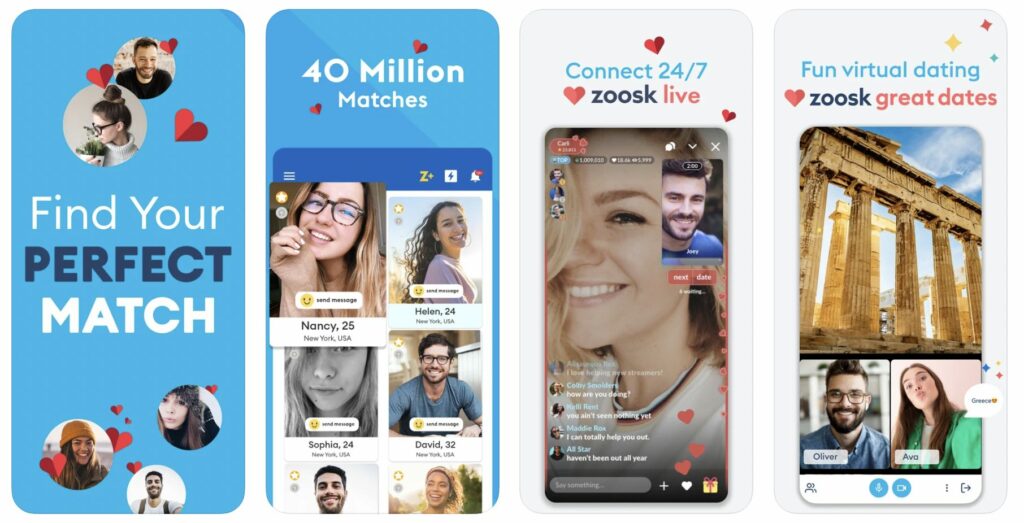 With Zoosk, you have the best of both online dating approaches—browsing and swiping. You can see multiple profiles at a glance on the main screen or, alternatively, you have Carousel mode, which lets you swipe through profiles like you would on Tinder or Bumble.
Did you know?
Zoosk tracks user behaviour on the app to provide better match suggestions. Actions like clicks, swipes, and reactions are used to refine suggested profiles.
Zoosk uses photo verification technology involving human moderation to check that profile photos are not fake.
Zoosk has also started verifying the status of members who are military veterans to prevent users from falsely claiming they served.
Which dating app is cheaper? Hinge vs Zoosk
Hinge vs Zoosk subscription pricing is extremely comparable. Zoosk is only cheaper when it comes to the longer paid plans. Let's take a closer look at how much these dating apps cost.
Hinge vs Zoosk price comparison
Compare the prices between Hinge vs Zoosk below.
| | | |
| --- | --- | --- |
| | Hinge Preferred Subscription | Zoosk Paid Subscription |
| 1-month option | $29.95 per month | $29.99 per month |
| 3-month option | $19.98 per month | $19.99 per month |
| 6-month option | $11.00 per month | $14.99 per month |
| 12-month option | $8.33 per month | n/a |
*Pricing provided for illustrative purposes based on available information at the time of writing.
Zoosk is cheaper than Hinge when you compare the monthly cost of the 6-month subscription. The shorter paid options have essentially the same price between the two apps. Zoosk does also offer a cheaper yearly subscription while Hinge tops out at 6 months.
Free vs paid features: how do these apps stack up?
Hinge vs eharmony bring different approaches to their dating app services. Let's take a closer look at what each one offers to its free and premium users.
Hinge features: free vs paid options
This comparison stacks the features that free Hinge users have access to against the premium perks available once you start paying for this dating app.
| | |
| --- | --- |
| Hinge free features | Hinge paid features |
| ✅ Create a profile | ✅ Create a profile |
| ✅ Limited likes | ✅ Unlimited likes |
| ✅ Basic filtering options (dealbreakers) | ✅ Advanced filtering options (dealbreakers) |
| ✅ Send messages to users you match with. | ✅ Send messages to users who have liked you in addition to ones you matched with. |
| | ✅ See who has liked your profile. |
At a first glance, Hinge Preferred users don't seem to get that many extra features compared to free users. However instead of just adding extra features, like eharmony, Hinge opts for expanding its existing features. Let's take a closer look at how they do this:
Likes: Free users can only interact with a limited number of profiles. That limit is lifted for Hinge Preferred users.
Filtering (Dealbreakers): Free users can filter by gender, age, location, ethnicity, distance, and religion. Paid users have the following extra filtering options on top of the free ones: height, smoking, drugs, children, and politics.
The real killer feature when you pay for Hinge is seeing who has liked your profile. This allows you to instantly match with them and therefore message them. This feature greatly speeds up meeting and chatting with people on Hinge.
Zoosk features: free vs paid options
Check out all the eharmony features and compare the free and paid versions side-by-side.
| | |
| --- | --- |
| Zoosk free features | Zoosk premium features |
| ✅ Create a full dating profile | ✅ Create a full dating profile |
| ✅ Access the Carousel | ✅ Access the Carousel |
| ✅ Send smiles and hearts | ✅ Send smiles and hearts |
| ✅ Watch Zoosk video streams | ✅ Watch Zoosk video streams |
| | ✅ Send messages |
| | ✅ See who likes you |
| | ✅ Chat with your SmartPicks |
Zoosk offers more differentiation between its free and premium features because of its SmartPicks Chat feature. In order to best use the app, you have to pay for the premium features otherwise you miss out on unlimited messaging.
In-app purchases
On top of the paid subscriptions, both Hinge and Zoosk also offer temporary boosts and virtual items, which you can acquire by either using internal coins on Zoosk or in-app purchases on Match.
Zoosk Coins allow you to get more views, buy virtual gifts, see who has matched with you on the Tinder-like Carousel feature, and get read receipts for messages you've sent.
In-app purchases for Match are present as Boosts and Roses. These can be bought individually or in packs and they push your profile to the top of searches and feeds as well as letting you highlight that you like a certain profile.
Which dating app is better for you? Hinge vs Zoosk
See what the pros and cons of Hinge vs Zoosk are, so you can decide which app is better for you.
Hinge pros and cons
These are the advantages and disadvantages of the Hinge dating app.
| | |
| --- | --- |
| Pros | Cons |
| ✅ Core features available for free users. | ❌ Limited likes for free users. |
| ✅ Paid option is cheaper than eharmony. | ❌ Aimed at 18-35 demographic as an alternative to Tinder. |
| ✅ 4.4 out of 5 review score on Apple App store. | |
Zoosk pros and cons
These are the benefits and drawbacks of using the Zoosk dating app.
| | |
| --- | --- |
| Pros | Cons |
| ✅ Streamlined and convenient sign-up process | ❌ Messaging isn't free after the trial period |
| ✅ Special features like Zoosk Carousel and Smart Picks | ❌ Virtual gifts and Zoosk Coin offers can be confusing to understand |
| ✅ Familiar, user-friendly dating app design | |
Hinge vs. Zoosk: final thoughts
Both Zoosk and Hinge are good options for meeting someone online. Which one you choose depends on whether you like a more gamified dating app approach. If you do, then Zoosk is a better option. If you want to focus more on finding compatible profiles, then Hinge is better suited to your needs.
Both dating apps have everything you need to view profiles and match with people, but only Hinge offers completely free messaging. If you're undecided, why not try both?
Hinge vs. Zoosk FAQ
You can find answers to common questions below.
Is Hinge better than Zoosk?
Hinge is better than Zoosk if you don't want to pay for messaging. If you don't mind paying, then Zoosk offers more browsing flexibility and a gamified online dating app experience.
Is Zoosk legit?
Zoosk is definitely a legitimate dating app. The dating service has been around for many years and is backed by serious investors. Zoosk has robust online security policies to make sure user profiles are valid.
Which dating app will help me get married, Hinge or Zoosk?
Both apps will help you get married, but Hinge is more likely to help you tie the knot because of its focus on compatibility. That doesn't mean you can't find the love of your life on Zoosk. Anecdotal evidence shows that many married couples have met on Zoosk too.
Which is cheaper: Hinge vs Zoosk?
Hinge and Zoosk have very similar pricing across the board. While both are reasonably priced, only Hinge offers all the basic features you need for free online dating. It's worth signing up for both (using the buttons above) to see if they have any deals you can take advantage of.