Selecting the best dating app to sign up with can make a difference when it comes to meeting the right person. Bumble and Coffee Meets Bagel, CMB for short, are relative newcomers to online dating. Find out which one is best suited to your dating needs and see how features and prices stack up.
Find the right dating app: Bumble vs Coffee Meets Bagel
The dating app that works for you will be the one that fits your relationship, romance, and intimacy preferences. You need to decide whether you are looking for a committed relationship or casual fun. Dating apps are a bit like a your fave podcast, you need to find one that resonates with you. That could well be Bumble, Coffee Meets Bagel, or something completely different.
Online dating app recommendations
Before you pick your favorite, be sure to have a look at our dating app recommendations.
Dating app recommendations
These are some of the leading dating apps in the match-making market. Sign-up today for free:
eharmony
Most popular dating app in US
100% match assured
Numerous positive reviews
Silversingles
Maximum user security guaranteed
Connect with SilverSingles users ready to mingle
Find singles within your proximity
Zoosk
Connect with your partner with our service
Better communication features
Give it a trial
Elite Singles
>Meet literate singles ready for relationship
Numerous signup daily
100% match assured
Christian Mingle
Connect with people across different geography
Available on all mobile version
24/7 support service
JDate
Connect with Jewish across different location on all mobile version
With dating magazine Jlife, meet Jewish singles ready for relationship
Find Jewish singles in your proximity
Bumble vs Coffee Meets Bagel: What's different?
Here are the most important differences between Bumble and Coffee Meets Bagel.
Bumble
Coffee Meets Bagel
Who is it for?
Singles looking for a variety of relationship options, inclusive features, and swipe-based browsing.
Singles looking for a quality over quantity approach and no swiping. The app finds matches for you.
Registration detail
Requires a Facebook or Apple account unless you sign up with a phone number. Quick registration process.
Requires Facebook or a phone number to sign up. Creating a profile requires more care to get good matches.
Memberships and profiles
50 million users make Bumble a household name in online dating.
10 million users, 60% of which are women.
Paid options
Free service includes messaging. Paid subscription adds more perks to improve experience on app.
Free service includes messaging. Paid subscription adds more perks to improve experience.
Pros
Messaging and main features are free. Inclusive sign-up options. Unique "women message first" feature.
Messaging and all main features are free. Highly positive App Store review score. Curated profile suggestions.
Cons
Not necessarily focused on long-term relationships and older users.
Limited number of profile suggestions every day. Fewer members than Bumble.
Sign-up
How is Bumble better than Coffee Meets Bagel?
Bumble's most talked about feature is that "women make the first move". This means that when a man and a woman match, the woman has 24 hours to initiate a conversation. The man cannot start the conversation and can only message once the woman has sent the opening message.
After that, both people can message as much as they want to. If the woman who matches with a man does not start a conversation within 24 hours then the match expires. This means that the chat area between the two matched users disappears.
This feature came about as a way to disrupt prevailing social stereotypes where men are supposed to "make the first move". Another plus point is that it tackles the rampant issue of inappropriate messages on dating services.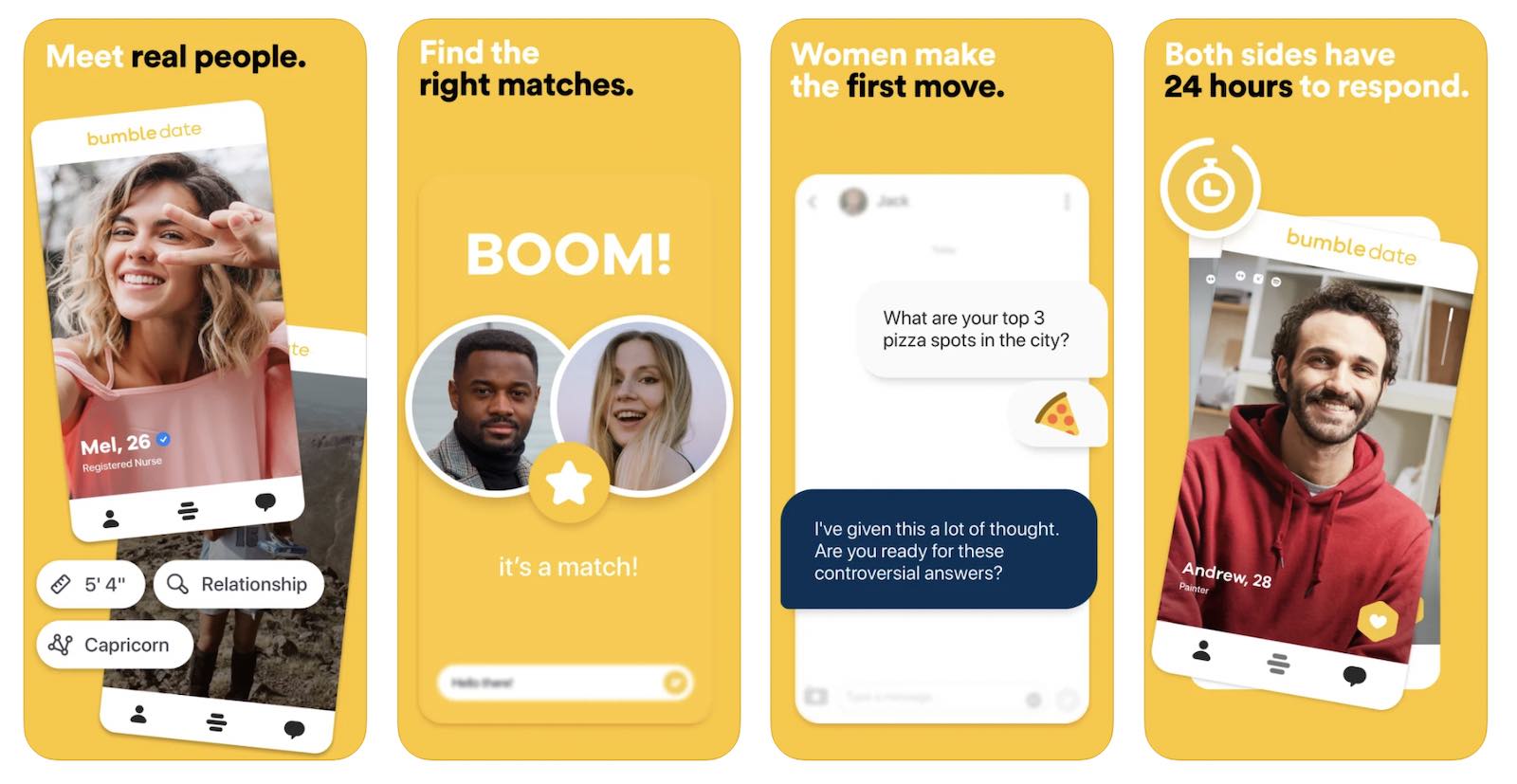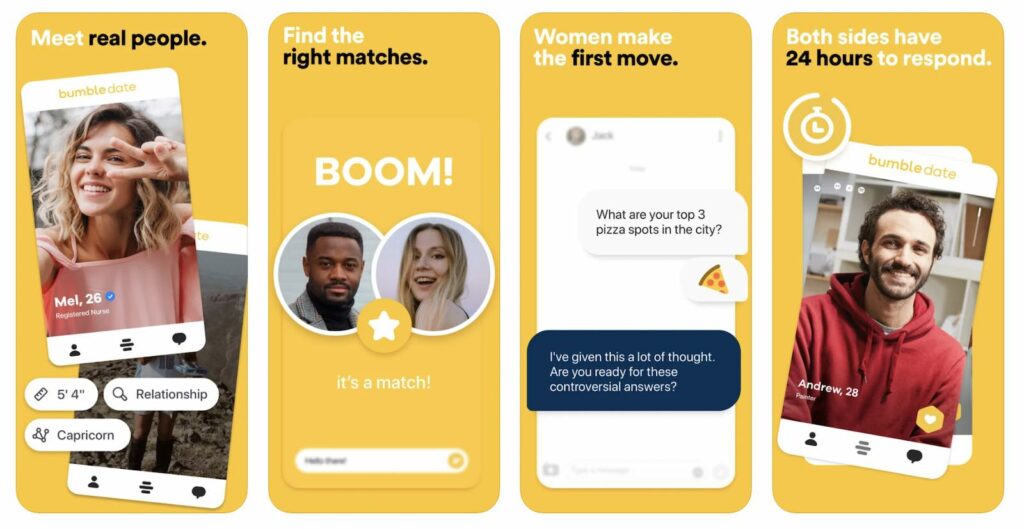 Bumble isn't just for heterosexual men and women. For same-gender matches either person can initiate the conversation. The 24-hour match expiration is still there, so if neither person writes something the match will go away after a day.
Just like Tinder, seeing matches on Bumble involves swiping left and right to indicate whether you like the profile or not. Profiles are simply laid out with an emphasis on photos followed by a short bio and key details.
Bumble also lets you link up other apps like Instagram and Spotify which adds to your profile with little effort. This is handy because your profile will be updated with your latest fave music and photos from those services.
Did you know?
Bumble was founded Whitney Wolfe Herd, a former Tinder employee, who successfully sued the company for sexual discrimination and harassment. Bumble was created with help of Andrey Andreev, founder of Badoo, another dating service.
Bumble is more than a dating app. It can also be set to BFF or BIZZ modes for non-romantic relationships. These modes are designed to help you make new friends or network professionally.
What makes Coffee Meets Bagel a great app?
The Coffee Meets Bagel approach to online dating appeals to many people because it doesn't involve swiping through dozens of profiles every day. Instead you will get 6 curated dating profiles every day. Your daily profile suggestions are chosen by an algorithm based on:
Singles that have liked your profile
Your stated preferences
Compatible profile criteria such as interests, education, and social circles
Coffee Meets Bagel takes into account your preferences and applies "dealbreakers" when selecting suitable profiles for you. This means the app will pick curated profiles based on your stated preferences to ensure that selected matches meet your expectations as closely as possible.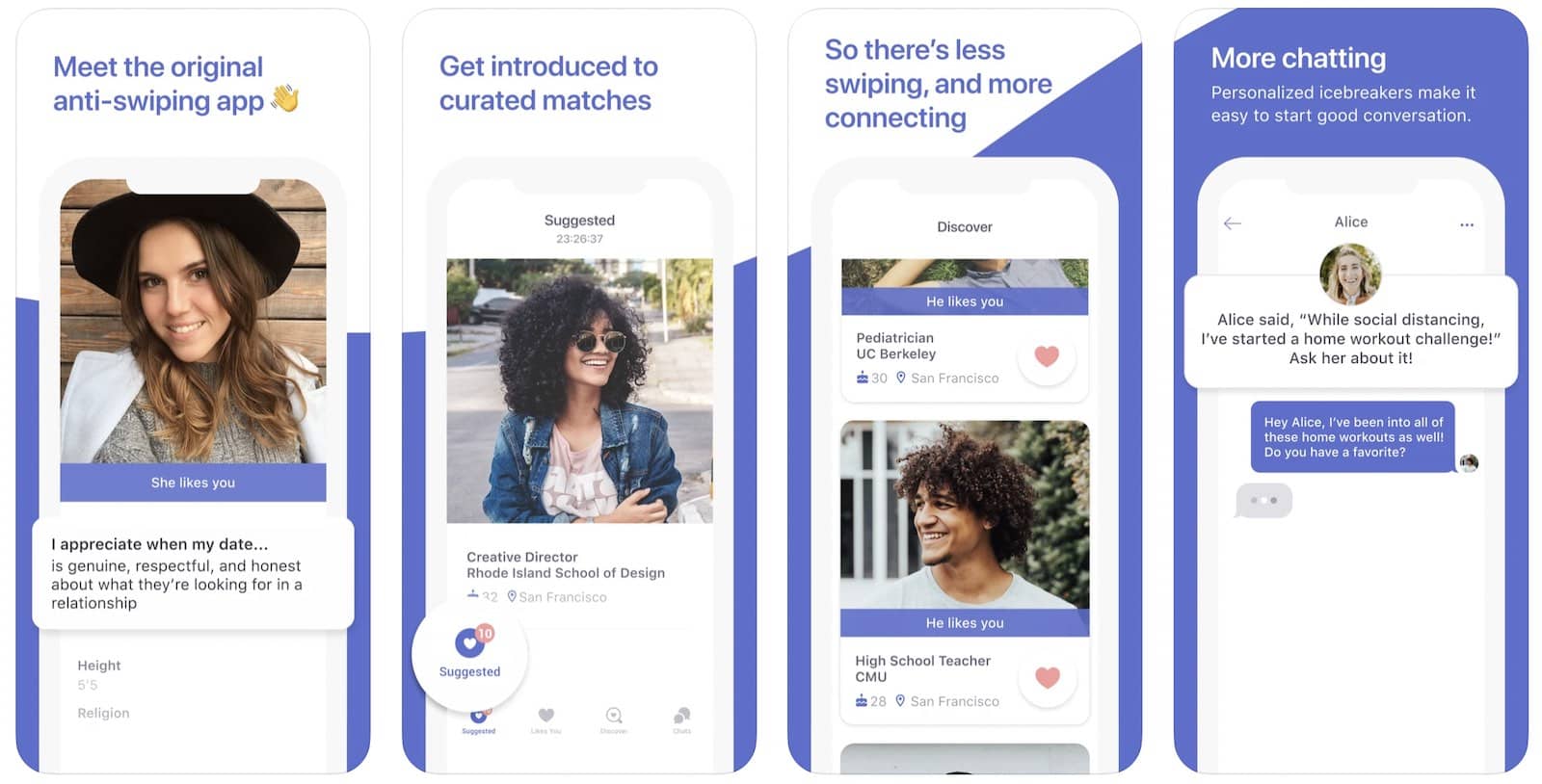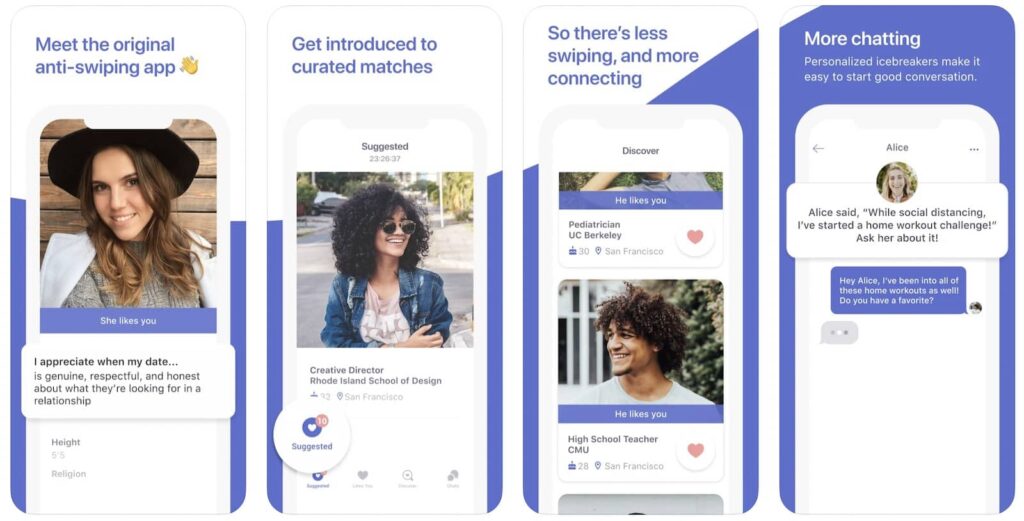 Once your preferences are met, CMB then looks for compatibility in other categories. Coffee Meets Bagel is also able to pull some general information from Facebook to find common trends between members. All of these qualities factor into the selection of the 6 curated daily profiles.
While Coffee Meets Bagel doesn't necessarily advertise itself solely as a long-term relationship app, many members have successfully found their forever bagel (a serious dating material in CMB slang).
The CMB blog has a dedicated relationship section with success stories and eye-opening member polls. It's worth checking out for the heartwarming meet-cute anecdotes, cheeky dating memes, as well as the in-depth surveys on the most adventurous places to have sex.
Which dating app is cheaper: Bumble vs CMB
Bumble is potentially more expensive than CMB. Since Bumble and Coffee Meets Bagel have different paid subscription offers comparing them side-by-side isn't straightforward.:
Bumble: 1,3, and 6* month plans as well as a lifetime option.
CMB: 1 and 6 month paid plans.
While the subscription plans are different, both Bumble and CMB offer better pricing the longer you sign up for the service.
| | | | |
| --- | --- | --- | --- |
| Membership packages | Bumble Boost membership | Bumble Premium membership | Coffee Meets Bagel Premium membership |
| 1 month | $16.99 per month | $39.99 per month | $34.99 per month |
| 3 months | $11.33 per month | $25.66 per month | n/a |
| 6 months | $9.17 per month* | n/a | $20 per month |
| Lifetime | n/a | $229.99 one-time fee | n/a |
(Pricing provided for illustrative purposes based on available information at time of writing.)
The Lifetime membership involves paying a one-time fee for unlimited access to premium features for as long as Bumble is available. If you plan to use Bumble Premium for more than two years, the Lifetime membership provides great value for money.
While Bumble spreads its paid perks over two pricing tiers (Boost and Premium), CMB offers a single premium option with all the perks. Coffee Meets Bagel Premium subscriptions are cheaper than Bumble Premium but more expensive than Bumble Boost. However, the perks offered by CMB Premium are comparable to what Bumble Premium offers.
Bumble vs CMB paid features compared
Compare paid features side-by-side to see which dating app is a better fit for you.
| | | |
| --- | --- | --- |
| Bumble Boost Membership | Bumble Premium Membership | CMB Premium Membership |
| ✅ Extend unlimited matches for an extra 24 hours | ✅ Extend unlimited matches for an extra 24 hours | ✅ Activity reports and insights |
| ✅ Unlimited swipes | ✅ Unlimited swipes | ✅ Read receipts |
| ✅ Undo swipes | ✅ Undo swipes | ✅ Profile boost for 2 days of every month |
| ✅ One Spotlight per week | ✅ One Spotlight per week | ✅ Unlimited Skip The Line |
| ✅ Five SuperSwipes a week | ✅ Five SuperSwipes a week | ✅ 8 Discover Likes per month |
| | ✅ See who likes you (Beeline) | ✅ See all likes and match instantly with them |
| | ✅ Incognito mode | |
| | ✅ Match again with expired matches | |
| | ✅ Travel mode | |
Both Bumble and Coffee Meets Bagel add significant perks to their paid subscriptions. The two dating apps give you ways to be seen by more users and insights into who likes you.
The main decision to make between the different paid plans is whether you want to see who likes you. On Bumble, this feature is called "Beeline" and it's only available on the more expensive Premium membership. CMB includes this feature in its one-size-fits-all paid plan.
If you're someone who travels a lot, "Travel mode" on Bumble could also be very practical. It lets you select different locations, view profiles at your destination, and crucially match with them ahead of your trip. This means that when you arrive, you will already have someone to meet up with.
Which dating app is better for you? Bumble vs CMB
See what the most important pros and cons are for Bumble vs Coffee Meets Bagel before deciding which one is for you.
Bumble pros and cons
These are the advantages and disadvantages of the Bumble dating app.
| | |
| --- | --- |
| Pros | Cons |
| ✅ Fully operational for free users | ❌ Less focused on serious relationships and compatibility |
| ✅ Bumble Boost is good value for money | ❌ Users have to swipe through a lot of profiles and do most of the selection work |
| ✅ 4.2 out of 5 review score and Editor's Choice award on Apple App store. | |
Coffee Meets Bagel pros and cons
These are pros and cons we found while researching Coffee Meets Bagel's core features and premium perks.
| | |
| --- | --- |
| Pros | Cons |
| ✅ 6 curated profiles presented daily | ❌ Designed primarily for straight users |
| ✅ Quality over quantity approach | ❌ Limited audience outside big cities |
| ✅ App Store review score: 4.5 out of 5 demonstrates very high level of customer satisfaction. | |
Bumble vs Coffee Meets Bagel: Final thoughts
Both dating apps are great options for meeting someone online. Which one you choose depends on whether you like swiping through profiles or not. If you do, then Bumble is a better option. If you don't like the swiping method of finding dates, then Coffee Meets Bagel is a better match for you.
Both dating apps will work well whether you're looking for casual dating or a serious relationship. While both apps cater to heterosexual and gay singles, Bumble does have more inclusive sign-up options, letting you pick from a wider variety of gender identity options.
Since both Bumble and CMB integrate well with social media and online services, it makes sign up more convenient. Our recommendation is to try both out to help you make your mind up. Both dating apps can be fully used for free.
Bumble vs Coffee Meets Bagel FAQ
You can find answers to common Bumble vs CMB questions below.
Is Bumble better than Coffee Meets Bagel?
EliteSingles is better than Bumble if a committed relationship is your goal. If you're looking for a more casual or flexible online dating experience, then Bumble is a better fit.
Is CMB legit?
Coffee Meets Bagel is definitely a legitimate dating app. The dating service has been around for many years and is backed by serious investment firms. Coffee Meets Bagel has robust online security policies to make sure user profiles are valid.
Which dating app will help me get married, Bumble or CMB?
Both apps will help you get married but Coffee Meets Bagel is more likely to help you tie the knot because of its focus on curated profiles based on compatibility. That doesn't mean you can't find the love of your life on Bumble. Anecdotal evidence shows that many married couples have met on Bumble, as well as other swipe-based apps due to their popularity.
Which is cheaper: Bumble vs Coffee Meets Bagel?
Coffee Meets Bagel is cheaper than Bumble. However, both dating apps are reasonably priced. Both apps are also perfectly usable without paying anything since all key dating app features are available for free. You only have to pay if you want perks on top of the main features of viewing profiles, matching, and chatting.
More dating app comparisons