Selecting the best dating makes a real difference when it comes to matching with the right person. EliteSingles and Bumble offer app versions of their online dating services for iPhone and Android users. Take a look at how Bumble and EliteSingles differ before deciding on which one to go with.
EliteSingles vs Bumble: The differences
These are the key differences between EliteSingles and Bumble.
EliteSingles
Bumble
Who is it for?
Career-focused professionals looking for serious relationships.
Singles looking for a variety of relationship options, inclusive features, as well younger and more diverse users.
Registration detail
In-depth profile creation process based on honesty that helps get matched with compatible profiles.
Requires a Facebook or Apple account unless you sign up with a phone number. Quick process.
Memberships and profiles
5+ million users, high-quality profiles thanks to strict verification.
50 million users make Bumble a household name in online dating.
Paid options
Free service doesn't include messaging, several subscription plan options, more perks the longer you subscribe.
Free service includes messaging. Paid subscription adds more perks to improve experience on app.
Pros
Affordable and flexible pricing and plans, along with an active and educated user base
Messaging and main features are free. Inclusive sign-up options.
Cons
You need the premium account to get anything out of it
Not necessarily focused on long-term relationships and older users.
Sign-up
How is EliteSingles better than Bumble
EliteSingles takes quality over quantity to heart by making compatibility between matches a priority. The app calculates an easy-to-understand compatibility percentage based on the qualities you're looking for, as well as your own background, preferences, and values.
If you're too busy to be swiping through endless profiles or complex search filters, you'll enjoy using EliteSingles. This is why EliteSingles is aimed at well-educated and career-focused professionals who don't have time to waste on a dating app.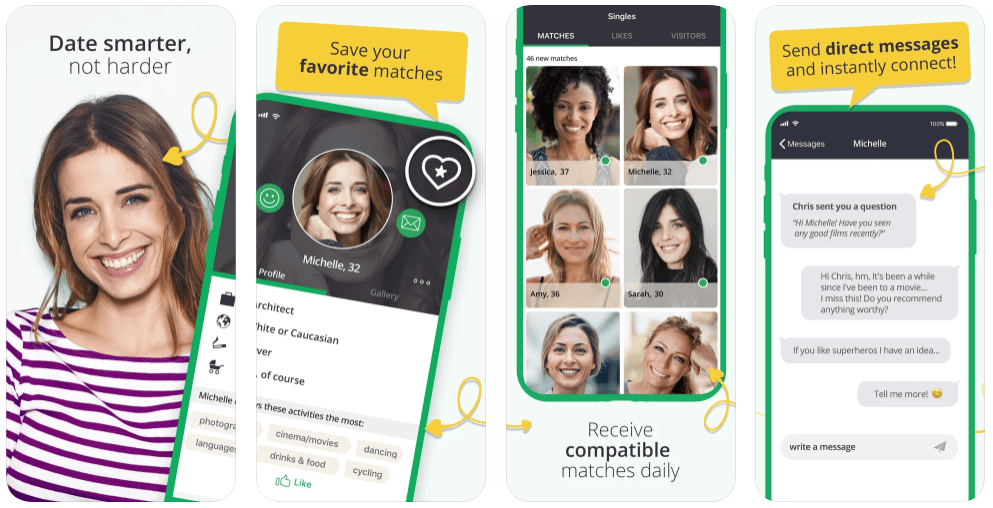 The EliteSingles app uses intelligent matchmaking to find who is most compatible with you. Every day, you get a curated selection of compatible matches. You can also check out other profiles and even sort your searches by compatibility.
The EliteSingles tagline is "Date smarter, not harder". If you want a long-term committed relationship but don't want to waste time online, then EliteSingles is going to be the better choice.
EliteSingles key points
Here are some important details to know about EliteSingles:
EliteSingles users are mostly between 30 and 50 years old.
EliteSingles users are highly educated, most of them have college or advanced degrees.
How is Bumble better than EliteSingles?
Bumble's unique feature is that "women make the first move". This means that when a man and a woman match, the woman has 24 hours to initiate a conversation. The man cannot start the conversation and is only able to message once the woman has sent the initial message.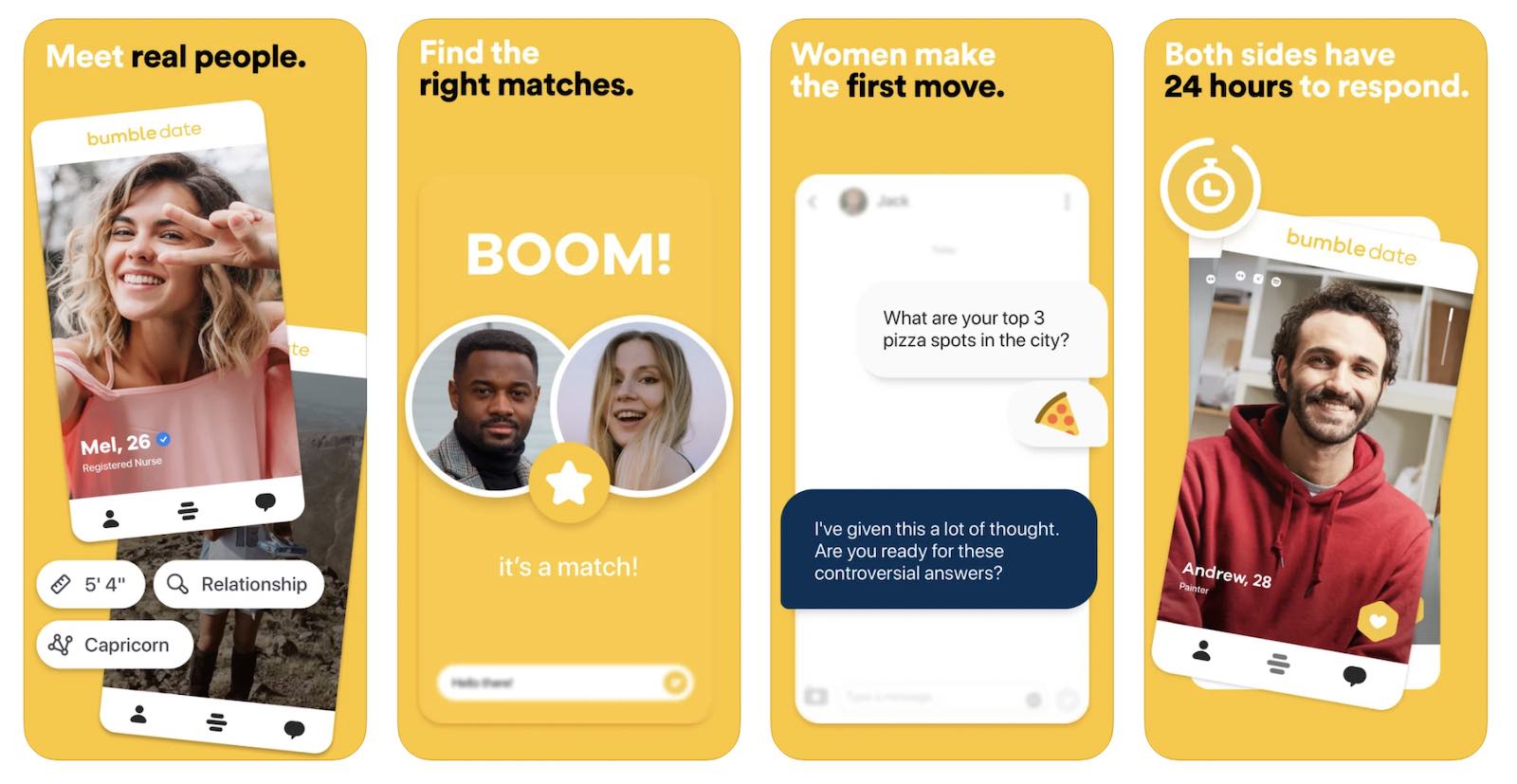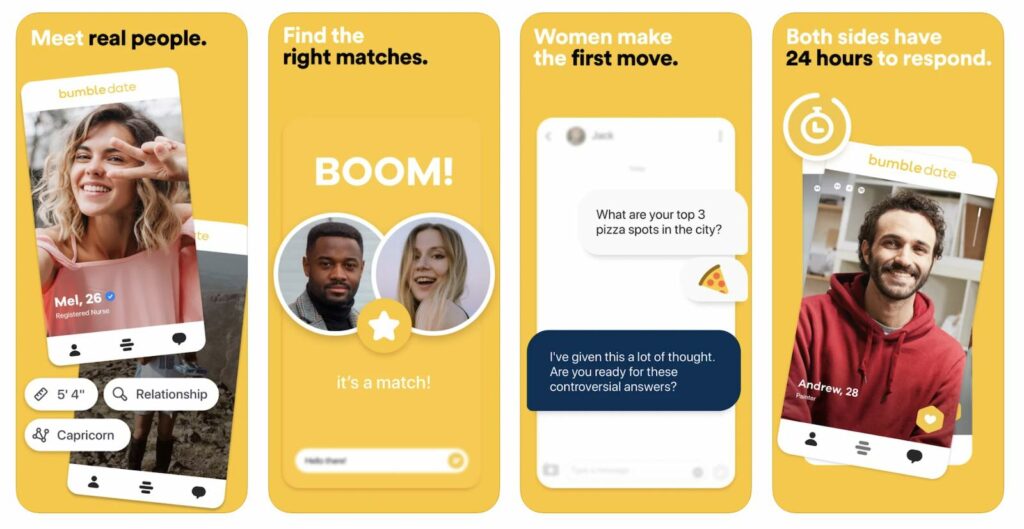 After that, both people can message as much as they want to. If the woman who matches with a man does not start a conversation within 24 hours then the match expires.
This feature came about as a way to disrupt prevailing social stereotypes where men are supposed to "make the first move". Another benefit is that it tackles the rampant issue of inappropriate messages sent by men on dating services.
Bumble isn't just for heterosexual men and women. For same-gender matches either person can initiate the conversation. The 24-hour match expiration is still there, so if neither person writes something the match will go away after a day.
Just like Tinder, seeing matches on Bumble involves swiping left and right to indicate whether you like the profile or not. Profiles are simply laid out with an emphasis on photos followed by a short bio and key details. Bumble also lets you link up other apps like Instagram and Spotify which enriches your profile with little effort.
Did you know?
Bumble was founded Whitney Wolfe Herd, a former Tinder employee, who successfully sued the company for sexual discrimination and harassment. Bumble was created with help of Andrey Andreev, founder of the Badoo dating service.
Bumble can also be set to BFF or BIZZ modes for non-romantic relationships. These modes are designed to help you make new friends or network professionally.
Pick the right dating app: EliteSingles vs Bumble
The dating apps you're on have an impact on your relationship goals. You're more likely to find profiles that you like when you're on a dating app that is suited to your romantic interests.
What app you go with is a very personal choice, like your favorite movie. That's why it's a good idea to check out more than one so you can make a better choice.
Online dating app recommendations
Look at our dating app recommendations to find the one that best suits you.
eharmony
Most popular dating app in US
100% match assured
Numerous positive reviews
Silversingles
Maximum user security guaranteed
Connect with SilverSingles users ready to mingle
Find singles within your proximity
Zoosk
Connect with your partner with our service
Better communication features
Give it a trial
Elite Singles
>Meet literate singles ready for relationship
Numerous signup daily
100% match assured
Christian Mingle
Connect with people across different geography
Available on all mobile version
24/7 support service
JDate
Connect with Jewish across different location on all mobile version
With dating magazine Jlife, meet Jewish singles ready for relationship
Find Jewish singles in your proximity
Which dating app is cheaper: EliteSingles vs Bumble
Bumble is generally cheaper than EliteSingles even when accounting for different durations in their paid options. EliteSingles and Bumble offer different paid plan lengths:
EliteSingles: 3,6, and 12 month plans.
Bumble: 1,3, and 6* month plans as well as a lifetime option.
While the plan lengths are different, both EliteSingles and Bumble offer better pricing the longer you sign up for the service. EliteSingles also offers more features the longer you sign up. Let's take a closer look at EliteSingles vs Bumble current pricing.
EliteSingles vs Bumble price comparison
Find all price options for EliteSingles and Bumble in this price comparison.
| | | | |
| --- | --- | --- | --- |
| | EliteSingles Premium Plans | Bumble Boost Plan | Bumble Premium Plan |
| 1 month option | n/a | $16.99 per month | $39.99 per month |
| 3 month option | $34.95 per month | $11.33 per month | $25.66 per month |
| 6 month option | $19.95 per month | $9.17 per month* | n/a* |
| 12 month option | $17.95 per month | n/a | n/a |
| Lifetime | n/a | n/a | $229.99 |
Bumble is cheaper than EliteSingles across all its subscription options except for the 1-month and lifetime premium plans but only when compared to the shortest subscription on EliteSingles (which also has less features).
Bumble is also pretty unique in offering a lifetime subscription option. The way it works is that for a one-off payment you have access to all the premium perks for as long as the Bumble app is available. The lifetime subscription is worth it if you use the Bumble app for over two years.
EliteSingles features: free vs paid options
Elite features are divided up between a free version and paid options with different subscription periods. Take a look at what option has the features you want to use most.
| | | |
| --- | --- | --- |
| Free option | Premium Light (3 months) | Premium Classic & Comfort (6 & 12 months) |
| ✅ Profile creation | ✅ Profile creation | ✅ Profile creation |
| | ✅ Unlimited messaging | ✅ Unlimited messaging |
| | ✅ View profile details | ✅ View profile details |
| | ✅ Intelligent matchmaking | ✅ Intelligent matchmaking |
| | | ✅ View all profile photos |
| | | ✅ See who visited your profile |
| | | ✅ Read receipts |
The free option on EliteSingles is not worth discussing since it only allows for profile creation and browsing obscured profiles. The Premium Light 3-month option essentially enables all the features you would get for free on Bumble.
For actual premium features, you want to look at the Premium Classic or Comfort. These two options actually have cheaper monthly rates, although they do require you to subscribe for a longer period of time (6 or 12 months).
Bumble features: free vs paid options
Bumble features are divided up between three options, two paid and one free. See which membership plan fits your online dating needs best.
| | | |
| --- | --- | --- |
| Free Membership | Boost Membership | Premium Membership |
| ✅ Profile creation | ✅ Profile creation | ✅ Profile creation |
| ✅ Unlimited messaging* | ✅ Unlimited messaging* | ✅ Unlimited messaging* |
| ✅ Bumble BFF | ✅ Bumble BFF | ✅ Bumble BFF |
| ✅ Bumble BIZZ | ✅ Bumble BIZZ | ✅ Bumble BIZZ |
| ✅ Extend one match for an extra 24 hours | ✅ Extend unlimited matches for an extra 24 hours | ✅ Extend unlimited matches for an extra 24 hours |
| ✅ 25 Swipes a day roughly | ✅ Unlimited swipes | ✅ Unlimited swipes |
| | ✅ Undo swipes | ✅ Undo swipes |
| | ✅ One Spotlight per week | ✅ One Spotlight per week |
| | ✅ Five SuperSwipes a week | ✅ Five SuperSwipes a week |
| | | ✅ See who likes you (Beeline) |
| | | ✅ Incognito mode |
| | | ✅ Match again with expired matches |
| | | ✅ Travel mode |
*Only with matches. Men have to wait for women to send the first message before benefitting from unlimited messaging.
The free version of Bumble lets you have all the main features to meet and chat with other users on the app. Additionally, you can switch the app to BFF or BIZZ modes if you are no longer looking for a romantic partner. BFF is for finding same-gender friends and BIZZ is for business networking.
While the free version has a limited number of swipes per day, both Bumble Boost and Premium make them unlimited and let you undo them if you swipe by mistake. Additionally, you also get "Spotlight", which moves you to the top of the list of profiles in your area, and "SuperSwipe", which lets matches know you really like them.
Bumble Premium adds the following perks on top off what is available with Bumble Boost:
Incognito mode lets you keep a low profile by not appearing on other user's beelines.
Beeline shows you who has liked you but you haven't swiped on yet.
Travel mode lets you set a different location than the one you're at right now to start chatting with people before you get to your destination.
Rematch allows you to match again with people you matched with in the past whenever that match expired.
Which dating app is better for you? EliteSingles vs Bumble
Find the main pros and cons for EliteSingles vs Bumble before deciding which one is for you.
EliteSingles pros and cons
These are the benefits and drawbacks of using the EliteSingles dating app.
| | |
| --- | --- |
| Pros | Cons |
| ✅ Quality over quantity approach | ❌ You need to pay for basic features |
| ✅ Focus on serious relationships | ❌ 3.1 out of 5 App Store review score |
| ✅ Intelligent matchmaking technology helps you find compatible profiles | ❌ Fewer users than Bumble |
Bumble pros and cons
These are the advantages and disadvantages of the Bumble dating app.
| | |
| --- | --- |
| Pros | Cons |
| ✅ Fully operational for free users | ❌ Less focused on serious relationships and compatibility |
| ✅ Bumble Boost is good value for money | ❌ Users have to swipe through a lot of profiles and do most of the selection work |
| ✅ 4.2 out of 5 review score and Editor's Choice award on Apple App store. | |
EliteSingles vs Bumble: Final thoughts
It's clear after comparing EliteSingles vs Bumble that both apps have compelling features to help you meet the right person. However, they approach online dating quite differently.
EliteSingles is great for older educated professionals that value compatibility in terms of relationship goals. EliteSingles is also great for people who don't have the time to swipe through dozens of profiles every day.
Bumble is great if you like a dating app where you discover profiles through swiping. It also appeals to a younger and more diverse demographic who have diverse relationship needs across the casual to serious dating spectrum.
Unless you know you dislike swiping on dating apps, our recommendation is to sign up for both EliteSingles and the free version of Bumble to benefit from the strengths of each app.
EliteSingles vs Bumble FAQ
You can find answers to common EliteSingles vs Bumble questions below.
Is EliteSingles better than Bumble?
EliteSingles is better than Bumble if a committed relationship is your goal. If you're looking for a more casual or flexible online dating experience, then Bumble is a better fit.
Is EliteSingles legit?
EliteSingles is definitely a legitimate dating app. The dating service has been around for many years and is part of Spark Networks, one of the largest companies in online dating. EliteSingles has robust online security policies to make sure user profiles are valid.
Which dating app will help me get married, EliteSingles or Bumble?
EliteSingles is more likely to help you tie the knot because of its focus on traditional relationships and an older demographic. That doesn't mean you can't find the love of your life on Bumble. Anecdotal evidence shows that many married couples have met on Bumble, as well as other swipe-based apps due to their popularity.
Which is cheaper: EliteSingles vs Bumble?
Bumble is cheaper than EliteSingles. This is because the main dating features on Bumble are available for free. On EliteSingles, you need to pay to be able to send messages and properly view profiles. The paid options are also cheaper on Bumble than on EliteSingles.
Dating apps compared
Check out our dating app comparisons so you can pick the best one for you.