Eharmony vs Hinge 2023 Comparison: Which One is Best?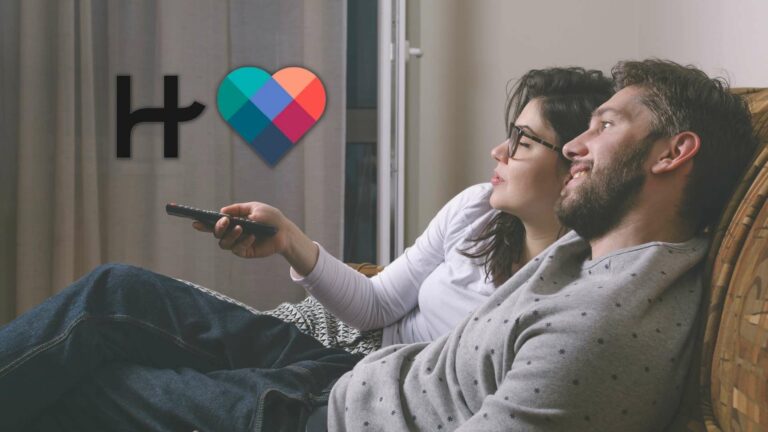 Finding the dating app that works best for you can improve your chances of meeting the right person. Hinge and eharmony are both popular in the online dating world. Find out which one is best suited to your dating needs. See how features and prices compare between the two dating apps.
Picking the right dating app: eharmony vs Hinge
The right dating app for you will be the one that most closely matches your romantic preferences, which can include the type of relationship, intimacy needs, as well as lifestyle goals. Dating apps are a bit like sports teams, everyone has a favourite. That could well be eharmony, Hinge, or something else.
Online dating app recommendations
Before you pick your favourite, be sure to have a look at our dating app recommendations.
These are some of the leading dating apps in the match-making market. Sign-up today for free:
Eharmony vs Hinge: where are they different?
Here are the most important differences between eharmony and Hinge.
| | | |
| --- | --- | --- |
| | eharmony | Hinge |
| Who is it for? | Singles looking for serious dating and even marriage. | Younger singles looking for meaningful connections through online dating. This may include serious dating. |
| Registration details | In-depth registration process focussed on building a compatibility profile. SMS profile verification. | Requires a Facebook account unless you sign up with a phone number. Quick registration process. |
| Memberships and profiles | 10 million users have profiles on eharmony. | 20 million users have joined Hinge, about 1 million pay for a Hinge Preferred user account. |
| Premium Service | Sign up is free but most features like messaging or viewing photos require paid membership. | Free service includes messaging. Paid subscription adds more perks to improve experience on app. |
| Pros | Advanced matchmaking technology means you get curated profiles based on compatibility. | Messaging and main features are free. Inclusive sign-up options. Matchmaking approach for younger users. |
| Cons | It's more expensive than competitors. Free accounts have very limited features. | There are quite a few inactive and fake accounts cropping up in Hinge. |
How is eharmony better than Hinge?
Unlike Hinge, eharmony collects as much information as it can, to provide the most compatible matches. The way that eharmony is able to collect this data is through a detailed personality questionnaire. This helps its advanced matchmaking technology not only match users effectively but also show how two profiles are compatible.
If you are looking for a serious relationship, then eharmony is the best option as long as you are willing to spend money on online dating. Your experience on eharmony starts with a dating personality quiz. This is an opportunity to reflect on your relationship goals and the sort of person you want to be with.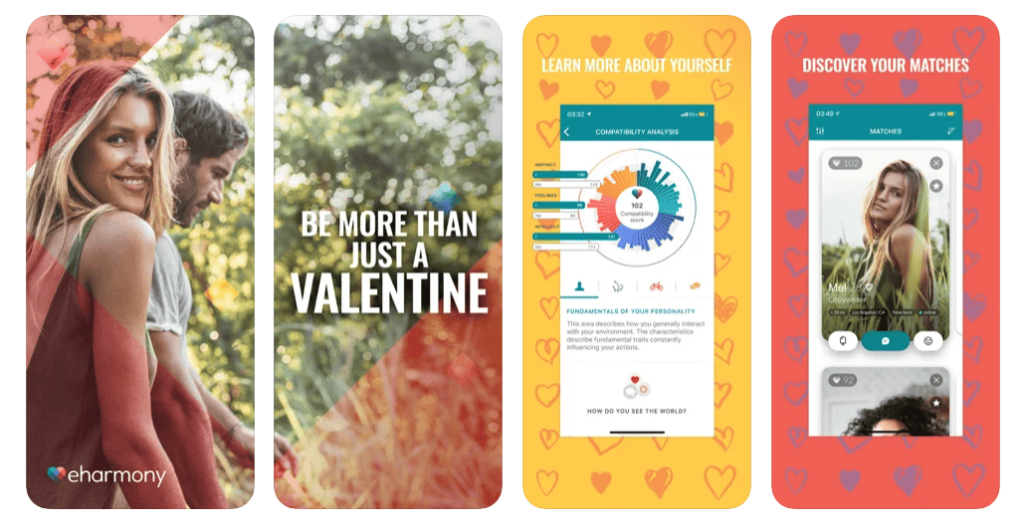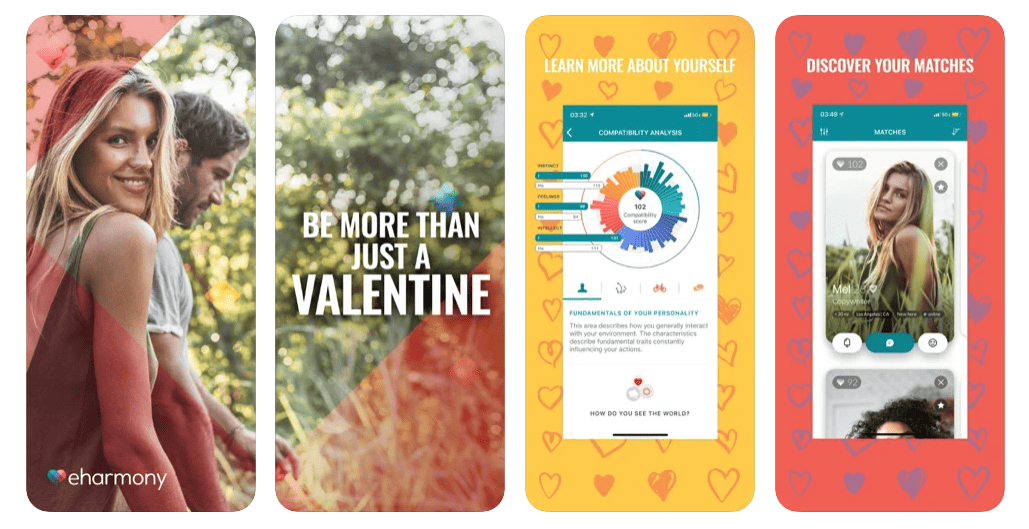 Since eharmony's matchmaking technology does the heavy lifting when it comes to finding compatible profiles, the rest of the app is user-friendly in terms of design and layout. When you look at someone's profile on eharmony, you will have a compatibility score embedded on the top left corner of their profile picture.
What is breathtaking is the detail that eharmony provides when it comes to compatibility. On eharmony, you can drill down and see what areas you have in common and where you differ. This includes core values and traits like communication, lifestyle, and emotional intelligence.
Did you know?
Over 2 million messages are sent on eharmony every week.
There are almost equal numbers of men (51%) and women (49%) on eharmony.
Over 95% of users have chatted with someone else on eharmony.
How is Hinge better than eharmony?
Hinge was designed as a dating app from the ground up. This means that the user experience is exclusively designed for mobile phones. Instead of having time-consuming personality questionnaires to fill out on a cramped screen, Hinge only has three initial questions and keeps the number of deal breaker options at a manageable number.
Viewing profiles on Hinge doesn't mean passively just scrolling or swiping through on apps like Tinder or Bumble. While you can do that to a certain extent, Hinge makes browsing through profiles a much more interactive experience.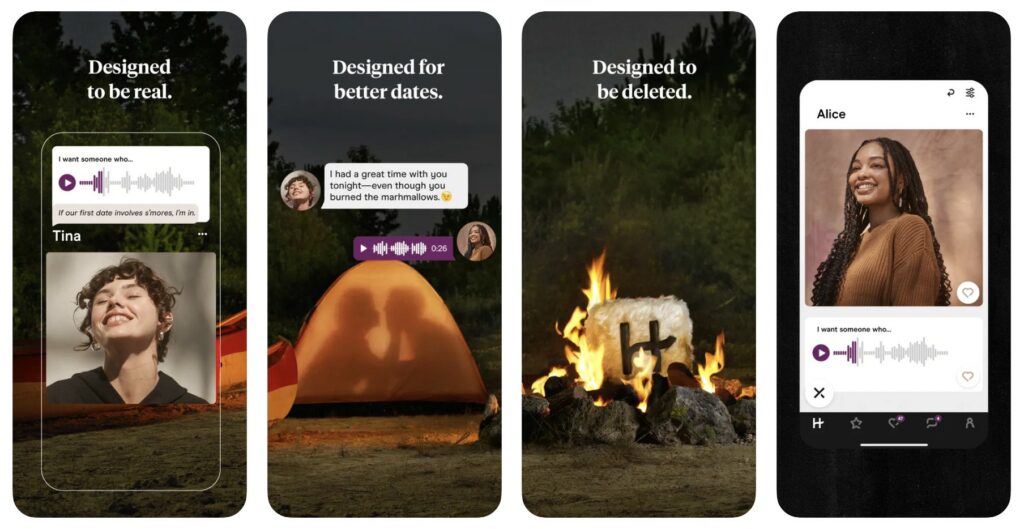 You can respond to part of a user's profile instead of just liking or disliking it wholesale. By interacting with the profile, such as playing voice memos, you unlock more parts of the profile such as photos and other details. This slows down the profile browsing process but it also cuts down on the serial swiping prevalent in other apps.
The result is potentially more meaningful interaction on Hinge. This happens not just through text and pictures but also through the ability to hear snippets of the other person's voice as they respond to certain prompts.
Did you know?
Hinge has slightly more female users than male ones. The current gender breakdown on this dating app is 45% men and 55% women.
Hinge is wholly owned by Match Group, the makers of another dating heavyweight app—Match.
Hinge uses this provocative tagline to attract new users: The dating app designed to be deleted. The company's advertising focuses on users who have met someone and are about to delete the Hinge app off their phones.
eharmony vs Hinge: which one is cheaper?
Hinge is clearly cheaper than eharmony. Even if you were to pay for a two year subscription upfront on eharmony, the monthly rate is still more expensive than the month-to-month rate on Hinge. Let's take a look at how the different monthly rates compare across the two dating apps.
| | | |
| --- | --- | --- |
| | eharmony Premium | Hinge Preferred Membership |
| 1 month | n/a | $29.99 per month |
| 3 months | n/a | $19.99 per month |
| 6 months | $65.90 per month | $14.99 per month |
| 12 months | $45.90 per month | n/a |
| 24 months | $35.90 per month | n/a |
Hinge offers subscription plans that last up to 6 months. That is the entry-level subscription length that eharmony offers to its users. Meanwhile, eharmony subscriptions top off at 24 months.
Be aware that you need to pay the total amount upfront for any subscription that is longer than 1 month for both eharmony and Hinge. Don't forget that these subscriptions automatically renew once they elapse. You must cancel them at least one full day before their end date.
Let's take a look at what eharmony vs Hinge offer their free and paying members, in terms of features.
Free vs paid features: how do these apps stack up?
Hinge vs eharmony bring different approaches to their dating app services. Let's take a closer look at what each one offers to its free and premium users.
eharmony features: free vs paid options
Check out all the eharmony features and compare the free and paid versions side-by-side.
| | |
| --- | --- |
| eharmony free features | eharmony premium features |
| ✅ Create a profile | ✅ Create a profile |
| ✅ Unlimited matches | ✅ Unlimited matches |
| ✅ Send Smiles, Icebreakers, and Greetings | ✅ Send Smiles, Icebreakers, and Greetings |
| ✅ Limited messaging | ✅ Unlimited messaging |
| | ✅ Video Date chat feature |
| | ✅ View unlimited photos |
| | ✅ See who has visited you |
| | ✅ Access to distance search filter |
| | ✅ Detailed personality profile results |
It's clear that to get even just the bare minimum out of eharmony you need to pay for the service. The free version lets you create a profile and send reactions to other users but, beyond that, communication is heavily limited to occasional promotional weekends where sending messages is free.
To have meaningful conversations with your eharmony matches a paid account is required. When you pay for eharmony, you also get access to video chat features as well as being able to see who has viewed your profile.
Hinge features: free vs paid options
This comparison stacks the features that free Hinge users have access to against the premium perks available once you start paying for this dating app.
| | |
| --- | --- |
| Hinge free features | Hinge paid features |
| ✅ Create a profile | ✅ Create a profile |
| ✅ Limited likes | ✅ Unlimited likes |
| ✅ Basic filtering options (dealbreakers) | ✅ Advanced filtering options (dealbreakers) |
| ✅ Send messages to users you match with. | ✅ Send messages to users who have liked you in addition to ones you matched with. |
| | ✅ See who has liked your profile. |
At a first glance, Hinge Preferred users don't seem to get that many extra features compared to free users. However instead of just adding extra features, like eharmony, Hinge opts for expanding its existing features. Let's take a closer look at how they do this:
Likes: Free users can only interact with a limited number of profiles. That limit is lifted for Hinge Preferred users.
Filtering (Dealbreakers): Free users can filter by gender, age, location, ethnicity, distance, and religion. Paid users have the following extra filtering options on top of the free ones: height, smoking, drugs, children, and politics.
The real killer feature when you pay for Hinge is seeing who has liked your profile. This allows you to instantly match with them and therefore message them. This feature greatly speeds up meeting and chatting with people on Hinge.
Which dating app is better for you? eharmony vs Hinge
See what the pros and cons of eharmony vs Hinge are, so you can decide which app is better for you.
eharmony pros and cons
These are the advantages and disadvantages of the eharmony dating app.
| Pros | Cons |
| --- | --- |
| ✅ Advanced matchmaking technology. | ❌ Expensive when compared with competition. |
| ✅ User base is primarily looking for serious relationships. | ❌ 3.9 out of 5 score on Australian Apple App Store. |
| ✅ Clear layout and app design. | |
Hinge pros and cons
These are the advantages and disadvantages of the Hinge dating app.
| | |
| --- | --- |
| Pros | Cons |
| ✅ Core features available for free users. | ❌ Limited likes for free users. |
| ✅ Paid option is cheaper than eharmony. | ❌ Aimed at 18-35 demographic as an alternative to Tinder. |
| ✅ 4.4 out of 5 review score on Apple App store. | |
eharmony vs Hinge: final thoughts
Both Hinge and eharmony are great options for dating online. Which one you choose depends on how you like browsing through profiles. Hinge is all about slowly browsing through profiles by interacting by liking those aspects that resonate with you.
Meanwhile, eharmony wants you to do the work upfront through its personality questionnaire to be able to curate compatible profiles thanks to its matchmaking technology.
If cost is a concern for you, then Hinge is the better option since the free version is fully-featured. If you can invest in your love life and are looking for a serious relationship, eharmony is better thanks to its advanced matchmaking and compatibility pairing features.
Both dating apps are established and have good reputations. If you're undecided, why not try both?
eharmony vs Hinge FAQ
You can find answers to common eharmony vs Hinge questions below.
Is Hinge better than eharmony?
Hinge is better if you enjoy browsing through profiles or don't want to pay for a dating app. Eharmony is better if you want to invest in your love life, value compatibility and advanced matchmaking features to find that special someone.
Is Hinge legit?
Hinge is definitely a legitimate dating app. Hinge is now owned by Match Group—a leading company in the online dating sector.
Which dating app will help me get married, eharmony vs Hinge?
Both apps will help you get married, but eharmony is more likely to help you tie the knot because of its focus on compatibility and matchmaking. That doesn't mean you can't find the love of your life on Hinge.
Which is cheaper: eharmony vs Hinge?
Hinge is clearly cheaper than eharmony. However, if you are looking for a dating app that recommends profiles based on advanced matchmaking and compatibility based technology then eharmony is the top option.
Which dating is best Christian dating: eharmony vs Hinge?
It's important to clear up that eharmony and Hinge are not dedicated Christian dating apps like Christian Mingle. However since eharmony focusses on serious and committed relationships, many Christians are drawn to it to find a faithful husband or wife. Its enhanced matchmaking and compatibility features make it a great option to find a Christian partner.
Hinge also offers a religion filter for those users who pay for the Preferred membership. This can make Hinge more useful when it comes to finding other users who share your Christian values.