Zoosk vs OurTime Compared: Pick The Right One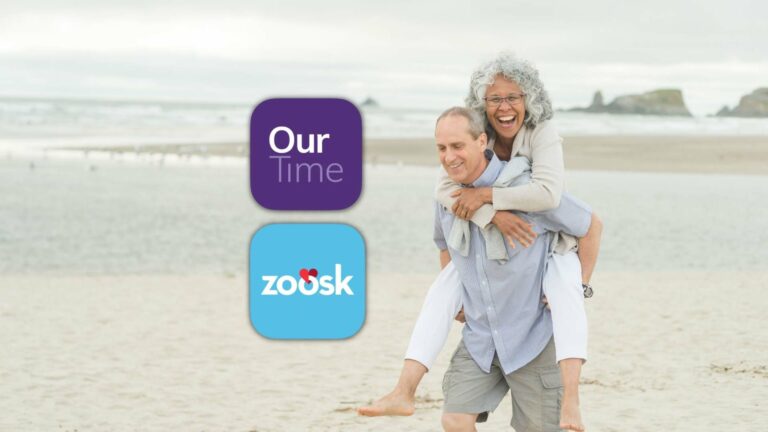 Finding the right app can improve your chances of meeting the right person. Zoosk and OurTime are popular dating apps. Find out which one is most suited to your relationship and dating needs and see how they compare in terms of features and pricing.
Picking the right dating app: Zoosk vs OurTime
The right dating app will be the one that most closely matches your romantic relationship preferences. Dating apps are a bit like popular movies, everyone has an opinion and a favorite. That fave could well be OurTime, Zoosk, or something completely different.
Online dating app recommendations
Before you pick your favorite, be sure to look at our dating app recommendations.
Zoosk vs OurTime: where are they different?
Here are the most important differences and similarities between Zoosk vs OurTime.
| | | |
| --- | --- | --- |
| | Zoosk | OurTime |
| Who is it for? | Singles looking for either serious relationships or casual flirting. | 50+ singles primarily looking for meaningful connections. |
| Registration details | Fast sign-up needs only basic information to access the site. | Profile creation process based on life experience questions and convenient steps. |
| Memberships and profiles | Estimated 40+ million members worldwide. Many profiles aren't detailed. | 150,000 singles in the 50+ age range. |
| Premium Service | Free service available, one subscription plan with full messaging, different lengths, and coins for additional features. | Free service doesn't include messaging. Several subscription plan options. More perks the longer you subscribe. |
| Pros | Flexible features for long-term dating or for casual flirting and hookups. A fun approach to a dating app with new features like video chat. | Affordable and flexible pricing and an active and 50+ user base. |
| Cons | You have to pay for unlimited messaging after the trial period. | You need the premium account to benefit from the app. |
How is Zoosk better than OurTime?
Zoosk is better than OurTime because it is more fun to use. The dating app takes a gamification approach that aims to make online dating less stressful. Zoosk's layout will be familiar to anyone who has used social media sites before.
Zoosk gives a number of ways of matching with people. To find compatible matches, Zoosk will only ask you a few basic questions when you use the Smart Picks feature, which is optional.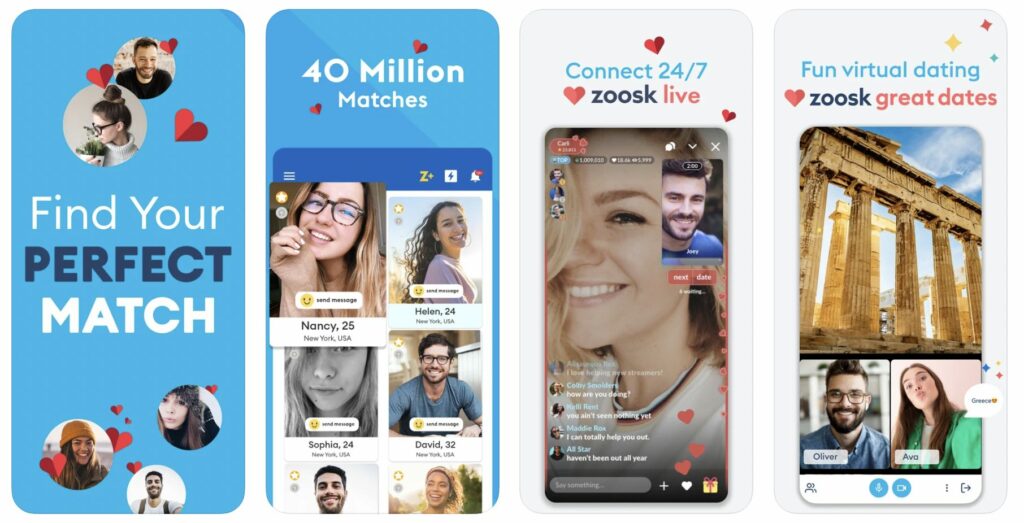 With Zoosk, you have the best of both online dating approaches—browsing and swiping. You can see multiple profiles at a glance on the main screen or, alternatively, you have Carousel mode, which lets you swipe through profiles like you would on Tinder or OurTime.
How is OurTime better than Zoosk
OurTime is designed for the 50+ dating demographic. The app encourages you to share your life experiences as you sign up and create your profile. This means that when you search for other users you can also read about their life experiences and see if they resonate with you.
If swiping through hundreds of profiles does not appeal to you, you'll enjoy using OurTime. Additionally, the vast majority of users will be in your preferred age range. This is why OurTime is aimed at the over 50s and anyone who would like to date someone who has seen more of life.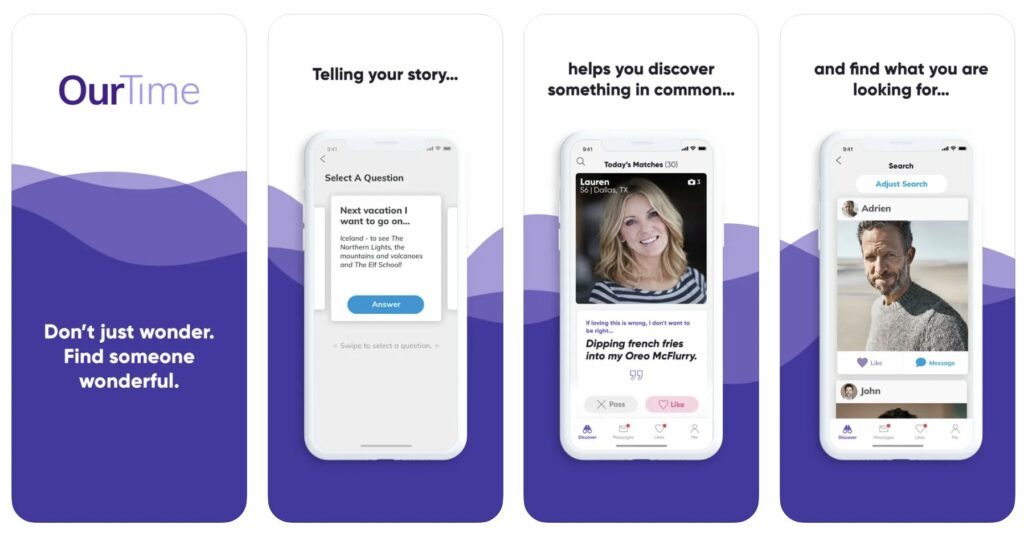 OurTime doesn't try to define the type of relationship users should aim for. However, the focus is helping singles meet compatible matches to foster meaningful connections.
Zoosk vs OurTime: which one is cheaper?
Zoosk is cheaper than OurTime across all the paid subscription durations. You can compare all the pricing options across the different subscription durations.
| | | |
| --- | --- | --- |
| | Zoosk Upgrade | OurTime Premium |
| 1 month | $29.95 per month | $39.95 per month |
| 3 months | $19.98 per month | $26.95 per month |
| 6 months | $11.00 per month | $20.00 per month |
| 12 months | $8.33 per month | n/a |
The best deals for both Zoosk and OurTime are the 6-month subscriptions which offer value for money and extensive access to premium features.
Free vs paid features: how do these apps stack up?
Bumble and Zoosk bring different approaches to their dating app services. Let's take a closer look at what each one offers to its free and premium users.
Zoosk features: free vs paid options
Check out all the Zoosk features and compare the free and paid versions side-by-side.
| | |
| --- | --- |
| Zoosk free features | Zoosk premium features |
| ✅ Create a full dating profile | ✅ Create a full dating profile |
| ✅ Access the Carousel | ✅ Access the Carousel |
| ✅ Send smiles and hearts | ✅ Send smiles and hearts |
| ✅ Watch Zoosk video streams | ✅ Watch Zoosk video streams |
| | ✅ Send messages |
| | ✅ See who likes you |
| | ✅ Chat with your SmartPicks |
Zoosk offers some differentiation between its free and premium features because of its SmartPicks Chat feature. In order to best use the app, you have to pay for the premium features otherwise you miss out on unlimited messaging.
OurTime features: free vs. paid options
OurTime features are divided up between a free version and paid options with different subscription periods. Take a look at what option has the features you want to use most.
| | |
| --- | --- |
| Free option | Paid option |
| ✅ Profile creation | ✅ Profile creation |
| ✅ Browse through users | ✅ Browse through users |
| ✅ Send likes | ✅ Send likes |
| ✅ Get curated recommendations | ✅ Get curated recommendations |
| | ✅ See who has liked your profile |
| | ✅ Chat with other users |
| | ✅ Read receipts |
The free option on OurTime allows you to do a lot before having to pay anything. In fact, you only need to pay if you match with someone and want to message and chat with them. The paid subscription also includes some other perks like read receipts for messages and seeing who has liked your profile.
Which dating app is better for you? Zoosk vs OurTime
Take a look at what each dating app has going for it as well as areas where they could do better.
Zoosk pros and cons
These are the benefits and drawbacks of using the Zoosk dating app.
| | |
| --- | --- |
| Pros | Cons |
| ✅ Streamlined and convenient sign-up process | ❌ Messaging isn't free after the trial period |
| ✅ Special features like Zoosk Carousel and Smart Picks | ❌ Virtual gifts and Zoosk Coin offers can be confusing to understand |
| ✅ Familiar, user-friendly dating app design | |
OurTime pros and cons
These are the benefits and drawbacks of using the OurTime dating app.
| | |
| --- | --- |
| Pros | Cons |
| ✅ Quality over quantity approach. | ❌ You need to pay for messaging. |
| ✅ Focus on meaningful connections for over 50s singles. | ❌ Fewer users than Zoosk. |
| ✅ Curated matchmaking recommendations | |
Zoosk vs OurTime: final thoughts
Both OurTime and Zoosk are great options for dating online. Which one you choose depends primarily on what age group you are looking to date. OurTime specializes in over 50s dating, while Zoosk caters to a wider range of ages, starting with singles in their 20s. 
If cost is a concern for you and you are looking, then Zoosk is the better option since its memberships are cheaper. Both dating apps are established and have good reputations. If you're undecided, why not sign up for both before deciding to pay for one?
OurTime vs Zoosk FAQ
You can find answers to common OurTime vs Zoosk questions below.
Is OurTime better than Zoosk?
OurTime is better if you are looking specifically to date people who are over 50. Zoosk is better if you want to have more flexibility when it comes to age range.
Is Zoosk legit?
The Zoosk dating app is definitely legitimate. The dating service has been around for a long time and is backed by established investors.
Which dating app will help me get married, OurTime or Zoosk?
Both apps will help you get married, but OurTime is more likely to help you tie the knot because of its focus on compatibility and matchmaking. That doesn't mean you can't find the love of your life on Zoosk, however the focus there is more on general purpose dating.
Which is cheaper: Zoosk vs OurTime?
Zoosk is clearly cheaper than OurTime. However, if you are looking for advanced matchmaking and 50+ singles, then OurTime is better.