SilverSingles vs eharmony: 6 Major Differences for 50+ Dating in 2023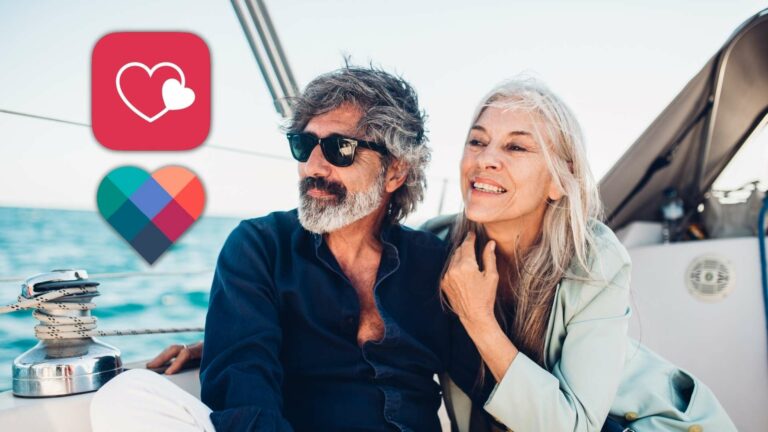 Finding the dating app that works best for you can improve your chances of meeting the right person. SilverSingles and eharmony are both popular in the online dating world. However, they are aimed at different age-groups. SilverSingles primarily focuses on 50+ singles. On the other hand, eharmony is a wider range of ages, from late twenties to early 50s.
Find out which one is best suited to your dating needs. See how features and prices compare between the two dating apps.
SilverSingles vs eharmony: 6 major differences
Here are the most important differences between SilverSingles and eharmony.
| | SilverSingles | eHarmony |
| --- | --- | --- |
| Who is it for? | 50+ singles primarily looking for meaningful connections. | Singles looking for serious dating and even marriage. |
| Registration details | In-depth profile creation process based on honesty that helps get matched with compatible profiles. | In-depth registration process focussed on building a compatibility profile. SMS profile verification. |
| Memberships and profiles | 5+ million users, high-quality profiles thanks to strict verification. | 10 million users have profiles on eharmony. |
| Premium Service | Free service doesn't include messaging. Several subscription plan options. More perks the longer you subscribe. | Sign up is free but most features like messaging or viewing photos require paid membership. |
| Pros | Affordable and flexible pricing and plans, along with an active and 50+ user base. | Advanced matchmaking technology means you get curated profiles based on compatibility. |
| Cons | You need the premium account to benefit from the app. | It's more expensive than competitors. Free accounts have very limited features. |
Picking the right dating app: SilverSingles vs eharmony
The right dating app for you will be the one that most closely matches your romantic preferences, which can include age ranges as well as the type of relationship and lifestyle goals. Dating apps are a bit like coffee or tea, everyone has a preference. That could well be eharmony, SilverSingles, or something else.
Online dating app recommendations
Before you pick your favorite, be sure to have a look at our dating app recommendations.
Best sites and apps for dating over 50
These are our recommendations for the best dating sites and apps that cater to people over 50.
How is SilverSingles better than eharmony
SilverSingles is designed for the 50+ dating demographic. The app calculates an easy-to-understand compatibility percentage based on the qualities you're looking for as well as your own background, preferences, and personal values.
If swiping through hundreds of profiles does not appeal to you, you'll enjoy using SilverSingles. Additionally, the vast majority of users will be in your preferred age range. This is why SilverSingles is aimed at the over 50s and anyone who would like to date someone who has seen more of life.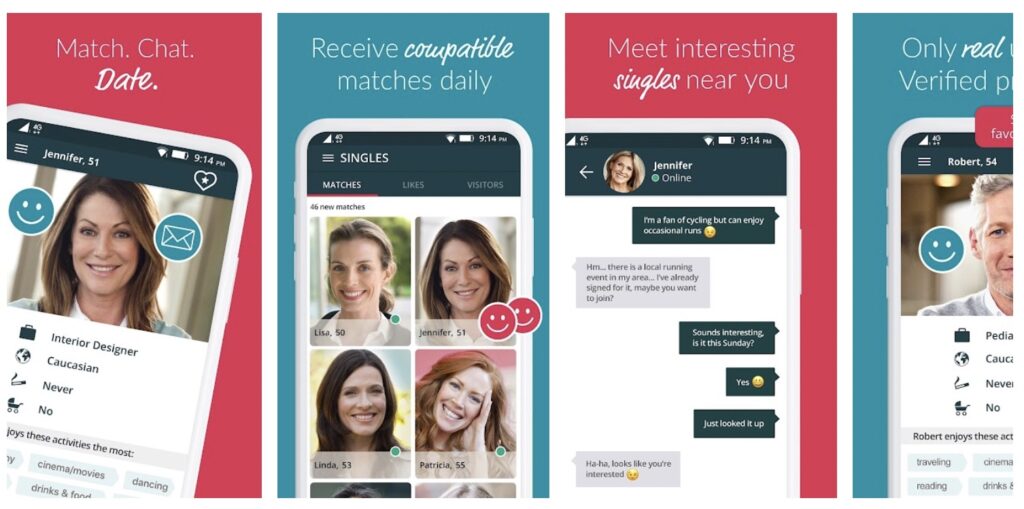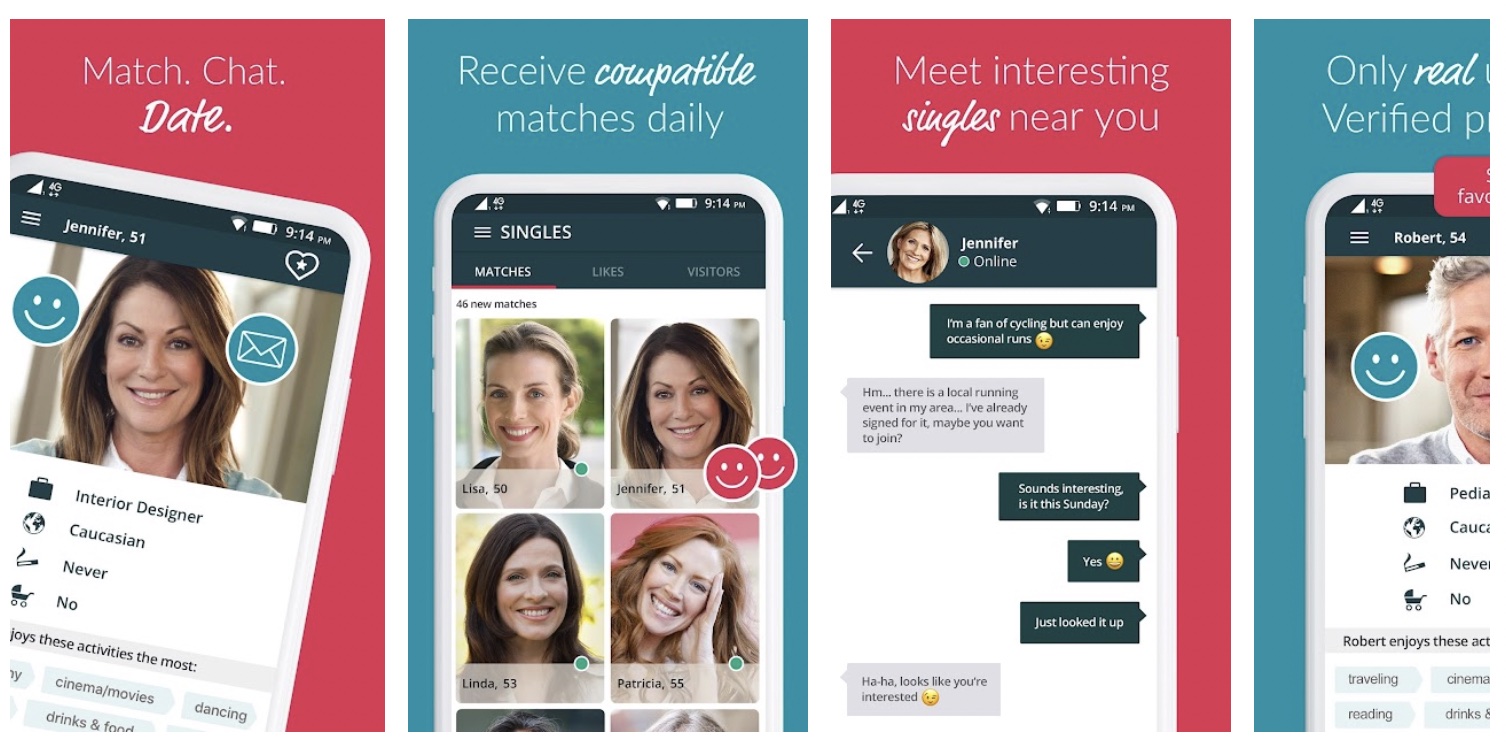 SilverSingles doesn't try to define the type of relationship users should aim for—unlike eharmony. However, the focus is helping singles meet compatible matches to foster meaningful connections.
Did you know?
SilverSingles proposes an expert profile creation service to help you improve your personal dating profile on the app. This is an extra paid option.
You can read uplifting success stories of singles who met on the app on the SilverSingles blogs.
How is eharmony better than SilverSingles?
Something that eharmony does very well is collecting information to provide the most compatible matches. The way that eharmony is able to collect this data is through a detailed personality questionnaire. This helps its advanced matchmaking technology not only match users effectively but also show how two profiles are compatible.
Since eharmony's matchmaking technology does the heavy lifting when it comes to finding compatible profiles, the rest of the app is user-friendly in terms of design and layout. When you look at someone's profile on eharmony, you will have a compatibility score embedded on the top left corner of their profile picture.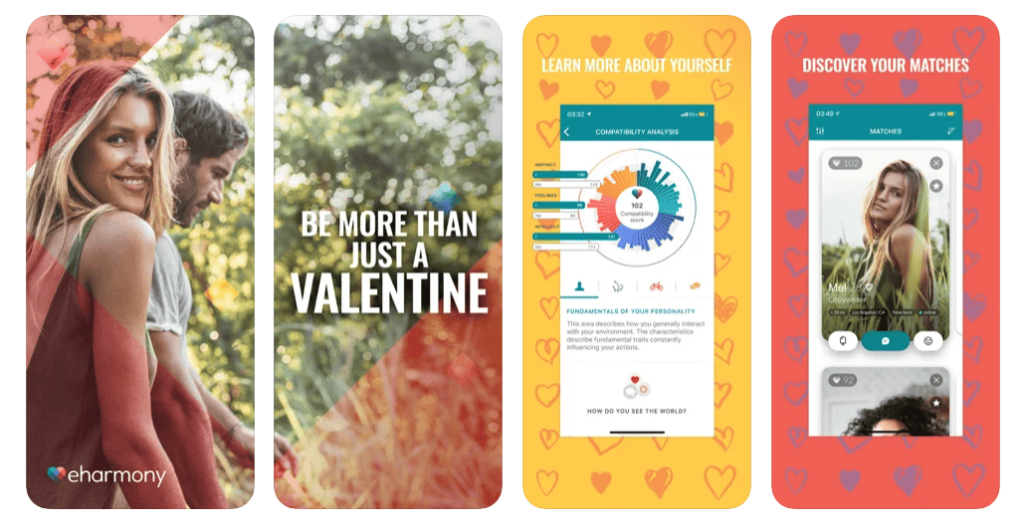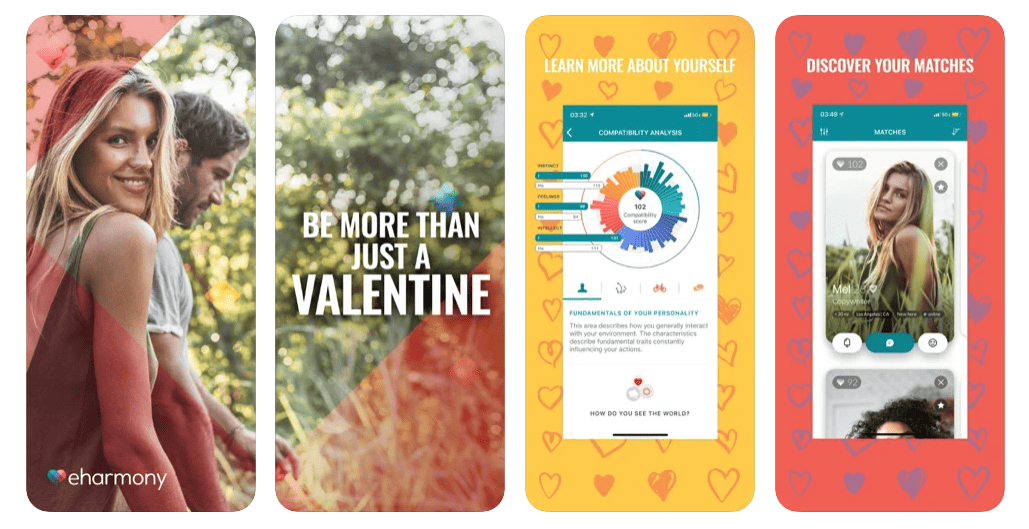 If you are looking for a serious relationship with singles mostly aged 30 to 50 then eharmony is the best option as long as you are willing to spend money on online dating.
Did you know?
Over 2 million messages are sent on eharmony every week.
There are almost equal numbers of men (51%) and women (49%) on eharmony.
Over 95% of users have chatted with someone else on eharmony.
Which dating app is cheaper? SilverSingles vs eharmony
SilverSingles and eharmony have different approaches to pricing. While SilverSingles adds more premium features the longer you sign up for, eharmony just has one set of features across its three subscription lengths.
SilverSingles vs eharmony price comparison
Compare SilverSingles vs eharmony pricing in the table below.
| | | |
| --- | --- | --- |
| | SilverSingles | eharmony |
| 3-month | $44.95 per month | n/a |
| 6-month | $34.95 per month | $65.90 per month |
| 12-month | $24.95 per month | $45.90 per month |
| 24-month | n/a | $35.90 per month |
SilverSingles is cheaper than eharmony when comparing the same subscription lengths—6 and 12-month options. While SilverSingles also offers a shorter subscription of 3 months, eharmony does not and opts for a longer 2-year option instead.
Feature comparison: SilverSingles vs eharmony
Comparing features between SilverSingles vs. eharmony isn't cut and dry. Both SilverSingles and eharmony require its users to pay to be able to message meaningfully.
SilverSingles features: free vs. paid options
SilverSingles features are divided up between a free version and paid options with different subscription periods. Take a look at what option has the features you want to use most.
| | | |
| --- | --- | --- |
| Free option | Premium Light (3 months) | Premium Classic & Comfort (6 & 12 months) |
| ✅ Profile creation | ✅ Profile creation | ✅ Profile creation |
| | ✅ Unlimited messaging | ✅ Unlimited messaging |
| | ✅ View profile details | ✅ View profile details |
| | ✅ Intelligent matchmaking | ✅ Intelligent matchmaking |
| | | ✅ View all profile photos |
| | | ✅ See who visited your profile |
| | | ✅ Read receipts |
The free option on SilverSingles only allows for profile creation and browsing obscured profiles. The 3-month option essentially enables all the features you need to match and chat with someone.
For actual premium features, you want to look at the 6 or 12-month options. These two subscriptions do have cheaper monthly rates, although you have to subscribe for longer.
eharmony features: free vs paid options
Check out all the eharmony features and compare the free and paid versions side-by-side.
| | |
| --- | --- |
| eharmony free features | eharmony paid features |
| ✅ Create a profile | ✅ Create a profile |
| ✅ Unlimited matches | ✅ Unlimited matches |
| ✅ Send Smiles, Icebreakers, and Greetings | ✅ Send Smiles, Icebreakers, and Greetings |
| ✅ Limited messaging | ✅ Unlimited messaging |
| | ✅ Video Date chat feature |
| | ✅ View unlimited photos |
| | ✅ See who has visited you |
| | ✅ Access to distance search filter |
| | ✅ Detailed personality profile results |
It's clear that to get even just the bare minimum out of eharmony you also need to pay for the service. The free version lets you create a profile and send reactions to other users but, beyond that, communication is heavily limited to occasional promotional weekends where sending messages is free.
To have meaningful conversations with your eharmony matches a paid account is required. When you pay for eharmony, you also get access to video chat features as well as being able to see who has viewed your profile.
Which dating app is better for you? SilverSingles vs eharmony
Take a look at what each dating app has going for it as well as areas where they could be better.
SilverSingles pros and cons
These are the benefits and drawbacks of using the SilverSingles dating app.
| | |
| --- | --- |
| Pros | Cons |
| ✅ Quality over quantity approach. | ❌ You need to pay for basic features. |
| ✅ Focus on meaningful connections for over 50s singles. | ❌ 3.1 out of 5 App Store review score. |
| ✅ Intelligent matchmaking technology helps you find compatible profiles. | ❌ Fewer users than eharmony. |
eharmony pros and cons
These are the advantages and disadvantages of the eharmony dating app.
| | |
| --- | --- |
| Pros | Cons |
| ✅ Advanced matchmaking technology. | ❌ Expensive when compared with competition. |
| ✅ User base is primarily looking for serious relationships. | ❌ Not focused on over 50s singles. |
| ✅ Clear layout and app design. | |
SilverSingles vs eharmony: final thoughts
Both SilverSingles and eharmony are great options for dating online. Which one you choose depends primarily on what age group you are looking to date. SilverSingles specialises in over 50s dating, while eharmony caters to a wider range of ages, from late 20s to singles in their 50s.
If cost is a concern for you and you are looking for older singles, then SilverSingles is the better option since its memberships are cheaper. Both dating apps are established and have good reputations. If you're undecided, why not sign up for both before deciding to pay for one?
SilverSingles vs eharmony FAQ
You can find answers to common SilverSingles vs eharmony questions below.
Is SilverSingles better than eharmony?
SilverSingles is better if you are looking specifically to date people who are over 50. Eharmony is better if you want to invest more in your love life and have more flexibility when it comes to age range.
Is eharmony legit?
The eharmony dating app is definitely legitimate. The dating service has been around for several decades and was initially developed by a psychologist.
Which dating app will help me get married, Hinge or eharmony?
Both apps will help you get married, but eharmony is more likely to help you tie the knot because of its focus on compatibility and matchmaking. That doesn't mean you can't find the love of your life on SilverSingles, however the focus there is more about making meaningful connections with someone over 50.
Which is cheaper: eharmony vs SilverSingles?
SilverSingles is clearly cheaper than eharmony. However, if you are looking for advanced matchmaking and users from a wider age range then eharmony is better.
Which dating is best Christian dating: eharmony or SilverSingles?
It's important to clear up that eharmony and SilverSingles are not dedicated Christian dating apps like Christian Mingle. However since both SilverSingles eharmony focus on serious and meaningful connections, many Christians find the services useful to meet a faithful husband or wife.